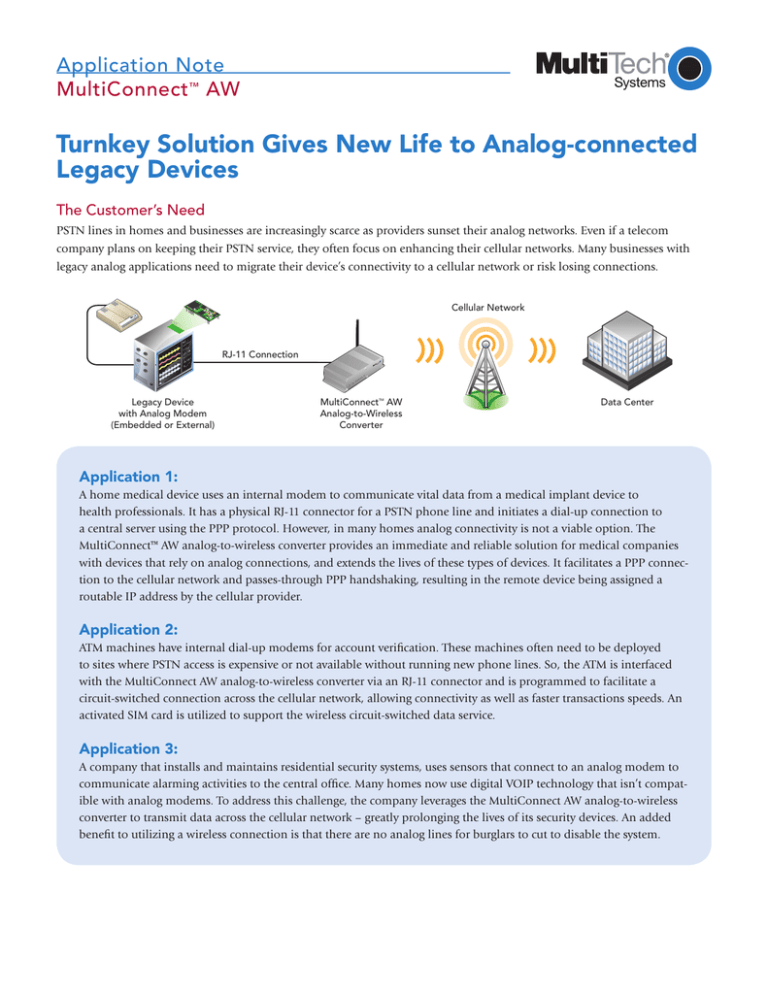 Application Note
MultiConnect ™ AW
Turnkey Solution Gives New Life to Analog-connected
Legacy Devices
The Customer's Need
PSTN lines in homes and businesses are increasingly scarce as providers sunset their analog networks. Even if a telecom
company plans on keeping their PSTN service, they often focus on enhancing their cellular networks. Many businesses with
legacy analog applications need to migrate their device's connectivity to a cellular network or risk losing connections.
Cellular Network
.....
60 ***
*
*** 6
5
1;4 09
//// ***
*
*** 001
.
78 --_
%_
Legacy Device
with Analog Modem
(Embedded or External)
RJ-11 Connection
MultiConnect AW
Analog-to-Wireless
Converter
TM
Data Center
Application 1:
A home medical device uses an internal modem to communicate vital data from a medical implant device to
health professionals. It has a physical RJ-11 connector for a PSTN phone line and initiates a dial-up connection to
a central server using the PPP protocol. However, in many homes analog connectivity is not a viable option. The
MultiConnect™ AW analog-to-wireless converter provides an immediate and reliable solution for medical companies
with devices that rely on analog connections, and extends the lives of these types of devices. It facilitates a PPP connection to the cellular network and passes-through PPP handshaking, resulting in the remote device being assigned a
routable IP address by the cellular provider.
Application 2:
ATM machines have internal dial-up modems for account verification. These machines often need to be deployed
to sites where PSTN access is expensive or not available without running new phone lines. So, the ATM is interfaced
with the MultiConnect AW analog-to-wireless converter via an RJ-11 connector and is programmed to facilitate a
circuit-switched connection across the cellular network, allowing connectivity as well as faster transactions speeds. An
activated SIM card is utilized to support the wireless circuit-switched data service.
Application 3:
A company that installs and maintains residential security systems, uses sensors that connect to an analog modem to
communicate alarming activities to the central office. Many homes now use digital VOIP technology that isn't compatible with analog modems. To address this challenge, the company leverages the MultiConnect AW analog-to-wireless
converter to transmit data across the cellular network – greatly prolonging the lives of its security devices. An added
benefit to utilizing a wireless connection is that there are no analog lines for burglars to cut to disable the system.
Application Note
Multi-Tech's Solution
The MultiConnect AW analog-to-wireless converter was developed to extend
About Multi-Tech Systems
the lives of legacy devices used in M2M (machine-to-machine) communi-
Multi-Tech Systems offers the
cations applications, including ATMs, home healthcare monitors, security
industry's most comprehensive
systems, credit card/POS terminals, kiosks, industrial automation solutions
M2M (machine-to-machine)
and utilities devices. A convenient turnkey solution that allows legacy
equipment with built-in analog modems to connect to the cellular packet data
or circuit-switched data networks, the MultiConnect AW emulates the traditional dial-up PSTN network and uses integrated or external cellular modems
to give new life to devices currently using traditional analog dial-up communications
communications products and
services portfolio available
today. As a leader in the
industry for more than 40
years, Multi-Tech's reputation
for reliability and innovative
design is evident with 80+
Features & Benefits
patents, 20+ million devices
MT100A2W Family
• Metal chassis for industrial applications
• Outbound and inbound calling
• LEDs for visual monitoring of power, signal strength and phone line status
being used by thousands of
customers worldwide and
certifications from more
than 30 carriers and over
MT200A2W Family
80 countries. Multi-Tech is
• Plastic chassis for indoor environments
• Outbound calling only
• LEDs for visual monitoring of power, signal strength
and phone line status
• GSM and CDMA models available
certified by the WBENC as a
Women's Business Enterprise
and by C-TPAT (Customs–Trade
Partnership Against Terrorism).
World Headquarters
Ordering Information
ProductDescription
MT100A2W-G
MT200A2W-G
MT200A2W-C1
Analog-to-Wireless Converter (GSM/GPRS)
Analog-to-Wireless Converter (GSM/GPRS)
Analog-to-Wireless Converter (CDMA)
Region
Global
Global
US
Multi-Tech Systems, Inc.
2205 Woodale Drive
Mounds View, MN 55112
U.S.A.
Tel: (763) 785-3500
Toll-Free: (800) 328-9717
E-mail:sales@multitech.com
www.multitech.com
EMEA Headquarters
Multi-Tech Systems (EMEA)
Unit 1, Thames Court
2 Richfield Avenue
Reading, Berkshire RG1 8EQ
United Kingdom
Tel: +(44) 118 959 7774
E-mail:sales@multitech.co.uk
12/11 Copyright © 2011 by Multi-Tech Systems, Inc. All rights reserved.