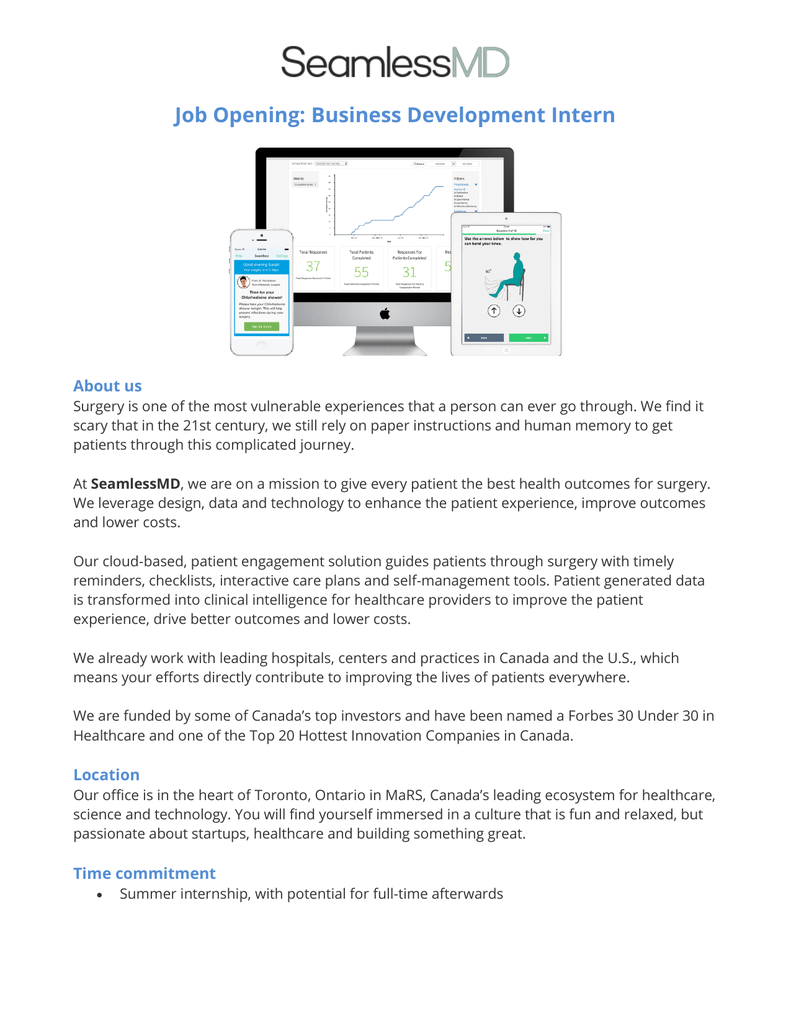 Job Opening: Business Development Intern
About us
Surgery is one of the most vulnerable experiences that a person can ever go through. We find it
scary that in the 21st century, we still rely on paper instructions and human memory to get
patients through this complicated journey.
At SeamlessMD, we are on a mission to give every patient the best health outcomes for surgery.
We leverage design, data and technology to enhance the patient experience, improve outcomes
and lower costs.
Our cloud-based, patient engagement solution guides patients through surgery with timely
reminders, checklists, interactive care plans and self-management tools. Patient generated data
is transformed into clinical intelligence for healthcare providers to improve the patient
experience, drive better outcomes and lower costs.
We already work with leading hospitals, centers and practices in Canada and the U.S., which
means your efforts directly contribute to improving the lives of patients everywhere.
We are funded by some of Canada's top investors and have been named a Forbes 30 Under 30 in
Healthcare and one of the Top 20 Hottest Innovation Companies in Canada.
Location
Our office is in the heart of Toronto, Ontario in MaRS, Canada's leading ecosystem for healthcare,
science and technology. You will find yourself immersed in a culture that is fun and relaxed, but
passionate about startups, healthcare and building something great.
Time commitment

Summer internship, with potential for full-time afterwards
You




Are a well-rounded person with a passion for building a better healthcare system
Excited to work on all aspects of a business, including lead generation, in-bound
marketing and company operations
Enjoy working in a fast paced environment with potentially changing requirements
Are self-motivated and able to work independently
Responsibilities
At SeamlessMD, you will be working with our Sales & Marketing teams to grow our customer
base and our thought leadership in the industry.
This means you will:
 Create accurate and targeted lists of prospects for surgery practices, centers and hospitals
 Conduct sales development best practices with email campaigns and phone follow ups
 Coordinate demos on account executive's calendar and log activities in CRM

Produce highly sharable and helpful content online (blog posts, social media)


Monitor, listen to and engage clients and industry influencers on social media
Be immersed in an exciting startup culture, interface with healthcare professionals, and
share our vision in creating a better healthcare system for everyone
Qualifications







Strong sense of purpose
Hustle and persistence
Excellent written & verbal communication
Ability to work in fast paced, changing environment with minimal direction
Willingness to learn and grow in a start-up environment
Ability to focus on deadlines and deliverables
A clean criminal check
Compensation
This is a paid position.
Apply
We are looking for superstars to join our team! If you are one, send your resume
to [email protected] and let us know how you are a superstar. Reference "Business
Development Intern" in the subject line.
Timeline
Please apply by July 30th, 2015.