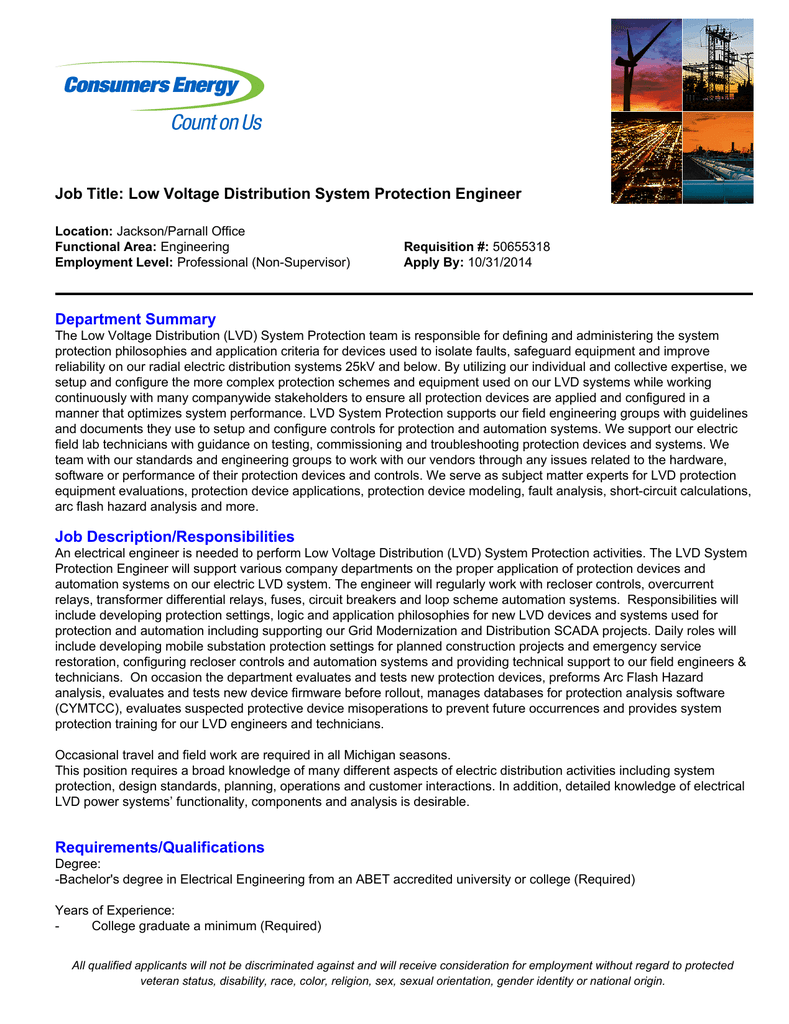 Job Title: Low Voltage Distribution System Protection Engineer
Location: Jackson/Parnall Office
Functional Area: Engineering
Employment Level: Professional (Non-Supervisor)
Requisition #: 50655318
Apply By: 10/31/2014
Department Summary
The Low Voltage Distribution (LVD) System Protection team is responsible for defining and administering the system
protection philosophies and application criteria for devices used to isolate faults, safeguard equipment and improve
reliability on our radial electric distribution systems 25kV and below. By utilizing our individual and collective expertise, we
setup and configure the more complex protection schemes and equipment used on our LVD systems while working
continuously with many companywide stakeholders to ensure all protection devices are applied and configured in a
manner that optimizes system performance. LVD System Protection supports our field engineering groups with guidelines
and documents they use to setup and configure controls for protection and automation systems. We support our electric
field lab technicians with guidance on testing, commissioning and troubleshooting protection devices and systems. We
team with our standards and engineering groups to work with our vendors through any issues related to the hardware,
software or performance of their protection devices and controls. We serve as subject matter experts for LVD protection
equipment evaluations, protection device applications, protection device modeling, fault analysis, short-circuit calculations,
arc flash hazard analysis and more.
Job Description/Responsibilities
An electrical engineer is needed to perform Low Voltage Distribution (LVD) System Protection activities. The LVD System
Protection Engineer will support various company departments on the proper application of protection devices and
automation systems on our electric LVD system. The engineer will regularly work with recloser controls, overcurrent
relays, transformer differential relays, fuses, circuit breakers and loop scheme automation systems. Responsibilities will
include developing protection settings, logic and application philosophies for new LVD devices and systems used for
protection and automation including supporting our Grid Modernization and Distribution SCADA projects. Daily roles will
include developing mobile substation protection settings for planned construction projects and emergency service
restoration, configuring recloser controls and automation systems and providing technical support to our field engineers &
technicians. On occasion the department evaluates and tests new protection devices, preforms Arc Flash Hazard
analysis, evaluates and tests new device firmware before rollout, manages databases for protection analysis software
(CYMTCC), evaluates suspected protective device misoperations to prevent future occurrences and provides system
protection training for our LVD engineers and technicians.
Occasional travel and field work are required in all Michigan seasons.
This position requires a broad knowledge of many different aspects of electric distribution activities including system
protection, design standards, planning, operations and customer interactions. In addition, detailed knowledge of electrical
LVD power systems' functionality, components and analysis is desirable.
Requirements/Qualifications
Degree:
-Bachelor's degree in Electrical Engineering from an ABET accredited university or college (Required)
Years of Experience:
College graduate a minimum (Required)
All qualified applicants will not be discriminated against and will receive consideration for employment without regard to protected
veteran status, disability, race, color, religion, sex, sexual orientation, gender identity or national origin.
-
3 Years or more of related work (Preferred).
Skills (Required):
Good Problem Solver
Strong Analytical Thinking
Well Organized
Solid Time Management
Ability to multi-tasks
Ability to prioritize work to meet changing schedules and deadlines
Extremely Self-Motivated
Good Team Player
Effective Communications (Verbal and Written)
Proficient with computers and windows operation systems
Understanding of Electrical Distribution Systems
Fundamental understanding of Boolean/Digital logic concepts
Skills (Preferred):
An understanding of electric protection and control schemes
Familiarity with one-line, schematic and detailed electrical drawings
Experience with CYME, Arc GIS, ProView, AcSELerator and IntelliLink software packages
Programming and macro development abilities
Skills in data and database handling, analysis and interpretation
Mentoring and gaining experience over several years is required to become proficient.
Company Overview
Join a diverse and dynamic team that makes and delivers the most valuable services in the world: electricity and natural
gas. At Consumers Energy, our customers are at the heart of everything we do. Our employees work around the clock to
provide service to our customers in honor of our history and to fulfill our promise to Michigan - Count on Us! Consumers
Energy, the principal subsidiary of CMS Energy and headquartered in Jackson, Michigan, provides natural gas and
electricity to nearly 6.8 million of the Michigan's 10 million residents in all 68 Lower Peninsula counties.
All qualified applicants will not be discriminated against and will receive consideration for employment without regard to protected
veteran status, disability, race, color, religion, sex, sexual orientation, gender identity or national origin.