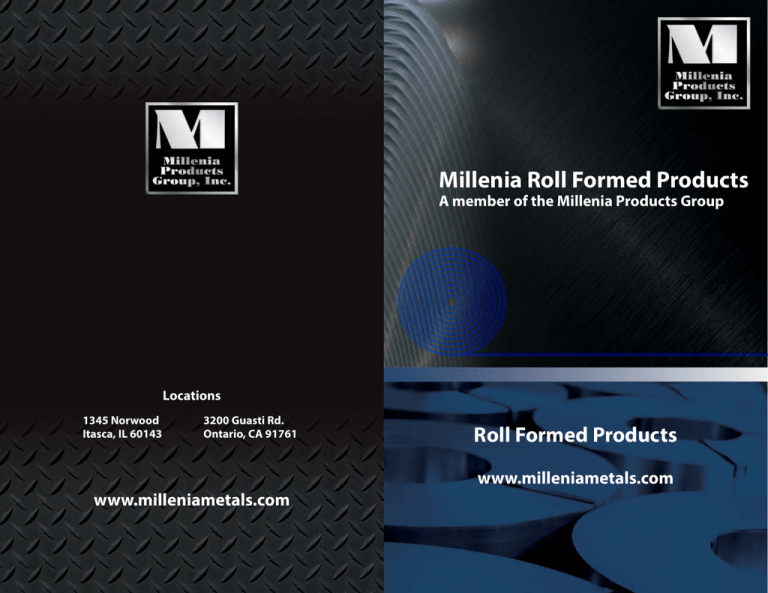 Millenia Roll Formed Products
A member of the Millenia Products Group
Locations
1345 Norwood
Itasca, IL 60143
3200 Guasti Rd.
Ontario, CA 91761
Roll Formed Products
www.milleniametals.com
www.milleniametals.com
Our Roll Forming Capabilities
When you require accurate custom roll formed parts , we encourage you to take advantage of our many years of experience. We roll form all types of metal. Our facilities can
handle raw material from .010 to .250 in thickness. We take pride in delivering quality
parts within your time and budget requirements. All orders are scheduled and managed by computer to optimize "on time" performance.
Hat Channel
Strut Channel
Hat Channel w/Returns
• 24 Roll Formers
• 4 Press Brakes
• Shearing
• Slitting
• In Line Stamping, Punching and Notching
• Assembly
Filter Channel
Gauge Range
.010-.250
Width Range
(Depending on gauge): 1" to 8"
Unequal Leg Channel
Materials Used
Cold Rolled, Galvanized, Hot Rolled, HRPO, Aluminum,
Stainless, Pre Paint, Titanium, Galvannealed,
Galvalume, Electro-Galvanized
In house die design, manufacture and repair.
Amortized die cost program available. 110,000 square
foot manufacturing and storage area located within
minutes of Chicago.
Stocking programs for just-in-time delivery from our
warehouses in: Itasca, IL, Ontario, CA, and El Paso, TX.
About Our Roll Form Products
Computer Aided Design With the aid of Auto Cad™ we are able to design the exact
forming dies required for the production of your custom part.
Computer Controlled Die Machining: Accurate and precise rolls and cutoffs can be
made efficiently with one of our computer controlled machines. This state of the art
process saves time and keeps your job on schedule.
C Channel
C Channel
The products illustrated on this page are typical of the
product we produce. Many are available in custom
dimensions. Most any of our roll form products can be
produced using cold rolled, hot rolled pickled and oiled,
galvanized (pre and post), aluminum, stainless and
painted steel.
Hat Channel: Tooling is available for a number of
different configurations. Channels with custom
dimensions can be formed as well. Product is available
in a variety of gages and sizes. Hat channel with returns
are produced to secure covers or signage.
We are ISO 9001:2008
Millenia Roll Formed Products, Inc.
A member of the Millenia Products Group
The Millenia Products Group, Inc. © Copyright 2012. All Rights Reserved.
U Channel
Filter Channel: Available in custom dimensions. Product
is commonly used in industrial filter equipment and is
available in a variety of substrates including stainless
steel and titanium.
Angles: Available manufactured to your unique
specifications in an almost unlimited width and length
range.
U Channel
Z Shapes: Available in a variety of custom widths and
heights.
These are only a few of the thousands of shapes we
produce. Please call us for quotations on roll formed
sections.
Angle
C Channel
Z Shape
Phone: Itasca IL (630) 458-0401
Fax: Itasca IL (630) 458-0405
Phone: Ontario CA (909) 854-0400
Fax: Ontario CA (909) 854-1042
The Millenia Products Group, Inc. © Copyright 2012. All Rights Reserved.