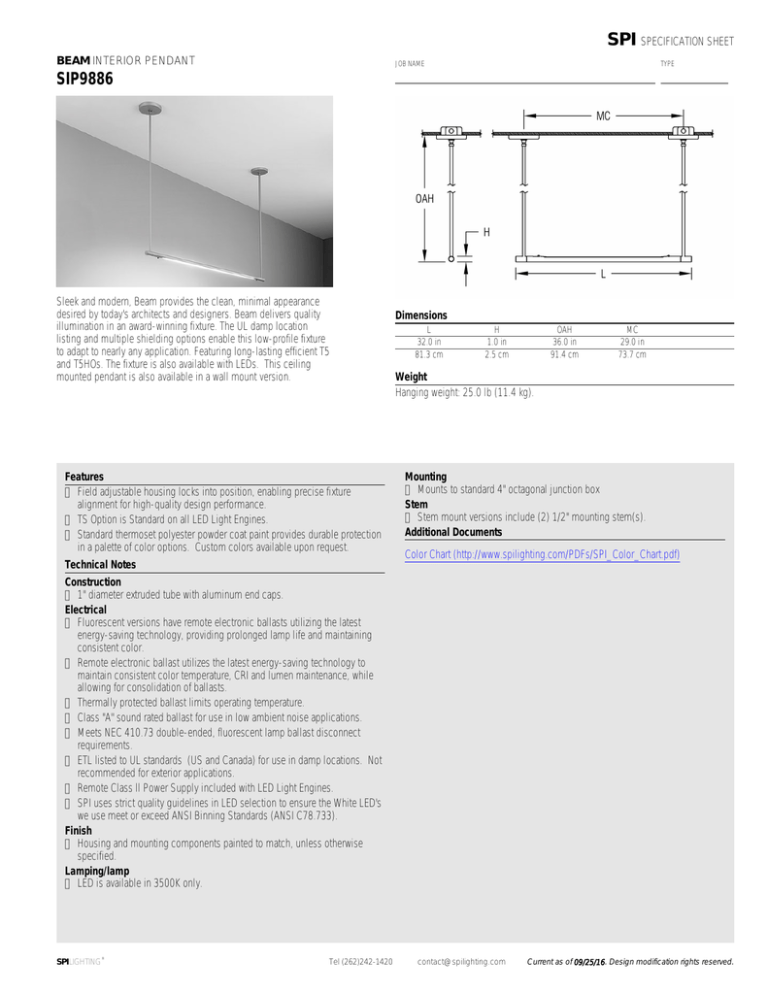 SPI SPECIFICATION SHEET
BEAM INTERIOR PENDANT
JOB NAME
TYPE
SIP9886
Sleek and modern, Beam provides the clean, minimal appearance
desired by today's architects and designers. Beam delivers quality
illumination in an award-winning fixture. The UL damp location
listing and multiple shielding options enable this low-profile fixture
to adapt to nearly any application. Featuring long-lasting efficient T5
and T5HOs. The fixture is also available with LEDs. This ceiling
mounted pendant is also available in a wall mount version.
Features
• Field adjustable housing locks into position, enabling precise fixture
alignment for high-quality design performance.
• TS Option is Standard on all LED Light Engines.
• Standard thermoset polyester powder coat paint provides durable protection
in a palette of color options. Custom colors available upon request.
Technical Notes
Dimensions
L
32.0 in
81.3 cm
H
1.0 in
2.5 cm
OAH
36.0 in
91.4 cm
MC
29.0 in
73.7 cm
Weight
Hanging weight: 25.0 lb (11.4 kg).
Mounting
• Mounts to standard 4" octagonal junction box
Stem
• Stem mount versions include (2) 1/2" mounting stem(s).
Additional Documents
Color Chart (http://www.spilighting.com/PDFs/SPI_Color_Chart.pdf)
Construction
• 1" diameter extruded tube with aluminum end caps.
Electrical
• Fluorescent versions have remote electronic ballasts utilizing the latest
energy-saving technology, providing prolonged lamp life and maintaining
consistent color.
• Remote electronic ballast utilizes the latest energy-saving technology to
maintain consistent color temperature, CRI and lumen maintenance, while
allowing for consolidation of ballasts.
• Thermally protected ballast limits operating temperature.
• Class "A" sound rated ballast for use in low ambient noise applications.
• Meets NEC 410.73 double-ended, fluorescent lamp ballast disconnect
requirements.
• ETL listed to UL standards (US and Canada) for use in damp locations. Not
recommended for exterior applications.
• Remote Class ll Power Supply included with LED Light Engines.
• SPI uses strict quality guidelines in LED selection to ensure the White LED's
we use meet or exceed ANSI Binning Standards (ANSI C78.733).
Finish
• Housing and mounting components painted to match, unless otherwise
specified.
Lamping/lamp
• LED is available in 3500K only.
SPILIGHTING
®
Tel (262)242-1420
contact@spilighting.com
Current as of 09/25/16. Design modification rights reserved.
SPI SPECIFICATION SHEET
MODEL NUMBER
LIGHT SOURCE
FINISH
VOLTAGE
LAMP OPTIONS
OPTIONS
SIP9886
Not all options are available in all configurations, consult factory for details.
Light Source
Photometry
L7.6WC-24V
Voltage
White 7.6W HD LED Light Engine
Delivered Lumens:
1
1F14
1
1F14DM
1
1F24
1
1F24DM
L14.3WC-24V
1F14WT5/Mini Bipin
BEAM IES
ZIP
1F14WT5/Mini Bipin Dimming
BEAM IES
ZIP
1F24WT5HO/Mini Bipin
BEAM IES
ZIP
1F24WT5HO/Mini Bipin Dimming
BEAM IES
ZIP
Options
120V
120 Volt
APS
Asymmetric Perforated Sreen
277V
277 Volt
PLS
Perforated Lamp Shield
PSN
Power Supply Not Included
Lamp Options
EMR
Emergency Ballast Remote
SPS
Symmetric Perforated Shield
F
Fusing
TS
Transluscent Shield
White 14.3W HD LED Light Engine
Delivered Lumens:
1 T5 & T8 Fluorescent Linear Lamp(s) Not Included
Painted Finishes
PT01
Super White
PT07
Light Taupe
PT13
Warm Gray
PT19
Blue
PT29
Red Brass
PT42
Sky Blue
PT48
Brass
PT02
White
PT08
Medium Taupe
PT14
Light Gray
PT20
Dark Green
PT31
Medium Bronze
PT43
Teal
PT49
Bronze
PT03
Morning Light
PT09
Medium Gray
PT15
Sage
PT21
Pearl White
PT32
Dark Bronze
PT44
Green
PT51
Matte White
PT04
Warm White
PT10
Dark Gray
PT16
Spruce
PT22
Platinum
PT33
Dark Blue
PT45
Purple
PT05
Putty
PT11
Black
PT17
Red
PT27
Deep Copper
PT40
Yellow
PT46
Aluminum
PT06
Warm Beige
PT12
Dark Chocolate
PT18
Deep Red
PT28
Dark Stainless
PT41
Orange
PT47
Deep Red Brass
Metal and Plated Finishes
AN01 Anodized Satin Aluminum
SPILIGHTING
®
Tel (262)242-1420
contact@spilighting.com
Current as of 09/25/16. Design modification rights reserved.