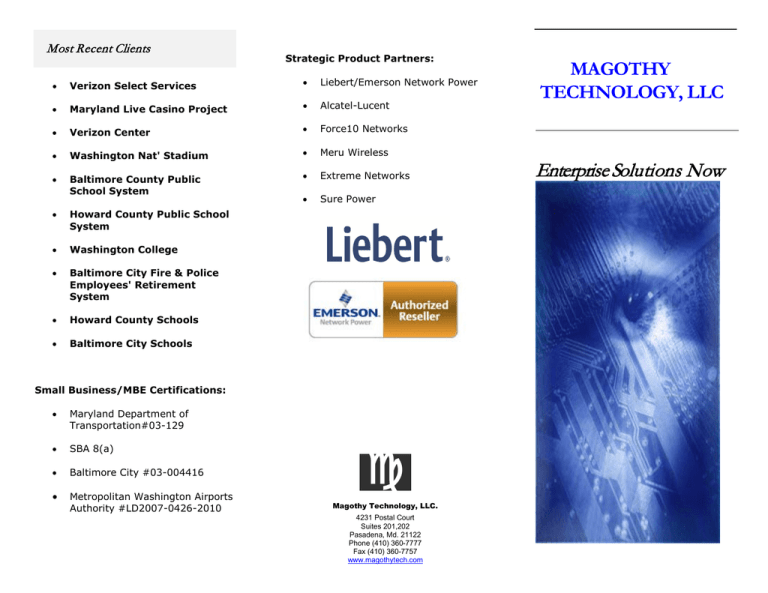 Most Recent Clients
Strategic Product Partners:
Liebert/Emerson Network Power
•
Verizon Select Services
•
•
Maryland Live Casino Project
•
Alcatel-Lucent
•
Verizon Center
•
Force10 Networks
•
Washington Nat' Stadium
•
Meru Wireless
•
Baltimore County Public
School System
•
Extreme Networks
•
Sure Power
•
Howard County Public School
System
•
Washington College
•
Baltimore City Fire & Police
Employees' Retirement
System
•
Howard County Schools
•
Baltimore City Schools
Small Business/MBE Certifications:
•
Maryland Department of
Transportation#03-129
•
SBA 8(a)
•
Baltimore City #03-004416
•
Metropolitan Washington Airports
Authority #LD2007-0426-2010

Magothy Technology, LLC.
4231 Postal Court
Suites 201,202
Pasadena, Md. 21122
Phone (410) 360-7777
Fax (410) 360-7757
www.magothytech.com
MAGOTHY
TECHNOLOGY, LLC
Enterprise Solutions Now
MAGOTHY
TECHNOLOGY,
LLC
Magothy Technology is a Baltimore based
independently owned and operated small
business that delivers large results for its
clients. With more than 38 years of
experience in the information technology
arena, our clients benefit from industry
experts in services provided and proven
products offered.
Founded in 2002, Magothy's journey has
been marked by the continuous pursuit of
excellence in solving our customers'
Information Technology problems and
providing them with access to a broad array
of expertise across various technology
disciplines.
In growing companies, enterprise
headquarters, remote sites, and co-location
facilities-ensuring business-critical continuity
is imperative. The Magothy,
Liebert/Emerson Network Power team
solutions uphold and protect the speeds and
feeds in our client's office space, server
rooms, data centers, network closets,
network operations centers, production
facilities and telecom/distribution areas.
These areas are the critical HEART BEAT
of any organization. Magothy Technology
provides the expertise in keeping the pulse of
these organizations flowing efficiently.
This is Magothy Technology's Core
Competency.
MAGOTHY TECHNOLOGY, LLC.
ASSIST OUR CLIENTS IN THREE
MAJOR AREAS:

Performance and Capacity Planning

Data Center Migration
ESSENTIAL DATA CENTERS
SOLUTIONS:

IP Management Solutions

Disaster Recovery Planning

Wireless WAN and LAN
Technologies

Secure Internet Access

Data Infrastructure Wire

Enterprise Environmental Solutions

Complete Turnkey MDF/IDF
Build-Outs

Power Distribution and Power
Conditioning

Power Management/Monitoring

Energy Conservation Solutions

Security Posture Assessments

Surge Protection

Security Policy Development

Precision Cooling

Certification & Accreditation

UPS Systems

Security Architecture Design

Liebert Pre-Engineered Solutions

Security Program Management

Racks and Cabinets

VPN/Remote Access Solutions
ENTERPRISE NETWORKING

Intrusion Detection Systems

Network Design and
Implementation

Fire Wall Solutions

Voice over IP Solutions

Business Continuity

Consolidation/Virtualization

Infrastructure Management
INFORMATION SECURITY
Other network services/solutions available….