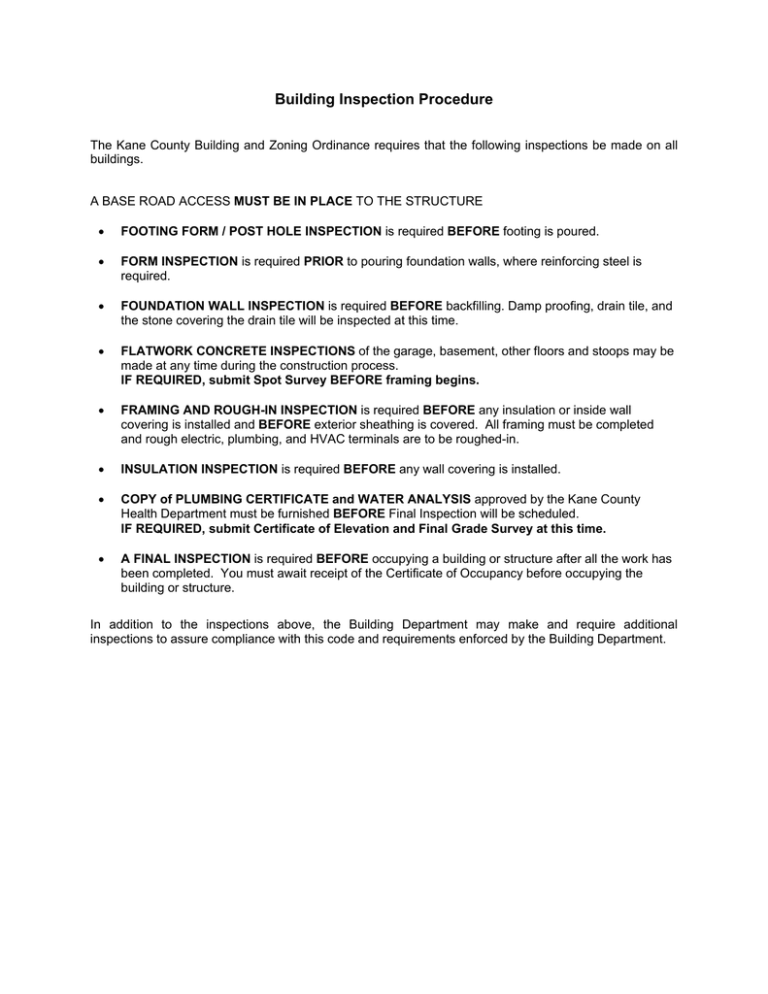 Building Inspection Procedure
The Kane County Building and Zoning Ordinance requires that the following inspections be made on all
buildings.
A BASE ROAD ACCESS MUST BE IN PLACE TO THE STRUCTURE

FOOTING FORM / POST HOLE INSPECTION is required BEFORE footing is poured.

FORM INSPECTION is required PRIOR to pouring foundation walls, where reinforcing steel is
required.

FOUNDATION WALL INSPECTION is required BEFORE backfilling. Damp proofing, drain tile, and
the stone covering the drain tile will be inspected at this time.

FLATWORK CONCRETE INSPECTIONS of the garage, basement, other floors and stoops may be
made at any time during the construction process.
IF REQUIRED, submit Spot Survey BEFORE framing begins.

FRAMING AND ROUGH-IN INSPECTION is required BEFORE any insulation or inside wall
covering is installed and BEFORE exterior sheathing is covered. All framing must be completed
and rough electric, plumbing, and HVAC terminals are to be roughed-in.

INSULATION INSPECTION is required BEFORE any wall covering is installed.

COPY of PLUMBING CERTIFICATE and WATER ANALYSIS approved by the Kane County
Health Department must be furnished BEFORE Final Inspection will be scheduled.
IF REQUIRED, submit Certificate of Elevation and Final Grade Survey at this time.

A FINAL INSPECTION is required BEFORE occupying a building or structure after all the work has
been completed. You must await receipt of the Certificate of Occupancy before occupying the
building or structure.
In addition to the inspections above, the Building Department may make and require additional
inspections to assure compliance with this code and requirements enforced by the Building Department.