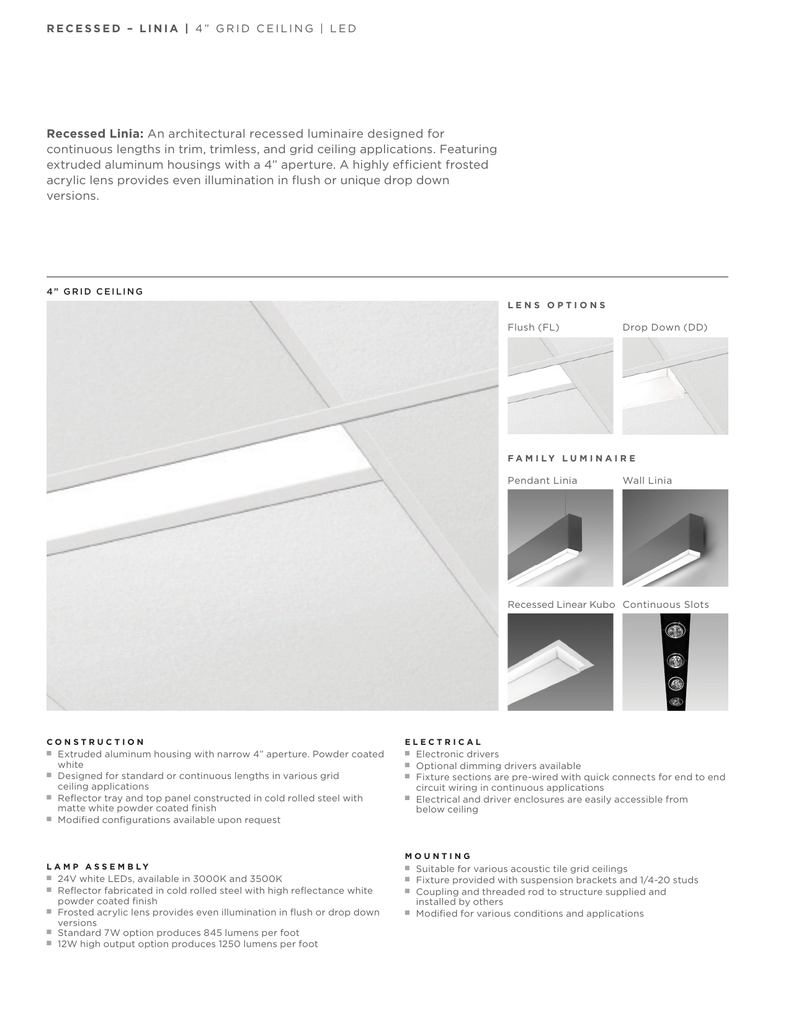 RECESSED – LINIA | 4" GRID CEILING | LED
Recessed Linia: An architectural recessed luminaire designed for
continuous lengths in trim, trimless, and grid ceiling applications. Featuring
extruded aluminum housings with a 4" aperture. A highly efficient frosted
acrylic lens provides even illumination in flush or unique drop down
versions.
4" GRID CEILING
LENS OPTIONS
Flush (FL)
Drop Down (DD)
FA M I LY L U M I N A I R E
Pendant Linia
Wall Linia
Recessed Linear Kubo Continuous Slots
CONSTRUCTION
■■
■■
■■
■■
xtruded aluminum housing with narrow 4" aperture. Powder coated
E
white
Designed for standard or continuous lengths in various grid
ceiling applications
Reflector tray and top panel constructed in cold rolled steel with
matte white powder coated finish
Modified configurations available upon request
ELECTRICAL
■■
■■
■■
■■
lectronic drivers
E
Optional dimming drivers available
Fixture sections are pre-wired with quick connects for end to end
circuit wiring in continuous applications
Electrical and driver enclosures are easily accessible from
below ceiling
MOUNTING
L A M P A S S E M B LY
■■
■■
■■
■■
■■
4V white LEDs, available in 3000K and 3500K
2
Reflector fabricated in cold rolled steel with high reflectance white
powder coated finish
Frosted acrylic lens provides even illumination in flush or drop down
versions
Standard 7W option produces 845 lumens per foot
12W high output option produces 1250 lumens per foot
■■
■■
■■
■■
uitable for various acoustic tile grid ceilings
S
Fixture provided with suspension brackets and 1/4-20 studs
Coupling and threaded rod to structure supplied and
installed by others
Modified for various conditions and applications
PROJECT
T YPE
DATE
CATALOG #
G R I D D E T A I L CONTINUOUS
S U S P E N S I O N D E TA I L
THREADED ROD
TO STRUCTURE
(BY OTHERS)
COUPLING
HARDWARE
(BY OTHERS)
9/16"
EXPOSED
TEE
15/16"
EXPOSED
TEE
9/16"
SLOT
TEE
9/16"
NODE
TEE
(GC1)
(GC2)
(GC3)
(GC4)
LAY-IN
TILE
TEGULAR
TILE
(L)
(T)
1/4-20 STUD
BOLT W/ NUT
(PROVIDED)
SUSPENSION
BRACKET
EXPOSED TEE
VERSION
SLOT TEE
VERSION
REGRESSED 0.5" (RG)




FLUSH (FL)




DROP DOWN 1" (DD)




O R D E R I N G I N F O R M AT I O N
CAT. NO
NOMINAL
LENGTH
STANDARD
3G-4RLI
2FT
LED SOURCE
HIGH OUTPUT
LED COLOR
TEMP
VOLTAGE
DRIVER
TEE TYPE
TILE STYLE
LENS
14LED - 14W WHITE
24LED - 24W WHITE
30K - 3000K
120 - 120V
E - ELECTRONIC
GC1 - 9/16
EXPOSED TEE
L - LAY-IN TILE
FL - FLUSH
4FT
28LED - 28W WHITE
48LED - 48W WHITE
35K - 3500K
277 - 277V
DHL - DIMMING
DD - DROP DOWN
35LED - 35W WHITE 60LED - 60W WHITE
8FT
56LED - 56W WHITE
96LED - 96W WHITE
GC2 - 15/16
EXPOSED TEE
GC3 - 9/16
SLOT TEE
GC4 - 9/16
NODE TEE
T - TEGULAR TILE
5FT
_FT*
7W (PER FOOT)
12W (PER FOOT)
DHL2 - DIMMING
(LUTRON HI-LUME
ECO SYSTEM®)
DIM - DIMMING
TT - TEGULAR TILE
AGAINST TEE
(0-10V)
NOTE:
For longer lengths or continuous runs, specify overall length in feet.
3G-4RLI
ORDERING EXAMPLE
3G-4RLI-4FT-28LED-30K-120-E-GC1-T-FL
Copyright 2013. 3G Lighting Inc. Phone: 905-850-2305 Fax: 905-851-6490 Toll free: 888-448-0440
3G reserves the right to change, without notice, specifications or materials for product improvement. Specification sheets found at www.3glighting.com are the most recent versions.