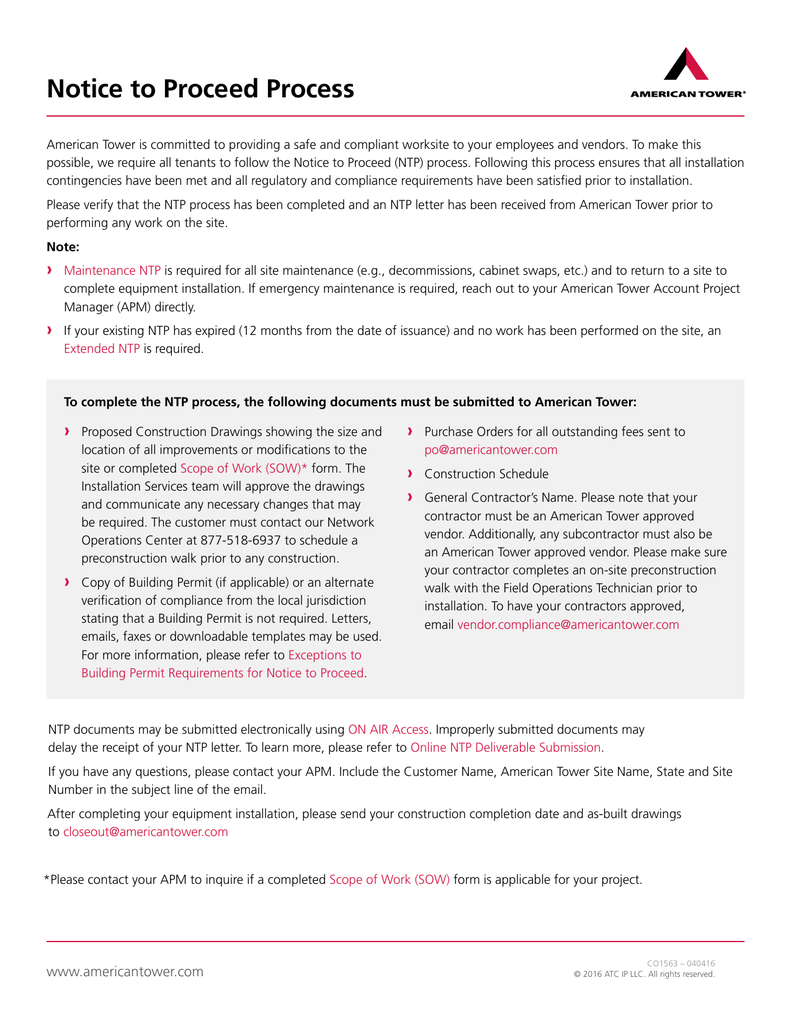 Notice to Proceed Process
American Tower is committed to providing a safe and compliant worksite to your employees and vendors. To make this
possible, we require all tenants to follow the Notice to Proceed (NTP) process. Following this process ensures that all installation
contingencies have been met and all regulatory and compliance requirements have been satisfied prior to installation.
Please verify that the NTP process has been completed and an NTP letter has been received from American Tower prior to
performing any work on the site.
Note:
››
Maintenance NTP is required for all site maintenance (e.g., decommissions, cabinet swaps, etc.) and to return to a site to
complete equipment installation. If emergency maintenance is required, reach out to your American Tower Account Project
Manager (APM) directly.
››
If your existing NTP has expired (12 months from the date of issuance) and no work has been performed on the site, an
Extended NTP is required.
To complete the NTP process, the following documents must be submitted to American Tower:
››
››
Proposed Construction Drawings showing the size and
location of all improvements or modifications to the
site or completed Scope of Work (SOW)* form. The
Installation Services team will approve the drawings
and communicate any necessary changes that may
be required. The customer must contact our Network
Operations Center at 877-518-6937 to schedule a
preconstruction walk prior to any construction.
Copy of Building Permit (if applicable) or an alternate
verification of compliance from the local jurisdiction
stating that a Building Permit is not required. Letters,
emails, faxes or downloadable templates may be used.
For more information, please refer to Exceptions to
Building Permit Requirements for Notice to Proceed.
››
Purchase Orders for all outstanding fees sent to
[email protected]
››
››
Construction Schedule
General Contractor's Name. Please note that your
contractor must be an American Tower approved
vendor. Additionally, any subcontractor must also be
an American Tower approved vendor. Please make sure
your contractor completes an on-site preconstruction
walk with the Field Operations Technician prior to
installation. To have your contractors approved,
email [email protected]
NTP documents may be submitted electronically using ON AIR Access. Improperly submitted documents may
delay the receipt of your NTP letter. To learn more, please refer to Online NTP Deliverable Submission.
If you have any questions, please contact your APM. Include the Customer Name, American Tower Site Name, State and Site
Number in the subject line of the email.
After completing your equipment installation, please send your construction completion date and as-built drawings
to [email protected]
*Please contact your APM to inquire if a completed Scope of Work (SOW) form is applicable for your project.
www.americantower.com
CO1563 – 040416
© 2016 ATC IP LLC. All rights reserved.