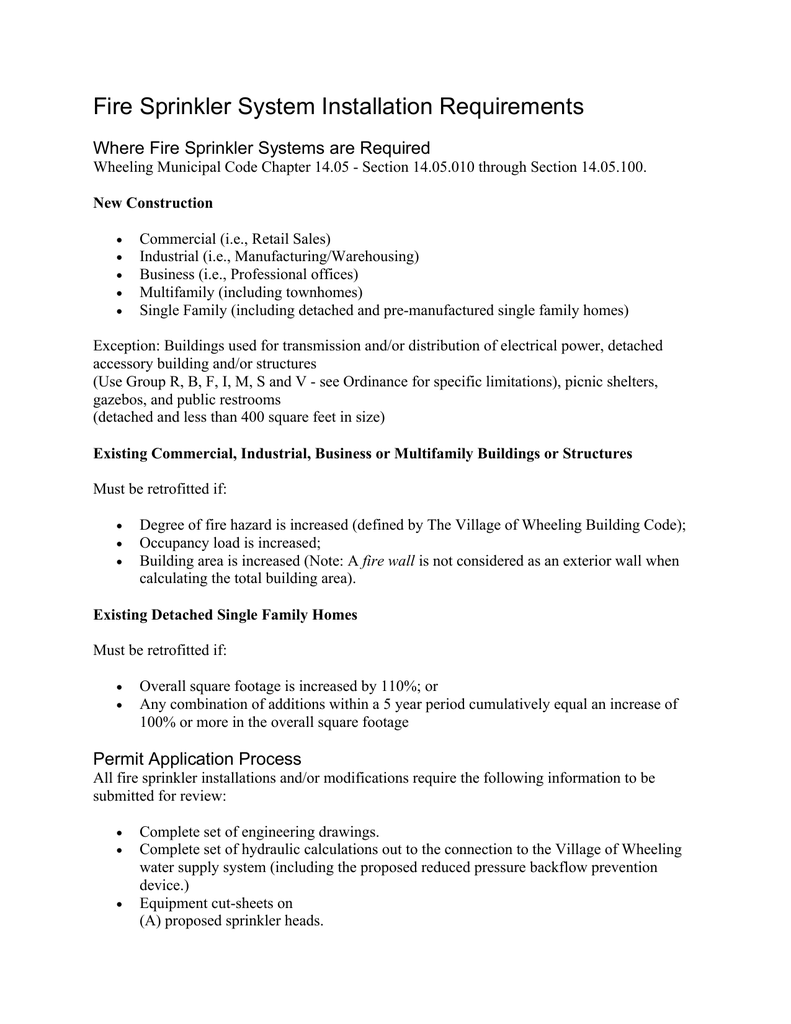 Fire Sprinkler System Installation Requirements
Where Fire Sprinkler Systems are Required
Wheeling Municipal Code Chapter 14.05 - Section 14.05.010 through Section 14.05.100.
New Construction





Commercial (i.e., Retail Sales)
Industrial (i.e., Manufacturing/Warehousing)
Business (i.e., Professional offices)
Multifamily (including townhomes)
Single Family (including detached and pre-manufactured single family homes)
Exception: Buildings used for transmission and/or distribution of electrical power, detached
accessory building and/or structures
(Use Group R, B, F, I, M, S and V - see Ordinance for specific limitations), picnic shelters,
gazebos, and public restrooms
(detached and less than 400 square feet in size)
Existing Commercial, Industrial, Business or Multifamily Buildings or Structures
Must be retrofitted if:



Degree of fire hazard is increased (defined by The Village of Wheeling Building Code);
Occupancy load is increased;
Building area is increased (Note: A fire wall is not considered as an exterior wall when
calculating the total building area).
Existing Detached Single Family Homes
Must be retrofitted if:


Overall square footage is increased by 110%; or
Any combination of additions within a 5 year period cumulatively equal an increase of
100% or more in the overall square footage
Permit Application Process
All fire sprinkler installations and/or modifications require the following information to be
submitted for review:



Complete set of engineering drawings.
Complete set of hydraulic calculations out to the connection to the Village of Wheeling
water supply system (including the proposed reduced pressure backflow prevention
device.)
Equipment cut-sheets on
(A) proposed sprinkler heads.
(B) Reduced pressure backflow prevention device.
(C) Fire pump with design curve (if applicable).
(D) Fire pump controller (if applicable).
(E) Tamper and flow switches.
(F) Alarm monitoring panel (if applicable).
Plan Review Process
Once received by the Wheeling Fire Department Fire Prevention Bureau, the plan review process
can take up to 10 working days. On larger or more complex systems, this review can take up to
20 working days. All plan reviews are completed in the order in which they are received.
Water Flow Information
Water flow data can be obtained from the Wheeling Fire Department Fire Prevention Bureau
during regular business hours. In the event that a new water flow test is required, please allow
three (3) working days to process your request. Water flow tests may only be done when the
outside temperature is above 32 degrees Fahrenheit and rising
Fire Sprinkler System Design Criteria
The following industry standards are required to be used, when designing fire sprinkler system
installations:
Industrial/Commercial/Business:





NFPA #13: "Installation of Sprinkler Systems"
NFPA #15: "Water Spray Fixed Systems for Fire Protection"
NFPA #16: "Installation of Foam-Water Sprinkler and
Foam-Water Spray Systems"
NFPA #230: "Fire Protection of Storage"
NFPA #20: "Installation of Stationary Fire Pumps"
Residential:



NFPA #13: "Installation of Sprinkler Systems"
NFPA #13D: "Sprinkler Systems in One & Two Family Dwellings"
NFPA #13R: "Sprinkler Systems in Residential Occupancies up to and Including Four
Stories in Height"
Hydraulic Calculation Minimum Safety Factor


Commercial, Industrial, Multifamily = 5 PSI
Detached Single Family, Attached Single Family, Pre- Manufactured Single Family = 2
PSI
Back Flow Prevention Device Requirements
The Illinois Plumbing Code and the Village of Wheeling Plumbing Code both require the
installation of a certified reduced pressure backflow device with metered bypass on all fire
sprinkler systems. All backflow prevention devices must be UL listed, FM approved, and/or
ASSE listed for use with Fire Sprinkler Systems.For specific requirements, contact the Village of
Wheeling Plumbing Inspector at (847) 459-2620 (Community Development Department).
Fire Pump Requirements
When sprinkler requirements dictate the need for a fire pump, the installation must comply with
the following standard:

NFPA #20: "Installation of Stationary Fire Pumps"
Fire Department Connection Requirements
When required, based upon the type of system installed, the fire department connection shall
consist of:


A single 5 inch Storz fitting and chained cap.
All associated piping must be sized to hydraulically supply the designed flow
requirements at 100 PSI or less inlet pressure
System Monitoring Requirements
All fire sprinkler systems (except for attached single family homes, townhouses, detached single
family homes, and pre-manufactured single family homes) are required by local ordinance to be
monitored 24 hours a day by an appropriate alarm monitoring service. The following pieces of
equipment are required to be monitored:



Isolation Valves (i.e., OS & Y's)
Flow Switch
Fire Pump (if applicable)
All monitoring equipment must comply with NFPA #72: "National Fire Alarm Code"
Requirements for Certificate of Occupancy (Fire Sprinkler System Only)
The following fire sprinkler system requirements must be completed in order to obtain a
"Certificate of Occupancy":
1. All system components are installed according to the approved plans and hydraulic
calculations.
2. The entire system is hydrostatically tested at 200 psi for 2 or more hours.
3. Underground piping is pressure tested, chlorinated, and flushed in accordance with Public
Works/Engineering Department criteria.
4. Fire pump (if applicable) if flow tested and meets design criteria.
5. Alarm devices are installed and connected to a central station alarm monitoring facility.