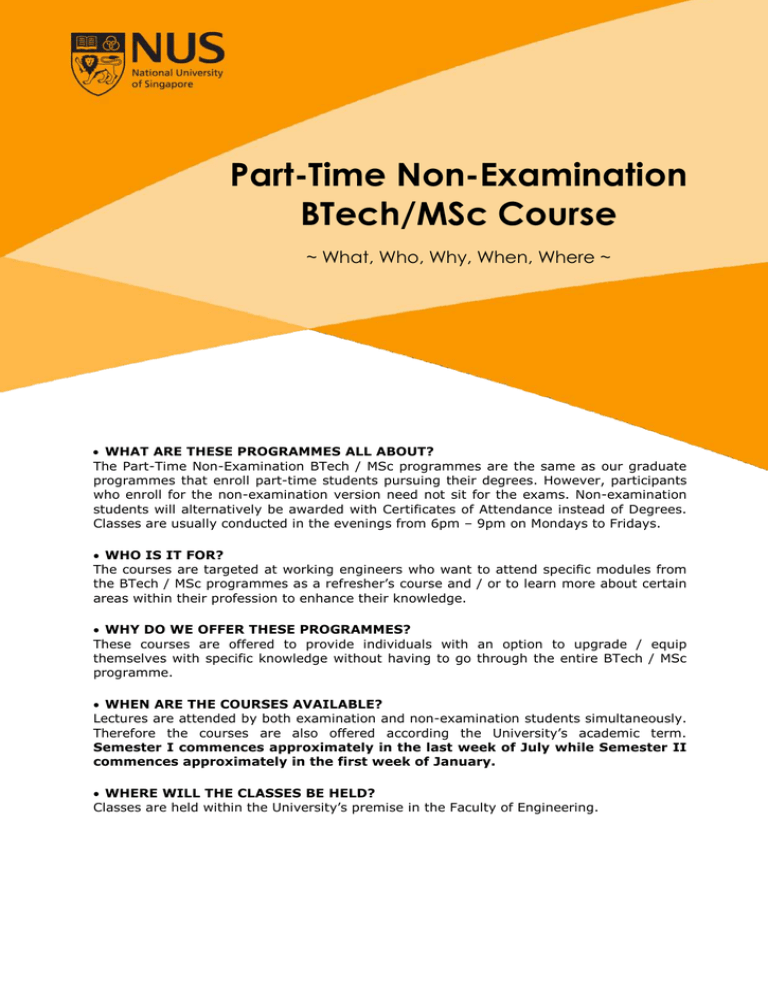 Part-Time Non-Examination
BTech/MSc Course
~ What, Who, Why, When, Where ~
• WHAT ARE THESE PROGRAMMES ALL ABOUT?
The Part-Time Non-Examination BTech / MSc programmes are the same as our graduate
programmes that enroll part-time students pursuing their degrees. However, participants
who enroll for the non-examination version need not sit for the exams. Non-examination
students will alternatively be awarded with Certificates of Attendance instead of Degrees.
Classes are usually conducted in the evenings from 6pm – 9pm on Mondays to Fridays.
• WHO IS IT FOR?
The courses are targeted at working engineers who want to attend specific modules from
the BTech / MSc programmes as a refresher's course and / or to learn more about certain
areas within their profession to enhance their knowledge.
• WHY DO WE OFFER THESE PROGRAMMES?
These courses are offered to provide individuals with an option to upgrade / equip
themselves with specific knowledge without having to go through the entire BTech / MSc
programme.
• WHEN ARE THE COURSES AVAILABLE?
Lectures are attended by both examination and non-examination students simultaneously.
Therefore the courses are also offered according the University's academic term.
Semester I commences approximately in the last week of July while Semester II
commences approximately in the first week of January.
• WHERE WILL THE CLASSES BE HELD?
Classes are held within the University's premise in the Faculty of Engineering.

Modules available

Course details / Website address
You will be able to obtain the full list of modules that are offered by NUS, via the
Internet. However, only selected modules are offered during each semester.
Therefore you will need to obtain the final semester timetable before you can select
which modules you want to register for.
Bachelor of Technology (BTech) Programmes
BTech in Mechanical / Manufacturing Engineering, Electronics Engineering and
Chemical Engineering
https://btech.eng.nus.edu.sg/BTech/Programme/ModuleDeclaration.aspx
Master of Science (MSc) Programmes
Chemical Engineering
http://www.chee.nus.edu.sg/postgrad/pg_prospective_mo.html
Civil Engineering
http://www.eng.nus.edu.sg/cee/programmes/MSc_ce.html
Electrical Engineering
http://www.ece.nus.edu.sg/academic/graduate/MScEE.html
Geotech Engineering
Industrial & Systems
Engineering
Management of
Technology*
Materials Science &
Engineering
http://www.eng.nus.edu.sg/cee/programmes/MSc_ge.html
Mechanical Engineering
http://me.nus.edu.sg/student_grad_msc.php
Offshore Technology
http://www.eng.nus.edu.sg/cee/programmes/MSc_ot.html
http://www.ise.nus.edu.sg/MSc/index.html
http://www.eng.nus.edu.sg/etm/programmes/MOT.htm
http://www.mse.nus.edu.sg/msc.html
*Offered once a year for August Intake

Duration and frequency of course
Each BTech / MSc module will be conducted one evening per week over a period of
between 13 – 15 weeks. Students who wish to take up more than one module
simultaneously should avoid choosing modules that fall on the same day of the week.

Application requirements
Applicants who wish to be considered must possess at least the following:
BTech :
Diploma in related field
MSc
:
Degree in related field
However, please note that the above are minimum requirements and do not
guarantee admission. All applications will be reviewed and approved by the course
lecturer/s involved.

When will the final semester time-table be available?
(IMPORTANT!)
The final semester time-table will be available approximately one month prior to the
commencement date of the semester. It takes approximately two working weeks to
process the application, it is therefore important that all interested participants be
aware of this one-month window period for application. Late applicants will be
considered on an ad-hoc basis.

Submission of Application (IMPORTANT!)

Commencement dates

Certification

Course Fees

Payment
All applications will need to be submitted with the registration forms as well as copies
of applicants' latest academic qualifications. This can be done via fax or email.
Commencement dates vary according the University's academic term. The University's
academic year is as follows:
Semester I
:
approximately first week of August
Semester II
:
approximately first week of January
A Certificate of Attendance will be issued to all attendees who fulfill at least 75%
attendance rate.
Course fees are charged per module per semester as follows:
BTech : S$1,080.00 + GST
MSc : S$1,900.00 + GST
Payment will have to be made in full as soon as the students have been accepted.
Payment can be via credit card or cheque made payable to "National University of
Singapore".