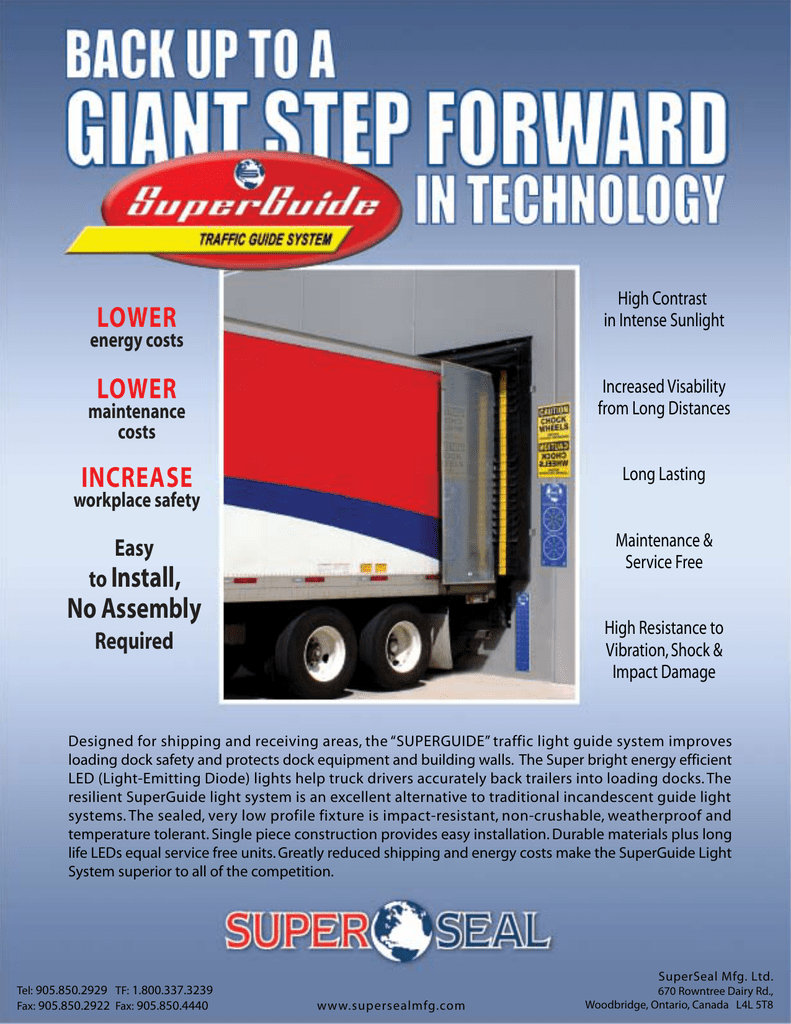 LOWER
High Contrast
in Intense Sunlight
LOWER
Increased Visability
from Long Distances
INCREASE
Long Lasting
Easy
Maintenance &
Service Free
energy costs
maintenance
costs
workplace safety
to Install,
No Assembly
High Resistance to
Vibration, Shock &
Impact Damage
Required
Designed for shipping and receiving areas, the "SUPERGUIDE" traffic light guide system improves
loading dock safety and protects dock equipment and building walls. The Super bright energy efficient
LED (Light-Emitting Diode) lights help truck drivers accurately back trailers into loading docks. The
resilient SuperGuide light system is an excellent alternative to traditional incandescent guide light
systems. The sealed, very low profile fixture is impact-resistant, non-crushable, weatherproof and
temperature tolerant. Single piece construction provides easy installation. Durable materials plus long
life LEDs equal service free units. Greatly reduced shipping and energy costs make the SuperGuide Light
System superior to all of the competition.
Tel: 905.850.2929 TF: 1.800.337.3239
Fax: 905.850.2922 Fax: 905.850.4440
SuperSeal Mfg. Ltd.
www.supersealmfg.com
670 Rowntree Dairy Rd.,
Woodbridge, Ontario, Canada L4L 5T8
SuperGuide Traffic & Guide Lights
The SuperGuide Light system consists of a ½" thick stress relieved,
sanitized HDP (High Density PolyEthylene) panel, royal blue with white
core. All non-glare lights shall be Super Bright Red, Green and Amber Light Emitting
Diodes and have a 30º viewing angle. Operating/storage temperature shall range from -40ºC to
+85ºC and be visible day or night. All LEDs are recessed on panel front. The wiring is embedded in an
epoxy compound on panel back, making this unit completely moisture, water and weather resistant. Each
fixture shall include a 15' cable and requires 24V AC or DC, 0.2A or 120V AC power. Pre-drilled mounting
holes provide easy installation.
SuperGuide Light system can be use to control entry to parking garages, loading dock areas, drive thrus,
parking lot enterances and exits or any high traffic areas. They can also be used to guide trucks backing
into loading docks, warn workers and drivers of hazardous situations and much more.
•
•
•
•
•
•
•
•
•
•
Custom designs (Company Logos) available.
1/2" thick HDP ( High Density PolyEthylene) lowest profile on the market.
Low profile design eliminates impact damage.
LED's are good for 100,000 hours or 10 years of continuous use and provides
a high quality light with no glare.
Uses 30% less energy then conventional incandescent guide light units.
Recessed LED's are shock, vibration and temperature proof. LED's are more
durable than conventional incandescent bulbs and produce no heat.
Service free – No need to replace bulbs or lenses.
1-year limited warranty on entire unit.
Requires 24V or 120V (CSA Approved).
Will not rust, pit or corrode.
Have your
Company's Logo
engraved into a custom
designed SuperGuide
Traffic Light.
Average life expectancy
for LED lights is
100,000 Hrs. or Ten yrs,
SuperGuide Product Details:
Dimensions
All units are 1/2" thick.
The SuperGuide Traffic Light Communication System
is an unmatched, low-cost way to maintain
communication between truck drivers and loading dock
personnel. The simple red and green LED lights
instantly understood as "Stop" and "Go" -- provide clear
signals to dock workers inside and truck drivers outside.
Model #
2C2C-I: 10 Red LEDs, 10 Green LEDs Set in 3" Circles
2C2C-4: 20 Red LEDs, 20 Green LEDs Set in 4" Circles
2C2C-8: 40 Red LEDs, 40 Green LEDs Set in 8" Circles
2C2C-I
2C2C-4
2C2C-8
3C3C-4
3C3C-8
SuperGuide traffic lights are an incomparable
illuminating system for loading docks and other hazardous
high traffic areas. SuperGuide traffic guide lights are
quality constructed to provide years of trouble-free and
maintenance/service free operation.
Model #
3C3C-4: 20 Red LEDs, 20 Amber LEDs, 20 Green LEDs
Set in 4" Circles
3C3C-8: 40 Red LEDs, 40 Amber LEDs, 40 Green LEDs
Set in 8" Circles
Looking through their mirrors, truck drivers can safely
center their truck and/or trailer between the SuperGuide
Traffic lights. Docking manoeuvres can be dangerous
and costly when mistakes are made due to poor
visibility. Super Seal's SuperGuide products outline the
docking area and make backing up and spotting trailers
easier. Complete safety is maintained and damage to
loading dock, building and injury to personnel are avoided.
Model #
2R1C: 2 Rows of 10 Red or 10 Amber LED lights
2R2C: 2 Rows of 10 Red and 10 Green LED lights
3R1C: 3 Rows of 10 Red or 10 Amber LED lights
3R2C: 3 Rows of 10 Red and 10 Green LED lights
Super Guide Traffic Guide System from Super Seal Mfg.
helps to consistently spot trailers at your loading docks
every time.
2R1C
2R2C
3R1C
3R2C
More SuperGuide Products
SUPERGUIDE SIGN
SGSIGN
Safety is critical in loading dock and material handling environments.
Adequate traffic lights and guide lights are a must.
Super Seal's SuperGuide traffic lights can be a great addition to a large
variety of traffic safety signs. Visible and legible in rear view mirrors or
straight on, these bright yellow SuperGuide safety signs can't be missed.
Ultra thin design (1/2")
Installs quick and easy. No assembly required
The SUPERGUIDE REFLECTOR is made of a flexible, glossy, UV-stabilized polymeric film with
highly retro reflective micro prisms. The polymeric film does not crack or fade and is solvent
resistant. The SuperGuide Reflector is highly visible from great distances, reflects in low light,
when wet and has an operating temperature ranging from -40ºC to +50ºC. The SuperGuide
Reflector System is highly visible day or night, in any weather condition.
SUPERGUIDE
REFLECTOR
CONTROL PANELS
SuperGuide Switch boxes are available in a wide
variety of sizes, styles and function.
SGSB
SGSB AUTO
This two way communication system can also be
part of a multi functioning fully automated unit
that controls all dock accessories and safety
features such as:
Vehicle Restraints, Dock Levelers, Overhead Doors,
Inflatable Door Seals and Dock Lights.
CONTROL PANEL LIGHTS
DOCK LEVELER
** All Super S eal pro d u c t s a re s u b j e c t to d e s i gn m o d i fic at i o n s w i t h o u t n o t i ce.
Produc t m ay b e s h ow n w i t h n o n - s t a n d a rd o p t i o n s.