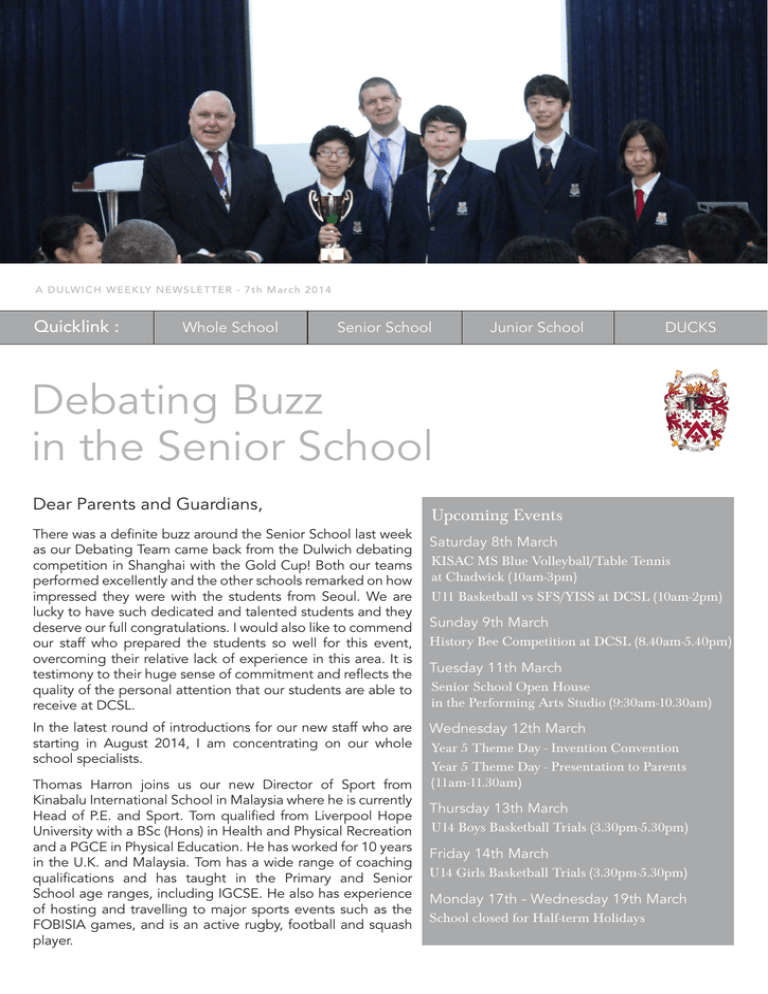 A D U LW ICH WEEKLY N EW SL ETTER - 7th M a rc h 2014
Quicklink :
Whole School
Senior School
Junior School
DUCKS
Debating Buzz
in the Senior School
Dear Parents and Guardians,
There was a definite buzz around the Senior School last week
as our Debating Team came back from the Dulwich debating
competition in Shanghai with the Gold Cup! Both our teams
performed excellently and the other schools remarked on how
impressed they were with the students from Seoul. We are
lucky to have such dedicated and talented students and they
deserve our full congratulations. I would also like to commend
our staff who prepared the students so well for this event,
overcoming their relative lack of experience in this area. It is
testimony to their huge sense of commitment and reflects the
quality of the personal attention that our students are able to
receive at DCSL.
In the latest round of introductions for our new staff who are
starting in August 2014, I am concentrating on our whole
school specialists.
Thomas Harron joins us our new Director of Sport from
Kinabalu International School in Malaysia where he is currently
Head of P.E. and Sport. Tom qualified from Liverpool Hope
University with a BSc (Hons) in Health and Physical Recreation
and a PGCE in Physical Education. He has worked for 10 years
in the U.K. and Malaysia. Tom has a wide range of coaching
qualifications and has taught in the Primary and Senior
School age ranges, including IGCSE. He also has experience
of hosting and travelling to major sports events such as the
FOBISIA games, and is an active rugby, football and squash
player.
Upcoming Events
Saturday 8th March
KISAC MS Blue Volleyball/Table Tennis
at Chadwick (10am-3pm)
U11 Basketball vs SFS/YISS at DCSL (10am-2pm)
Sunday 9th March
History Bee Competition at DCSL (8.40am-5.40pm)
Tuesday 11th March
Senior School Open House
in the Performing Arts Studio (9:30am-10.30am)
Wednesday 12th March
Year 5 Theme Day - Invention Convention
Year 5 Theme Day - Presentation to Parents
(11am-11.30am)
Thursday 13th March
U14 Boys Basketball Trials (3.30pm-5.30pm)
Friday 14th March
U14 Girls Basketball Trials (3.30pm-5.30pm)
Monday 17th - Wednesday 19th March
School closed for Half-term Holidays
A D U LW ICH WEEKLY N EW SL ETTER - 7th M a rc h 2014
Milim Oh will become the College's first Pastoral Counsellor. Milim qualified from Smith College in the U.S.A. with
a BA in Psychology, followed by an MA for Psychology in Education. She also has further qualifications in College
Consultation and youth counselling. She is currently at Chadwick International School where she has been working
with Middle and High School students. Milim is fluent in English, Korean and Japanese and has published articles
in academic journals in the U.S.
The latest addition to our Mandarin Department will be Li Na. Li is currently working at Harrow International School
in Beijing, where she teaches children throughout the Nursery to Year 7 age groups. She has a Bachelor's degree
in English from Beijing Union University, followed by a Master's in Education from the College of New Jersey in the
USA, as well as certification to Teach Chinese as a Second Language. Li has also taught in the International School
of Beijing and has 8 and a half years' teaching experience. Outside of school her interests include an interest in
Chinese culture and language.
The College has now almost completed its staffing for the coming academic year, but I will keep you updated on
any further appointments as the year progresses.
Teacher Benefit Night
I would like to give my thanks to the Friends of Dulwich team who are organising the Teacher Benefit night on
Saturday 29th March. It is the one occasion where all our staff and parents can come together in relaxed surrounding
and meet each other socially. As such, it is tremendously important in cementing our community relations whilst
having the added bonus of being a most enjoyable evening - one of my favourites of the school year! I therefore
hope to see many of you at the Conrad Hotel on the night to enjoy a relaxing evening full of great food and
refreshments.
Finally, I am looking forward to the History Bee and Bowl competition which will be held for the first time in Korea
this Sunday at DCSL. We have up to ten schools visiting Dulwich for the event, which has been organised by Mr
Smale. As a History graduate, I am especially looking forward to some of the questions!
Yours faithfully,
Mr Daryl Orchard
Headmaster
International School Chess Meet
The organizers for the third KAIAC Chess Tournament are offering Saturday 12th April as a possible date for the
next chess meet for international school students.
Should enough parents from all schools express interest in registering their children for this chess meet, the
tournament will be held in Seoul. Breakfast and lunch are provided at these events at the cost of 3000 and 6000
won each.
Once again, this date relies solely on the number of parents who express interest in signing up their children for
the tournament. Please note, this date is therefore a tentative one and subject to change.
If your child is interested in participating, please email me at Kris.Dunphy@dulwich-seoul.kr
Students who register in time will be chaperoned by myself, or another one of our teachers. Please let me know
if you have any questions.
Mr Kristopher Dunphy
Shelter Class Teacher
A D U LW ICH WEEKLY N EW SL ETTER - 7th M a rc h 2014
Friends of Dulwich News
BENEFIT NIGHT TICKET ON SALE NOW!
Dulwich parents and staff join us for a fun social evening to be held at the
Conrad Hotel on the 29th March 2014!
You will be astounded and hopefully motivated to bid for exceptional pieces
of artwork masterminded by the children. You will have the opportunity to
bid for a custom made Zegna suit and many other exciting auction items
including terrific teacher activities such as going to the movies, bowling,
afternoon tea and manicures, a picnic in Namsan Park, a climbing or boxing
lesson and KS1 or KS2 'Be Deputy Head for the Day' to bid on for your
child!
Upcoming Events
International Cooking Class
25th March 2014
9:30am -12:30pm
Mrs Inge Radloff's house
FoD Meetings
Book your ticket online at:
26th March 2014
7pm Multi Purpose Room
https://docs.google.com/forms/d/1-CsReM6PyDQfp9bUywQEq6pxRiD7
OPjONasuH-tzuYU/viewform
Benefit Night
or purchase tickets in the College foyer every afternoon at 3:15-3:45pm
/5-5:30pm).
Conrad Hotel in Yeouido
The deadline to purchase tickets is 21st March 2014. Don't miss out!
If you have any questions, please contact Mrs. Hillary Norris at:
hill.stu.norris@me.com
29th March 2014
Founder's Day
24th May 2014
International Cooking Class
25th March 2014 from 9:30am -12:30pm
On the menu will be yummy Apple Tart and Lemon Cake.
The class will be held at Mrs Radloff's house and is limited to 8 participants. A fee of 30,000 KRW per person
covers the cost of the ingredients and all profits will go towards the school's chosen charities. Please contact Mrs
Inge Radloff at fiefhai@gmail.com to attend or for further details.
A D U LW ICH WEEKLY N EW SL ETTER - 7th M a rc h 2014
On that Point!
Dulwich College Shanghai was delighted to host a debating workshop led by UK-based organisation, Debate Mate.
107 students from across the Dulwich group took part in a range of activities; learning to prepare and deliver
arguments, work as a team and follow the rules of formal debate. As many students were debating for the first
time, there was an emphasis on having fun while learning these important skills.
The workshop closed on Sunday with a competition, in which teams debated one pre-prepared motion and two
impromptu motions after only 15 minutes preparation time. Students from Seoul and Shanghai debated the final
motion, "This house believes China should prioritise improving the environment over economic development",
with the Dulwich Seoul team winning the debate following excellent speeches from both sides. Mr Brian McDouall
presented the trophy to the winning team, as well as prizes for Best Speaker, Best Question from the Floor and
Most Improved Debater.
Staff and workshop leaders were impressed with the enthusiasm and talent shown by the students during the
workshop, and we hope to see regular Dulwich debating events in the future.
Mr David Sharples
Assistant Head of English
Dulwich College Shanghai
A D U LW ICH WEEKLY N EW SL ETTER - 7th M a rc h 2014
Debating Success in Shanghai
With an early start at Incheon International Airport behind us, ten tired Year 10 students readied themselves for
a series of debating workshops at Dulwich College Shanghai. At this point the students had no idea just how
far they would come as debaters and just how well they would do in a competition with schools that are much
larger and more experienced than our cohort of talented Senior School students. After arriving and settling in
Shanghai, our members of staff were briefed on the competition rules and trained in the judging of the debating
rounds. Following a well-deserved dinner, the team retired to the hotel to mentally prepare for the beginning of
the upcoming workshops and tournament.
The students woke early on Friday and after watching a showcase debate, they were split between different
tutors and sent off to different classrooms. The two groups worked on the skills absolutely essential in any form
of debate, but there was a particular emphasis on the British Parliamentary style of debate. Of the DebateMate
tutors, all of them were incredibly experienced and many of them had represented their countries in European
and world debating competitions. One tutor ranked in the top five competitors in the world.
When we woke on the day of the competition the nerves and the excitement were clear for all to see. Ms Ashworth,
Ms Yang and I spent time talking through arguments with the students and considering points of rebuttal. It was
clear to us that the two teams had the potential to do really well and the anticipation of competition added to
the excitement. Once we arrived at the school and the rest of the competitors had filed into the theatre, the
competition was underway.
The early stages of the competition was made up of three debates that covered topics from the benefits of
nuclear weapons to the forcing of TV companies to dedicate more time and coverage to women's sports. The
first of the three debates had been given to the students in advance of the tournament, but the following two
debates saw the students given only fifteen minutes preparation time. The pressure and the level of competition
was high, but our students rose to the challenge. Both of our teams earned the respect of the competition and
I could not have been prouder of the students, their efforts and the way in which they conducted themselves.
Every single student made progress, whether it was making a speech for the first time in a public forum, or
constructing and delivering their first perfect point in front of 150 people.
After a full morning of debating the judges retired to consider the scores of each team in the competition. From
eighteen teams and 106 competitors, the smallest team in the competition of only four debators, rose to the top
of the leader board, amassing a stunning 236 points out of a possible 300. Dulwich College Seoul, was in the
final. Eric Kang, Jay Shim, Peter Huh and Jung Eun Ahn were given twenty minutes to prepare their debate and as
they departed to a quiet room the looks of their fellow Seoul students showed the pride that we were all feeling.
Once they returned, the students performed magnificently on stage. Their competitors from Dulwich College
Shanghai, participated in a great, competitive final. Their points were articulate and well-delivered and a good
deal of pressure was put onto the shoulders of our ambassadors. Whilst each speaker was very strong from
Dulwich College Seoul and this was a true team effort, few could argue with the decision of the judges after a
summary speech that left the opposition with nowhere to go. The final delivery of our students showed their
intelligence, understanding and presence of mind to deal with a huge amount of pressure to win the competition
and they more than deserved to bring home the Debate Mate Debator's Cup. Our success continued further
as Kevin Lee received the reward for the best male speaker in the competition. This was an outstanding and
deserved achievement for an individual who showed himself to be a considerate and responsible young man.
On a personal note, as delighted as I am with the victory, what truly stood out for me was the manner and
conduct of our students. They served as great ambassadors of Dulwich College Seoul. I am incredibly proud
of each and every student who attended the competition. Whilst not all of them have a winner's medal around
their neck, they have all taken such positive steps forward and shown character that few students of their age
can match. I would like to extend my thanks to Dulwich College Shanghai for making us so welcome, and to
DebateMate for your time and dedication to our students. Furthermore, I would like to thank Ms Ashworth and
Ms Yang whose dedication made this trip possible. Finally thank you to the students and the parents who made
this a competition I shall always remember.
Mr Tim Smale
Year 10 Tutor
A D U LW ICH WEEKLY N EW SL ETTER - 7th M a rc h 2014
History of Medicine and Science Club
Congratulations to the following students for entering the Royal Society of Chemistry's Bill Bryson Science
Communication competition:
Sara Zamparini (Year 7), Ellis Ahn (Year 8), Ellie Shim (Year 8), Katie Yoon (Year 8) and Megan Yu (Year 8).
The Bill Bryson Prize is designed to recognise and encourage excellent science communication in schools and
colleges by encouraging students to think creatively about science. The students have prepared a presentation
around the competition theme: 'Where is the Science in Art?'
We wish them every success with their entry entitled 'All Science Considered'
Forthcoming University Visits
Later this month, a number of universities are visiting the Senior School to meet the students and give them the
opportunity to learn more about options for university studies overseas. The schedule is outlined below:
University of Utah, USA
Monday 10th March, 12.30 pm
Loughborough University Monday 24th March, 12.30 pm
Southampton University
Tuesday 24th March 12.30 pm
University of Creative Arts
Friday 28th March 12.30 pm
Students have been invited to sign up on the register of attendance outside room 317.
A number of places have now been made available for parents; please do encourage your son or daughter to
sign up on your behalf on the registration sheets if you wish to attend one of the presentations.
Dr Julie Connolly
A D U LW ICH WEEKLY N EW SL ETTER - 7th M a rc h 2014
A week filled with the joy of
reading, sharing and learning
Dear Parents and Guardians,
"He/She that loves a book will never want for a faithful friend, a wholesome counsellor, a cheerful companion, an
effectual comforter. By study, by reading, by thinking, one may innocently divert and pleasantly entertain him/
herself, as in all weathers, as in all fortunes."
- Barrow
The past week has been filled with the joy of reading. I have been particularly impressed by the enthusiasm
being displayed for home reading! Thank you to the parents who came in to share stories with the children; it
was wonderful to hear these so beautifully read in different languages and was a wonderful way to celebrate the
diversity in our community. Having a well-known author in school is always special and during his time here Mr
Darren Farrell entertained and inspired us all. A special mention to Ms Woodger, Ms Chow and Ms Burton for
organising this great week.
When looking to develop compassionate and caring individuals we encourage students to think about people
less fortunate than themselves in the local and wider community. This week we have welcomed Mr Marc Gold,
100 Friends, back to the school. He has run mini-assemblies for the children explaining how he and his charity is
making a difference to the lives of people across Asia.
We also encourage and promote leadership across the school and on Wednesday the School Council (accompanied
by Mr Bonnet) had the opportunity to visit the National Assembly. While not necessarily understanding all
elements of what they saw, the children quickly came to realise the responsibility the 300 assembled people
have in representing the Korean population and how they have to work collaboratively to reach a decision. With
these aspects in mind I look forward to hearing more 'student voice' as we strive to, as a school, to be the very
best we can be.
Have a lovely weekend.
Mr Marcus Sherwood
Head of Primary School
A D U LW ICH WEEKLY N EW SL ETTER - 7th M a rc h 2014
Cultural Awareness in the Primary School
Celebration of cultural activities at Dulwich helps children appreciate the importance of culture in their daily
lives. International Day, which we celebrate every year, is a wonderful opportunity for our school community to
acknowledge and celebrate its diversity. Through food, games, music, flags, traditions, costumes and languages,
students, parents and teachers are reminded of the great number of similarities and differences we have within our
school and are given an opportunity to be open-minded towards others. However, it is not just on International
Day that we acknowledge multiculturalism and global awareness. We try to incorporate, whenever possible,
elements of culture studies into our curriculum. We believe children need to develop knowledge and skills to
cope with cultural diversity that exists within our community and in the wider world, so that they are able to value
each person's cultural heritage. Here are some examples of how we put theory into practice.
Key Stage1: Religious Education Cross-curricular Links
In Year 1, as part of their topic' 'Superheroes' the children become aware of key religious figures. By sharing
stories from different cultures and asking questions, the children become familiar with some religious figures
and why they are important to the people who follow that faith. In Year 2, as part of their topic 'Homes', the
children have the opportunity to encounter religions by studying about different religious buildings in their local
community. The children explore the themes of places of worship, religious expression and religious symbols.
Key Stage 2: 'Culture Days'
Each year group in Key Stage 2 holds up to three of these special days over the course of the year, enabling
children to learn about different religious practises and cultures whilst fostering a deeper understanding of
the world around them. 'Cultural Day' activities provide an opportunity to explore various religions including
Buddhism, Judaism, Hinduism, Sikhism and the Muslim faith.
A D U LW ICH WEEKLY N EW SL ETTER - 7th M a rc h 2014
• The Culture Day in Year 3, that took place in Winter Term, was linked to their topic of study 'Light and Shadows'.
The children learned about the symbolic meaning of light in different religions and made Christingles used
during Advent by Christians, Menorahs used by Jewish people during the festival of Hanukkah, lanterns used
by Muslims at the time of Ramadan and Diya lamps Hindus use during Divali.
• The children in Year 4 started the Lunar New Year with studying 'Festivals of Light'. Their Culture Day activities
included: looking at the origins of Hanukah and what a Jewish child might do to celebrate this holiday,
making Diya lamps (an important part of the ancient Hindu festival of light, Diwali), and cooking delicious
Pepparkakor - a traditional ginger cookie made in Sweden during the celebrations of the Christian festival
'Santa Lucia Day'.
• Year 5 classes will be learning about the Islamic faith in their upcoming culture day. They will focus on the
Qur'an and how it influences people's lifestyles and choices. They will discuss experiences of living in a
Muslim country and identify how statements in the Qur'an can influence religious practice. They will also
create an example of a pattern for a prayer mat.
• Year 6 has already hosted three Culture Days this school year. First they studied the religious festivals of
Hannukah and Divali. Last week, the children learned about Lent - the Christian season of preparation before
Easter. Their Culture Day activities included making 'Shrove Tuesday' pancakes and they learned that before
fasting, many Christians bulk up on fatty, rich foods that you do not eat during the Lenten time.
Mrs Caroline Walczyk-Belniak
Year 3 Teacher
A D U LW ICH WEEKLY N EW SL ETTER - 7th M a rc h 2014
Thought Challenge
of the Month
For the month of February, I set the following thought challenge:
'A friend shows you a picture they have drawn. They ask you what you think of it and they wait expectantly to
find out. You do not think it is very good.
What is more important: being polite or telling the truth?
What would you say in this situation and why?
Is it ever right to lie?
Answer the three questions in the most honest and thoughtful way that you can.'
There were many responses that came through and many of them were honest, well written and showed clear
thinking but there was only one response that mentioned the need for trust between friends and that response
was written by Ella Hong in Year 3 who was this month's winner:
'If a friend showed me a picture they had drawn and asked me what I thought of it I would tell the truth. If it is not
really good I would say, "It wasn't really good but I could help you improve it!" I think lying is not right because if
you lie then it's not being honest and when she or he finds out that I lied she or he will be upset and never trust
me again. In my own opinion I should never lie to anyone.'
Well done Ella!
For the month of March I am setting the following challenge:
'Would you rather be brave and poor or cowardly and rich?'
Answer the question in the most thoughtful way that you can and, as ever, hand your responses to me before
the end of the month.
Have a happy March!
Mr Jamie McNamara
Deputy Head of Junior School
A D U LW ICH WEEKLY N EW SL ETTER - 7th M a rc h 2014
Stars of the Week in Junior School
Year Three and Year Four:
Marvin Cho, Kaiden Yu, Hisu Han, Lynn Koschnitzke
Inha Choi, Tildin Han, Amber Ahn
Year Five and Year Six:
Erin Choi, Emily Cha, Julia Koo, Eva Loftus
Inmo Koo, Jaehoon Jung, Fawaz Alhusaini
A D U LW ICH WEEKLY N EW SL ETTER - 7th
25thMOCTOB
a rc h 2014
ER 2 0 1 3
Reception
Winter Ball
The Reception children had a wonderful time attending the Reception Winter Ball, which was a party
to celebrate the end of our Princess, Knights, and Dragons Topic. The children all chose their own
names and were announced as they arrived at the Ball. They were greeted by Mr Sherwood and Mr
Poulton, who were suitably dressed for the occasion. They presented themselves to Princess Katharine
O'Sullivan and King Orchard and then the dancing began. There was American line dancing, formal
Viennese Waltzing followed by more traditional party dancing and games. After the dancing the children
attended the feast, kindly prepared by some of the parents. The room was decorated by the children
and fairy lights hung all around. It was truly a magical way to celebrate our topic.
Ms Louise Cooke
Reception Year Leader
A D U LW ICH WEEKLY N EW SL ETTER - 7th M a rc h 2014
Stars of the Week in DUCKS - EYFS
Year 1 and Year 2:
Arlo Squires, Summer Shin, Clare Kim, William Lee
Abby Hanna, Alex Ye, Noah Jones and Cassius Kirton
Nursey and Reception:
Daniel Sun, Sofia Nazarian, Oliver Acciarito
Phoenix Rose, Haniya Khattak
Friends of
Marc
h
Can you
help?
We need
contributions
for our
Benefit Night
Auction.
도움을
주시겠습니까?
donate
옥션에 도움이
될만한 물품들을
접수받고 있습니다.
If you can
something for
auction,
please contact
Nicola
W ddi gt
옥션에 기증하실
물품이나 아이디어
혹은 도움을 주실
분들은 아래의
이메일 주소나
연락처로 연락 부탁
드립니다.
WHAT is BeneÞt A fun night of eating, drinking, dancing, and bidding on auction items.
Night? Celebrate with friends while supporting a good cause at the same time.
We invite teachers and staff to join us as our guests.
WHEN 7:30pm Saturday 29th March 2014
WHERE Conrad Hotel, T5th Floor, 23-1 Yeouido-dong, Yeongdeungpo-gu, Seoul
02-6137-7000he Par
What should I Black and white cocktail dress. Please see description below
WEAR?
WOMEN! Knee-length dress in luxurious fabric or with embellishment, can be
strapless, in black, white, best bold jewellery, evening clutch and heels;
alternatively, a tuxedo with silk blouse or evening jumpsuit.
MEN Black suit with white shirt and necktie.
TICKETS
120,000 KRW per person
A voluntary donation may be given to cover the cost of the tickets for the
teachers and staff. Payment required prior to the event. Tickets issued
once payment is received.
Can I apply Please fill out form online for tickets. Please click on link.
ONLINE? https://docs.google.com/forms/d/1-CsReM6PyDQfp9bUywQEq6pxRiD7OPjONasuH-tzuYU/viewform
PAYMENT Pay at Ticket Desk in the school foyer
Send in payment in a sealed envelope marked
'Benefit Night' with child's name and class
Pay through Bank Transfer
Bank Name: Shinhan Bank
Bank Account Number: 110-384-337152
Bank Account Name: Lillibeth Sy
DONATIONS Can you contribute something to our auction? Our parent body has so
much to offer and in the past years, we have been fortunate to have
generous donations
LIVE AND SILENT Children's Artwork, Teacher Activities, Restaurant vouchers, luxury items
AUCTION!
!
SPECIAL DEAL The Conrad Hotel has graciously offered a special rate on hotel rooms if
you are interested in making the night a special one. Kick back, stay up
late and immerse yourself in a luxurious setting!
!
A Deluxe High Floor Room with fantastic views of the Han River
for 290,000 won + 10% tax with Breakfast for TWO
If you wish to take advantage of this opportunity, please email
conradseoul.reservation@conradhotels.com or call 6137-7777 for this
special reservation.
BENEFIT NIGHT
SATURDAY
29
MARCH
2014
You are cordially
7:30pm
invited to attend
Benefit Night at the
Conrad Hotel
We look forward to seeing you there!
Subscription
You are receiving this newsletter because you are either a staff/student/alumni or
have signed up to receive updates from DULWICH COLLEGE | SEOUL |
Copyright © 2013 DULWICH COLLEGE | SEOUL |. All rights reserved.
Sinbanpo-ro 15-6 Seocho-gu Seoul Korea 137-800 | (+82 2) 501-9740 | www.dulwich-seoul.kr
Please add us to your 'Safe List' to continue receiving our updates. This is a computer
generated email, please do not reply to it. If you have any enquiries, please contact us.