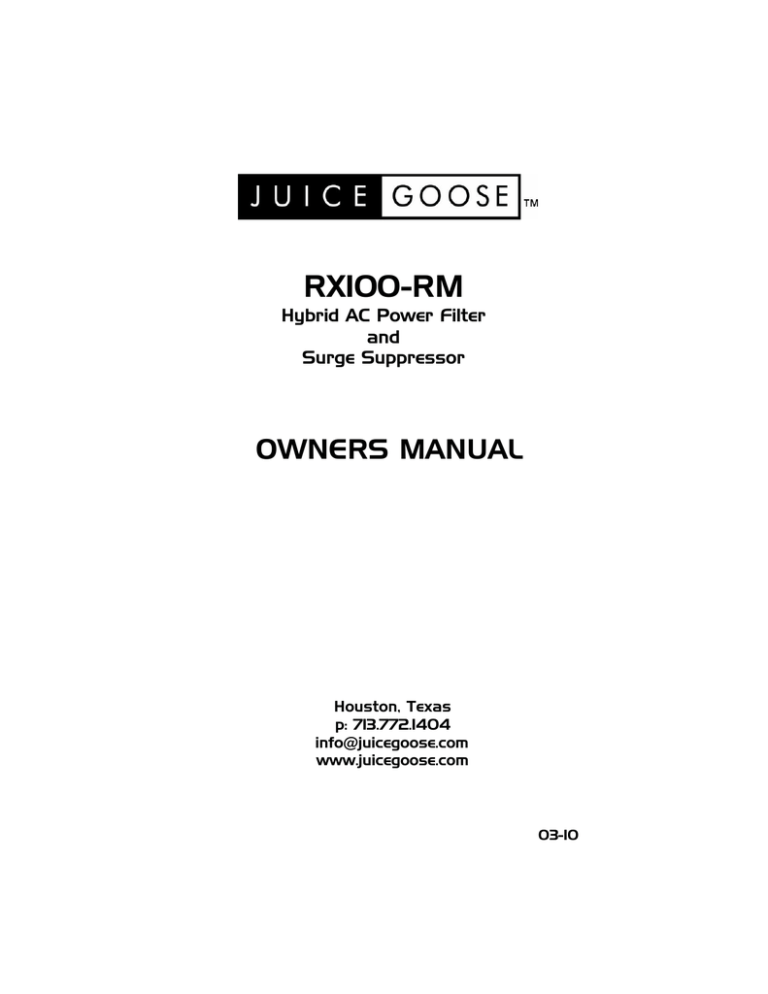 RX100-RM
Hybrid AC Power Filter
and
Surge Suppressor
OWNERS MANUAL
Houston, Texas
p: 713.772.1404
[email protected]
www.juicegoose.com
03-10
FEATURES SUMMARY
RX100-RM features include:
* Less than 1 volt surge potential between neutral and ground
* Less than 10 volt surge potential between neutral and line
* Over voltage and wiring fault shut down
* An all steel Tour Class(tm) chassis
* Eight 120 volt power outputs (6 switched 2 unswitched)
* Fifteen amp, 1800 watt current rating
SAFETY PRECAUTIONS
The RX100-RM is designed to operate with 120VAC, 60 Hz. Operation with 220 or 240 volts will damage the unit and possibly
cause personal injury.
CAUTIONS
1. The RX100-RM must be grounded to operate. Defeating
the unit's grounding capability could create a hazard.
2. There are no user serviceable parts inside the RX100-RM.
Do not attempt service yourself. Contact Juice Goose as directed in
this manual if service is required.
3. Do not expose the RX100-RM to moisture. Avoid severe
physical impacts to the unit.
DISCLAIMER
Juice Goose shall under no circumstances be held responsible for
any loss, damage or injury resulting from the use of the RX100-RM
in a manner inconsistent with any of the procedures outlined in
this document. The user is responsible for determining whether this
product is appropriate for the intended application.
Juice Goose is not responsible for any indirect, secondary or ancillary loss or damage, including personal injury, loss of or damage
to property or loss of income resulting from the operation or failure of this unit.
RX100-RM SPECIFICATIONS
DIMENSIONS (INCHES)
1.72 x 19.00 x 7.00
WEIGHT (LBS)
12
POWER INPUT
120 VAC, 60Hz
POWER OUTLETS
CURRENT CAPACITY
POWER CORD
8 NEMA 5-15R (2 unswitched)
15 AMPS
12 FOOT, 14/3 SJT
TRANSIENT ENERGY ABSORBTION (JOULES)
1020
MAXIMUM APPLIED SURGE CURRENT (AMPS)
3000
MAXIMUM APPLIED SURGE PULSE VOLTAGE
(VOLTS)
6000
SURGE LET THROUGH RATE (VOLTS)
L-N
10
N-G
0.5
COMMON MODE (N-G) LINE NOISE REJECTION
(dB)
100 kHz
30
300 kHz
77
1 MHz
80
10MHz
80
30MHz
80
NORMAL MODE (L-N) LINE NOISE REJECTION
(dB)
100 kHz
21
300 kHz
56
1 MHz
60
10MHz
60
30MHz
60
CHASSIS DESIGN
TOUR CLASS – UNIBODY
CHASSIS FINISH
POWDER COAT ENAMEL
FRONT PANEL
Power On/Off Switch – This lighted rocker switch is located on the left
hand side of the chassis. The switch will light when the RX100-RM is on.
AC Outlets – One unswitched NEMA 5-15R rated for current loads up to
15 amps at 120 volts.
Indicator Lights
Power – This blue light indicates the RX100-RM is connected to mains
power and the ON switch is engaged.
Protection OK – This blue light indicates the RX100-RM protection circuit
is functioning and the main AC power source is correct.
External Fault – In the event of continuous high voltage or incorrect wiring of the line, neutral or ground leads supplying the RX100-RM, the unit
will disconnect equipment plugged into it. The blue Protection OK light
will be OFF and the white External Fault indicator will light.
REAR PANEL
AC Outlets –
Seven NEMA 5-15R outlets (one unswitched) rated for current loads up
to 15 amps at 120 volts.
Breaker – A resettable, thermal circuit breaker protects the unit from
current overloads. If the breaker trips check for a malfunction in equipment plugged into the RX100-RM. Also check to be certain the total current requirement of the equipment plugged into the RX100-RM does not
exceed 15 amps.
The circuit breaker may be reset. Wait 30 seconds after the breaker
trips, turn off the main unit power switch and push the center button on
the breaker back into its original position. Then turn on the main power
switch.
INTERNAL PROTECTION COMPONENTS
The RX100-RM is one of the RX Series products which feature PoweRX
AC power protection. PoweRX protection uses a new, patented Hybrid
AC Filter technology to clean up both Normal Mode and Common Mode
noise without contaminating the ground. Normal Mode noise occurs between the line and neutral leads of an electric power circuit. Common
Mode noise occurs between either the line or neutral and the safety
ground lead.
UL 1449 limits the amount of current that can pass between line and
safety ground to 0.5 milli amperes. This is called " leakage current". The
Hybrid AC Filter process control board, by using a differential transformer and capacitors, acts as a low pass, "line conditioning" filter
which performs in the same way as a series mode inductor. These
components, along with a capacitor between neutral and ground
comprise the foundation of the Hybrid AC Filter design which conditions incoming AC power, removing normal and common mode noise
without adversely affecting the ground line.
TROUBLESHOOTING
The RX100-RM is ruggedly designed and constructed from high quality components to give years of dependable power for your equipment. It requires neither maintenance nor adjustment. It is unlikely to
malfunction. However, there is one potential event to note:
The RX100-RM will not come on or turns itself off.
a. Check the status of the power supplied to the unit. If line
voltage exceeds 165 volts for 3 seconds protection circuitry will disconnect power to the AC power outputs. This will also occur if the
line and neutral leads are reversed. Use a voltage meter and/or polarity tester to examine the status of incoming power.
b. Check that the circuit breaker is not tripped and that the
current load on the unit does not exceed its rated 15 amp capacity. If
the breaker is tripped, remove sufficient current load to reduce the
total to no more than 15 amps, wait approximately 30 seconds after
the tripping, turn off the main power switch and push in the circuit
breaker button.
If an observed problem can not be remedied, particularly if the problem seems severe or dangerous, discontinue use of the RX100-RM
and contact Juice Goose directly.
REPAIR
Should your Rackpower need service contact Juice Goose for assistance and authorization to return the unit. PLEASE NOTE: a return
authorization number is required in order for the service personnel
to correctly and promptly identify, repair and return your unit. You
may obtain a Return Authorization Number by calling: 713-772-1404
or sending email to [email protected]
OTHER HIGH QUALITY PRODUCTS FROM
JG SERIES – Rack mountable power distribution in a 19" configuration. Five models to choose from. Feature options include
rack lighting and voltage meter. The JG11-20A has a 20 amp capacity, 2 unswitched outlets and a 15 foot power cord. All units
contain a basic level of power conditioning.
PD SERIES – Custom configured power strips with up to 12 circuits per unit. The PD1A, PD1B and PD3 offer various options regarding size, number and arrangement of circuits, length and location of wire harness and mounting configuration. Select exact configuration with a features menu.
CQ SERIES – Power sequencing and remote control products.
No master controller is required. Very flexible, economical and easy
to install. Models include rack mount, four circuit and 30 amp designs. Optional remote controls include key or rotary switch and
secure 12 position keypad.
UPS MODELS – When protection against power outage is
needed, Juice Goose is a source for 16 models of UPS products,
rack or tower mount, line interactive or on line. Call or email for
any specification or application assistance.