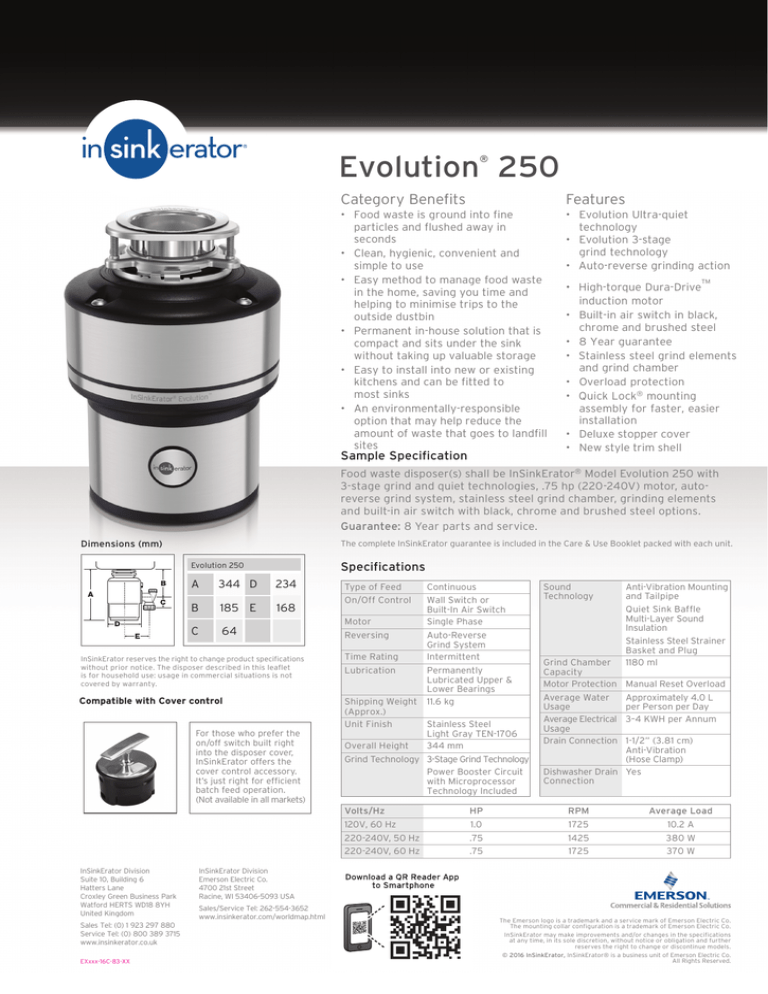 Evolution 250
®
Category Benefits
Features
• Food waste is ground into fine
particles and flushed away in
seconds
• Clean, hygienic, convenient and
simple to use
• Easy method to manage food waste
in the home, saving you time and
helping to minimise trips to the
outside dustbin
• Permanent in-house solution that is
compact and sits under the sink
without taking up valuable storage
• Easy to install into new or existing
kitchens and can be fitted to
most sinks
• An environmentally-responsible
option that may help reduce the
amount of waste that goes to landfill
sites
• Evolution Ultra-quiet
technology
• Evolution 3-stage
grind technology
• Auto-reverse grinding action
Sample Specification
• High-torque Dura-Drive™
induction motor
• Built-in air switch in black,
chrome and brushed steel
• 8 Year guarantee
• Stainless steel grind elements
and grind chamber
• Overload protection
• Quick Lock® mounting
assembly for faster, easier
installation
• Deluxe stopper cover
• New style trim shell
Food waste disposer(s) shall be InSinkErator® Model Evolution 250 with
3-stage grind and quiet technologies, .75 hp (220-240V) motor, autoreverse grind system, stainless steel grind chamber, grinding elements
and built-in air switch with black, chrome and brushed steel options.
Guarantee: 8 Year parts and service.
Dimensions (mm)
The complete InSinkErator guarantee is included in the Care & Use Booklet packed with each unit.
Specifications
Evolution 250
A
344 D
B
185 E
C
64
234
168
Type of Feed
Continuous
On/Off Control
Wall Switch or
Built-In Air Switch
Single Phase
Motor
Reversing
InSinkErator reserves the right to change product specifications
without prior notice. The disposer described in this leaflet
is for household use: usage in commercial situations is not
covered by warranty.
Time Rating
Compatible with Cover control
Shipping Weight
(Approx.)
Unit Finish
For those who prefer the
on/off switch built right
into the disposer cover,
InSinkErator offers the
cover control accessory.
It's just right for efficient
batch feed operation.
(Not available in all markets)
InSinkErator Division
Suite 10, Building 6
Hatters Lane
Croxley Green Business Park
Watford HERTS WD18 8YH
United Kingdom
Sales Tel: (0) 1 923 297 880
Service Tel: (0) 800 389 3715
www.insinkerator.co.uk
EXxxx-16C-83-XX
Lubrication
Overall Height
Auto-Reverse
Grind System
Intermittent
Permanently
Lubricated Upper &
Lower Bearings
11.6 kg
Stainless Steel
Light Gray TEN-1706
344 mm
Grind Technology 3-Stage Grind Technology
Power Booster Circuit
with Microprocessor
Technology Included
Sound
Technology
Anti-Vibration Mounting
and Tailpipe
Quiet Sink Baffle
Multi-Layer Sound
Insulation
Stainless Steel Strainer
Basket and Plug
1180 ml
Grind Chamber
Capacity
Motor Protection Manual Reset Overload
Average Water
Usage
Average Electrical
Usage
Drain Connection
Approximately 4.0 L
per Person per Day
3–4 KWH per Annum
1-1/2" (3.81 cm)
Anti-Vibration
(Hose Clamp)
Dishwasher Drain Yes
Connection
Volts/Hz
HP
RPM
120V, 60 Hz
1.0
1725
Average Load
10.2 A
220-240V, 50 Hz
.75
1425
380 W
220-240V, 60 Hz
.75
1725
370 W
InSinkErator Division
Emerson Electric Co.
4700 21st Street
Racine, WI 53406-5093 USA
Sales/Service Tel: 262-554-3652
www.insinkerator.com/worldmap.html
The Emerson logo is a trademark and a service mark of Emerson Electric Co.
The mounting collar configuration is a trademark of Emerson Electric Co.
InSinkErator may make improvements and/or changes in the specifications
at any time, in its sole discretion, without notice or obligation and further
reserves the right to change or discontinue models.
© 2016 InSinkErator, InSinkErator® is a business unit of Emerson Electric Co.
All Rights Reserved.