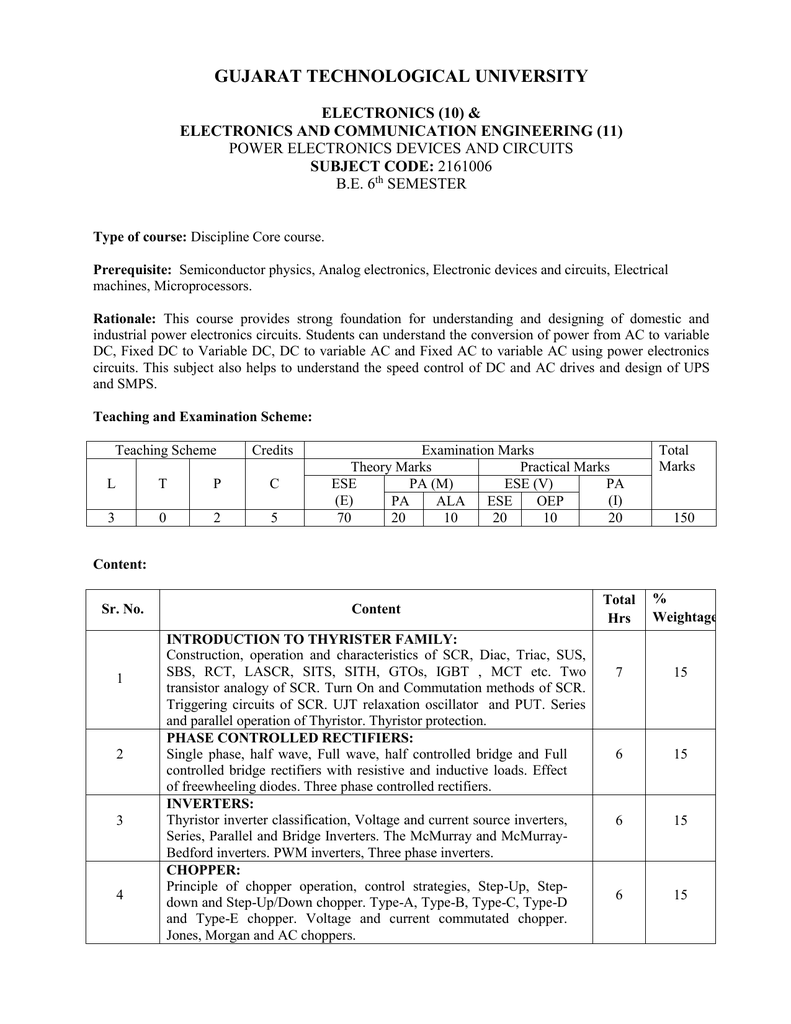 GUJARAT TECHNOLOGICAL UNIVERSITY
ELECTRONICS (10) &
ELECTRONICS AND COMMUNICATION ENGINEERING (11)
POWER ELECTRONICS DEVICES AND CIRCUITS
SUBJECT CODE: 2161006
B.E. 6th SEMESTER
Type of course: Discipline Core course.
Prerequisite: Semiconductor physics, Analog electronics, Electronic devices and circuits, Electrical
machines, Microprocessors.
Rationale: This course provides strong foundation for understanding and designing of domestic and
industrial power electronics circuits. Students can understand the conversion of power from AC to variable
DC, Fixed DC to Variable DC, DC to variable AC and Fixed AC to variable AC using power electronics
circuits. This subject also helps to understand the speed control of DC and AC drives and design of UPS
and SMPS.
Teaching and Examination Scheme:
Teaching Scheme
Credits
L
T
P
C
3
0
2
5
Examination Marks
Theory Marks
Practical Marks
ESE
PA (M)
ESE (V)
PA
(E)
(I)
PA
ALA
ESE
OEP
70
20
10
20
10
20
Total
Marks
150
Content:
Sr. No.
1
2
3
4
Content
INTRODUCTION TO THYRISTER FAMILY:
Construction, operation and characteristics of SCR, Diac, Triac, SUS,
SBS, RCT, LASCR, SITS, SITH, GTOs, IGBT , MCT etc. Two
transistor analogy of SCR. Turn On and Commutation methods of SCR.
Triggering circuits of SCR. UJT relaxation oscillator and PUT. Series
and parallel operation of Thyristor. Thyristor protection.
PHASE CONTROLLED RECTIFIERS:
Single phase, half wave, Full wave, half controlled bridge and Full
controlled bridge rectifiers with resistive and inductive loads. Effect
of freewheeling diodes. Three phase controlled rectifiers.
INVERTERS:
Thyristor inverter classification, Voltage and current source inverters,
Series, Parallel and Bridge Inverters. The McMurray and McMurrayBedford inverters. PWM inverters, Three phase inverters.
CHOPPER:
Principle of chopper operation, control strategies, Step-Up, Stepdown and Step-Up/Down chopper. Type-A, Type-B, Type-C, Type-D
and Type-E chopper. Voltage and current commutated chopper.
Jones, Morgan and AC choppers.
Total
Hrs
%
Weightage
7
15
6
15
6
15
6
15
CYCLOCONVERTERS:
Basic principle of operation. Single phase to single phase, Three
phase to single phase Cycloconverter. Three phase to three phase
cycloconverter.
CONTROL OF DC DRIVES:
Introduction, Basic machine equations. Braking modes. Single phase
separately excited drives. Single phase series DC motor drives. DC
chopper drives. Closed loop control of DC drives. PLL control of DC
drives. Microcomputer control of DC drives.
CONTROL OF AC DRIVES:
Basic principle of operation. Torque-speed characteristic of induction
motor. Speed control of induction motor. Stator voltage control.
Variable frequency control. Rotor resistance control. Slip power
recovery scheme
APPLICATION OF THYRISTOR:
Over voltage protection, Zero voltage switch. SMPS, Online and Off
line UPS, Induction heating, Dielectric heating, Switch mode
welding, Battery charger, Static circuit breakers.
5
6
7
8
4
10
5
10
5
10
6
10
Suggested Specification table with Marks (Theory):
Distribution of Theory Marks
R Level
05
U Level
20
A Level
10
N Level
20
E Level
10
C Level
05
Legends: R: Remembrance; U: Understanding; A: Application, N: Analyze and E: Evaluate C:
Create and above Levels (Revised Bloom's Taxonomy)
Note: This specification table shall be treated as a general guideline for students and teachers. The actual
distribution of marks in the question paper may vary slightly from above table.
Reference Books:
1.
2.
3.
4.
5.
6.
7.
Power Electronics By M D Singh And K B Khanchandani (TMH)
Power Electronics Circuits Devices And Application By Muhammad Rashid (PHI)
Power Electronics And Controls By Samir K Datta (PHI)
Industrial And Power Electronics By Harish C Rai
Power Electronics By Elbs R. Ramshaw
Thyristor And Their Applications By Ramamourthy
Power Electronics By Dr. P S Bimbhra (Khanna Publisher)
Course Outcome:
After learning the course the students should be able to:





Understand the power semiconductor devices
Design and analyze various SCR firing and commutation methods.
Explain the operation of phase controlled rectification.
Understand the design and operation of various industrial based power electronics circuits like
inverters, choppers and cycloconverters.
Designing and repairing of SMPS, UPS , battery charger and circuit breakers.
List of Experiments:
1.
2.
3.
4.
5.
6.
7.
8.
9.
10.
11.
12.
To study & plot characteristics of SCR, DIAC and TRIAC
To study & plot of characteristics of IGBT.
To study the various forces commutation methods of SCRs.
Resistance and RC triggered circuits of SCRs.
UJT as a relaxation oscillator and SCR firing circuits using UJT.
To study & observe the waveform of single phase half and semi converter with resistive and
reactive load.
To study & observe the waveform of single phase full converter with resistive and reactive load
To study and observer the waveforms of series and parallel inverters.
To study and observe the waveforms of single phase cycloconverter.
To study the step up and step down choppers.
To study the speed control of AC and DC drives.
To study and measurement of various parameters of UPS.
Design based Problems (DP)/Open Ended Problem:
Faculty teaching the subject shall provide an application oriented project. The students can work in a group
to design SCR triggering circuits, Single phase controlled rectifier, Fan regulator, series inverter, chopper,
battery charger, SMPS and flasher circuits.
Major Equipment:
Electronic work bench, AC & DC regulated Power Supplies, Earthed and Un Earthed Oscilloscopes, Power
Electronics Trainer Kits, Digital multi meters, Clip on meters , Regular and 1:10 CRO probs.
List of Open Source Software/learning website:
Open Source Software:
- Fritzing (http://fritzing.org/home/)
- TINA-TI for circuit simulation (http://www.ti.com/tool/tina-ti)
- OSCAD for CAD application (http://www.oscad.in/downloads)
- Multisim for circuit simulation (http://www.ni.com/multisim)
- http://sourceforge.net/projects/ktechlab/
- http://www.cburch.com/logisim
Learning website:
- http://www.datasheetcatalog.com
- http://nptel.iitm.ac.in/courses.php
- http://ocw.mit.edu
- http://www.smpstech.com
- http://www.ni.com/white-paper/14676/en/
- http://www.irf.com/product/_/N~1nje1m
- http://www.allaboutcircuits.com/vol_3/chpt_3/4.html
- http://www.deltapowersolutions.com/en/tps/rectifiers.php
- http://www.electrical-engineering-portal.com
ACTIVE LEARNING ASSIGNMENTS: Preparation of power-point slides, which include videos,
animations, pictures, graphics for better understanding theory and practical work – The faculty will allocate
chapters/ parts of chapters to groups of students so that the entire syllabus to be covered. The power-point
slides should be put up on the web-site of the College/ Institute, along with the names of the students of the
group, the name of the faculty, Department and College on the first slide. The best three works should
submit to GTU.