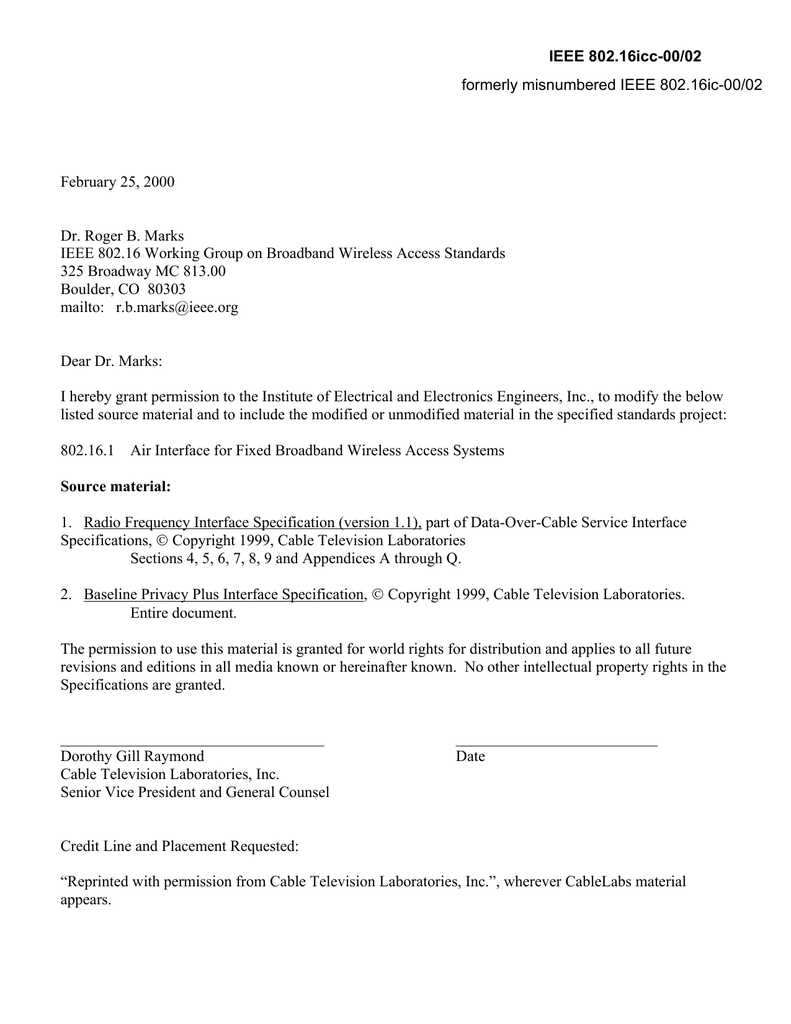 IEEE 802.16icc-00/02
formerly misnumbered IEEE 802.16ic-00/02
February 25, 2000
Dr. Roger B. Marks
IEEE 802.16 Working Group on Broadband Wireless Access Standards
325 Broadway MC 813.00
Boulder, CO 80303
mailto: [email protected]
Dear Dr. Marks:
I hereby grant permission to the Institute of Electrical and Electronics Engineers, Inc., to modify the below
listed source material and to include the modified or unmodified material in the specified standards project:
802.16.1
Air Interface for Fixed Broadband Wireless Access Systems
Source material:
1. Radio Frequency Interface Specification (version 1.1), part of Data-Over-Cable Service Interface
Specifications,  Copyright 1999, Cable Television Laboratories
Sections 4, 5, 6, 7, 8, 9 and Appendices A through Q.
2. Baseline Privacy Plus Interface Specification,  Copyright 1999, Cable Television Laboratories.
Entire document.
The permission to use this material is granted for world rights for distribution and applies to all future
revisions and editions in all media known or hereinafter known. No other intellectual property rights in the
Specifications are granted.
__________________________________
Dorothy Gill Raymond
Cable Television Laboratories, Inc.
Senior Vice President and General Counsel
__________________________
Date
Credit Line and Placement Requested:
"Reprinted with permission from Cable Television Laboratories, Inc.", wherever CableLabs material
appears.