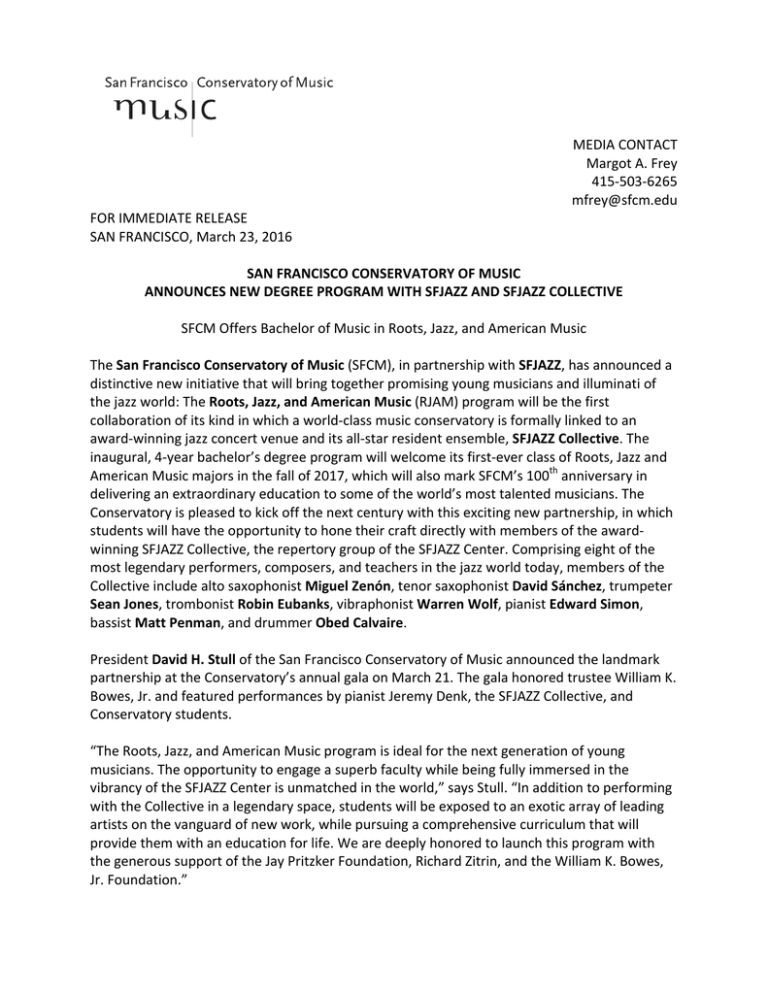 MEDIA CONTACT Margot A. Frey 415-­‐503-­‐6265 mfrey@sfcm.edu FOR IMMEDIATE RELEASE SAN FRANCISCO, March 23, 2016 SAN FRANCISCO CONSERVATORY OF MUSIC ANNOUNCES NEW DEGREE PROGRAM WITH SFJAZZ AND SFJAZZ COLLECTIVE SFCM Offers Bachelor of Music in Roots, Jazz, and American Music The San Francisco Conservatory of Music (SFCM), in partnership with SFJAZZ, has announced a distinctive new initiative that will bring together promising young musicians and illuminati of the jazz world: The Roots, Jazz, and American Music (RJAM) program will be the first collaboration of its kind in which a world-­‐class music conservatory is formally linked to an award-­‐winning jazz concert venue and its all-­‐star resident ensemble, SFJAZZ Collective. The inaugural, 4-­‐year bachelor's degree program will welcome its first-­‐ever class of Roots, Jazz and American Music majors in the fall of 2017, which will also mark SFCM's 100th anniversary in delivering an extraordinary education to some of the world's most talented musicians. The Conservatory is pleased to kick off the next century with this exciting new partnership, in which students will have the opportunity to hone their craft directly with members of the award-­‐
winning SFJAZZ Collective, the repertory group of the SFJAZZ Center. Comprising eight of the most legendary performers, composers, and teachers in the jazz world today, members of the Collective include alto saxophonist Miguel Zenón, tenor saxophonist David Sánchez, trumpeter Sean Jones, trombonist Robin Eubanks, vibraphonist Warren Wolf, pianist Edward Simon, bassist Matt Penman, and drummer Obed Calvaire. President David H. Stull of the San Francisco Conservatory of Music announced the landmark partnership at the Conservatory's annual gala on March 21. The gala honored trustee William K. Bowes, Jr. and featured performances by pianist Jeremy Denk, the SFJAZZ Collective, and Conservatory students. "The Roots, Jazz, and American Music program is ideal for the next generation of young musicians. The opportunity to engage a superb faculty while being fully immersed in the vibrancy of the SFJAZZ Center is unmatched in the world," says Stull. "In addition to performing with the Collective in a legendary space, students will be exposed to an exotic array of leading artists on the vanguard of new work, while pursuing a comprehensive curriculum that will provide them with an education for life. We are deeply honored to launch this program with the generous support of the Jay Pritzker Foundation, Richard Zitrin, and the William K. Bowes, Jr. Foundation." Randall Kline, SFJAZZ Founder and Executive Artistic Director, feels the collaboration is "one-­‐of-­‐
a-­‐kind, and meant to be." He says that he conceived the tremendous potential of a partnership two years ago and approached Stull, who immediately embraced the idea. "The two institutions play vital roles in the artistic life of San Francisco, and are literally within sight of one another in the cultural hub of San Francisco's Hayes Valley," says Kline. "The instrumental, compositional, and ensemble virtuosity of the Collective is a great match with the rigorous excellence of one of the country's preeminent conservatories. This will be a program unlike any other in the world, and we look forward to making this innovative initiative fulfill its immense potential." Donald Derheim, Chief Executive Officer of SFJAZZ, has also worked closely with Kline and Stull as they embarked on bringing their collective vision to fruition. "The partnership between SFCM and SFJAZZ is further proof of jazz's popular resurgence," says Derheim, "and helps fill the need for higher education in the American art form." Distinguished jazz artist and educator Simon Rowe has been appointed by the San Francisco Conservatory of Music as Executive Director of the Roots, Jazz, and American Music program. Lauded for his exceptional work in education and for having a prodigious understanding of jazz music, its history, and its development as an art form, Rowe also leads the acclaimed Simon Rowe Trio and has appeared with numerous jazz greats. Currently, he serves as Executive Director of the Brubeck Institute at the University of the Pacific, where he established an accelerated jazz performance degree track; created Take 5, an innovative jazz club; and developed local, national, and international coalitions to forward the mission of the Institute. Rowe will take leave of his position at the Brubeck Institute before beginning his appointment at SFCM in August. "Having a partnership with one of the premier jazz presenting organizations in the world that embraces an inclusive approach to contemporary improvised jazz music—from flamenco to Afro-­‐Cuban music to Eastern European influences—is the perfect reflection of our own values in this new program," says Rowe. "Our students will be exposed to an incredibly rich palette of possibilities." The SFJAZZ Collective—which includes multiple GRAMMY Award winners and nominees, and a Guggenheim and MacArthur Fellow—will join the faculty of the San Francisco Conservatory of Music and engage with students in both ensemble and private lesson settings in the areas of performance and composition. Students will be immersed in the Afrocentric roots of the contemporary jazz world, and will explore the cultural heritages that have helped shape this music over the last several hundred years. They will also have the coveted opportunity to perform side-­‐by-­‐side with the Collective in both concerts and outreach events at SFJAZZ and throughout the Bay Area. Additionally, Roots, Jazz and American Music majors will apprentice to the uniquely democratic structure of the Collective, in which the group collaborates equally on a range of administrative and artistic issues, from auditioning new members to programming. A passionate advocate of jazz education and for the process of developing community around the arts, Rowe believes in equipping young musicians to one day assume leadership positions within their communities, not just in music, but wherever their paths take them. With a desire to "mold citizens, in addition to great performers," Rowe will work in consort with SFJAZZ's education department to explore ways for students to participate in outreach activities and initiatives. Currently, SFJAZZ presents programs in underserved schools and communities throughout the Bay Area. Rowe says that in contributing to these events, SFCM students will cultivate a deeper understanding of the emotional impact and strengths of the music they are creating—the kind of music that is often already present and identifiable in many communities locally. Elements of the Roots, Jazz, and American Music program will be on display this June at the highly regarded Brubeck Institute Summer Jazz Colony. The intensive, weeklong workshop will be presented in partnership with SFCM, SFJAZZ, and Sonoma State University, and will take place at Sonoma State's celebrated Green Music Center. Members of the SFJAZZ Collective will be among the faculty at the festival, along with some of the most talented high-­‐school jazz musicians from throughout the U.S. and countries such as the United Kingdom, Finland, and Australia, among others. For information on the Roots, Jazz, and American Music program, visit www.sfcm.edu/rjam. For a calendar of events and for information on the Brubeck Institute's Summer Jazz Colony, visit www.pacific.edu/Brubeck-­‐Home/What-­‐We-­‐Do/Summer-­‐Jazz-­‐Colony.html. –###– About the San Francisco Conservatory of Music Founded in 1917, the San Francisco Conservatory of Music is the oldest conservatory in the American West and has earned an international reputation for producing musicians of the highest caliber. Notable alumni include violinists Yehudi Menuhin and Isaac Stern, conductor and pianist Jeffrey Kahane, soprano Elza van den Heever, Blue Bottle Coffee founder James Freeman and Ronald Losby, President, Steinway & Sons-­‐Americas, among others. Its faculty includes nearly 30 members of the San Francisco Symphony as well as Grammy and Latin Grammy Award-­‐winning artists in the fields of orchestral and chamber performance and classical guitar. The Conservatory offers its approximately 400 collegiate students fully accredited bachelor's and master's degree programs in composition and instrumental and vocal performance. It was the first institution of its kind to offer world-­‐class graduate degree programs in chamber music and classical guitar, and has recently launched the Technology and Applied Composition (TAC) major, an undergraduate and postgraduate diploma program that delivers opportunities in the diverse and evolving music industry. SFCM's Pre-­‐College Division provides exceptionally high standards of musical excellence and personal attention to 365 younger students. SFCM faculty and students give nearly 500 public performances each year, most of which are offered to the public at no charge. Its community outreach programs serve over 1,600 school children and over 6,000 members of the wider community who are otherwise unable to hear live performances. The Conservatory's Civic Center facility is an architectural and acoustical masterwork, and the Caroline H. Hume Concert Hall was lauded by The New York Times as the "most enticing classical-­‐music setting" in the San Francisco Bay Area. For more information, visit www.sfcm.edu. About SFJAZZ Founded by Randall Kline in 1983 under the name Jazz in the City, SFJAZZ has become the world's leading cultural institution devoted to jazz and related forms of music, presenting over 300 performances each year at the new SFJAZZ Center and throughout the San Francisco Bay Area. In addition to presenting the SFJAZZ annual season, the San Francisco Jazz Festival and SFJAZZ Summer Sessions, SFJAZZ supports a vibrant local music scene with Hotplate events and their free summer concerts at Stanford Shopping Center and Levi's Plaza, and nurtures aspiring musicians with diverse education programs and performing ensembles. In January 2013, SFJAZZ took the most audacious step in its evolution, opening the 36,000-­‐square-­‐foot, $64 million SFJAZZ Center on the corner of Fell and Franklin streets in the heart of San Francisco's cultural corridor. The first stand-­‐alone structure in the country built specifically for jazz, the SFJAZZ Center was designed by award-­‐winning San Francisco architect Mark Cavagnero, who worked with acoustician Sam Berkow and theater designer Len Auerbach to create a main performance space with the acoustic quality of a great concert hall and the relaxed intimacy of a jazz club. That's the Robert N. Miner Auditorium, a flexible, scalable venue that seats up to 700 people in close proximity to the musicians with superb sightlines and pristine acoustics tailored for jazz performance. The 100-­‐seat Joe Henderson Lab is the SFJAZZ Center's street-­‐level performance and rehearsal space, named for the late, great saxophonist and San Francisco resident, which also serves as the nerve center for the organization's education department. Students of all ages use the Joe Henderson Lab as well as the practice rooms and cutting edge digital lab for workshops, rehearsals, master classes and private instruction. For more information, visit www.sfjazz.org. About the SFJAZZ Collective SFJAZZ Collective is an all-­‐star ensemble comprising eight of the finest performers/composers at work in jazz today. Launched in 2004, the band tours nationally and records new material each season, both exciting original compositions and fresh arrangements of music by the legends of jazz and pop. Through this pioneering approach, with 91 new arrangements and 87 original compositions produced over the last decade, the Collective embodies SFJAZZ's commitment to jazz as a living, ever-­‐relevant art form. For the SFJAZZ Collective lineup and bios, visit www.sfjazz.org/collective/lineup. About Simon Rowe Recently appointed by the San Francisco Conservatory of Music as Executive Director of the Roots, Jazz, and American Music program, Dr. Simon Rowe is a distinguished educator, entrepreneur, and artist in the world of jazz. Along with leading the acclaimed Simon Rowe Trio, Rowe has played with numerous greats including Dizzy Gillespie, Dave Leibman, Tim Hagens, John Fedchock, Mulgrew Miller, Jimmy Heath, Stephanie Nakasian, and Lucia Newell, to name a few. In 1997, Rowe founded Catalyst Productions, a record label dedicated to documenting and championing the work of some of the Midwest's most outstanding jazz artists. The label gained notoriety from musicians and critics across the U.S., most notably Nat Hentoff—of New York's Village Voice—who recognized Rowe's triumph with liner notes for the 2001 release, Flamingo. Rowe's passion for teaching at the collegiate level began with his appointment at Eastern Illinois University in 2002, where he taught a wide range of jazz courses and coached students in private, small group, and big band settings. From 2004–2011, Rowe enjoyed success on the faculty of Minnesota State University Moorehead. There, he taught innovative courses in performance and improvisation, and courses relevant to the current music industry such as legal issues in the music industry, concert and sound engineering, and record company operations. He currently serves as Executive Director of the Brubeck Institute at the University of the Pacific, where he established an accelerated jazz performance degree track; created Take 5, an innovative jazz club; and developed local, national and international coalitions to forward the mission of the Institute. Rowe will take leave of his position at the Brubeck Institute before beginning his tenure at SFCM in August. For more information, and to hear Rowe's Tedx Talk, visit simonrowejazz.com.