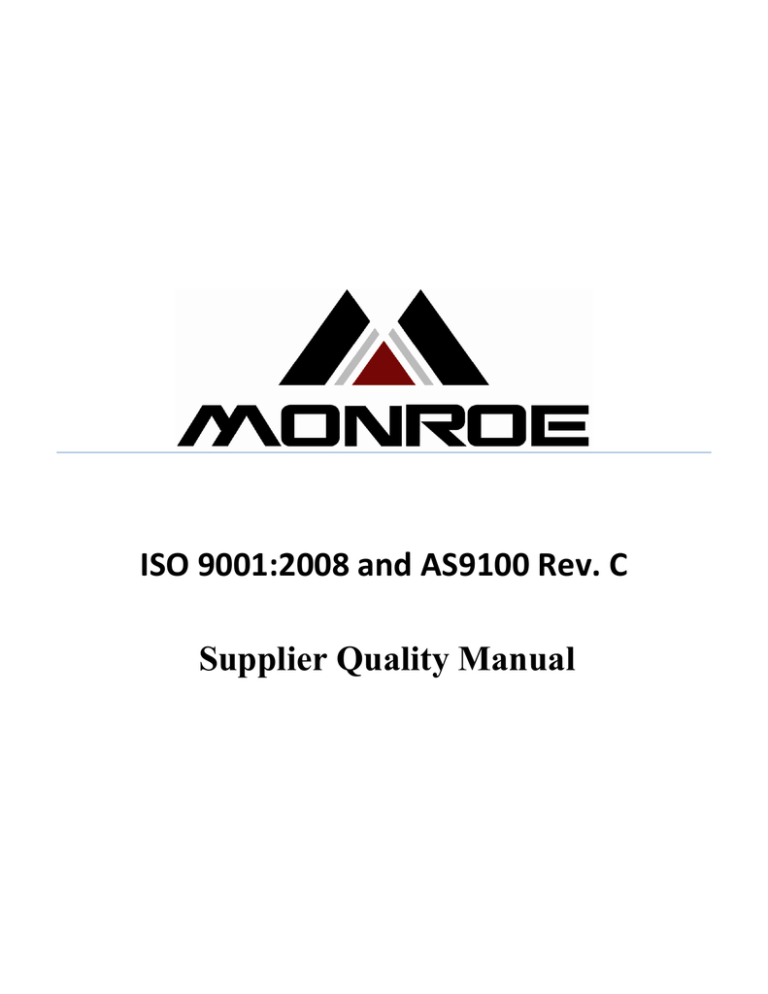 ISO 9001:2008 and AS9100 Rev. C
Supplier Quality Manual
Title:
Revision:
Supplier Manual
Effective Date:
08/03/2016
D
Page:
1 of 8
Section I – Supplier Expectations
1.0
Introduction
This Supplier Quality Manual (SQM) has been created to assist our suppliers in understanding the
purchasing expectations and quality requirements for products and/or services supplied to Monroe
Engineering. This Supplier Quality Manual will communicate the operating principles, general
expectations, and procedures of Monroe Engineering. Adherence to the guidelines described in
this manual is required by all Monroe Engineering suppliers. Acceptance of any and/or all
purchase orders constitutes acceptance and commitment on behalf of the recipient to comply with
this manual's content. These guidelines are provided as supplement to, and do not replace or alter,
any purchase agreement terms and conditions which are included as requirements of applicable
drawings, specifications and other contractual documents. This manual describes the minimum
requirements for which the supplier has responsibility. However, system improvements that
exceed the requirements specified within this manual are always encouraged.
1.1
On-Time Delivery
Monroe Engineering requires all suppliers to meet their on-time delivery requirements. To further
clarify this, we consider unauthorized early (more than 10 business days) and unauthorized late
and partial deliveries (more than 2 business days) or over shipments to be unacceptable. The
quantity shipped per order or release cannot vary from specified quantity without prior written (or
Email) consent.
1.2
Transportation Costs
Unless otherwise instructed, a supplier shall ship, as directed by Monroe Engineering. Any excess
transportation costs, due to the supplier not meeting the shipping instruction requirements, will be
deducted from the purchase price.
Section II - Supplier Selection and Performance
2.0
Supplier Evaluation and Selection
Monroe Engineering's supply base will consist of organizations supportive of our business needs.
Criteria for evaluation and selection of suppliers for placement on Monroe Engineering's
Approved Supplier List is based on the suppliers' abilities to consistently deliver defect free
products and/or services, meet our delivery requirements, be cost competitive and be responsive to
Monroe Engineering's needs.
Title:
Revision:
Supplier Manual
Effective Date:
08/03/2016
2.1
D
Page:
2 of 8
Supplier Evaluation
Suppliers to Monroe will be evaluated on an annual basis. Supplier performance shall be measured
on their ability to uphold the delivery dates defined in the order conformation from Monroe
Engineering. It will also be measured on the supplier's ability to meet or exceed the specs and
tolerances of any given part defined on that parts print. Any instance where a supplier does not
meet either of these items. That supplier will be required to submit a corrective action report for
improvement.
2.2
Supplier Corrective Action Report Criteria
All vendors to Monroe will be subject to provide Corrective Action Reports when they are deemed
necessary by Monroe or any customer of Monroe. Each vendor will supply their own approved
form to Monroe or Monroe will provide the proper form if the vendor cannot. Corrective Action
Reports shall be critiqued, and reviewed with the Supplier until a satisfactory Corrective Action
Report is submitted or the supplier is removed from the Approved Supplier List.
Any supplier who is not on the Approved Supplier List will not be awarded new orders or
possibility of new business. If a supplier is determined to be unacceptable, the Purchasing
Manager will initiate the appropriate actions to find other qualified resources prior to the removal
of the supplier from the Approved Supplier List. In the event a supplier is a mandated source by a
Monroe Engineering customer, customer's approval will be required.
2.3
Supplier Classification
Suppliers who are on the Approved Vendor list will be classified as AA. This would be
(Approved Active) in our system.
Suppliers who are on the Approved Vendor list which we have not done business with in over 18
months will be classified as AI. This would be (Approved In-Active) in our system.
Suppliers who have a status of Non-Approved will be classified as NA, they will also need to reapply for approval if they wish to do any future business with Monroe.
Title:
Revision:
Supplier Manual
Effective Date:
08/03/2016
D
Page:
3 of 8
Section III - Supplier Quality Requirements
3.0
Monroe Engineering must approve the product, any procedures and processes associated and the
equipment used. If any changes occur after the initial approval the supplier shall notify Monroe
Engineering of such changes.
3.1
Suppliers are expected to have the resources necessary (personnel, property, facilities, equipment
and materials) to supply the products and/or services required to accommodate Monroe
Engineering's production schedule and/or PO requirements. The supplier should provide for
fluctuations in requirements due to scheduling changes.
3.2
Suppliers of Monroe Engineering are requested to be compliant to the ISO 9001:2008
international quality standard. In addition, we encourage our suppliers to seek a third-party
accreditation. Supplier quality systems shall be formally documented, implemented and
maintained to ensure suppliers' products and/or services conform to the identified purchase
specifications, engineering or material specifications and/or contract requirements. The suppliers'
quality documentation shall be made available to Monroe Engineering upon request.
3.3
Each article delivered under a purchase order must be identified with a part number or other
identification. All purchased materials and services are subject to inspection for compliance to the
purchase order and all applicable quality requirements. No material or process substitutions,
quantity variations or splits from the purchase order may be made without prior written
authorization from Monroe Engineering. Information concerning the identification and revision
status of specifications, drawings, process requirements, inspection/verification instructions and
other relevant technical data will be communicated to the supplier when they quote the job, on the
purchase order and/or on the supplementary documents from Monroe Engineering.
3.4
All suppliers to Monroe Engineering must have a lot identification system that distinguishes one
lot from another when shipping finished product. Each lot of material should be clearly identified
on the product (where applicable) and/or on the product packaging. All material lots should be
traceable to raw or component material lots as identified by the supplier's supplier.
3.5
If any tests are required the purchase order and/or supplementary documents would state that
information to the supplier.
3.6
Products and/or services provided by suppliers must be at the highest level of quality.
When drawing, specification, and/or Purchase Order includes "key characteristic" requirements
the Supplier shall utilize Variation Management to ensure key characteristic integrity. The
Supplier shall develop control plans for applicable key characteristics and shall have a Cpk goal of
1.33 or better.
Title:
Revision:
Supplier Manual
D
Effective Date:
Page:
08/03/2016
3.7
4 of 8
Sampling Plans
The supplier shall adhere to the AQL defined in the documents provided by Monroe Engineering.
The order of precedence shall be:
A. Purchase Order
B. Performance Specification
C. Drawing
If no AQL is defined the following AQL shall apply:
Critical = 100% inspection
Major = 1.0 AQL
Minor = 4.0 AQL
If classification of characteristics is not defined, supplier shall use a minimum of 4.0 AQL.
Note: Reference to AQL is only to be used for determining sample size.
Where lot sampling is utilized, the supplier shall inspect characteristics in accordance with the
C=0 Sampling Plan unless directed to use a different sampling plan in the purchasing
documentation. The supplier may, at their option, use their own sampling procedure, if written
approval is granted by Monroe Engineering quality department prior to its use.
C=0 Sampling Plan
.65
LOT SIZE
2-8
9 - 15
16 - 25
26 - 50
51 - 90
91 - 150
151 - 280
281 - 500
501 - 1200
1201 - 3200
3201 - 10000
10001 - 35000
35001 - 150000
150001 - 500000
500001 & OVER
1
1.5
AQL
2.5
Major
ALL
ALL
20
20
20
20
20
47
47
53
68
77
96
119
143
ALL
13
13
13
13
13
20
29
34
42
50
60
74
90
102
4.0
6.5
10
2
2
3
5
5
6
7
9
11
13
15
15
15
15
15
2
2
2
3
4
5
6
7
8
9
9
9
9
9
9
Minor
ALL
8
8
8
8
12
19
21
27
35
38
46
56
64
64
5
5
5
5
7
11
13
16
19
23
29
35
40
40
40
3
3
3
5
6
7
10
11
15
18
22
29
29
29
29
Title:
Revision:
Supplier Manual
Effective Date:
08/03/2016
3.8
D
Page:
5 of 8
The supplier shall ensure that nonconforming product is identified and controlled to prevent
unintended use or delivery. The supplier shall not ship nonconforming materials without prior
authorization by Monroe Engineering.
The supplier is responsible to notify Monroe Engineering of any changes in product and/or
process, any changes of manufacturing facility location and receive approval of such change.
Suppliers of Monroe Engineering are required to communicate all information related to the job to
any supplier they use to produce Monroe Engineering's products.
3.9
Suppliers are fully responsible for the quality of their products/services including their sub-tier
suppliers. Both are responsible that the quality of their products/services meet all Monroe
Engineering's requirements, specifications and drawings as identified on the purchase order. Zero
defects are expected from our suppliers.
3.10
Record Retention
Suppliers and sub-tier suppliers shall establish and maintain records to provide evidence of
conformity to requirements. Records shall remain legible, readily identifiable and retrievable.
Product history records shall be maintained for a minimum of 7 years or as required by the
purchase order.
3.11
Right of Entry
Monroe Engineering and its customers or any applicable regulatory authority shall have the right
to enter the suppliers' facility to perform inspections or surveillance audits to verify the quality of
work, records and to ensure compliance to the contract. When applicable, the access requirement
shall be flowed-down by the supplier to the suppliers' sub-tier sources.
3.12
Aerospace Parts
In the event that the purchase order is for an Aerospace Field part, there may be additional
requirements of the supplier as well as any sub-tier suppliers.

The supplier must conduct a review of all the purchase order requirements to ensure their
product or service conforms to those requirements.

The supplier's Quality Management System must address the requirements contained in
this document.

Suppliers are required to flow down data & other requirements to sub-tier suppliers.
Title:
Revision:
Supplier Manual
Effective Date:
08/03/2016
D
Page:
6 of 8

The supplier must maintain and calibrate precision measuring and test equipment with a
method that is traceable to a recognized standard.

The supplier must establish document and maintain a configuration management process
appropriate to the product. For more information regarding configuration management
refer to the International Standard ISO 10007: Quality Management Systems – Guidelines
for Configuration Management.

The supplier must preserve the product during internal processing and delivery to Monroe
Engineering, maintaining conformity requirements. The supplier must provide packaging
that protects the component from mechanical and environmental damage during transport
and storage including effects of temperature, vibration and shock. This also includes:
cleaning, removal of foreign objects, special handling for sensitive products, appropriate
labeling, shelf life control, stock rotation and other special handling.

If the supplied products are life-limited, the supplier is required to furnish either the
expiration date or the material cure date.

Product subject to special processing must be accompanied by certification documents that
specify that process and the supplier's conformance to the requirements of that process.
Suppliers must maintain records at their facility for seven years.

A First Article Inspection (FAI) may be required using AS9102 forms as well as a number
of additional documents such as: material certifications for raw materials, calibration
records for gages used, process flow, traveler or routing sheets, control plans, inspection
sheets, test records for special processes, appearance samples, functional test results as
specified in print and/or specifications, Part Submission Warrants, capability studies, run at
rate documentation and certificate of conformance (C of C) documentation. See the current
AS9100 Aerospace Standard for a better understanding of other possible requirements.
Title:
Revision:
Supplier Manual
Effective Date:
08/03/2016
D
Page:
7 of 8
Section IV - Special Requirements
4.0
The supplier will complete a First Piece Inspection for items on the purchase order. First Article
Inspections for AS9100 classified parts will be recorded on the AS9102 forms. Otherwise, utilize
Monroe's designated form or the supplier's form with Monroe Engineering approval.
The First Article Inspection report must show evidence of acceptance by the supplier's quality
assurance representative. The first article(s) shall be produced on production equipment and using
processes which will be utilized on production runs.
When requested, the first article(s) may be performed on prototype articles to determine
conformance status to available data.
Additionally, the supplier shall perform subsequent first articles per the requirements of AS9100
(i.e. following every major tooling or design change, and subsequent to any evident quality
degradation for a specified part or article).
Records of all first article activity will be documented as required in AS9100, treated as quality /
acceptance records and made available to Monroe Engineering.
4.1
The supplier is responsible for ensuring items provided under the purchase order are packaged in
such a manner that the product integrity is preserved, contamination and corrosion are prevented,
no physical damage occurs and it prevents damage, deterioration or loss in transit.
The supplier shall label the exterior of the container to ensure adequate identification needed to
ensure the identity of the product being shipped. The supplier must ensure the handling and
shipping methods for a proper and on-time delivery without damage to the product. The supplier
shall ensure that any special labeling requirements shall also be listed in the appropriate shipping
documents and on each package.
4.2
The supplier is responsible for developing and implementing an anti-counterfeit education and
training program for their employees responsible for purchasing and receiving.