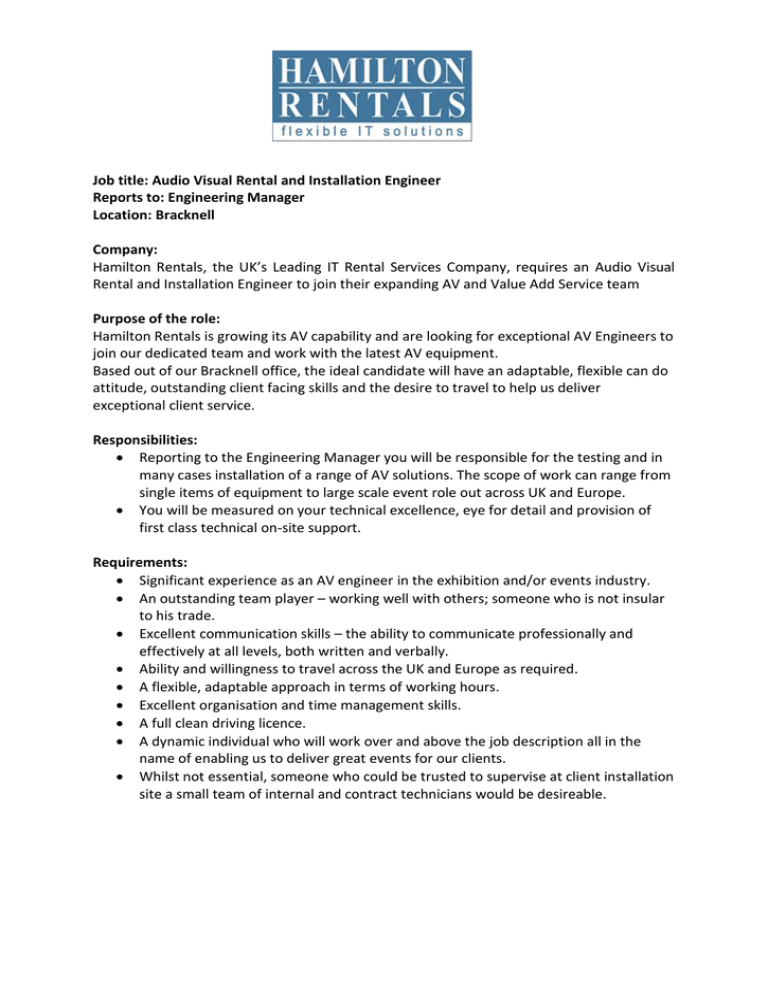 Job title: Audio Visual Rental and Installation Engineer
Reports to: Engineering Manager
Location: Bracknell
Company:
Hamilton Rentals, the UK's Leading IT Rental Services Company, requires an Audio Visual
Rental and Installation Engineer to join their expanding AV and Value Add Service team
Purpose of the role:
Hamilton Rentals is growing its AV capability and are looking for exceptional AV Engineers to
join our dedicated team and work with the latest AV equipment.
Based out of our Bracknell office, the ideal candidate will have an adaptable, flexible can do
attitude, outstanding client facing skills and the desire to travel to help us deliver
exceptional client service.
Responsibilities:
 Reporting to the Engineering Manager you will be responsible for the testing and in
many cases installation of a range of AV solutions. The scope of work can range from
single items of equipment to large scale event role out across UK and Europe.
 You will be measured on your technical excellence, eye for detail and provision of
first class technical on-site support.
Requirements:
 Significant experience as an AV engineer in the exhibition and/or events industry.
 An outstanding team player – working well with others; someone who is not insular
to his trade.
 Excellent communication skills – the ability to communicate professionally and
effectively at all levels, both written and verbally.
 Ability and willingness to travel across the UK and Europe as required.
 A flexible, adaptable approach in terms of working hours.
 Excellent organisation and time management skills.
 A full clean driving licence.
 A dynamic individual who will work over and above the job description all in the
name of enabling us to deliver great events for our clients.
 Whilst not essential, someone who could be trusted to supervise at client installation
site a small team of internal and contract technicians would be desireable.