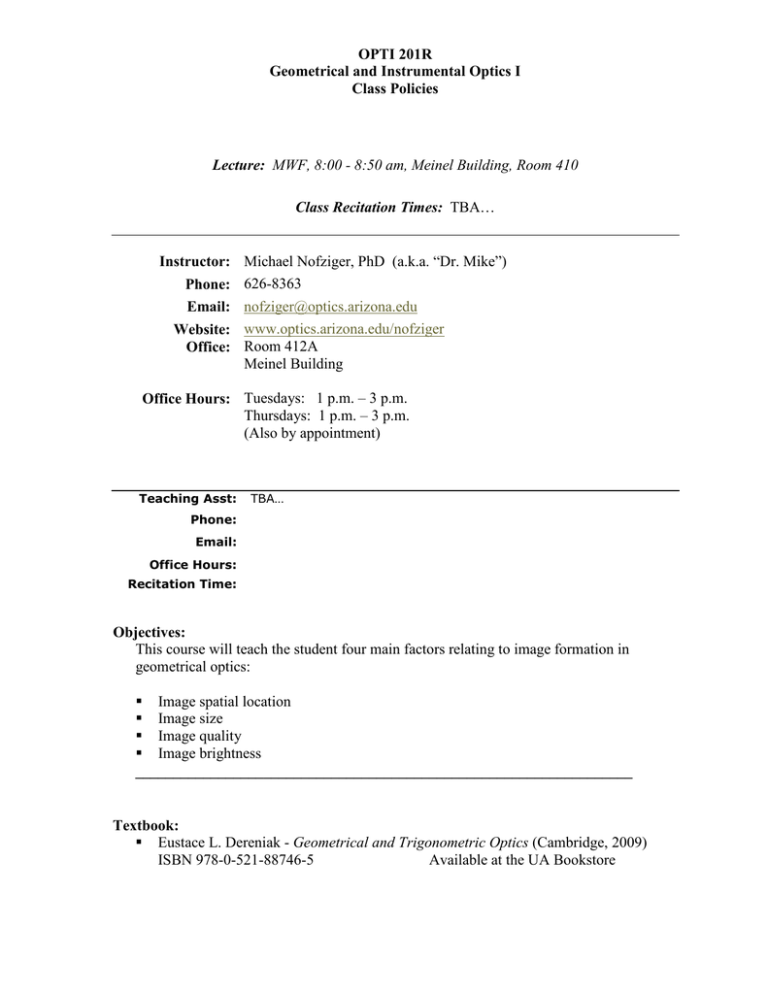 OPTI 201R
Geometrical and Instrumental Optics I
Class Policies
Lecture: MWF, 8:00 - 8:50 am, Meinel Building, Room 410
Class Recitation Times: TBA…
Instructor:
Phone:
Email:
Website:
Office:
Michael Nofziger, PhD (a.k.a. "Dr. Mike")
626-8363
nofziger@optics.arizona.edu
www.optics.arizona.edu/nofziger
Room 412A
Meinel Building
Office Hours: Tuesdays: 1 p.m. – 3 p.m.
Thursdays: 1 p.m. – 3 p.m.
(Also by appointment)
Teaching Asst:
TBA…
Phone:
Email:
Office Hours:
Recitation Time:
Objectives:
This course will teach the student four main factors relating to image formation in
geometrical optics:
 Image spatial location
 Image size
 Image quality
 Image brightness
__________________________________________________________________
Textbook:
 Eustace L. Dereniak - Geometrical and Trigonometric Optics (Cambridge, 2009)
ISBN 978-0-521-88746-5
Available at the UA Bookstore
Class Notes and Syllabus:
On-line at : http://fp.optics.arizona.edu/nofziger/
(then click on OPTI 201R).
Note that our class syllabus may be subject to change with reasonable advance notice, as
deemed appropriate by the instructor. Grading, absence policies, and exam times will NOT
change.
Suggested Reading: (These books are on reserve in the Optical Sciences Library):
 John E. Greivenkamp, Field Guide to Geometrical Optics (SPIE Press)
 Warren J. Smith, Modern Optical Engineering (SPIE Press)
 Eugene Hecht, Optics (Addison-Wesley Publishing Company)
Grading:
 2 Midterm Exams: 20% each = 40%
 Quizzes: 10%
 Problem Sets (Homework): 30%
 Final Exam: 20%
 Final grading will be done on a curve.
 Your lowest homework score will be dropped.
 Corrections to errors in grading will only be considered within one week
following the return of the homework assignment or exam.
Homework:
 Homework assignments and their DUE dates will be posted on our on-line Syllabus.
(New homework sets will NOT be handed out in class on paper, only electronically
through our on-line Syllabus). You will have (a minimum) of one week to do each
homework set.

Homework will be collected at the start of class on the DUE date.

Homework turned in after it has been collected will not be accepted, unless
accompanied by a written letter from a doctor or a hospital. NO exceptions.

Your lowest homework score will be dropped.

You may work with other classmates on the homework sets. In fact, this is
encouraged. However, be sure that you really understand and actually learn the
material—all exams must be your own work!
Classroom Policies:
 Turn off all cell phones and pagers.
 No talking during class, unless for class participation!
 No food in the classroom, please.
 The only electronic device allowed during the exams will be a calculator. Any
student who uses any other electronic device (laptop, cell phone, cell phone camera,
PDA for texting, etc.) will receive a zero (0%) for that exam.
Attendance Policy:
It is important to attend all classes, as what is discussed in class is pertinent to adequate
performance on assignments and exams. If you must be absent, it is your responsibility to
obtain and review the information you missed. Unannounced quizzes will be given to
encourage attendance, and to help you gauge your progress in learning the material.
If you miss the midterms or final exam, they may not be made up unless you
have a documented medical or family emergency. Quizzes may not be made
up for any reason.
Academic Integrity
The University of Arizona Code of Academic Integrity may be found on the Dean of Students
website at: http://deanofstudents.arizona.edu
"Integrity is expected of every student in all academic work. The guiding principle of academic
integrity is that a student's submitted work must be the student's own." Unless otherwise noted
by the instructor, work for all assignments in this course must be conducted independently by
each student. CO-AUTHORED WORK OF ANY KIND IS UNACCEPTABLE.
Misappropriation of exams before or after they are given will be considered academics
misconduct.
Misconduct of any kind will be prosecuted and may result in any or all of the following:
 Reduction of grade
 Failing grade
 Referral to the Dean of Students for consideration of additional penalty, i.e. notation on a
student's transcript regarding an academic integrity violation, etc.
Students with a Learning Disability
If a student is registered with the Disability Resource Center, he/she must submit appropriate
documentation to the instructor if he/she is requesting reasonable accommodations.
(http://drc.arizona.edu/drc/accommodations.html).