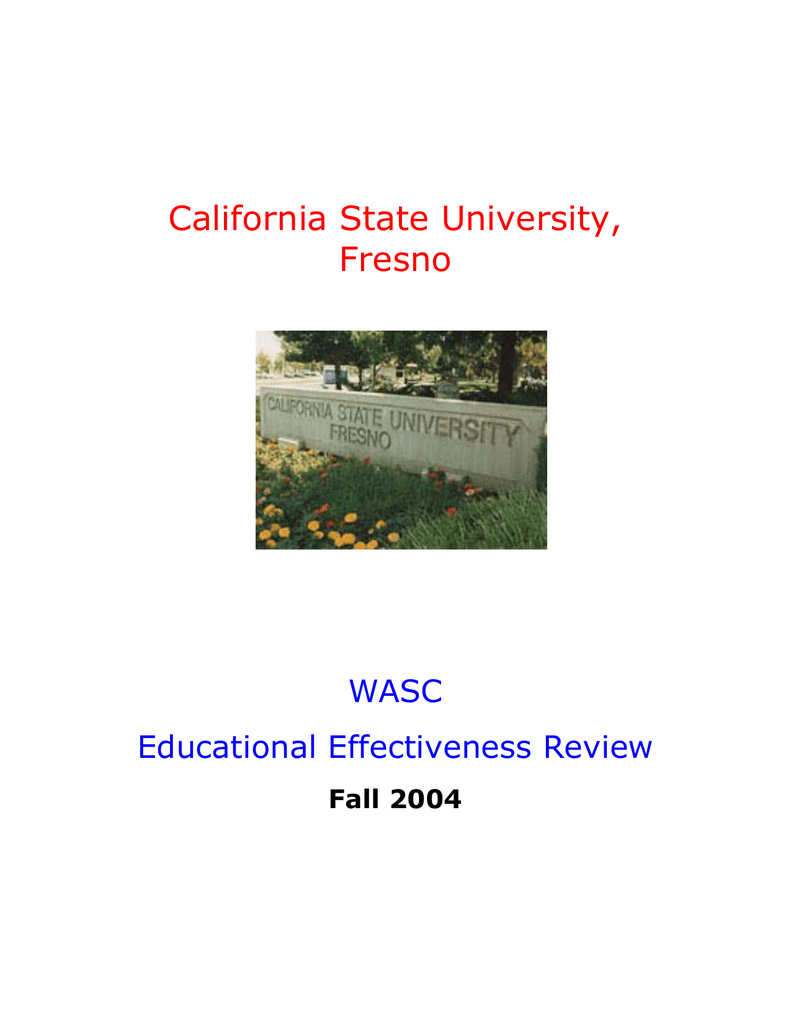 California State University,
Fresno
WASC
Educational Effectiveness Review
Fall 2004
While the Preparatory Review emphasizes the university's analysis of its
conformity to the first Core Commitment—basically, of its institutional capacity
to offer a quality education consistent with its mission—the Educational
Effectiveness Review examines the university's success at fulfilling the second
Core Commitment:
The institution evidences clear and appropriate educational objectives and design
at the institutional and program levels, and employs processes of review,
including the collection and use of data, that assure the delivery of programs and
learner accomplishments at a level of performance appropriate for the degree or
certificate awarded.
In other words, this review strives to answer the question, "To what
extent is the university effective in delivering a quality education
consistent with its mission?"
As outlined in its Preparatory Review, California State University, Fresno's WASC
self-study focuses on three themes:
Opportunity—"Access to Quality Programs for Diverse Populations"
Exploration—"Discovery of Knowledge, Self, and Society through
Expanding Horizons"
Interaction—"Transformation through Integration of Knowledge and
Experience"
Each of these themes was carefully defined and developed in the Preparatory
Review, accessible by the links above. In approaching the Educational
Effectiveness Review, the WASC Self-Study Steering Committee reexamined
each thematic area and formulated a set of specific research questions for
focused analysis.
The selection of focus questions was guided in large part by a practical goal: the
committee felt it important that such an intensive in-depth examination as called
for by the Effectiveness Self Study result in information that would be useful to
the university in its formation of future pathways to success. Thus the review
itself must become an effective mechanism for learning and advancement of the
university's mission, and not a mere indulgence in accumulation of data
supporting foregone conclusions.
With this in mind, working groups composed of faculty and staff each were
charged with drafting the response to a single research question, refining the
questions as they proceeded. The questions, in their final form, and the themes
that each most strongly represents, are:
OPPORTUNITY
Here, the WASC committee and the writing teams elected to examine the
university's proactive stance toward providing the opportunity for a quality
education as well as the success rates for diverse first-year undergraduate
students:
A. How does the university advance student learning and its own improvement in
achieving student learning?
B: How effective are academic and student support programs in meeting the
needs of first-year students and improving retention and graduation rates?
EXPLORATION
Building upon their emphasis in the Preparatory Review, technology integration
and research/creative/scholarly activity became the featured targets of the
investigation, relating each of these to the institution's educational mission:
C. How effectively has the university integrated the use of technology to support
teaching and learning?
D. How has the expansion of faculty research, scholarship, and creative activity
affected the learning environment?
INTERACTION
In its third thematic area, it was decided to examine evidence regarding the
impact and extent of the university's engagement with the community:
E. How has the university's community engagement affected students?
F. How productively is the university engaged with the community?
The subgroups added committee members as needed to ensure broad and
appropriate representation across the university community. Extensive
consultation with the university community was involved in the drafting of these
essays, including requests for existing data and supportive material, compilation
of new data, and faculty and student surveys. These sources have been detailed
as appropriate throughout the essays. The resulting drafts were reviewed and
critiqued by the Steering Committee and the drafts were further revised. While
basic structural unity has been sought, essays composed by different committees
vary in internal organization and voice.
Following the presentation of each of the responses to the research questions are
conclusions and recommendations elicited by what was learned from the essays
and their development. In many cases, this takes the form of a list, a rather
stark approach that avoids the temptation to hyperbole or gloss, and provides
both the WASC review committee and the university with material that can be
usefully employed to move forward in the years to come. A final section of this
Effectiveness Review draws overall conclusions and prioritizes major
recommendations. Throughout the text, the notation "CFR" in the right margin
points to a Criterion for Review, indicating that the material involved contributes
to the evidence that the noted CFR is being met. Because they are selective, the
essays do not necessarily correspond directly to Criteria for Review.
The WASC Handbook of Accreditation calls for the Educational Effectiveness
report to include a description of the Educational Effectiveness approach. This is
addressed in detail in response to the first educational effectiveness review
question, "How does the university advance student learning and its own
improvement in student learning?" Additional background information on
program review and outcomes assessment processes is available in the
Preparatory Report.
Attached to this Educational Effectiveness self-study are a number of appendices
appropriate to the various research questions and an appendix responding to
issues raised in the March 13 Commission Action Letter (Appendix G). Availability
of referenced material via the Internet (hyperlink) and/or in the site visit
document room is indicated in the text. References cited in the text are listed in
full in a corresponding appendix.
This essay includes the response to two research questions:
A. How does the university advance student learning and its own
improvement in achieving student learning?
B. How effective are academic and student support programs in
meeting the needs of first-year students and improving retention and
graduation rates?
A. HOW DOES THE UNIVERSITY ADVANCE STUDENT
LEARNING AND ITS OWN IMPROVEMENT IN ACHIEVING
STUDENT LEARNING?
This response was originally prepared as separate answers to two distinct
questions: "How effective are academic programs in preparing undergraduate
and graduate students for post-degree educational and employment pursuits?"
and "How effective is the university in assessing student learning and using the
data to improve instruction and student learning?" As both the background
information and data sources used to respond to the two questions overlapped,
they were subsequently combined into one compound question.
STUDENT OUTCOMES ASSESSMENT PLANS
As described in our preparatory report, in 1998 the university began an initiative
in which departments were allowed to substitute the development and
CFR
1.6
implementation of assessment plans for one round of program review. Strong
institutional support was evident in the assigned time, training, and other
resources provided for the nascent assessment efforts. Importantly, the Student
Outcomes Assessment Plans (SOAPs) were formative in nature. Thus the policy
on assessment data indicates that SOAP data are the property of the assessing
unit and are not to be used for budgeting (except at the initiative of the
assessing unit) or personnel decisions.
The guiding purpose in the implementation of student outcomes assessment at
California State University , Fresno is improved student learning through
curricula and instruction modified as necessary. To best fulfill this purpose,
outcomes assessment of student learning takes place at the department and
program level (including the General Education [GE] program, special programs
such as the Honors program, and, notably, graduate programs), where data
(i.e., quantitative and qualitative observations) and information (i.e.,
interpretation of the data) can be used most judiciously and effectively to bring
about change in curricula and instruction.
The assessment process is just now coming into its own, with all programs
having completed assessment planning through the point of external review
of their assessment plans. The university pays close attention to the progress
of assessment at both the undergraduate and the graduate level.
Department chairs are requested to include in their annual reports a
statement of the assessment activities that have been carried out in the past
year and any changes made in response to assessment results. To clarify the
frequently perfunctory nature of previous reports, the provost has made a
special request for an assessment update as a component of this year's
annual reports. Departments have further been requested to provide
complete sets of syllabi for courses offered fall 2004. Included in these
should be the expected student learning outcomes for the course, as
required by the university's Policy on Course Syllabi and Grading. The
university's Graduate Curriculum Subcommittee has been diligent in
reviewing new course syllabi for the required student learning outcomes and
reviewing the course topics and assignments for alignment with the expected
outcomes.
CFR
2.6
Course syllabi, along with data on implementation of assessment plans and the
2003-04 annual reports will be used to update the information in WASC Table
7.1, Inventory of Educational Effectiveness Indicators (Appendix A1), prior to the
WASC Educational Effectiveness (EE) site visit. With respect to the prevalence of
defined student learning outcomes, i n the recent Survey of Student Educational
Experiences (Appendix A2), undergraduate students reported that "the course
syllabus makes clear what I am expected to learn" in most or all courses in
General Education (77%) and in the major (83%).
CAMPUS PROGRAM REVIEWS AND ACCREDITING AGENCIES
Periodic program reviews, as mandated by the California State University (CSU),
provide a measure of program efficacy, including student learning, that is more
CFR
2.7
summative than the student outcomes assessment process. Upon completion of
an initial five-year SOAP cycle, there is the expectation that all academic
programs, both undergraduate and graduate, will update their SOAPs for the
succeeding five to seven years, thus ensuring a continuous cycle of evaluation of
program effectiveness. The recently revised "Program Review Policy and
Procedures" formalizes this expectation. The review process includes the
preparation of a self-study and a site visit led by an external reviewer. Because
programs were allowed to substitute their initial assessment planning for the
program review, thus far only eight or nine programs have submitted selfstudies under the revised process. These reviews will be available in the
document room for the EE site visit.
Of the 58 undergraduate degrees offered at California State University, Fresno,
approximately 30 are subject to disciplinary accreditation. A complete listing of
program accreditations and certifications can be viewed in the current General
Catalog. Appendix A3 summarizes the status of the external accreditations.
Disciplinary accreditation materials from at least the last two years will be
available to the visiting team.
ASSESSMENT ACTIVITIES AND EVIDENCE OF STUDENT LEARNING
AT THE PROGRAM LEVEL
Although a more comprehensive presentation of information on program quality
will be available for the EE site visit, evidence of student learning, including
assessment results and their impact, is presented below. These results were
obtained from departmental annual reports, responses to a special plea to
department chairs, and abstracts of presentations at an assessment conference
held on campus in 1998.
Faculty in the Department of Early Childhood Education evaluated course
syllabi both pre and post assessment, and identified changes as a result of the
assessment. Assessment of written papers using scoring rubrics in the
Communication Theory course led to course changes, and student
performance on final exams was used to assess whether students were meeting
Communication Department objectives for student learning. The results of an
Educational Testing Service Field Exam in Business administered to all seniors
identified needed changes in the background Economics courses. The
Department of Physics utilizes laboratory reports written by the students to
analyze the effectiveness of the lab components of their various courses. A
departmental assessment committee reviews these reports, comparing them to
previously established expectations, and revises accordingly the content and
structure of the lab components.
After developing the initial goals for the department, the Department of
Criminology began its assessment process by reviewing its internship and
student requirements and adjusting relevant internship course syllabi to reflect
this review and the goals of the department. Assessment of the various aspects
of the program takes place through entry/exit surveys, faculty surveys, papers
and research projects, and evaluation of the students' application of their
CFR
2.2
individual academic knowledge during the internship field experience. The
department continues to monitor and assess the internship experience and to
modify the program on a yearly basis as deemed necessary.
Instructors of required upper-division courses within the department undertake
analysis of final exam essays from an upper-division, required course within the
Department of Sociology. The outcomes of this analysis are then used to
modify courses, the better to achieve departmental objectives. One instructor
reported, "Through their answers to the questions, I can see that the concept
now has a life to it. In their conclusions they need to think critically about what
they learned, it is here that their comprehension (or lack thereof) is observed.
Also, when the students verbally share with their classmates and explain to them
their findings, I know knowledge was achieved." In this case assessment
activities caused the department to include hands-on project activities.
The Department of Music's 2002 survey of 162 undergraduate and graduate
alumni who earned degrees from the department between 1960 and 1998
yielded a 23% response rate. Alumni were extremely supportive of the
department's goals and offered recommendations for improvement of the
curricula. However, alumni voiced great concern about the lack of music
technology training and experience necessary for employment and post-degree
educational pursuits. This concern resulted in the development of a new course,
Music 47, Introduction to Music Technology, offered for the first time in fall
2003.
The Department of Communicative Disorders and Deaf Studies meets yearly
with a community advisory committee composed of speech pathologists, public
school administrators, parents, and other community members to hear
observations and comments on the effectiveness of their graduates in the field.
Five years ago, the department's community advisory committee noted that
graduates in Speech Pathology were unable to successfully treat swallowing
disorders. The department responded by designing and including a new course,
CSD 220 Seminar in Dysphagia and Traumatic Brain Injury, in the curriculum
that leads to the Certificate of Clinical Competence in Speech-Language
Pathology.
The Department of Curriculum, Teaching and Educational Technology is
using scoring rubrics to assess student learning. As one member of the faculty
noted, "Scoring rubrics have resulted in more students producing a higher
quality of work. Another important benefit of using scoring rubrics is that it
becomes fairly easy for [the instructor] to analyze overall student performance
and to determine what areas need more attention either by providing students
with additional information or more opportunities to apply what they have
learned."
Since 2000, the Department of Marketing and E-Business has been
conducting a Senior Confidence Assessment using an instrument developed from
a collective resume of knowledge, skills, values, and applied experiences. The
resume was created utilizing input from faculty, graduates, and employers. Data
gathered from the Senior Confidence Assessment prompted the department to
require Marketing 103, Personal Communication Tools in Marketing, for all
majors; to develop and add Marketing 153, E-Marketing, to the curriculum; and
to enhance Internet use in Marketing 101, Marketing Information Systems. In
addition, the Marketing course now requires a multimedia presentation. Results
of the 2002-03 Senior Confidence Assessment indicate that students' confidence
levels have increased in the areas of concern addressed by these curricular
changes.
The results of a business focus group conducted in 2001 by the Management
Department (Craig School of Business) indicated that the Craig School graduates
needed stronger team skills and more experience with current technologies.
Consequently, the Management Department significantly modified the
Administration and Organizational Behavior core course. A virtual team
component was developed for the course and initially tested on two of seven
sections. Additional sections have been converted to the new format each
semester, and next fall the rollout will be complete, with all sections included in
the virtual team component. The virtual team experience has enhanced team
skills (e.g., communication, team process, decision making, and conflict
resolution) and provided multiple opportunities for the students to improve their
ability to use various technologies. The department has integrated continuous
improvements in the course, making modifications each semester based upon
ongoing formative evaluation data.
The California State University (CSU) Systemwide Evaluation of Teacher
Preparation (document room) was initiated by the system's deans of education.
The purpose of the survey is to provide information to campuses regarding
performance in relation to the goals of productivity, excellence, and equity in
preparing teachers for K –12 schools, and to provide information to campuses
for program improvement relating to these goals. Data were collected through
random sampling of 1999-2002 CSU graduates who had taught in K – 12 schools
for one full year upon completion of their credential work, with a 50-55%
response rate. A sample of participating site supervisors was also surveyed, with
a response rate of 45-50%. California State University, Fresno graduates fall
between adequately prepared and well prepared, near the CSU system average.
The Kremen School of Education and Human Development has used these
data along with data from a variety of other sources, including student and
employer evaluations, to influence changes in existing and developing programs.
Changes have been made in the frequency of orientations, advising, and course
assignments, and in general program design components. For example, based
on the most frequent suggestion from the system evaluation, the Multiple
Subjects program now includes a course entitled Differentiated Instruction and
Classroom Management.
The California Commission on Teacher Credentialing Institutional Report
of Teacher Preparation Programs in 2002-2003 (document room) lists high
pass rates of between 94% and 100% for the various examinations used for
Multiple Subject, Single Subject and Level I Education Specialist Credentials
Programs.
The Department of Food Science and Nutrition has two programs accredited
by the Commission on Accreditation for Dietetics Education of the American
Dietetic Association. One of the three accreditation standards is focused on the
interrelationship of program management with program outcome measures. In
reviewing outcomes data from Dietetic Registration Examination scores, an
employer focus group, and graduate placements, the faculty identified several
areas that needed attention. Communication skills, both written and oral, were
identified as a limitation of the students. The faculty decided to develop a scoring
rubric for use across the curriculum that would provide students with knowledge
of faculty expectations regarding communication skills, and provide faculty with
a consistent and objective means for evaluating student performance. The
accreditation process also led the department to enhance its outcomes
assessment plan with a procedure that clearly defines responsibility for followthrough on outcomes data. The accreditation process helped to determine that
students were insufficiently involved in the assessment process and to explore
possible avenues for increasing their involvement. Lastly, faculty members who
participated in the accreditation process stated that as a result of their
participation, they felt more knowledgeable about the entire curriculum and
university policies and procedures related to curriculum.
The Division of Graduate Studies conducts annual exit surveys in tandem
with application for graduation. Data collected for the Graduate Student Exit
Survey for 2001 –2002 indicate that of the 234 responses received, 77% of the
respondents stated that they would be employed in their field of study upon
completion of the degree; 48% reported that completion of the graduate degree
would qualify them for a professional license, certificate, or credential; and 13%
reported that they had applied to a doctoral program. Students were also asked
to evaluate various aspects related to their educational experiences in the areas
of Curriculum, Faculty, Graduate Studies Office Services, and Facilities—all
factors that contribute to the effectiveness of academic programs. Using a scale
from 1 (poor, did not meet expectations) to 5 (superior, consistently exceeded
expectations), the data collected from respondents were identified for each
college/school and then averaged for a total university score. Of all educational
aspects surveyed, students rated career/job opportunity advising the lowest, at
2.94, and improvement of their knowledge and skills the highest, at 4.14.
Moreover, students rated the overall quality of their academic graduate
experience at 3.88, with 90% of responding students indicating that they would
recommend California State University, Fresno to others for graduate education.
In the National Science Foundation Survey of Baccalaureate Origins of
Earned Doctorates, California State University, Fresno tied for second in
Physical Sciences and ranked ninth in total sciences, nationally, among master's
colleges and universities that were baccalaureate origins of 1991-95 science and
engineering doctorate recipients in the disciplines of Physical Sciences,
Mathematics, Computer Sciences, Biological Sciences, Agricultural Sciences,
Psychology, Social Sciences, and Engineering.
CFR
2.2
ASSESSMENT OF GENERAL EDUCATION
General Education was assessed through analysis of student written work,
review of course syllabi, and surveys of faculty and students. While assessment
of GE was embedded in courses in each of the four upper-division GE areas (IB,
Integrative Science — Physical Universe and Its Life Forms; IC, Integrative Arts
and Humanities; ID, Social Political, and Economic Institutions and Behavior,
Historical Background; MI, Multicultural/International), assessment was not
intended to measure the effectiveness of just the course in which assessment
took place. Analysis of GE assessment results is ongoing; the most recently
available report can be found in Appendix A4. "Evaluation of Written Work,"
which follows, has mostly been excerpted from that report, while key findings
from other assessment activities are summarized in the subsequent discussion.
Evaluation of Written Work from General Education Courses
Course work of students currently in upper-division GE courses was analyzed as
an assessment of writing skills gained in lower-division GE courses. This analysis
was conducted in the 2002-03 academic year in the upper-division integrative
science and arts/humanities courses, and reported in the fall 2003. Faculty
members were involved in developing rubrics, in scoring writing samples, and in
providing feedback. General Education Scoring Guides were developed in the
areas of writing, critical thinking, upper-division integrative science, and upperdivision arts and humanities.
The Office of Institutional Research, Planning, and Assessment collected sets of
student papers from each course offered in GE Areas IB and IC, selected a
random sample, photocopied them, and returned the sets of papers to the
instructors. Student papers were coded so students could be identified by
Institutional Research (to be able to distinguish between native and transfer
students, for example) but not by scorers; papers were scored anonymously.
Copies of the respective writing assignments were also collected. In May 2003,
20 members of the faculty participated in the scoring of 167 writing samples.
The scoring results are summarized below. A score of 4 = accomplished, 3 =
competent, 2 = developing, and 1 = beginning. In addition to providing a score
on each dimension, scorers were asked to provide an overall score (not an
average) that best represented the quality of the paper. The overall quality of
student writing in the sciences (mean score, 1.75) was scored lower than the
overall quality of writing in the arts and humanities (mean score, 2.50) or in
writing overall (mean score, 2.21). Student abilities to think critically and to
capture and express their thinking generated some of the highest scores (mean
scores, 2.38 and 2.56).
Writing
IB (Science)
IC (A&H)
Knowledge of
Conventions
2.39
2.44
Clarity &
Coherence
2.42
2.39
Rhetorical
Choices
2.10
2.07
Overall
2.21
2.21
Critical ThinkingInterpretation
IB (Science)
IC (A&H)
IB Goals
(Science)
2.37
2.48
Analysis &
Evaluation
2.31
2.50
Presentation
Overall
2.26
2.55
2.38
2.56
Science Basic Concepts
& Society
&
Fundamental Scientific Nature
Principles
Approach
of
Science
2.07
1.75
1.53
1.71
IC Goals (A&H)
Integration
2.56
Discipline
2.40
Overall
1.75
Overall
2.50
It is clear from the comments of faculty participating in the rubric evaluation
process that the continued development of rubrics is important and that the
alignment of the assignment to the rubric made a significant difference in the
results. Misalignment may have been a factor in the lower than expected scores
of student writing in the sciences compared to those in the arts and humanities.
To the extent that the curriculum is aligned to outcomes and the assignments
and rubrics are well designed, learning is documented, and embedded
assessment can be used to measure educational effectiveness. One of the
lessons is to encourage faculty to use rubrics and help them design effective
writing assignments on which to apply them. A second lesson is that assessment
processes that are embedded in class work bridge potential problems with
student motivation because they represent real work both to the students
completing the assignments and to the faculty members assigning them.
Syllabus Review of General Education Upper-Division
Integrative Courses
Appointed in October of 2003, the GE Assessment Task Force conducted a
review of a total of 101 fall 2003 course syllabi for all GE upper-division
integrative courses. Reviews were done both in terms of the student learning
outcomes outlined for the GE program and the requirements for campus syllabi
set out in the Academic Policy Manual. The fall 2003 course syllabi were also
compared to the model syllabi originally approved by the General Education
Committee. A number of recommendations came out of the task force review:
Crisper statements of student learning outcomes should be developed
to enhance future assessment activities in General Education Areas.
GE course syllabi should have a stronger connection to their model
syllabi submitted by the department and approved by the General
Education Committee.
Connections between expected student learning outcomes and specific
course elements, which were included in the original course proposals,
should be more explicitly mapped to course elements in GE course
syllabi.
Campus policy currently urging GE faculty to include an iterative
approach in which students receive instructive feedback and an
opportunity to revise their work should be amended to require that
iterative approach.
GE course syllabi should do a better job of detailing how they meet the
4000-word writing requirement, including a description of the
assignment components, methodology, goals of the assignment, and
criteria/standards against which they will be evaluated.
GE course syllabi should require sustained reading of primary source
or non-textbook assignments to enhance student command of
language, rhetoric, and argumentation.
Compliance with requirements for campus syllabi outlined in the
Academic Policy Manual should be improved.
Errors of fact contained in some campus syllabi should be corrected.
Student Survey of General Education, Areas IB and IC
A student survey instrument was developed locally that gathers student
feedback on the quality of their GE program educational experience students.
Student survey results for GE Areas IB (Science) and IC (Arts and Humanities)
have been tabulated and augmented by data elements pulled from the campus's
PeopleSoft student database; analyses will be available by fall 2004 for all four
GE areas of study. From analyses of the student surveys of GE Areas IB and IC
performed thus far, some general comments are:
As the student's expected grade in the course went up, so did the
average number of non-class hours they reported spending on the
course.
Not surprisingly, students expecting Bs or As in their classes tended to
respond that the number of class hours they devoted was adequate,
and students expecting Cs or Ds did not.
More students reported they retained 13-15 units of coursework
through the semester than any other level of unit load. More students
reported they worked 17-32 hours per week through the semester
than they did any other number of employment hours. These patterns
were consistent for students who expected As, Bs, and Cs. Students
expecting D grades were too few to summarize. This evidence
supports the conclusion that unit load and weekly employment hours
are independent of student grade expectations.
There were no differences in grade expectations by gender or by class
standing.
Student age categories and native language categories show some
spotty differences in grade expectations.
Student reports of assignments done in these upper-division General Education
courses were consistent with faculty reports of frequency and character of the
assignments they made in their classes.
Faculty Survey of General Education Areas IB, IC, ID, and MI
Faculty surveys were gathered at the same time the student instruments were
distributed to GE courses. Responses came from 16 GE Area IB (Science) faculty
members in spring 2002, 29 GE Area IC (Arts and Humanities) faculty in spring
2003, 20 GE Area ID (Social Sciences) faculty in spring 2004, and 41 GE Area MI
(Multicultural/International) faculty in spring 2004, for a total of 106 faculty
responses.
There is preliminary evidence of cultures differing by GE area that faculty bring
to structuring their General Education courses. With respect to the use of
Internet sources, Area IB and MI faculty assigned more than the typical
expected, while Area IC faculty underutilized Internet sources. In papers of 10
pages or longer, Area IB and MI faculty assigned more than the typical expected,
while Area IC faculty underutilized longer paper assignments. This is somewhat
unexpected since Area IC courses are taught by faculty in the College of Arts and
Humanities. In testing, instructors for courses in Areas IB and ID tend to give
more in-class exams and quizzes, and those for courses in Areas IC and MI tend
to give more take-home exams and quizzes. Area IB, IC and ID faculty assigned
more essay questions on their exams and quizzes, while Area MI faculty
assigned fewer essay questions on their exams and quizzes than expected. Area
IC and ID faculty assigned fewer Web site developments and presentations/
performances than expected, but Area MI faculty assigned more in both
categories than expected.
Questions probing the use and character of a final examination showed that
virtually all faculty members gave a final examination in GE courses. But faculty
teaching Area IB courses gave more final exams that were comprehensive in
nature (69%) than did faculty in Area IC (44%), Area ID (10%), and Area MI
(46%). Most (39% to 63%; average 53%) class time was reported to be
dedicated to lecture. Ironically, while faculty members showed differing patterns
by GE Area in the frequency with which they assigned classroom tasks, they did
not show any differing patterns in the goals they hoped to achieve in the
semester using those tasks. Faculty reported large gaps between their
perception of students and their opinion of where students should be in areas
such as preparation for class, independent learning, intellectual curiosity, and
competence in analytical skills, reading, and writing.
CONCLUSIONS AND RECOMMENDATIONS
Conclusions
Departments in the university are using assessment activities to
improve student learning across the campus. Assessment is
widespread, but within specific programs, the extent of faculty
involvement is not clear. Academic programs are in various stages of
development and implementation of Student Outcomes Assessment
Plans. The various means constructed by academic programs to
ascertain whether or not they are doing a good job of preparing
students for post-degree pursuits testifies to the campus's
commitment to educating productive, contributing members of society.
Assessment activities have been an integral part in the certification of
programs by outside accreditation bodies. Many accrediting agencies
require assessment activities, and health and education licensing
boards require specific outcomes. Standards and expectations from
these accrediting bodies have been used by academic programs and
have resulted in improvements.
Information gathered during the first round of General Education
assessment activities should provide a stimulus to faculty discussions
about general education in particular and teaching and learning in
general.
Examination of teaching and curriculum expectations and goals reveals
a strong commitment to quality, and to ongoing improvement of the
Fresno State student learning experience.
Recommendations
To encourage the continued development of a culture of evidence, the
university needs to encourage communication about best practices for
achieving and assessing student learning. This may include providing a
venue for publication of program reports on the progress of
implementation of assessment plans.
The General Education Committee should facilitate discussions about
General Education and the meaning of the assessment results
obtained to date with the intent of identifying ways of increasing
student achievement of GE learning outcomes.
The university should provide sufficient resources and support to
academic programs to assist in continuing and in expanding
assessment activities.
Top
B. HOW EFFECTIVE ARE ACADEMIC AND STUDENT
SUPPORT PROGRAMS IN MEETING THE NEEDS OF FIRSTYEAR UNDERGRADUATE STUDENTS AND IMPROVING
RETENTION AND GRADUATION RATES?
THE FRESNO STATE STUDENT - CHARACTERISTICS, ASPIRATIONS,
AND NEEDS
The university is strongly committed not just to academic excellence and to
teaching and learning, but also to diversity and educational equity. To
understand the challenges faced by university retention programs, it important
to note that a majority of students who attend Fresno State reside in the Central
San Joaquin Valley. The eight counties in the Central Valley—Madera, Merced,
Stanislaus, San Joaquin, Fresno, Tulare, Kings, and Kern—rate high on poverty
and low on socioeconomic and educational indicators such as high school
graduation, SAT test-taking rate, and college attendance. A recent report,
Assessing the Region via Indicators: Education and Youth Preparedness,
prepared by the Great Valley Center, a think tank in Modesto, California,
highlights critical indicators that affect students in the Central Valley, including
poverty, single-parent families, a low percentage of mothers with high school
education, and lower student preparedness for college. These findings are
detailed in Appendix B1, along with characteristics of California State University,
Fresno students that include lower family income, a higher percentage of firstgeneration college students, and a higher need for remediation than exists at
many comparable institutions.
As a result of the university's strong commitment to educational equity, the
success of university outreach programs, and cooperative educational programs
with regional schools and colleges, the student body comprises many special
populations. Among these are students with disabilities, reentry and adult
CFR
2.13
learners, low-income and migrant students, transfer students, first-generation
college students, and students who represent the ethnically and culturally
diverse population of the state and the region. Each of these populations
enriches the academic experience and is the target of specialized programs and
services designed to help them succeed and progress toward the degree. It is
worth noting that current services mainly focus on first-time freshmen rather
than transfer students, who are known to have difficulty with transition to and
integration into the university environment. African American students and
students whose major is undeclared are also at a higher risk for dropping out,
and not specifically a current focus for special services. As described in the
Preparatory Report, the Student Success Task Force recommendations
(Appendix B2), will address support needs of a broader range of students.
SPECIAL STUDENT SUPPORT PROGRAMS AND SERVICES
California State University, Fresno offers a wide array of developmentally
oriented programs and services to support the needs of special populations.
These programs provide access, help students make the transition and integrate
into the university environment and campus community, and support student
learning and development. Innovative strategies and activities are employed to
help students develop skills and abilities that will allow them to maximize their
potential for success.
Educational Opportunity Program (EOP)
The Educational Opportunity Program (EOP) has been dedicated to providing
access and retention support services to students from low-income backgrounds
for 35 years. Many EOP students are first-generation college students; many of
these come from a farm working background where English is not the primary
language spoken at home. All are California state residents who depend on
financial aid to finance their education.
In addition to regularly admissible students, the program provides special
admission for students who do not meet standard CSU admissions requirements,
but have demonstrated the potential to succeed with program support. Over the
last decade, the program has provided university access to 6,491 students, 53%
of whom required special admission. The program annually enrolls approximately
500 students and currently has a total student population of 1,800. EOP students
represent about 10% of the undergraduate population at Fresno State. The
majority (56%) of EOP students are Hispanic. Students of Asian/Southeast
Asian, Cambodian, Vietnamese, or Laotian descent represent 24%, and AfricanAmericans represent 9% of the EOP student population. Most EOP students
reside in California's central valley. The majority of EOP students enter the
university needing remediation, with low test scores on either the SAT or ACT
and a high school grade point average between 2.00 to 3.00. Socioeconomic
background coupled with personal circumstances and general underpreparedness for higher education, place the students at a higher risk for
dropping out. These students are required to attend the Summer Bridge program
CFR
2.13
that prepares them to meet the demands of college instruction by bridging the
academic and environmental gap between high school and the university.
Essential elements of the program include formal college orientation; evaluation
of basic skills; instruction in basic writing, mathematics, and study skills; and the
development of cultural diversity awareness.
Summer Bridge
Over the last 17 years more than 3,600 students have benefited from the
Summer Bridge program. The program leverages existing campus resources—
faculty, staff, student support services programs, technology and web-enhanced
courses—to create the instructional component and counseling services for
student participants. Students are enrolled in three courses: University 1
(orientation to college), a writing course, and a math course. They also
participate in lectures presented by experts on diversity issues, small discussion
groups on topics such as managing time, dating/relationships, study habits, and
decision-making strategies for achieving success in college.
Faculty Mentoring Program (FMP)
The Faculty Mentoring Program promotes the retention and graduation of Fresno
State's freshman and transfer students. Students are assigned to faculty
mentors who work directly with students to provide support, encouragement,
and advising. Students are provided with the tools needed to graduate from
college and pursue graduate work. The FMP consists of three primary
components: department and school/college faculty mentors; attendance at field
trips and educational conferences; and follow-up and monitoring of academic
and personal progress.
College Assistance Migrant Program (CAMP)
The College Assistance Migrant Program is a federally funded program designed
to assist students from migrant or seasonal farm working families by providing
personal, supportive, and retention services in the first and second year of
enrollment. CAMP has been in existence at Fresno State since 1981, and is one
of 41 model programs funded in the nation. CAMP serves a minimum of 80
students per academic year, with an 80% average retention rate after the first
year and a 72% average retention rate after the second year enrolled at Fresno
State.
Intensive Learning Experience Program (ILE)
The Intensive Learning Experience program serves freshmen scoring in the lower
quartile of either the English Placement Test and/or the Entry Level Mathematics
test. The ILE also provides funding to academic departments in support of small
sections of English, entry-level mathematics, and reading. Outreach information
encourages students to enroll in basic skills classes in English, mathematics, and
reading during their first semester. Progress reports are regularly employed by
ILE staff to reach out to students in need and connect them with tutoring,
workshops, advising, and other support services. ILE staff also provides
academic advising and developmental counseling to ILE students during their
freshman year. ILE students enrolled in lower enrollment sections of
mathematics passed the course at a 75% level, compared to a 60% pass rate in
larger sections. ILE students passed English A at slightly above the overall rate.
Student-Athlete Services (SAS)
The Student-Athlete Services program provides services to meet the special
needs of over 550 student-athletes who participate in the 16 sports comprised
by the Fresno State Division IA program. SAS offers assistance to studentathletes in successfully managing academic responsibilities and completing their
baccalaureate degrees—while maintaining athletic eligibility—through a number
of specialized services. These include new student admission and orientation,
ongoing academic assistance, and life skills development.
In the spring of 1997, the football program began using a study skills tool called
Academic Gameplan, which was developed by John Baxter, Assistant Football
Coach. As the result, the football program has experienced significant success
regarding improved GPA's and academic retention rates. Several other teams
within the Athletic Department have adopted parts of the plan, also with good
results. Since 1999 the Gameplan has been published and is currently being
used in over 900 junior high schools, high schools, and colleges across the
country.
Student-athletes are similar to the general student population in that social and
family background, poor schooling, lack of educational priorities, and personal
problems play a part in retention and graduation rates. Despite this, data have
shown a Fresno State 10-year graduation rate of 75% for freshman studentathletes who received athletic aid and exhausted their eligibility at the institution
of origin, in comparison to the 82% rate for all Division I schools.
The Athletic Department tracks graduation rates according to NCAA standards.
Accordingly, all freshmen on athletic aid who start their first full-time enrollment
at California State University, Fresno and complete their eligibility on our campus
are monitored over a six-year graduation period. The data indicate that those
freshmen who started full-time on our campus in fall 1996 or spring 1997 had a
graduation rate of 34%. Comparison data for all students on our campus who
started at the same time and were enrolled full-time indicate a 43% graduation
rate. Transfer student-athletes who started full-time enrollment in fall 1996 or
spring 1997 on another campus, transferred to Fresno State with athletic aid,
and completed their eligibility on this campus, had a graduation rate of 55%.
EFFECTIVENESS OF PROGRAMS AND SERVICES
A study has been completed by the Office of Institutional Research, Planning,
and Assessment of the effectiveness of the first four programs described above:
the Educational Opportunity Program (EOP), Summer Bridge, the Faculty Mentor
Program (FMP), and the College Assistance Migrant Program (CAMP) using
methodology described in Appendix B2. Interesting direct comparisons of
student success for these students are their rates of progression of entering
freshmen to the second year (Figure B1) and, at the other end of their academic
career, their rate at which they have graduated by six years after entry (Figure
B2). The figures include only rates for regularly admitted freshmen in order to
provide comparison figures with the California State University System (CSU).
Also included in the figures are the performances of all regularly admitted
freshmen who were not participants in the four programs (Non-P).
Fresno graduation rates are an
average over 1995-1997 cohorts;
CSU is 1997 rate.
The decline in the retention rate over the three years studied, as seen in Figure
B1 for the Fresno students, reflects the impact of a strict enforcement, beginning
with the 1999 cohort, of a system requirement that students complete
remediation in their first year or leave. That policy had been enforced on most
other CSU campuses prior to 1999. Even with this decline, the first-year
persistence rates, even for the programs for at-risk students, significantly
exceeded that of the CSU as a whole. Figure B2 indicates that this early success
translates throughout the undergraduate experience.
Direct comparisons of student performance – persistence, graduation, and
academic success – are important but do not convey the whole story, since the
students in these programs are, by virtue of their backgrounds, at risk relative to
the majority of their class mates. To provide greater insight into the
effectiveness of these programs ("actual" rates), "expected" rates also were
computed for the support programs (Figures B3-B6), based upon the
performance of nonparticipating students of comparable backgrounds and
academic indicators (high school GPA and SAT scores).
These figures give significant evidence that the support programs are making an
important difference in the lives and academic success of their participants.
While the Educational Opportunities Program does not appear as successful as
the others in these figures, it should be noted that family income is a very
important factor in selection into the program and that factor was not used to
define comparable students when computing expected success.
The university has received national recognition for the number of
undergraduate degree awarded to Hispanic students. In 1997, Hispanic Outlook
magazine ranked Fresno State 11 th nationally in the number of undergraduate
degrees awarded to Hispanic students, and in 2000, ranked it 15th.
Of the 2,909 degrees awarded to Fresno State undergraduates in 2001-2002,
students of color earned 1,181, with the greater number (774) going to MexicanAmerican and other Latino students. EOP students received 297, or 10% of the
degrees awarded, which is consistent with their representation in the Fresno
State undergraduate population.
Advising
Student perception of the importance of and their satisfaction with academic
advising at Fresno State was studied through an analysis of survey results from
the Student Needs and Priorities Survey (SN PS indicated that students ranked
faculty advising in major departments, publications such as the catalog and class
schedule, and fellow students as the advising resources of highest quality. Pretransfer advising from the community college and preadmission advising from
high school were rated lowest in quality.
The SSI provides further insight into student perceptions about advising (Table
B1). Students ranked the five items on the academic advising scale as equal in
importance to safety and instructional effectiveness. This was parallel to national
student perceptions for the SSI at all four-year public institutions. Satisfaction
with the approachability of academic advisors at Fresno State was lower than for
respondents nationally; nevertheless, Fresno State student respondents attached
more importance and satisfaction to advisors' helping students with setting goals
than their national peers.
Table B1. Mean importance and satisfaction for SSI advising
items (administrations in 2002 and 1998)
My academic advisor is
approachable
My academic advisor is
concerned about my success
as an individual
My academic advisor helps me
set goals to work toward
My academic advisor is
knowledgeable about
requirements in my major
Major requirements are clear
and reasonable
1998
2002
Importance Satisfaction Importance Satisfaction
6.42
5.03
6.31
5.10
6.25
4.77
6.23
4.82
6.13
4.63
6.10
4.62
6.54
5.32
6.54
5.30
6.52
4.94
6.42
5.04
While Table B1 looks at the five SSI items dealing with advising, Table B2 places
advising items in context with all 73 SSI items. Both in 1998 and 2002,
respondents ranked "competent academic advisor" as fifth in importance among
all items. Satisfaction declined from a rank order of 5 in 1998 to 11 in 2002.
"Clear and reasonable major requirements" moved from eighth in importance in
1998 to tenth in 2002; satisfaction remained essentially the same.
CFR
2.10
2.12
Table B2. Importance and satisfaction ranks for top 10 SSI
items as selected by Fresno State respondents.
2002
1998
Survey Item
ImportanceSatisfaction Importance Satisfaction
Few Registration Conflicts
1
54
3
35
Course Content in Major
2
5
1
9
Excellence of Instruction
3
12
2
11
(Field)
Faculty Expertise in their Field
4
1
4
2
Competent Academic Advisor
5
11
5
5
Quality of Instruction (Overall)
6
17
6
17
Safe and Secure Campus
7
29
7
26
Tuition Worthwhile Investment
8
16
Variety of Courses Provided
9
7
Clear/Reasonable Major
10
21
8
20
Requirements
Fair & Unbiased Faculty
9
36
10
10
Faculty Available Outside Class
Explanatory Comments: Respondents ranked "few registration conflicts" 1 st in
importance and 54 th in satisfaction among all 73 SSI items in 2002. In 1998
"course content in major" ranked 1 st in importance and 9 th in satisfaction.
Discussion
The university recognizes that academic advising is critical to student success
and institutional productivity and has shown commitment to improving campus
advising. Over the last three years, several groups of faculty and staff members
have been appointed to review the state of campus advising and proposed
recommendations for improving the availability of advising resources and
interventions to enhance the quality of advising. The undergraduate Academic
Advising Council, appointed by then Provost Michael Ortiz in 2001, concluded
that academic advising across the campus was fragmented and needed decisive
and immediate action to improve. The council was further concerned that there
was no single place where prospective, current, and returning students could
receive appropriate advising and/or direction as to where to receive appropriate
academic advising. Limited in-service workshops for advisors and the lack of a
reward for excellent academic advising performance in the Retention Tenure
Promotion (RTP) and Faculty Merit Increase (FMI) processes were also noted.
Recommendations to counteract these problems resulted in increased staffing in
the Office of Advising Services and Evaluation to strengthen advising services to
current and prospective students. The number of in-service workshops was
increased, and collaboration between academic and student affairs units on
advising and other student issues became more evident. The Office of Advising
Services was established as the point of contact for current students on
advising-related issues and University Outreach Services was to handle
preadmission advising.
The Strategic Planning process resulted in two Plan of Excellence II goals related
to student advising and orientation. The Office of Advising Services has primary
responsibility for developing and implementing activities related to those goals.
Consistent with the Plan of Excellence Goals 5 and 6, the Office of Advising
Services has developed and implemented several initiatives to strengthen and
coordinate campus-wide advising and thereby improve the quality of academic
advising. An Online Advising Referral Guide and the B.A.R.K for Advisors Online
Handbook are now available to faculty and staff advisors to support the advising
process. The Campus Advisors Network (CAN) was organized in spring 2003 to
provide a forum for campus advisors to discuss current advising issues.
Participation in the monthly Campus Advisors Network has grown to 64 campus
advisors (49 staff advisors and 15 faculty advisors), a 68% increase over spring
2003. An Advisors Listserv (ADVO_INFO), which has approximately 150
subscribers, is used for advising updates and announcements.
In addition, regular updates and training are provided to faculty and professional
advisors on complex advising issues and General Education advising. Advising
Services has co-sponsored faculty workshops with the Center for Enhancement
of Teaching and Learning on academic advising; disqualification and
readmission; and obtaining degree audit reports through PeopleSoft.
In response to Strategic Planning Goal 6 "to establish a mandatory and centrally
located orientation program that includes a variety of formats," the new student
orientation program was refreshed and an online version is now available to
students who are unable to attend the on-site program. Attendance at new
student orientation has been substantially increased, from 32% of first-time
freshmen for fall 2000 to 69% of the freshman class participating in the
experience for fall 2003. Transfer student participation has also grown, from
27% in fall 2000 to 55% for fall 2003.
Conclusions and Recommendations
Conclusions
In spite of socioeconomic status, prior educational deficiencies, or financial or
language barriers, students can and do succeed at Fresno State. In light of the
special characteristics and challenges that our students bring to the university
environment, the university has met its commitment to helping students succeed
and contribute to the overall educational and socioeconomic goals of the state of
California. Our analyses of student success rates and support programs suggest:
1. Fresno State students have a higher need for remediation in English
and mathematics at entry; yet, the percentage of students who
complete remediation requirements successfully within the first year
exceeds the CSU system rate.
2. First-year retention rates for support program students are
comparable with those of the university as a whole and well above
those for the CSU system.
3. While there has been external and internal data collection and reviews
of student support services programs, data collection has not been
systematic or consistent for all programs.
4. Student success and the quality of the educational experience are
dependent on a sufficient level of funding allocation for support
programs.
Recommendations
All student support programs must initiate systematic assessment
planning to substantiate program effectiveness and to ensure
continuous funding.
It is crucial that the university maintain an adequate level of funding
for support programs to continue and expand their effectiveness with
special student groups.
The results presented here confirm the conclusion from the
Preparatory Review concerning the importance of full implementation
of the recommendations of the Student Success Task Force (Appendix
B3).
Priority must be given to assessing the needs of transfer, African
American, and students with undeclared majors groups, and to
designing proactive strategies to support their success at Fresno State.
Student Advising Services must initiate more aggressive measures to
strengthen and coordinate campus advising for the purpose of
enhancing student success and productivity, as measured by
persistence and graduation rates. Activities should include orientation
of professional advisors and faculty members to student concerns, as
well as technical training and dissemination to advisors of advising
resources.
The Division of Student Affairs should implement internal department
and program assessment plans to substantiate the impact of all
support programs in improving student retention and graduation rates.
While the university community is continually engaged in assessment and
reexamination of programs and activities that contribute to student access and
success, existing programs such as those mentioned in this essay have provided
a strong model for student success at Fresno State. These programs reduce
barriers to enrollment, facilitate student transition to the university environment,
build a sense of community, establish social networks, integrate students into
the university, connect students with resources, and nurture student growth and
development.
"Discovery of knowledge, self, and society through expanding
horizons"
This essay includes the response to two research questions:
C. How effectively has the university integrated the use of technology to support
teaching and learning?
D. How has the expansion of faculty research, scholarship, and creative activity
affected the learning environment?
C. How Effectively has the University Integrated the use of
Technology to Support Teaching and Learning?
California State University, Fresno envisions a teaching and learning environment where
students and faculty have anywhere, anytime, electronic access to information resources
that are used effectively to deliver high quality education and service. Since April 2000, the
university has been involved in a major strategic technology planning process to achieve
this goal. See:Instructional Technology Retreat, WASC Preparatory Review,
Strategic Plan
The technology strategic planning process was Phase 1 of a three-phase effort to integrate
technology into Fresno State's learning landscape. Phase 2, currently underway, is the
implementation of the technology initiatives identified during the planning process. This
phase includes upgrading of the network infrastructure, distribution of new laptop
computers to all full-time equivalent faculty, enhancement of classroom technology, and
build-out of the campus wireless network. An update of the status of the technology
infrastructure, including facilities and support and training, can be found in Appendix C1.
Phase 3, which is dependent upon but overlaps Phase 2, is the effective use of technology
to enhance the teaching and learning experience for our students and faculty.
It is important to note that the initiatives in Phase 2 have been scheduled for
implementation across several years. The ultimate effect of these initiatives on teaching
and learning, therefore, will evolve over time as technology becomes more available to
faculty and students.
Measurement of Effectiveness
Measurement of the effectiveness of the strategic technology initiatives for teaching and
learning will also evolve over time. Currently, the university's progress toward
effectiveness is in its early stages as implementation of the strategic initiatives (Phase 2)
continues. The network infrastructure project will begin construction in AY 2004-05, the
wireless build-out is planned to occur through 2007, distribution of laptops to full-time
equivalent faculty was accomplished in fall 2003, and additional technology-enhanced
classrooms are being added each year. At this early stage of Phase 3, measures of
CFR
4.7
effectiveness, therefore, are focused on integration of the technology in teaching and
learning, This report focuses on the early indicators discernible at this time. Examples of
innovative and advanced uses of technology by programs and faculty members appear in
Appendix C2.
Prevalence of Technology
Since 1998, Fresno State has conducted a technology survey of faculty, staff, and students
(alternate years) that includes access to hardware and software, applications used,
competencies possessed, and future projected needs. Findings from the most recent faculty
survey are available online. Appendix C3 provides further information regarding online
users of university technology offerings. Faculty members surveyed in 2003 reported:
In classroom instruction, 55% of tenured faculty members used an LCD projector;
24%, electronically distributed video; 58%, wireless internet access; 52%, a
classroom stationary computer; and 68%, a laptop computer. Results also revealed
that 68% of faculty members required that students use the Henry Madden Library's
electronic resources; 95% used e-mail with students; and 83% asked that students
use the Internet for assignments.
Faculty members reported using websites (their own or those in Blackboard) for
syllabi (88%), class notes (78%), course handouts (76%), on-site homework
assignments (78%), discussion boards (40%), and tests and quizzes (39%). Less
widely adopted were video (20%), simulations (11%), and chat rooms (14%). Of
faculty members with Web sites, in the fall 2003 survey, 9.5% taught a class that
met entirely online; 1.4%, entirely except for exams; 2.7%, greater than 50%
online; and 86%, mainly face-to-face.
Those faculty members who have committed time and resources to integrating
technology into courses for the benefit of students have been very satisfied with the
results. The overall faculty response to the technology initiatives was positive, with
73% of the respondents considering the speed of the campus technology build-out
to be about right or too slow.
Telephone surveys of students were carried out in 1998, 2000, and 2002, with response
rates of 59% - 68% and 396 to 547 interviews completed. Among the results:
A large percentage of students in both 2000 and 2002 reported using computers for
their classes outside the classroom. In 2002, about 66% reported that they had
used computers for class work outside the classroom in 75% or more of their
classes. Almost a third reported using the Internet in at least 75% of their classes
and about a quarter reporting using email in 75% or more of their classes. Internet
and email use increased from 2000 to 2002.
One-fifth of students in 2002 reported they had taken training workshops offered by
the library; students taking these workshops reported high levels of satisfaction
(64% very satisfied, and 35% somewhat satisfied).
Considerable interest was expressed in no-cost, two-hour workshops for computer
training. Fifty percent or more reported interest in workshops for presentation
software (74%), graphics software (71%), web page editors (67%), video editing
software (64%), databases (62%), statistical software (58%), and operating
systems (50%). The percentage of students indicating an interest in these
workshops has decreased from 2000 to 2002 for operating systems, word
processing, spreadsheets, databases, e-mail, the Internet, and presentation
software, but still remains at high for most areas.
About one quarter of students in 2002 were very supportive of a modest student fee
for technology if it was necessary in order to provide students with computing
resources to ensure the quality of their education. About 41% were somewhat
supportive, while 8% were somewhat opposed and 8% were very opposed.
In 2002, almost all students (97%) reported using computer applications such as
word processing, spreadsheets, databases, and presentation software and, of these
students, 77% felt their skill in this area was excellent or good. About the same
percentage of students reported using the Internet (96%), and 90% felt their skill in
using the Internet was excellent or good. A smaller percentage reported using email (57%), and 96% felt their skill in this area was excellent or good. Only 14%
reported using statistical software, and 47% felt their skill in using statistical
software was excellent or good.
In 2002, 96% of students had a computer at home (up from 74% in 1998 and 88%
in 2000), and another 2% had access to a computer off campus. Only 2% did not
own or have access to a computer (down from 11% in 1998 and 5% in 2000).
Online Learning
Fresno State began experimenting with online course delivery systems in 1997. In April
2000, the Information and Educational Technology Coordinating Committee (IETCC)
identified six strategic technology goals, including courseware development (MacNevin,
2000). This led to the Task Force on Courseware Development, which recommended the
creation of the e-Course Development and Administration Team (Task Force, 2000), now
known as Digital Campus.
Digital Campus maintains the university's Blackboard course management system,
providing training, technical and media creation assistance, and course design support for
faculty teaching with Blackboard. Through the Digital Campus Resource Center, faculty
members have access to expertise and technology to enhance their online courses through
the use of rich media such as streaming video. Furthermore, Digital Campus provides
resources to assist students in accessing and using Blackboard courses (Digital Campus,
2003c).
The integration of online learning in the teaching and learning environment at Fresno State
has increased at an accelerating pace. In fall 2003, 41% of faculty and 39% (1,189) of
course sections used Blackboard, up from 27% of courses in spring 2003. Student
enrollments in courses using Blackboard also continued to increase, rising from 21,563 in
spring 2003 to 33,379 in fall 2003.
Student reaction to the Blackboard course management system has been positive.
Sixty percent of the Blackboard students surveyed in spring 2002, and 57% of
the students in spring 2003, indicated that online lecture notes and
presentations have a positive impact on their learning (Digital Campus 2002,
2003b).
Eighty-three percent of the Blackboard students surveyed in spring 2002, and
78% of the students in spring 2003, agreed or strongly agreed that the
information posted by faculty was "up-to-date and relevant to the course"
(Digital Campus, 2002, 2003b).
Eighty-eight percent (2002) and 91% (2003) of the Blackboard students
surveyed indicated they would take a Blackboard course again (Digital Campus,
2002; 2003b). These results were confirmed by the Student Technology Survey
(2002), in which 87% of those students surveyed who used Blackboard would
take a Blackboard course again.
Students' online learning experiences are also being enhanced through the use of
multimedia course materials including streaming video and audio. Digital Campus supports
faculty use of multimedia materials in Blackboard courses, while the Center for
Enhancement of Teaching and Learning and the AIC Technology Training unit collaborate in
providing training in multimedia production.
As of Oct. 6, 2003, Blackboard courses incorporated 3,975 video files and 105
audio files (Tsai, 2003).
The Digital Resource Center completed 215 projects for faculty and staff in
academic year 2002/03. These projects included scanning, digitizing, and
document uploads (Digital Campus, 2003a).
Three dozen faculty and staff members have taken the project-based course in
multimedia production.
Distance Learning
As the sole public four-year institution serving much of the central San Joaquin Valley,
Fresno State has used technology-mediated instruction to increase student access since
1987. Most of our programs to date have been based at off-campus sites, partnering with
community colleges or other four-year institutions to provide degree completions.
Our primary partnership with the College of the Sequoias (COS) in Visalia, 40 miles distant,
was established in 1987. Upper-division degree completions in Liberal Studies and
Criminology are available at the COS site for students transferring from COS to Fresno
State. Spring 2003 enrollment at the Fresno State/COS Center was 492, with 125 students
graduating in May 2003. A more recent partnership with the West Hills College District,
implemented fall 1999, enrolled 112 students in fall 2003, primarily in Liberal Studies. The
Criminology degree completion has also been made available at this site. While our
memoranda of understanding with these two locations also call for the provision of the
Business curriculum, we are still in the process of identifying a cost-effective way to
implement this commitment.
The large number of students enrolled in courses at COS makes it possible to analyze
student performance. The grade distributions for COS and campus students were
consistent at the 0.05 level for 134 of 170 courses offered simultaneously to students at
COS and Fresno in the past two years. Of the 36 courses where grades differed between
the two sites, the grade point average was higher for COS students in 17, and higher for
campus students in 19. Grading was consistent in all 10 CR/NC courses. Across all the
courses, COS students had a 3.55 grade point average, while campus students had a 3.30
grade point average.
In addition to expanding access to large-enrollment majors, technology-mediated
instruction allows for "niche marketing" of a few high-quality programs that are not widely
available. For example, the MS in Engineering is offered at Antelope Valley, and a BS
degree in Engineering is being developed for the same site. The Department of
Communicative Disorders and Deaf Studies uses two-way video to transmit the upper
division major courses in the BA in Communicative Disorders to other California State
University campuses (Bakersfield, Hayward, Stanislaus, and soon, Humboldt). In the
Communicative Disorders BA courses, performance of distant students is even stronger
that of on-campus students. Including only grades A through F, in 86 classes offered since
fall 1999 both on campus (2,286 enrollments) and televised (833 enrollments), 40 had a
higher on-campus GPA, 36 had a higher off-campus GPA, and 10 (CR/NC graded courses)
had equal GPA. Looking at all students in all classes included, the on-campus students had
an overall GPA of 3.17; the off-campus students had an overall GPA of 3.31.
Several international programs are currently being articulated or are undergoing the
curricular approval process. Since 1995-96, undergraduate general education courses have
been offered at Kanda Institute of Foreign Languages in Tokyo, Japan. For the first three or
four years, Fresno State faculty traveled during the summer and winter intersessions and
taught courses on site. In recent years, instruction has moved online, although some faceto-face instruction remains. Courses in Art History, Speech Communication, Linguistics,
English as a Second Language, Computer Science, Business Information Systems,
Mathematics, Geology, Economics, Geography, History, Political Science, Women's Studies,
and Child Family and Consumer Sciences were taught by Fresno State faculty. Japanese
students transfer to the Fresno State campus upon completion of 50-60 units of Fresno
State accredited courses. An MBA Executive Program in China, to be offered through the
Craig School of Business, is anticipated to be implemented by summer 2005. A
collaboration with the Swami Sarva Nand Gir Indian Institute of Information Technology in
Punjab, India is projected to enroll 30 students in coursework leading to a BS in Computer
Engineering.
The university is committed to providing a range of options to faculty teaching in distance
learning programs. Technologies currently in use include ITFS (Instructional Television
Fixed Services), videoconferencing, streaming video, and web-based instruction using the
Blackboard Learning Management System. Instructors often apply a combination of these
teaching strategies and technology-based and face-to-face instruction are frequently
blended in a single course. Either students or faculty may travel, or an on-site instructor
may replace or supplement the campus-based instructor. As is true for our on-campus
students, off-site students have access to online student services and library materials,
including electronic reserves. Faculty development and grant-supported stipends are being
used to promote development of online course materials with the intent of reducing
reliance on expensive video-based distance learning instruction.
Assessing the Impact of Technology on Student-Learning
Some see computers as a savior for education, while others argue that they make no
difference, or worse, interfere with true learning. However, like books, computers are
primarily delivery devices. They can retrieve and organize information, perform billions of
calculations, enhance communication, and provide visual displays of information in new
insight-provoking ways, but they are only tools, albeit powerful tools. They themselves
may or may not make a difference in student learning. As such, it becomes very difficult to
prove that the use of computers is enhancing student learning. Initiatives need to be
developed to assess the impact of technology on student learning in various contexts and
to develop sound methods and approaches for such assessments.
Because the most important key elements for learning outcomes are the teacher and the
instructional strategies used, computers can have the greatest impact if they are used in
ways that affect the thought process of the students. Evidence indicates that when used
effectively, "technology applications can support higher-order thinking by engaging
students in authentic, complex tasks within collaborative learning contexts" (Means et al.,
1993). Our students appreciate classroom technology. In the Survey of Student
Educational Experiences (Appendix A2), most (60%) of the students who reported taking a
class in a technology-enhanced classroom indicated that classroom technology had
enhanced their learning experience substantially or very substantially, 26% somewhat, and
14% very little.
Assessment of the effect of technology on student learning should examine students' ability
to understand complex phenomena, analyze and synthesize multiple sources of
information, and build representations of their own knowledge. Therefore, the university
needs to develop and implement initiatives to address effectiveness of technology on
teaching and learning. Such initiatives are in place on several campuses. For example, the
Indiana University-Purdue University Indianapolis (IUPUI)Technology Assessment Group
sponsors a Technology Assessment Grant Program intended to encourage faculty to study
the impact of educational technology on their practices and on student, course, or program
outcomes. In addition, the IUPUI Center for Teaching and Learning routinely works with
faculty teaching technology-based or technology-enhanced courses to help them devise
appropriate assessment strategies for determining the impact of technology applications on
learning. As the university progresses with Phase 3, enhancing the teaching and learning
experience through technology, assessment must become a critical part of the process.
CONCLUSIONS AND RECOMMENDATIONS
Conclusions
The integration of technology to support student learning is demonstrated by the
significant and continuing increase in the number of courses offered using the
campus course management system. Nearly three quarters of our students are
enrolled in one or more courses that use the Blackboard course management
system.
Students evidence broad utilization of computers and software, are satisfied with
training opportunities and programs, perceive the importance of this technology
to their education, and express willingness to support a modest technology fee
to enhance these resources.
Faculty laptops and technology-enhanced classrooms have resulted in increased
use of technology and the infusion of technology into the curriculum. This trend
is expected to continue in the near future.
As the university progresses toward the integration of technology into
instruction, assessing the effect of technology on teaching and learning is
identified as an important goal.
Recommendations
To the degree possible, the strategic technology initiatives should continue to
move forward, even if the pace of implementation must slow due to budget
restrictions.
It is critical that Fresno State continue to identify resources to support the
infusion of technology and upgrading of the existing infrastructure on campus.
The university should evaluate technology support needs, including training and
resources, based on current and future faculty and student use of technology.
Faculty and student collaboration in planning and implementation of
technologies are essential success factors.
The university should assist faculty in assessing the impact of technology on
student learning as a component of the scholarship of teaching and learning.
D. How Has the Expansion of Faculty Research, Scholarship and
Creative Activity affected the Learning Environment?
The university's strategic plan states:
Having distinguished itself as a premier teaching institution, the university now seeks to
expand its role in the area of research, which includes the scholarship of teaching,
application, integration and discovery as described in the university's "Final Report of the
Faculty Scholar Blue Ribbon Committee." As we move forward with a greater emphasis on
applied research productivity on our campus, however, it is critical that we continue to
recruit, retain, reward and promote faculty with a commitment to teaching and studentcentered learning.
Within the last 10 years, California State University, Fresno has made significant
investment in the support and expansion of faculty scholarship, research, and creative
activities, viewed as essential to the university's primary function as a teaching-centered
comprehensive university. In the discussion that follows, the terms "research,"
"scholarship," and "creative activities" are used interchangeably to denote the various
types of scholarship carried out by faculty across disciplines.
This investment has been accompanied by the focused recruitment and retention of high
quality faculty members with advanced degrees who possess a record of success in
scholarship and research. The increased emphasis on scholarship and research has been
reflected within the probationary plans for new faculty, in budget priorities (technology
upgrades, library materials, intramural grants for projects, including assigned time and
travel), and internal recognition for excellence in scholarship. These and numerous other
activities have had the effect of gradually shifting the identity of the university from that of
a "teaching institution" toward a "teaching and research institution." The intention of this
shift is no better exemplified than by the active work toward development of new joint
doctoral programs with research institutions through which the university hopes to achieve
CFR
2.8
the Carnegie classification of "Doctoral/Research University Intensive."
It is not surprising that the recent emphasis on research and scholarship has led to
discussions of the appropriate balance between teaching, service, and research. In a recent
survey of junior faculty members (Appendix D1), most respondents found the expectations
for tenure to be clear (94%), appropriate (76%), and equitable (80%). Two-thirds felt that
they were provided with the support needed to achieve tenure. However, only about 40%
were satisfied with the balance between work and personal life or with the balance among
teaching, research, and service, although 60% thought that the balance among roles met
the needs of the department and the university. Written comments focused on workload,
primarily on the high teaching load rather than on research expectations. The general
acceptance of an increasing demand for research is not surprising, as Ph.D. students are
educated for a life of research and scholarship rather than a career of teaching. That the
university recognizes the burden imposed by a 12-unit teaching load is apparent in the
strategic planning goal to " Achieve a faculty workload comparable with competitive
institutions nationwide that are committed to a vision to be one of the nation's premier
interactive universities." Of course, current budget restrictions will make this goal difficult
to achieve.
The impact of increased faculty participation in research is most apparent in the number of
grants submitted and awarded (Figure D1), and grant dollars received (Figure D2). These
efforts and successes have been recognized internally and locally (The Fresno Bee, Tues.,
March 30).
Figure D1. Extramural Grant and Contract activity: Number of awards submitted
and awarded.
Figure D2. Extramural Grant and Contract activity: Dollars awarded.
In measuring the effectiveness of the steps taken to promote and support scholarship,
external factors should be taken into account, although assessing the influence of such
factors may be difficult. Of note, state budget reductions in the early 1990s had both direct
and indirect effects on faculty scholarly activities. Funds for mini-grants and assigned time
were cut, retiring faculty members were not replaced, and faculty workloads were
increased. It is likely that increased student fees and declining resources dampened
student involvement in faculty research. Student involvement in research can be assessed
through enrollments in independent study. Figure D3 shows that enrollment in independent
study has only recently begun to rebound. This rebound has been mirrored by increased
application for research grant support provided by Associated Students Incorporated (ASI;
Figure D4). Such data have been instrumental in directing recent budget-reduction
planning processes, which have sought to protect the scholarly activities of both faculty
and students.
Figure D3. Enrollment in Independent Study (190 + 290)
Figure D4. Student applications for ASI grants
Faculty Research and Student Learning
The Minority Biomedical Research Support program
<http://www.csufresno.edu/portfolio/Preparatory_Review/Appendix/exemplars/index.htm>
described as an Exemplar in the Preparatory Report, provides evidence of a nearly six-fold
increase in student participation in research in participating departments compared with
annual levels prior to implementation of the program. In the recent Survey of Student
Educational Experiences (Appendix A2), a substantial number (25%) of students reported
having worked with faculty on research or other creative activity. Less than 5% of students
felt that the university's emphasis on faculty research and other creative activities is too
high. Students who had worked with faculty members in research were much less likely to
be unsure of their opinion, and much more likely to consider the emphasis on research to
be about right or too light than those who had not done so (Table D1).
Table D1. Student responses to the question, "Taken overall, the university's
emphasis on faculty research and scholarship is…" categorized by reported
experience working with faculty on research or other creative activities.
Participated in Research
No
Yes
Total
Response Count % Count % Count %
Not sure
822
52
93
19
915
44
Too light
266
17
153
31
419
20
About right
438
28
229
46
667
32
Too heavy
48
3
22 4,4
70
3.4
Total
1574 100
497 100 2071 100
Seventy-five percent of both undergraduate and graduate students who reported working
with faculty in research or other creative activities at Fresno State indicated that their
participation in these activities enhanced their educational experience substantially or very
substantially (Table D2). Of these same students, 59% of undergraduates and 70% of
graduate students felt that their participation had substantially or very substantially
prepared them for their post-graduation goals.
Table D2. Responses of undergraduate and graduate students who reported
working with faculty in research or other creative activities to the question, "To
what extent did participation in research or other creative activities enhance your
educational experience?"
Response
Very little
Somewhat
Substantially
Very substantially
Total
Undergraduate or Postbaccalaureate Status
UG
Grad
Total
Count
%
Count
%
Count
%
14
4.5
13
7
27
5.5
64
21
33
18
97
20
122
40
75
40
197
40
108
35
66
35
174
35
308
100
187
100
495
100
We have little information on if or how the increase in faculty scholarship has affected
classroom teaching. Students appreciate faculty members who are enthusiastic about the
discipline and incorporate first-hand experiences into their teaching. We might expect
increased faculty scholarship to result in the inclusion of the most current disciplinary
knowledge in courses, better integration of scholarly activities into the curriculum, and
evolution of curricula to keep pace with changes in disciplinary emphases. One clear result
is the acquisition of upgraded facilities and sophisticated equipment, generally available for
both graduate and undergraduate student use. As discussed in the Preparatory Report,
centers and institutes such as California Agricultural Technology Institute, the Center for
Educational Research and Services, Solutions Center, Viticulture and Enology Research
Center, Center for Irrigation Technology, Interdisciplinary Spatial Informational Systems
Center, the Center for Food Science and Nutritional Research, and the Human Performance
Laboratory, as well as off-campus collaborations with government agencies (e.g., Crime
Lab, NASA) and other universities (e.g., University of California at San Francisco) increase
opportunities for student involvement in applied research and scholarly activities. Appendix
D2 provides examples of the experiential learning associated with a few of these centers.
In addition, as appropriate to the wide-ranging offerings of master's degree programs as
well as the joint doctoral degree, student research and creative work under accomplished
faculty is continuing to gain an ever-higher profile. Project, thesis, and dissertation topics
frequently involve graduate students with varying sectors of the community; in the last
three years (summer 2001-spring 2004), 308 students have completed theses, and of
those, 68 have used the expertise of a committee member from outside the university's
full-time faculty. Such expertise has come from the county health departments in Fresno,
Madera, and Tulare; the United States Department of Agriculture and the Kearney
Agricultural Center; State of California departments of Justice and Fish & Game; St. Agnes
and Kaiser hospitals and the Sequoia Community Health Foundation; The Fresno Bee and
the Merced Sun Star; and the Lemoore Naval Air Station, to name a few. Nearly as many
theses (66) have undertaken research into problems and issues unique to the local area.
This research has shed new light on topics of regional significance such as crop
management, the Hmong culture and community, and asthma, and speaks to the
involvement with and concern for the community in which our graduate students live and
work. Thesis titles, authors, and committee chairs appear in the newly created Division of
Graduate Studies online publication.
CONCLUSIONS and RECOMMENDATIONS
Conclusions
Not only has the university made significant investment in the expansion and
support of faculty activities related to scholarship and research, it has also
implemented a number of essential changes to support this new direction. These
changes include standards used in the hiring and tenure of new faculty,
modifications in budget allocations, and the implementation of associated
policies and procedures.
The university has been successful in its effort to expand faculty involvement in
research/scholarship activities, as seen by increased numbers of grants
submitted and awarded and grant dollars received.
A substantial number of students report having worked with faculty members on
research or other creative activities, with most of these students providing a
highly positive report of their experience.
Recommendations
As the university moves to increase external funding, it should not lose sight of
the value of research and creative activities in less fundable areas.
The university should establish measurable goals and expectations that can be
used to make decisions as well as determine programmatic success, thus
improving the ability to evaluate and assess further development in this area.
The university should encourage and facilitate the collection and evaluation of data on
the effect on the learning environment of faculty participation in scholarship. Of
particular importance is the assessment of the integration of research, creative, and
scholarly activities into the classroom.
Interaction-"Transformation through Integration of
Knowledge and Experience"
This essay includes the response to two research questions:
E. How has the university's community engagement affected
students?
F. How productively is the university engaged with the
community?
E.HOW HAS THE UNIVERSITY'S COMMUNITY
ENGAGEMENT AFFECTED STUDENTS?
Furco's (1996) continuum of student engagement with the community
provides a vehicle for viewing various student engagement activities
(volunteer work, community service, service-learning, fieldwork, and
preprofessional internship) based on the intended beneficiary (student
or service recipient) and the level of emphasis on service and/or
student learning. This review will collapse the student engagement
continuum to three areas by combining volunteerism with community
service and by integrating fieldwork and internships. As appropriate or
relevant, these each will be examined separately in relation to the four
most common categories of impact indicators: academic learning, civic
responsibility, career development, and academic aspirations along
with personal growth. Absent centrally coordinated assessment
processes, this essay attempts to synthesize existing data generated
by programs that draw students from across campus.
CFR
2.3
2.9
Campus Compact has recently launched its web site on "Indicators of
Engagement Project: Model Programs at Minority-Serving Institutions."
Fresno State is recognized as having exemplary practices in 12 of the
13 areas examined.
VOLUNTEERISM AND COMMUNITY SERVICE
According to 2001-2002 figures, approximately 2,500 California State
University, Fresno students were involved in one-time, short-term, or
ongoing volunteer and community service activities via one of several
university-sponsored volunteer and community service initiatives
(Appendix E1). Combined, these students provided 110,000 hours of
service. The effect of such engagement on students may be seen on
multiple levels.
Undergraduate participation in volunteerism and/or community service
promotes short-and long-term benefits in the form of academic
CFR
2.11
learning (improved GPA, writing and critical thinking skills), personal
growth (increased commitment to activism and racial understanding),
and civic responsibility (a lifelong commitment to service as
demonstrated by an increased interest in service careers and plans to
participate in service after college) (Astin et al., 2000), These benefits
are substantial and long-lasting, and extend to personal growth and
academic aspirations (Astin et al., 1999). Given the large number of
students involved in volunteerism at Fresno State, this impact is most
likely being recognized by a significant percentage of the university's
student body. A post-service survey completed by 109 students
enrolled in Community Service 1 or 101 fall 2003 supported this
assumption (Table E1). In addition to the responses in Table E1,
students reported gains in leadership skills (100%), awareness of
community (94%), career skills (66%), and commitment to community
(63%).
SERVICE-LEARNING
Service-learning is distinguished from other approaches to
experiential education by its intention equally to benefit the
provider and the recipient of the service as well as to ensure equal
focus on both the learning that is occurring and the service being
provided (Furco, 1996). California State University, Fresno has
incorporated service-learning into a significant portion of the
curriculum. These efforts have resulted in students expanding their
knowledge and understanding of community needs, service and
career opportunities, and application of academic concepts outside
of the classroom. In addition, service-learning courses are
influencing the development of personal skills such as
communication and leadership, as well as expanding students'
appreciation for diversity.
Table E1. Student self-report on the impact of service-learning
(Fall 2003).
Service Experience Impact on Students
Expanded their understanding of people in general
Helped them become more comfortable with
cultures/groups other than their own
Had a positive effect on their self-esteem
Helped their ability to communicate
Increased their awareness of community needs
Increased their interest in future service
Helped them better appreciate how political and
social events impact their community and
themselves
Helped them appreciate the importance of education
Enhanced their appreciation for the importance of
Agreed or
Strongly Agreed
(%)
95
85
87
93
83
90
74
85
94
CFR
2.11
service
Increased the value they place on being an involved,
proactive citizen
87
The university's 2002-03 Service-Learning Report to the Chancellor's
Office identifies 82 sections of 30 different courses that utilized
service-learning. Overall, 3,000 students each year contribute more
than 50,000 hours of service to the local community. The effect of the
service-learning pedagogy on students appears in three separate
survey-based studies conducted at Fresno State over the past several
years (Table E2). Curtis (2003) also conducted focus groups of faculty
and representatives of community-based organizations.
Table E2. Studies of service-learning impact on students.
Study
Sample
Time
Size
Frame
Berrett &
566 AY 1998Tannenbaum B&T
99
(2003)
(Document room)
Curtis (2003)
142
(Document room)
Sherwood (200
(Document room)
655
Nature of Sample
Lower- and upper-division
courses (from 19 sections of
Child & Family Studies, Drama,
Communication, Health
Sciences, Sociology)
Spring
Five courses from Business,
2002
Deaf Studies, Communications,
and applied social sciences.
Students from 38 majors
AY 2001- 22 sections of the Marketing
02 & 2002- Concepts upper-division
business core course (9
03
instructors).
Service-learning increased student awareness of community needs and
opportunities for involvement (Appendix E2). The propensity to
volunteer increased significantly after taking a service-learning class.
The faculty focus group in the Curtis study also reported increases in
student commitment to civic participation and sense of duty to the
community, as well as an intensified connection to and responsibility
for the community.
Most students felt that the service-learning experience enhanced the
class and helped them better apply course content. The faculty focus
group noted that upper-division students found service-learning to be
especially valuable in terms of establishing "real world" connection to
academic material. They also reported that students achieved new and
deeper connection with faculty via service-learning. Service-learning
increased students' perception of their own marketability. The service
activity made students more aware of career opportunities in the
nonprofit sector, and nearly 20% indicated a change in professional or
educational goals as a result of the experience.
While the magnitude of the effect on personal development varied,
once again, most students reported this effect to be favorable.
Differences can be attributed to the type of assignment (e.g., team or
individual) as well as the nature of the contact between the student
and the community-based organization (working with staff versus
working with clients). The faculty focus group indicated that servicelearning improved teamwork skills and led to an increase in critical
thinking and problem-solving skills.
Some of the most significant results relate to an increase in awareness
of community needs and the propensity to volunteer. All three studies
indicate that there is at least a 50% increase in the intent to volunteer
as a result of taking a service-learning class. Thus the results of these
studies, involving over 1,000 students from a variety of courses,
clearly attest to the positive nature of service-learning for Fresno State
students.
FIELDWORK AND INTERNSHIPS
ConnOctober 25, 2004work and internship experience is an integral
component of professional preparation programs at California State
University, Fresno. During 2001, courses with a field supervision
classification number had a combined enrollment of 7,425, over 5%
of the university total.
Recent informal survey reports describe the impact of
fieldwork/internship experiences on student learning. Two of these
focus on teacher preparation (Table E3).
Table E3. Reports of the impact of fieldwork/internships in
teacher education.
Report
Acevedo
(Interns)
Chiero
(Master
Teachers)
Nature of Sample
Sample Size Time Frame
74
AY 2001-02 All students enrolled in
Multiple Subject/Single
Subject Internships
145 master
Fall 2003 Master teacher supervisors
teachers
for Multiple Subject student
teachers
Internship enrollees responding to the Acevedo survey reported that
internship pre-service training made a difference in class management
(64%) and that they were able to learn from university supervisors
(80%) and from cooperating teachers (88%). Students reported
benefiting from Saturday professional development workshops (58%)
and from substitute days for professional development (58%).
Student teachers still have much to learn. Master teachers responding
CFR
2.11
to the Chiero survey reported that less than half of the student
teachers maintained effective classroom learning environments (38%),
planned developmentally appropriate lessons (46%), responded to
diverse K-12 student learning needs (43%), used a variety of
appropriate techniques in assessing student learning (32%), or
understood subject matter content (28%). However, more than half
understood and were prepared to meet required competencies (55%),
engaged in reflection or self-evaluation (55%), responded to feedback
from others (75%), and adhered to high standards of professional
conduct (69%).
Two surveys of university-wide programs provide evidence of the
impact on students of field placements (Table E4).
Table E4. Studies of the impact of fieldwork/internship in
university-wide programs.
Study
Sample Size Time Frame
Nature of Sample
Solutions Center 120 students
1997
Student responses after
completion of centersponsored projects
260 students Fall 2000- Evaluations of program by
Community
Service
Spring 2003 students and employers
Scholarship
Program
The Solutions Center is a project-based interdisciplinary academic
program that involves hands-on learning while providing both students
and faculty an opportunity to answer research questions and solve
problems posed by a community sponsor. A WASC Steering Committee
member reviewed student feedback survey forms from the 26 projects
completed since 1997. Students reported gaining much from actual
work experience, saw practical application of classroom theory,
reported acquiring collaborative problem-solving skills, and felt more
qualified to enter the work place. They indicated that their "real world"
experiences prepared them for productive employment, and frequently
reported being offered jobs upon completion of their projects.
The Community Service Scholarship Program is a university-wide
program in which participants are required to perform 150 hours of
service with a nonprofit organization while receiving a $1,500
scholarship. Overall ratings of the experience by students ranged from
6.6 to 7 on a seven-point scale, where 7 indicated "Excellent."
Students reported that their service experience had related to
academic studies or career preparation (82% assigned a 6 or 7 rating)
and improved teaching skills (50%). A substantial number of
participants also reported increased skills in communication (87%),
confidence (76%), decision making (70%), problem solving (67%),
leadership (64%), and ability to influence others (61%). Employers
surveyed reported positive impressions of student academic learning
through increased ability to apply skills and knowledge, as well as
personal growth through the ability to communicate more effectively in
providing needed services.
The Survey of Student Educational Experiences (Appendix A2) provides
self-reported evidence of the extent to which community-based
experiences enhanced student learning. Well over half (58%) of
respondents indicated that they had previously or were currently
participating in volunteerism , community service, or service-learning
(Table E5). Very few responded that, taken overall, the university's
emphasis on engagement with the community is too high. Students
who had participated in service-related activities were more likely to
express an opinion about the appropriateness of the university's
emphasis on engagement with the community, and that opinion was
likely to be positive.
Table E5. Student responses to the question, " Taken overall,
the university's emphasis on engagement with the community
is ." categorized by their indication of current or previous
service activity at Fresno State.
Response
No
Not sure
Too light
About right
Too heavy
Total
Previous or Current Service Activity
Yes
Total
Count
%
Count
%
Count
366
41
217
18
583
215
24
368
30
583
306
34
622
50
928
16
2
28
2.3
44
903
100
1235
100
2138
%
27
27
43
2.1
100
More than half (53%) of students who had participated in servicerelated activities indicated that t heir experience substantially or very
substantially enhanced their educational experience (Table E6).
Table E6. Extent to which students who had participated in
service-learning or community service indicated that this
activity enhanced their educational experience.
Response
Very little
Somewhat
Substantially
Very substantially
Count
140
300
326
170
%
15
32
34
18
CONCLUSIONS and RECOMMENDATIONS
Conclusions
• One of the university's strengths in educational effectiveness is its
commitment to community service, service-learning, and other forms of
community-based experiential learning. Student participants provide
consistently positive reports on programs in these areas.
• There is a need for better data and better coordination of the collection
of data on program efficiency and effectiveness. It was difficult for the
writing team to generalize or make comparisons across programs because
of inconsistencies in the collection and analysis of data.
Recommendations
• The university should increase efforts to communicate the importance of
and support for faculty and staff in the collection of information about and
assessment of student engagement efforts.
• The positive impact of community-based learning documented in this
report adds further support to the recommendation from the preparatory
report for the formation of a Center for Community-Based Learning
(Appendix E3). Such a center would provide a single contact point for
faculty, students, and community members; coordinate training and
support activities; provide assistance with and coordination of assessment
activities; and help with dissemination of information concerning
community-based learning activities.
Top
F. How productively is the university engaged with
the community?
California State University, Fresno's commitment to engagement with the
community is deeply embedded in both its Vision "to be one of the nation's
premier interactive universities ." and mission:
The university serves the San Joaquin Valley while interacting with the
state, nation, and world. The university is a center of intellectual, artistic,
and professional activity. Through applied research, technical assistance,
training and other public service activities, the university anticipates
continuing and expanding partnership and linkage with business,
education, industry, and government.
California State University, Fresno is extensively engaged with the
community. Nearly 50 centers and institutes originating in all of the
schools and colleges facilitate interaction with the community. The capacity
of the university in this area was described in some detail in the
Preparatory Report. Very recently, the university's commitment to
stewardship was recognized when it became one of four campuses
nationally to receive a "Making Place Matter" grant from the American
Association of State Colleges and Universities, the Kellogg Foundation, and
the Alliance for Regional Stewardship. The proposal for that grant
(Appendix F1) provides additional evidence of the extent of the university's
engagement with the community, the total annual impact of which is
estimated to be $348 million (Houser, 2002; document room).
The sheer scope of university-community interactions is overwhelming;
therefore, the current essay showcases a selected cross-section in order to
illustrate the breadth and depth of California State University, Fresno's
CFR
2.8
2.9
2.11
sustained engagement with its stakeholders. Guidelines on university
engagement with communities (Boyer, 1996; Holland, 2001; Spanier,
2001; Votruba, 2002) were used to organize this review, which examines
how the university deploys four broad categories of human and physical
resources (Student Human Resources; Applied Research and Technical
Assistance; Education and Training Programs; and Cultural, Artistic,
Intellectual, and Entertainment Events) to meet a range of community
needs.
STUDENT HUMAN RESOURCES
In 2001-2002, approximately 4,800 students performed a total of 193,000
hours of service in the community. These figures, aggregated across many
programs (Appendix F2), represent a total economic impact of nearly $3.2
million, not including the significant contributions to the community
provided through student clubs and organizations.
Several dozen nonprofit community partners responding to a survey from
the Students for Community Service office reported using students
from a variety of community service programs and were highly positive
about the assistance students provided in meeting community needs
(Table F1).
Table F1. Community Service-Learning (CSL) Survey Responses of
Community Partners.*
Statement Summary
University's CSL programs provide students who help
meet our program goals.
We (the agency) know whom to contact for information
regarding the university's CSL programs.
Benefits of partnering with the university outweigh the
costs associated.
Average Score
2.1
1.9
2.4
*7- point scale, where 1 indicates "Strongly Agree" and 7, "Strongly Disagree" Source: California State
University, Fresno. Students for Community Service Office.
Curtis (2003) analyzed community-based agencies' ratings of the value of
the university's service-learning programs:
Almost two-thirds (64%) of the community representatives
reported that they had attended training or seminars related to
service-learning. Over 90% of those reported that they were
somewhat satisfied or very satisfied with their overall
experience.
All respondents (100%) reported that the service provided by
students was helpful to their organization.
Almost all (92%) of the agencies who utilized service-learning
students felt that the experience strengthened their relationship
with the university.
Impact data are available for a number of community-based programs. A
2002-03 survey of 166 agencies participating in the Community Service
Scholarship Program found that 85% felt that the students' impact on
the agency's ability to provide services was significant, while 89% found
that the student's ability to apply skills and knowledge to this assignment
were better than most. The Craig School of Business tracks business
student internships . In 2002-03, 240 students took part in internships
with 134 different business, government and nonprofit agencies. Over 80%
of employers rated the student skills as good or very good (Young, 2003;
document room).
Liberal Studies Senior Projects (EHD 115) involve after-school one-onone, supervised tutoring on a semester-long basis. Emphasis is on reading,
writing, spelling, comprehension, social skills and self-image building for
the at-risk children involved. In fall 2003, 211 students were enrolled in
the course, with involvement at six elementary schools. Each student
provided approximately four hours of tutoring per week. Support letters
from 24 teachers and administrators praised the program for its production
of positive gains in children's academic skills and behavior.
Jumpstart Fresno and Fresno READS provide high-quality tutoring
programs to pre-kindergarten and K-6 children respectively. Together,
these programs annually provide approximately 23,000 hours of tutoring
to area children. Studies of the Jumpstart Fresno program clearly indicate
that it enhances the academic preparation of preschool children in our area
(Appendix F3).
Stone Soup Fresno , a local nonprofit organization, and California State
University, Fresno began a partnership in 1993 that has transformed one
of the most disadvantaged and crime ridden neighborhoods in the city of
Fresno. According to the 1990 census, the El Dorado Park neighborhood,
which is located just west of the Fresno State campus and is the focus of
Stone Soup, was heavily populated with refugees from Southeast Asia and
was home to the largest concentration of children living under the poverty
level in the entire state. Now some of those children are graduates of
Fresno State who contribute to this community's continuing revitalization
efforts . While significant challenges still exist, many positive changes have
resulted from the collaborative efforts of Stone Soup and the university.
For example, in the early to mid 1990s this crime-ridden area had the
highest number of calls for police assistance in the entire city of Fresno. A
dramatic reduction in crime and gang violence has helped transform this
area into a stable and productive community. Stone Soup is the number
one user of Fresno State volunteers, with over 300 students and
approximately 70 faculty and uncounted staff members who take part in
Stone Soup service efforts each year (Appendix F4).
APPLIED RESEARCH and TECHNICAL ASSISTANCE
California State University, Fresno has 45 centers and institutes that are
responding to local and regionally identified needs of the business, education,
government, and nonprofit sectors.
The University Business Center (UBC) operates a number of programs that
have a substantial impact on the local economy in the form of small business
startups, development, and expansion. Two of the current programs operated
under grants are the Small Business Development Center (<
http://www.ccsbdc.org/frames.html >, and the AcceleratorOnline Program
(<http://www.acceleratoronline.com>).
The Small Business Development Center (SBDC) (2002) offers
services and training for business start-up and expansion,
marketing, accounting, loan packaging, and entrepreneur
assistance. In 2002, the center arranged for 48 equity financings for
a total of $2,046,394 and 92 loans for $12,452,170. These
financings involved 29 business start-ups, in addition to business
continuations and expansions that resulted in retaining 362 jobs and
creating 246 new jobs. On the training side, the SBDC provided 277
workshops, courses, and other types of training sessions (8,961
total hours of training) attended by 2,595 individuals, including
1,500 minority individuals and 1,657 women.
AcceleratorOnline Program is a two-month, instructor-assisted,
online business plan development and launch initiative designed for
those who are traditionally disenfranchised from university
programs. Graduates are provided with ongoing consulting to
ensure successful launch of their business. The program now has an
e-commerce component, and an export planning component was
added in the spring of 2004. During 2001-03, 148 participants
completed the program. Ninety-one started their own business, with
22 now generating revenue ranging from $20K - $100K.
The Center for Research, Education, and Dissemination (CREAD) was
established in 1999 and provides research, data analysis, and evaluation
services to school districts, postsecondary institutions, private foundations,
grant projects, and other agencies requiring professional services. For
example:
In 2002-03, the center undertook an evaluation of the effectiveness
of Fresno County schools in promoting the importance of agriculture
career opportunities and integrating agriculture awareness activities
in K-8 classrooms.
CREAD evaluated the effectiveness of the 2002 Summer Bridge
Program to influence positively those participants who expressed an
interest in agriculture or science.
CREAD carried out a comprehensive evaluation of the Peer
Assistance and Review (PAR) Program run by the Fresno Unified
School District. The focus of the 2002 study was to determine the
effectiveness of PAR and Beginning Teacher Support and
Assessment programs in integrating new teachers in the classroom.
The center conducted an evaluation and statistical summary of
after-school program (2001-02) outcomes for Fresno County,
involving 8,772 students as well as teachers at 51 school sites.
CREAD became the Intermediate Intervention for Under Performing
Schools for eight schools in the Hanford Elementary School District
in 2001-02, and continued to work with them in 2003-04. Similar
services were provided to two Fresno Unified School District schools
in 2002-03.
With funding support from the National Science Foundation, CREAD
developed a new certificate in program evaluation. This program
responds to a need identified in both K-12 and postsecondary
contexts for evaluators for externally-funded programs, for core
curricula evaluations, and for educational reform efforts.
The Fresno Family Counseling Center provides low-cost services to families
in the Fresno Unified School District who otherwise would not have access to
needed professional care. Counseling is provided by university graduate
students under supervision of licensed faculty via remote television. The
district contributes $30,000 under the MOU and the university contributes
$60,000 worth of services, while leveraging another $27,000 in external
funding. Although the MOU calls for 1,500 hours of services, the district
received 2,500 hours ; considering the market value of the counseling, the
school district saved $146,960 in AY 2001-02 (Appendix F5).
The Central California Center for Health and Human Services is a
dynamic and fast growing research, training, and outreach organization that
provides administrative and operational support for externally funded projects
that respond to community needs. AY 2003-04 funding exceeded $3.9 million
in grant awards, atop $5.4 million the year before (Appendix F6). The center
currently has 11 established programs (including three institutes, a center,
and an academy). Its newest initiative is the formation of an interdisciplinary
"Air Quality Resource Group" to help address a serious health issue in the San
Joaquin Valley. The project has been strongly promoted by the local
newspaper, The Fresno Bee, since the region has been rated second worst in
the nation for air pollution by the Environmental Protection Agency.
EDUCATION and TRAINING PROGRAMS
The Young Writers Conference (YWC) is a full-day creative writing
conference for area high school students and their teachers. It includes an
annual literary magazine, Spectrum, featuring work by attendees; writing
awards for students, writers, and teachers; a keynote address by a published
writer; and small writing workshop sessions.
The YWC has been held each spring on the Fresno State campus for 24 years,
organized and sponsored by the MFA Program in Creative Writing, the
Department of English, and the College of Arts and Humanities. Each year,
350 to 400 students from 15 to 20 schools participate in the conference.
Approximately 30 Fresno State graduate students are involved each year,
helping to organize the conference, edit the annual conference literary journal,
judge contests, and lead writing workshops.
State Curriculum Projects are collaboratives involving professional
preparation faculty, academic faculty and area public school teachers and
administrators. They are focused on providing teachers with the latest
developments in research, methodology, and best practice. Typically, they
include summer institutes for teachers, which in turn are followed throughout
the school year by workshops and meetings that provide assistance in the
implementation of innovative and more effective teaching strategies.
The Kremen School of Education and Human Development currently houses
five state curriculum projects: Writing (since 1985), Mathematics (since
1989), Science (since 1994), History/Social Science (since 1997), and Reading
and Literature (since 1998). One example of the effectiveness of these
projects is provided in a brief summary of the accomplishments of the San
Joaquin Mathematics Project. Since its inception, this project has been
responsible for the following:
Over 1,000 K-12 mathematics teachers have participated in
residential summer institutes, Saturday workshops, leadership
development retreats, district partnerships, and online forums for
teachers and university faculty.
A weekly newsletter, the California Online Mathematics Education
Times (COMET), which now has over 2,000 subscribers, keeps
teachers professionally current and thus more knowledgeable,
resourceful, confident, and effective.
Since 2002, the project has sponsored 102 partnerships, institutes,
and workshops while serving 500 teachers (60% from lowperforming schools), and has provided professional services to a
total of 158 schools (56% of these, low-performing schools).
CULTURAL, ARTISTIC, INTELLECTUAL, and ENTERTAINMENT
EVENTS
The university's most public face is through the numerous and varied
cultural entertainment events produced by departments throughout the
campus. Further, the recent opening season of the Save Mart Center , with
its accompanying influx of high-profile acts and events, has brought to the
region an exciting new arena that serves as a strong drawing card for
major sports, cultural, and entertainment events. According to Pollstar
Magazine , in the first half of 2004 more than 170,000 tickets were sold
for events other than competitive sports events, making the Save Mart
Center the tenth busiest such venue in the world.
In the area of overall university entertainment, the heaviest volume of
attendance is for athletic events. Within the last year, 670,400 people
attended games played by our NCAA teams. In ticket sales alone, athletics
generated 1.3 million dollars. When profits from concessions, souvenirs,
and off-premise sales are also considered, the economic impact of athletic
events is clearly significant.
The College of Arts and Humanities sponsors over 300 public events, with
an annual attendance exceeding 200,000. In addition to its 172 public
performances, the Department of Music also sponsors clinic/workshops
for students, amateurs, and professionals from across the state.
Performances include the annual Central California Flute Festival, Day of
Percussion, Wind Ensemble Festival, and Choral Invitational. In 1954, the
70-member Fresno State College Orchestra became the Fresno
Philharmonic. The music faculty and students, including the new oncampus University High School , are involved in performing groups
throughout the area.
The California State University Summer Arts Program has achieved
record participation and attendance since moving to the Fresno State
campus five years ago. Last summer 64,000 people attended 40
performances by the 500 students and instructors during the four-week
program.
Main stage productions by the Theatre Arts department attract another
60,000 patrons. In addition to on-campus performances, the department
tours elementary schools throughout the valley. Since 1968, Theatre for
Young Audiences has brought live theatre to 15,000 students annually.
Its productions emphasize scripts that represent a variety of cultures and
the perspectives of the ethnically diverse populations found in the
surrounding areas. Recent productions have used bilingual scripts,
nontraditional casting, and audience participation as ways to reach a broad
multilingual audience. Productions have also sought to link the shows
CFR
2.11
produced to the current elementary curriculum and state standards.
A valley tradition for 46 years, the Department of Communication's
Peach Blossom Festival spotlights oral interpretation skills, attracting
5,000 K-6 students and utilizing over 400 student volunteers. A new
opportunity for school children is the four-year-old Downing
Planetarium . With its 30-foot dome and 74-seat theatre, the
planetarium is already visited by 30,000 people annually.
It will soon be easier for both campus and community audiences to learn
about upcoming events, as the university is adopting web-based
scheduling software that will make it possible to publish and maintain
online a master calendar of events.
CONCLUSIONS AND RECOMMENDATIONS
Conclusions
Overall, the evidence indicates California State University, Fresno is
extensively and successfully engaged with the community in addressing
needs and having an impact appropriate to its vision of being a "premier
interactive university."
1. Although the writing team struggled to bring together
information from scattered sources, it is clear that the university
is broadly engaged with the community, and that students,
faculty, and staff members across campus participate in service
activities.
2. The university is addressing a wide spectrum of community
issues, involving both the private (business/industry and not-forprofit organizations) and public (educational districts and
government agencies) sectors through a variety of collaborative
modes ranging from contracts, grants, and memoranda of
understanding to more informal associations.
3. The university clearly is meeting important needs of community
constituencies, as evidenced by satisfaction feedback and
performance evaluation surveys, repeat attendance/business,
extended relationships, renewed partnerships, and continual
funding support.
Recommendation
The university should take full advantage of the opportunity provided by
the Making Place Matter project to reexamine the alignment between
university activities and community needs; explore means of increasing
community understanding of the university's capabilities; and increasing
the capacity to assess and disseminate the results of university-community
interactions.
EDUCATIONAL EFFECTIVENESS REVIEW:
SUMMARY AND CONCLUSIONS
The Vision of California State University, as set forth in the strategic
plan, Vision for the 21 st Century: a Plan for Excellence, states:
Our vision is to be one of the nation's premier interactive universities,
recognized for quality teaching, transformational scholarship, and
cultural leadership for the benefit of society.
We believe that the current response to the Educational Effectiveness
review provides significant evidence that great strides have been made
toward that vision.
Opportunity – "Access to Quality Programs for Diverse
Populations"
As indicated in our response to research question A, "How does the
university advance student learning and its own improvement in
achieving student-learning?" the past few years have seen
considerable progress in assessing and strengthening our programs
through outcomes assessment. Much remains to be done to make this
ongoing appraisal and reform a permanent part of the university
culture, but we can take some satisfaction in the steps that have been
taken and in the evidence of current program quality.
The information developed in response to research question B, "How
effective are academic and student support programs in meeting the
needs of first-year undergraduate students and improving retention
and graduation rates?" demonstrates not only our past
accomplishments in fostering student success but also the ongoing
commitment to improvement in that area through the
recommendations of the Student Success Task Force. The commitment
to opportunity remains strong.
Exploration – "Discovery of Knowledge, Self, and Society
through Expanding Horizons"
Dramatic changes have been made in the integration of technology in
instruction as shown in the response to research question C, "How
effectively has the university integrated the use of technology to
support teaching and learning?" Both faculty and students have
demonstrated willingness, even eagerness, to enrich on campus
instruction and the data indicate that our efforts in distance learning
have successfully brought quality instruction to students for whom
access to the campus is limited. An important challenge to the
academic community posed in this response is the need for concrete
evidence, beyond mere satisfaction, of improved student learning.
The remarkable increase in faculty research, scholarship, and creative
activity evoked research question D, "How has the expansion of faculty
research, scholarship, and creative activity affected the learning
environment?" The evidence shows that a significant fraction of
students have engaged in research, and a majority of those feel that
their preparation for post-graduate activities is substantially improved
and that their experience at the university was substantially enhanced.
We also came to realize that the university needed to clarify its
purposes and its assessment in this area.
Interaction – " Transformation through Integration of
Knowledge and Experience"
As shown in the response to research question E, "How has the
university's community engagement affected students?" the
combination of volunteer/community service, service learning, and
fieldwork and internships have had an impact on a large number of
students and the testimony of those students gives strong support to
the conclusion that that impact has been overwhelmingly positive. As
with some of the other issues explored in this review, greater
coordination and more universal assessment appear desirable.
The other side of the university-community engagement is explored in
the response to research question E, "How productively is the
university engaged with the community?" It is clear again that that
engagement is substantial and well received. Volunteer, community
service, and service learning programs have made significant
contributions to both government agencies and NGOs. A variety of
programs, ranging from School of Education internships to the
planetarium to cultural activities and competitions, have strengthened
the K-12 student experience throughout the region. Business,
scientific, and agricultural expertise has bolstered both private and
public entities, and the wide range of cultural and athletic events has
directly served the population as a whole. Most of these activities were
internally initiated in response to potential program benefit and
campus perceptions of community need. An important
recommendation arising from the response calls for taking advantage
of the Making Place Matter project to check the alignment between
university activities and community needs, as well as to establish
better means of disseminating information about the university's
capabilities.
Apparent through these analyses are several strengths:
There is a broad acceptance of the university vision and a
commitment to the core ideas of the themes.
Unit autonomy, coupled with that acceptance and
commitment, has fostered significant experimentation and
entrepreneurship.
Experiential learning, in all its forms, has led to much
positive faculty-student interaction.
The strategic planning over the last decade has had a major
impact upon the university.
The sense of responsibility to the region is strong and
widespread.
There is a growing commitment to a culture of evidence.
There also emerge opportunities for improvement:
More effective communication, both on and off campus, of
our capabilities, strengths and accomplishments is needed.
Especially under budget restrictions, we may need to focus
our energies more tightly on high priority activities and
programs.
Data collection is of mixed quality and utility and several
departments are not yet persuaded of the value of
assessment.
Recommendations
Recognizing that the eighteen recommendations resulting from
analysis of the six research questions are too many to address
effectively, the WASC Self-Study Steering Committee proposes the
following priority items to the campus:
The university should provide sufficient resources and
support to academic programs to assist in continuing and in
expanding assessment activities.
The university needs to encourage communication about best
practices for achieving and assessing student learning. This
may include providing a venue for publication of program
reports on the progress of implementation of assessment
plans.
All student support programs must initiate systematic
assessment planning to substantiate program effectiveness
and to ensure continuous funding.
Confirming the conclusion of the Preparatory Review, full
implementation of the recommendations of the Student
Success Task Force is critical.
The university should assist faculty in assessing the impact of
technology on student learning as a component of the
scholarship of teaching and learning.
The positive impact of community-based learning
documented in this report adds further support to the
recommendation from the preparatory report for the
formation of a Center for Community-Based Learning. Such a
center would provide a single contact point for faculty,
students, and community members; coordinate training and
support activities; provide assistance with and coordination
of assessment activities; and help with dissemination of
information concerning community-based learning activities.
The university should take full advantage of the opportunity
provided by the Making Place Matter project to reexamine the
alignment between university activities and community
needs; explore means of increasing community
understanding of the university's capabilities; and increasing
the capacity to assess and disseminate the results of
university-community interactions.
Rather than considering these as additional strategic goals, we intend
to use these recommendations to continue to tighten our focus, as was
recently done with respect to the university's strategic planning goals.
We note that six of the seven top recommendations resulting from the
educational effectiveness self-study emphasize assessment. While this
emphasis may result in part from the charge given to the writing
teams to produce an evidence-based document, it is also an indication
of the extent to which the university is moving towards a culture of
evidence. Indeed, the university will be strengthening the Office of
Institutional Research, Planning, and Assessment with the addition of
an analyst whose primary responsibility will be assisting programs in
the documentation of educational effectiveness.
he opportunity to concentrate on a small number of research questions
for the Educational Effectiveness Self-Study allowed detailed
examination of several significant issues. We were able to expand upon
and consider more analytically the largely descriptive content of the
Preparatory Report. We look forward to the October Educational
Effectiveness site visit. Based upon our experience with the
Preparatory Review, we anticipate that the Educational Effectiveness
Review will be valuable in identifying key next steps in our institutional
journey.