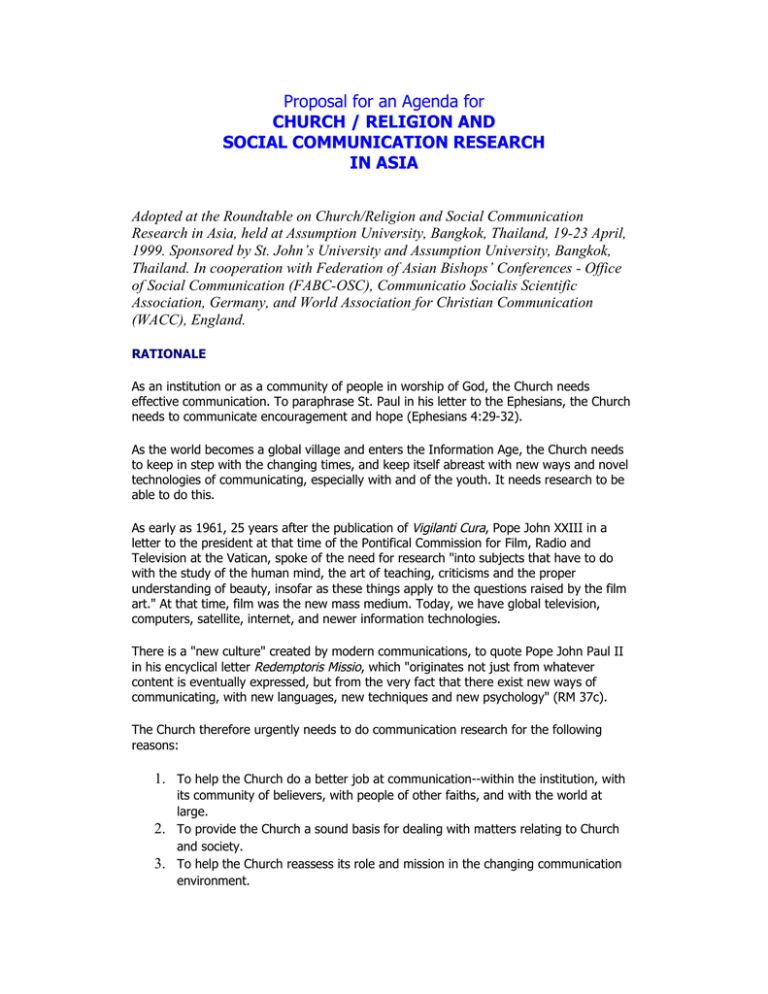 Proposal for an Agenda for
CHURCH / RELIGION AND
SOCIAL COMMUNICATION RESEARCH
IN ASIA
Adopted at the Roundtable on Church/Religion and Social Communication
Research in Asia, held at Assumption University, Bangkok, Thailand, 19-23 April,
1999. Sponsored by St. John's University and Assumption University, Bangkok,
Thailand. In cooperation with Federation of Asian Bishops' Conferences - Office
of Social Communication (FABC-OSC), Communicatio Socialis Scientific
Association, Germany, and World Association for Christian Communication
(WACC), England.
RATIONALE
As an institution or as a community of people in worship of God, the Church needs
effective communication. To paraphrase St. Paul in his letter to the Ephesians, the Church
needs to communicate encouragement and hope (Ephesians 4:29-32).
As the world becomes a global village and enters the Information Age, the Church needs
to keep in step with the changing times, and keep itself abreast with new ways and novel
technologies of communicating, especially with and of the youth. It needs research to be
able to do this.
As early as 1961, 25 years after the publication of Vigilanti Cura, Pope John XXIII in a
letter to the president at that time of the Pontifical Commission for Film, Radio and
Television at the Vatican, spoke of the need for research "into subjects that have to do
with the study of the human mind, the art of teaching, criticisms and the proper
understanding of beauty, insofar as these things apply to the questions raised by the film
art." At that time, film was the new mass medium. Today, we have global television,
computers, satellite, internet, and newer information technologies.
There is a "new culture" created by modern communications, to quote Pope John Paul II
in his encyclical letter Redemptoris Missio, which "originates not just from whatever
content is eventually expressed, but from the very fact that there exist new ways of
communicating, with new languages, new techniques and new psychology" (RM 37c).
The Church therefore urgently needs to do communication research for the following
reasons:
1. To help the Church do a better job at communication--within the institution, with
2.
3.
its community of believers, with people of other faiths, and with the world at
large.
To provide the Church a sound basis for dealing with matters relating to Church
and society.
To help the Church reassess its role and mission in the changing communication
environment.
4. To help the Church discover new expressions of faith.
5. To help the Church promote understanding and peace among various cultural
6.
groups and religions in society.
To help the Church improve the human condition, by promoting social justice,
equality and human rights.
PRIORITY RESEARCH AREAS
A. Communication within the Church
Levels of research:
1. Local
2. National
3. Continental
Research Areas:
1.
2.
3.
4.
5.
6.
Communication patterns within the church at various levels
Structure and flow of communication in the church: strengths and weaknesses
Communication styles and leadership patterns in the church
Nature and effectiveness of communication practiced by the church
Church efforts in creating awareness of and implementing church documents and
recommendations
Church formation, including ongoing communication training for church personnel
and laity
B. Church, Communication and Society
Levels of research:
1. Local
2. National
3. Continental
Research Areas:
1.
2.
3.
4.
5.
6.
7.
8.
9.
Communication roles of the church in society
New approaches to Media Education
Church's response to and responsibility towards local, national and regional issues
People's perceptions and expectations of the church especially those of the youth
Role, function, levels of participation and problems of laity in the church and
society
Communication strategies and influence of charismatic groups and other religious
movements
Social communication potential of communities of love in promoting peace and
harmony in society
Different modes/Effective ways of communicating Christian ethics and values
Impact and influence of music video channels and other new communication /
information technologies on value systems and life styles of the youth and family
C. Religion, Culture and Communication
Levels of research:
1. Local
2. National
3. Continental
Research Areas:
1. Role of social communication in promoting interreligious dialogue
2. Role and use of media in promoting religious understanding
3. Relationship / Influence between religion and communication (interpersonal, folk
& traditional, mediated)
4. Role of religion and religious expressions in culture and communication
RESEARCH METHODS
1.
2.
3.
4.
Qualitative and quantitative methods or combination of both
Participatory action research
Exploratory research
Experimental research
STRATEGIES FOR RESEARCH
1. Submission of research agenda to the Federation of Asian Bishops' Conferences
2.
3.
(FABC) and Christian Conference of Asia (CCA).
Documentation of basic research done on church/religion and social
communication in Asia (databases, directories, organizations, groups, and
individuals).
Dissemination of information about the need for research and sharing of research
results.
a.Circulate results of Roundtable discussion through church media outlets,
2.
3.
4.
secular press, FABC conferences, Christian universities and institutions,
ecumenical institutions involved in research, NGOs and professional research
organizations, communication organizations, seminaries, etc.
b.Convene/Utilize special meetings of Church personnel to share research
findings.
c.Include communication and research elements in church programs.
d.Show how research will be beneficial to church and society.
Networking with schools of communication, Christian universities, religious
institutions, research institutions, and other groups involved in social
communication.
Involvement and training of church personnel and laity in the planning and
implementation of research.
Identifying professional groups that will help to (a) develop concrete research
proposals, and (b) secure funds/grants for conducting research.
IMPLEMENTATION
Establishment of an Asian Research Center (ARC) for Religion and Social Communication
based at St. John's University, Bangkok, Thailand, in cooperation with FABC-OSC.