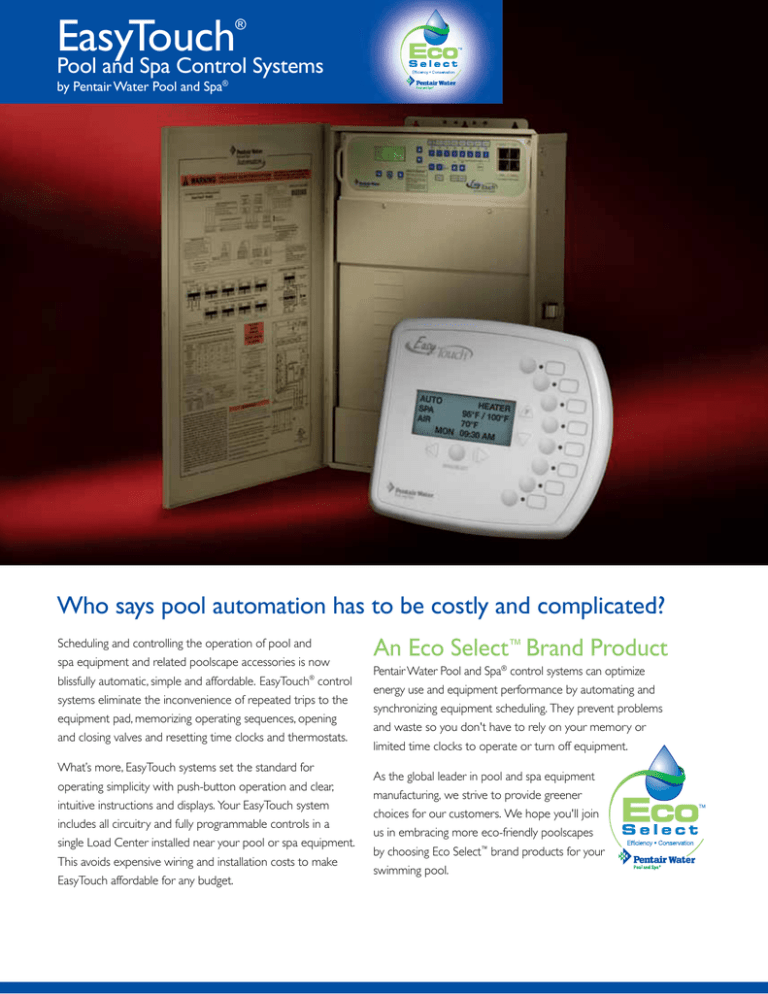 EasyTouch
Pool and Spa Control Systems
®
by Pentair Water Pool and Spa®
Who says pool automation has to be costly and complicated?
Scheduling and controlling the operation of pool and
spa equipment and related poolscape accessories is now
blissfully automatic, simple and affordable. EasyTouch® control
systems eliminate the inconvenience of repeated trips to the
equipment pad, memorizing operating sequences, opening
and closing valves and resetting time clocks and thermostats.
What's more, EasyTouch systems set the standard for
operating simplicity with push-button operation and clear,
intuitive instructions and displays. Your EasyTouch system
includes all circuitry and fully programmable controls in a
single Load Center installed near your pool or spa equipment.
This avoids expensive wiring and installation costs to make
EasyTouch affordable for any budget.
An Eco Select™ Brand Product
Pentair Water Pool and Spa® control systems can optimize
energy use and equipment performance by automating and
synchronizing equipment scheduling. They prevent problems
and waste so you don't have to rely on your memory or
limited time clocks to operate or turn off equipment.
As the global leader in pool and spa equipment
manufacturing, we strive to provide greener
choices for our customers. We hope you'll join
us in embracing more eco-friendly poolscapes
by choosing Eco Select™ brand products for your
swimming pool.
EasyTouch
®
Pool and Spa Control System
LCD display informs and
instructs every step of the way
Service mode aids in system
testing and troubleshooting —
no need for service personnel
to enter your home
Resettable circuit breakers are readily accessible by
you or service professionals from outside your home
Time Out mode allows programs
to be interrupted and automatically
resumed—no need to reprogram
It's like putting pool and spa operation on cruise control
EasyTouch® systems are available for a separate spa, a
separate pool, or a pool/spa combination with shared
equipment. You select from systems that control 4 or 8
accessory functions. Four-function systems are typically used
to control pool and/or spa operation plus pool or spa lights
and heaters. Eight-function systems allow separate scheduling
for additional features, such as landscape lighting, waterfalls,
fountains, additional heaters and more. Take the work and
worry out of scheduling and operating pool and spa heating,
filtration and cleaning cycles. For even greater convenience,
you can add any of these optional controllers:
•All functions controlled with easy, one-button access from
the Load Center.
•A variety of optional, simple to use remote, wired or wireless controllers for added convenience.
•Full programmability of everyday equipment operation for optimum efficiency. Re-program for variable pool/spa usage patterns or when adding or changing equipment to maintain peak efficiency.
•Onboard diagnostics make service simple. Built-in, self-test diagnostics give you the ability to verify correct operation of specific functions, and a diagnostic screen reports failures for troubleshooting and repair.
Available from:
Indoor Control Panel
(for 4 or 8 function control)
EasyTouch
Wireless Controller
SpaCommand™
Spa-side Remote
iS4 Spa-side
Remote
Pentair Pool Products®Sta-Rite®
800.831.7133800.831.7133
www.pentairpool.comwww.staritepool.com
pumps / filters / heaters / heat pumps / automation / lighting / cleaners / sanitizers / water features / maintenance products
6/11 Part # P2-023
©2011 Pentair Water Pool and Spa, Inc. All rights reserved.