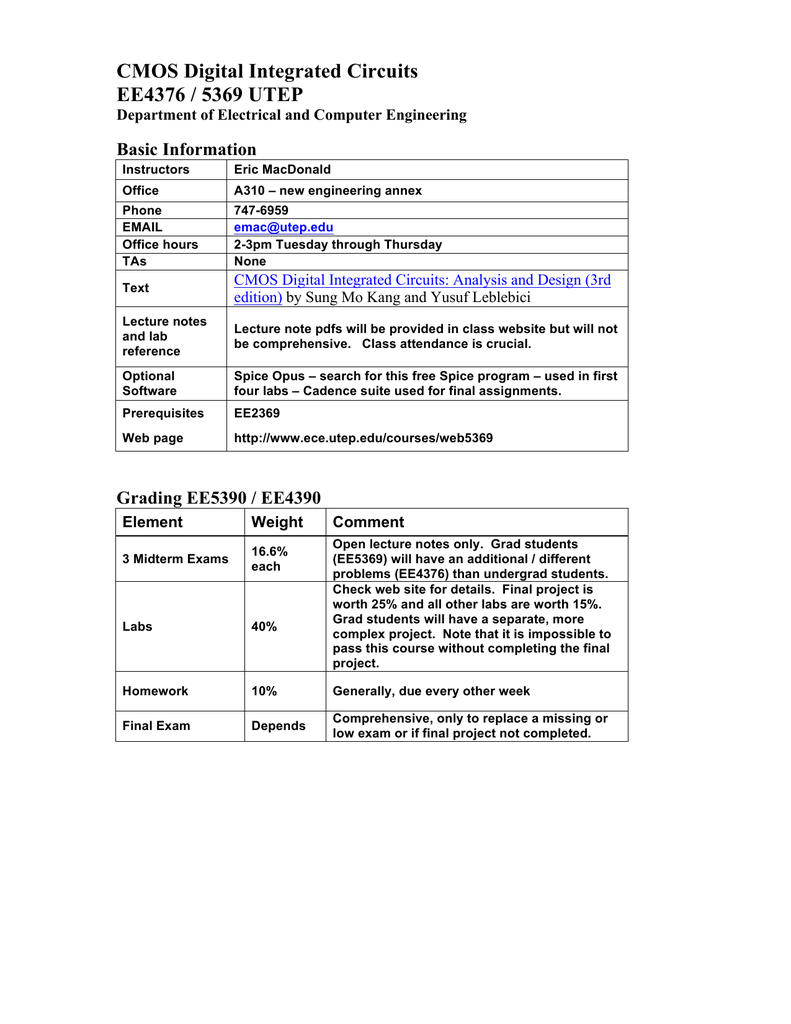 CMOS Digital Integrated Circuits
EE4376 / 5369 UTEP
Department of Electrical and Computer Engineering
Basic Information
Instructors
Eric MacDonald
Office
A310 – new engineering annex
Phone
EMAIL
Office hours
TAs
747-6959
[email protected]
2-3pm Tuesday through Thursday
None
Text
CMOS Digital Integrated Circuits: Analysis and Design (3rd
edition) by Sung Mo Kang and Yusuf Leblebici
Lecture notes
and lab
reference
Lecture note pdfs will be provided in class website but will not
be comprehensive. Class attendance is crucial.
Optional
Software
Spice Opus – search for this free Spice program – used in first
four labs – Cadence suite used for final assignments.
Prerequisites
EE2369
Web page
http://www.ece.utep.edu/courses/web5369
Grading EE5390 / EE4390
Element
Weight
Comment
3 Midterm Exams
16.6%
each
Labs
40%
Homework
10%
Generally, due every other week
Final Exam
Depends
Comprehensive, only to replace a missing or
low exam or if final project not completed.
Open lecture notes only. Grad students
(EE5369) will have an additional / different
problems (EE4376) than undergrad students.
Check web site for details. Final project is
worth 25% and all other labs are worth 15%.
Grad students will have a separate, more
complex project. Note that it is impossible to
pass this course without completing the final
project.
General Policies
I respond to all email within 24 hours of receiving the email. Consider all email to me as lost if I
don't respond within 24 hours. Use alternative method of contacting me in this case.
American Disabilities Act: If you feel you may have a disability that requires accommodations,
contact the Disabled Student Services Office at 747-5148 or go to room 106E of the Union.
Final lab project must be done from scratch. Discussions about concepts between students
are permitted but code suspected of being copied (other than from the webpage) will be
reported to the Dean of Students. No exceptions.
Several scripts and an academic service will be employed to ensure no plagiarism exists in the
final project.
Academic Dishonesty – See course website for details.
Grading Scale for lab and lecture
100% to 90% = A, 89% to 80% = B, 79% to 70% = C, 69% to 60% = D, <60% = F
No curve will be used, however 4 total points of extra credit will be offered throughout the
course (most likely in the lab section). The lab and homework section of the grade (50%) is
generally fully awarded to students who complete their projects on time. Therefore, an 80%
average on the tests will result in an A and a 60% average will result in a B assuming all labs
and homeworks are turned in on time.
All spice files must be emailed to [email protected] Put 'EE5369' in the subject.
Homeworks and lab assignments are not accepted over one week late (see exceptions below).
A penalty of 30% for assignments within one week will be automatically deducted. Schedule
integrity is a must in industry and makes and/or breaks careers.
If you miss class, contact the professor or a classmate to find out what work was assigned or if
any important announcements were made.
The only exceptions for accepting late assignments include a medical emergency requiring
hospitalization, jury duty, attendance of a funeral of an immediate member of you family, or
official UTEP business. Documentary proof of any of the above must be provided before
or immediately after the fact.
The grad student and undergrad student with the best final project (metric to be defined later)
are exempt from the final exam and will obtain eternal and unconditional glory on my class
website for the enjoyment and admiration of generations of UTEP students that follow (as well
as potential employers).