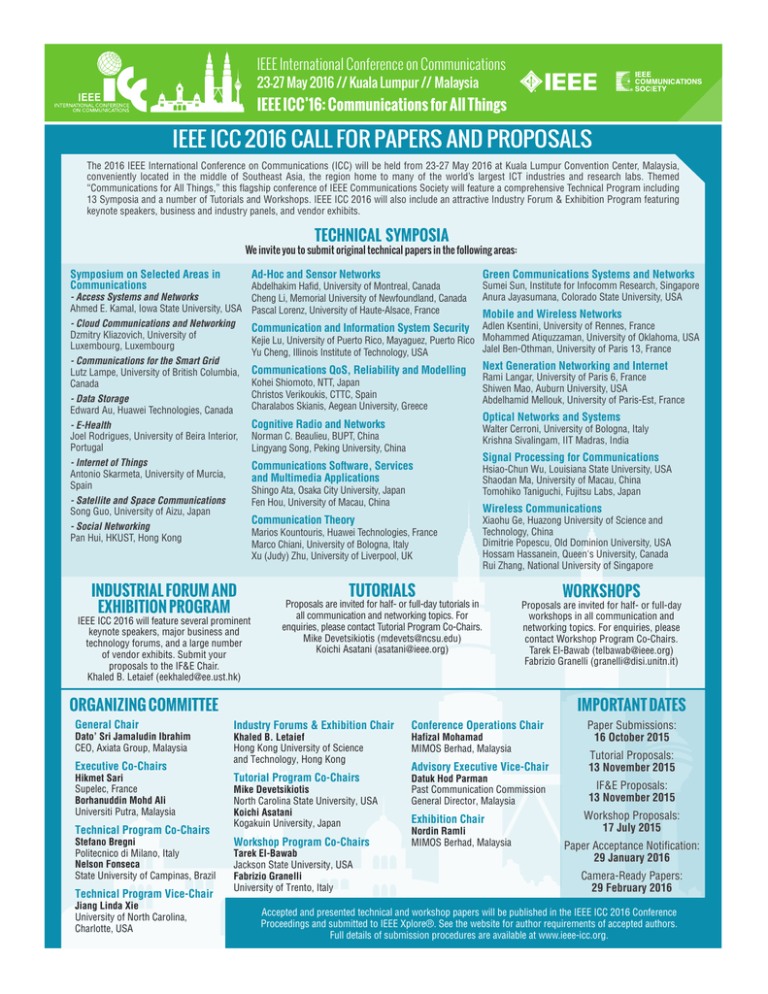 IEEE International Conference on Communications
23-27 May 2016 // Kuala Lumpur // Malaysia
IEEE ICC'16: Communications for All Things
IEEE ICC 2016 CALL FOR PAPERS AND PROPOSALS
The 2016 IEEE International Conference on Communications (ICC) will be held from 23-27 May 2016 at Kuala Lumpur Convention Center, Malaysia,
conveniently located in the middle of Southeast Asia, the region home to many of the world's largest ICT industries and research labs. Themed
"Communications for All Things," this flagship conference of IEEE Communications Society will feature a comprehensive Technical Program including
13 Symposia and a number of Tutorials and Workshops. IEEE ICC 2016 will also include an attractive Industry Forum & Exhibition Program featuring
keynote speakers, business and industry panels, and vendor exhibits.
TECHNICAL SYMPOSIA
We invite you to submit original technical papers in the following areas:
Symposium on Selected Areas in
Communications
Ad-Hoc and Sensor Networks
Abdelhakim Hafid, University of Montreal, Canada
- Access Systems and Networks
Cheng Li, Memorial University of Newfoundland, Canada
Ahmed E. Kamal, Iowa State University, USA Pascal Lorenz, University of Haute-Alsace, France
- Cloud Communications and Networking
Communication and Information System Security
Dzmitry Kliazovich, University of
Kejie Lu, University of Puerto Rico, Mayaguez, Puerto Rico
Luxembourg, Luxembourg
Yu Cheng, Illinois Institute of Technology, USA
- Communications for the Smart Grid
Lutz Lampe, University of British Columbia, Communications QoS, Reliability and Modelling
Kohei Shiomoto, NTT, Japan
Canada
Christos Verikoukis, CTTC, Spain
- Data Storage
Charalabos Skianis, Aegean University, Greece
Edward Au, Huawei Technologies, Canada
Cognitive Radio and Networks
- E-Health
Joel Rodrigues, University of Beira Interior, Norman C. Beaulieu, BUPT, China
Portugal
Lingyang Song, Peking University, China
- Internet of Things
Communications Software, Services
Antonio Skarmeta, University of Murcia,
and Multimedia Applications
Spain
Shingo Ata, Osaka City University, Japan
- Satellite and Space Communications
Fen Hou, University of Macau, China
Song Guo, University of Aizu, Japan
Communication Theory
- Social Networking
Marios Kountouris, Huawei Technologies, France
Pan Hui, HKUST, Hong Kong
Marco Chiani, University of Bologna, Italy
Xu (Judy) Zhu, University of Liverpool, UK
INDUSTRIAL FORUM AND
EXHIBITION PROGRAM
IEEE ICC 2016 will feature several prominent
keynote speakers, major business and
technology forums, and a large number
of vendor exhibits. Submit your
proposals to the IF&E Chair.
Khaled B. Letaief (eekhaled@ee.ust.hk)
Green Communications Systems and Networks
Sumei Sun, Institute for Infocomm Research, Singapore
Anura Jayasumana, Colorado State University, USA
Mobile and Wireless Networks
Adlen Ksentini, University of Rennes, France
Mohammed Atiquzzaman, University of Oklahoma, USA
Jalel Ben-Othman, University of Paris 13, France
Next Generation Networking and Internet
Rami Langar, University of Paris 6, France
Shiwen Mao, Auburn University, USA
Abdelhamid Mellouk, University of Paris-Est, France
Optical Networks and Systems
Walter Cerroni, University of Bologna, Italy
Krishna Sivalingam, IIT Madras, India
Signal Processing for Communications
Hsiao-Chun Wu, Louisiana State University, USA
Shaodan Ma, University of Macau, China
Tomohiko Taniguchi, Fujitsu Labs, Japan
Wireless Communications
Xiaohu Ge, Huazong University of Science and
Technology, China
Dimitrie Popescu, Old Dominion University, USA
Hossam Hassanein, Queen's University, Canada
Rui Zhang, National University of Singapore
TUTORIALS
Proposals are invited for half- or full-day tutorials in
all communication and networking topics. For
enquiries, please contact Tutorial Program Co-Chairs.
Mike Devetsikiotis (mdevets@ncsu.edu)
Koichi Asatani (asatani@ieee.org)
ORGANIZING COMMITTEE
General Chair
Dato' Sri Jamaludin Ibrahim
CEO, Axiata Group, Malaysia
Executive Co-Chairs
Hikmet Sari
Supelec, France
Borhanuddin Mohd Ali
Universiti Putra, Malaysia
Technical Program Co-Chairs
Stefano Bregni
Politecnico di Milano, Italy
Nelson Fonseca
State University of Campinas, Brazil
Technical Program Vice-Chair
Jiang Linda Xie
University of North Carolina,
Charlotte, USA
WORKSHOPS
Proposals are invited for half- or full-day
workshops in all communication and
networking topics. For enquiries, please
contact Workshop Program Co-Chairs.
Tarek El-Bawab (telbawab@ieee.org)
Fabrizio Granelli (granelli@disi.unitn.it)
IMPORTANT DATES
Industry Forums & Exhibition Chair
Khaled B. Letaief
Hong Kong University of Science
and Technology, Hong Kong
Tutorial Program Co-Chairs
Mike Devetsikiotis
North Carolina State University, USA
Koichi Asatani
Kogakuin University, Japan
Workshop Program Co-Chairs
Tarek El-Bawab
Jackson State University, USA
Fabrizio Granelli
University of Trento, Italy
Conference Operations Chair
Hafizal Mohamad
MIMOS Berhad, Malaysia
Advisory Executive Vice-Chair
Datuk Hod Parman
Past Communication Commission
General Director, Malaysia
Exhibition Chair
Nordin Ramli
MIMOS Berhad, Malaysia
Paper Submissions:
16 October 2015
Tutorial Proposals:
13 November 2015
IF&E Proposals:
13 November 2015
Workshop Proposals:
17 July 2015
Paper Acceptance Notification:
29 January 2016
Camera-Ready Papers:
29 February 2016
Accepted and presented technical and workshop papers will be published in the IEEE ICC 2016 Conference
Proceedings and submitted to IEEE Xplore®. See the website for author requirements of accepted authors.
Full details of submission procedures are available at www.ieee-icc.org.