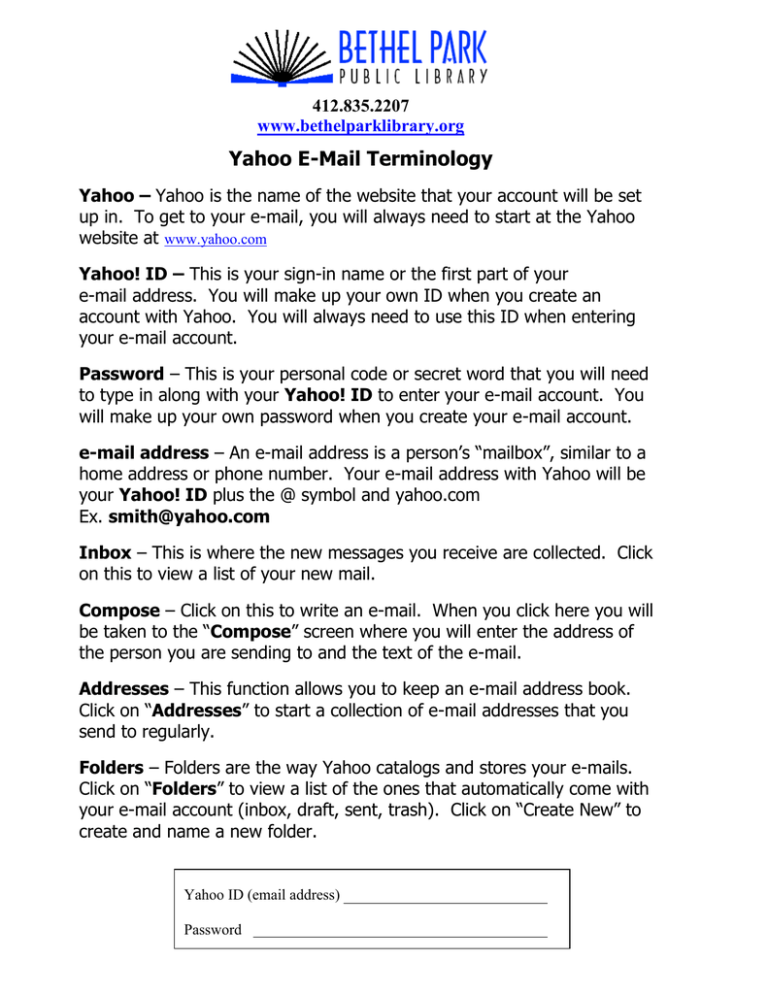 ka
412.835.2207
www.bethelparklibrary.org
Yahoo E-Mail Terminology
Yahoo – Yahoo is the name of the website that your account will be set
up in. To get to your e-mail, you will always need to start at the Yahoo
website at www.yahoo.com
Yahoo! ID – This is your sign-in name or the first part of your
e-mail address. You will make up your own ID when you create an
account with Yahoo. You will always need to use this ID when entering
your e-mail account.
Password – This is your personal code or secret word that you will need
to type in along with your Yahoo! ID to enter your e-mail account. You
will make up your own password when you create your e-mail account.
e-mail address – An e-mail address is a person's "mailbox", similar to a
home address or phone number. Your e-mail address with Yahoo will be
your Yahoo! ID plus the @ symbol and yahoo.com
Ex. smith@yahoo.com
Inbox – This is where the new messages you receive are collected. Click
on this to view a list of your new mail.
Compose – Click on this to write an e-mail. When you click here you will
be taken to the "Compose" screen where you will enter the address of
the person you are sending to and the text of the e-mail.
Addresses – This function allows you to keep an e-mail address book.
Click on "Addresses" to start a collection of e-mail addresses that you
send to regularly.
Folders – Folders are the way Yahoo catalogs and stores your e-mails.
Click on "Folders" to view a list of the ones that automatically come with
your e-mail account (inbox, draft, sent, trash). Click on "Create New" to
create and name a new folder.
Yahoo ID (email address)
Password
How to Use Yahoo E-Mail
To use your e-mail once you have set up an account, you will always
need to go to the Yahoo site and sign-in. To do this, go to the address
box (top of the screen displaying the current web address) and type:
www.yahoo.com and hit the "enter" on the keyboard. Once you are at the
Yahoo website, click on "Mail" at the top of the page.
Here you will have to enter your Yahoo! Id and your Password and click
on the grey "Sign in" box.
To read an e-mail:
Click on "Inbox" on the left side of the screen. Your Inbox will list your
messages. Click on subject of the email to read.
Once the email is open, you can:
 Reply – send a message right back to the sender of that e-mail
 Forward – send the e-mail to someone else
 Delete – get rid of the e-mail
To move an e-mail to another folder:
While in your inbox, click in the little white box next to the message you
want to move. Then click on Move and chose a folder. If you have not
created any new folders, you can click on the "New Folder" option and
make one.
How to Send an E-Mail
Once you have logged into your e-mail account
 Click on "Compose" (top left of screen).
 Click in the box next to "To" and type in the recipients e-mail address.
 Click in the box next to "Subject" and enter a brief description of the
e-mail your sending.
 To begin writing the text of your e-mail, click in the large box and
begin typing. When finished, click on the "Send" button.
Click here to enter e-mail address
Click here to send your message
Click on + for Contact/Address Book
How to Set Up Your Address Book





Click on the "Contacts" button.
Click on "Add a New Contact".
Fill in the information (only the Name and Email fields are required).
Click on "Save Contact".
Click on "Done" when taken to the next screen.
Click here to enter
Name and Email address
Click here to save the address
Signing Out of Your Account
Don't forget to sign-out of your email
account, especially if you are not
accessing it from home.
Click on the exclamation point in the top
right corner of the screen, then click on
Sign Out.
How to Obtain a Free Email Account Through Yahoo!
 Go to www.yahoo.com
 Click on "Email" at the top right of the screen
 Click on "Sign up now" at the bottom middle of the screen
 Click on "Sign Up Now" on the far left of the screen under "Free!
Sign Up for Yahoo! Mail Now"
 Complete the email registration and click "Submit this form" at the
bottom of the screen
 Depending on the availability of the ID you have chosen, you may
have to create another ID
 Once your information has been accepted, a screen will appear
welcoming you to Yahoo e-mail. Read and select any of the options
you choose and click on "Continue to Yahoo! Mail".
 Your new e-mail account will now open. On the left side of the
screen will be a link to your "Inbox". Here is where your new
messages will go. A welcome e-mail will be waiting for you from
Yahoo.
 Always make sure to click on the "Sign Out" link when you are done
to protect your inbox.