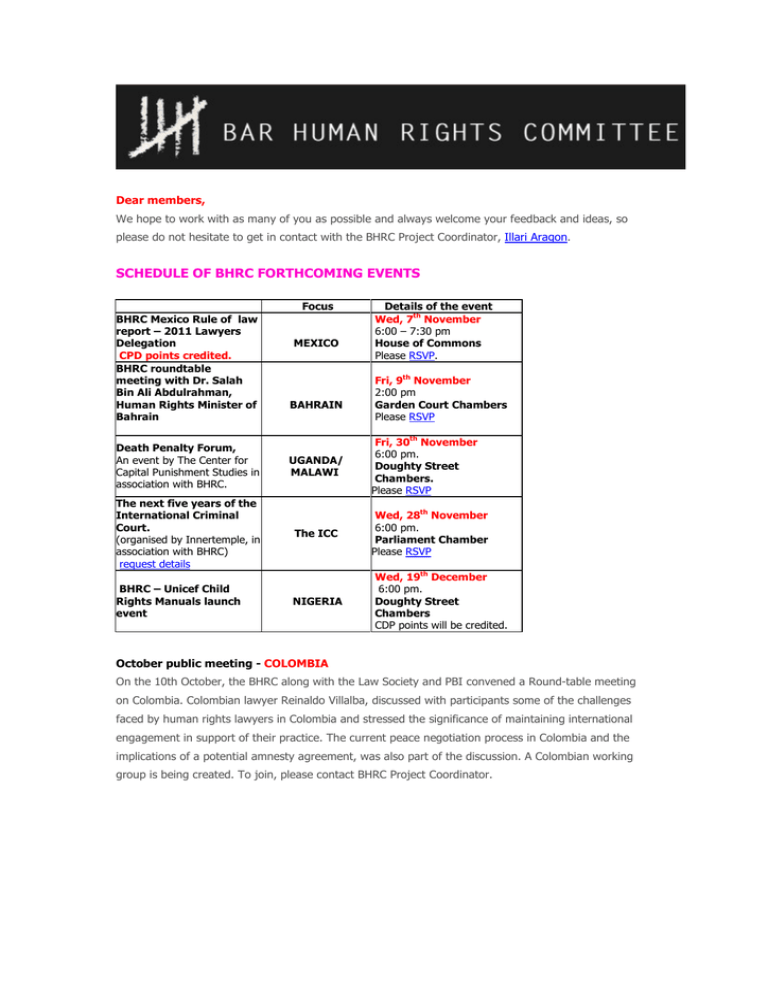 Dear members,
We hope to work with as many of you as possible and always welcome your feedback and ideas, so
please do not hesitate to get in contact with the BHRC Project Coordinator, Illari Aragon.
SCHEDULE OF BHRC FORTHCOMING EVENTS
Focus
BHRC Mexico Rule of law
report – 2011 Lawyers
Delegation
CPD points credited.
BHRC roundtable
meeting with Dr. Salah
Bin Ali Abdulrahman,
Human Rights Minister of
Bahrain
Death Penalty Forum,
An event by The Center for
Capital Punishment Studies in
association with BHRC.
The next five years of the
International Criminal
Court.
(organised by Innertemple, in
association with BHRC)
request details
BHRC – Unicef Child
Rights Manuals launch
event
MEXICO
BAHRAIN
UGANDA/
MALAWI
Details of the event
Wed, 7th November
6:00 – 7:30 pm
House of Commons
Please RSVP.
Fri, 9th November
2:00 pm
Garden Court Chambers
Please RSVP
Fri, 30th November
6:00 pm.
Doughty Street
Chambers.
Please RSVP
The ICC
Wed, 28th November
6:00 pm.
Parliament Chamber
Please RSVP
NIGERIA
Wed, 19th December
6:00 pm.
Doughty Street
Chambers
CDP points will be credited.
October public meeting - COLOMBIA
On the 10th October, the BHRC along with the Law Society and PBI convened a Round-table meeting
on Colombia. Colombian lawyer Reinaldo Villalba, discussed with participants some of the challenges
faced by human rights lawyers in Colombia and stressed the significance of maintaining international
engagement in support of their practice. The current peace negotiation process in Colombia and the
implications of a potential amnesty agreement, was also part of the discussion. A Colombian working
group is being created. To join, please contact BHRC Project Coordinator.
Colombian lawyer Reinaldo Villalba with round-table panel.
BHRC NEXT DELEGATION
UNICEF-BHRC partnership 'Case management, monitoring and documentation of child
rights protection' NIGERIA.
The BHRC continues to implement project activities in the framework of the BHRC-UNICEF partnership
to enhance the capacity of Child Protection Networks (CPNs) in Nigeria. This project not only comprises
the roll out of 5 training phases across the country, but also the development of three
comprehensive Training Manuals and practical video demonstrations. The next BHRC training
delegation is heading to the South of Nigeria on the 16th November.
BHRC TRIAL OBSERVATION
BHRC member to conduct a trail observation of ex-President Mr. Mohammed Nasheed MALDIVES.
In October, the BHRC carried out a fundraising and film screening event in support of the BHRC trial
observation of Mr. Mohammed Nasheed, ex-president of The Maldives. The screening was followed by a
Q&A session with a panel that included the former Deputy Prosecutor for the Maldives, Hussain
Shameem. Panelists were able to comment about the challenging environment of the judicial system in
the Maldives and in this context, reflect upon the prospect of a fair trial for Mr. Nasheed. He was ousted
from his presidency in February 2012, and is soon to appear in court to answer charges that he
overstepped his powers while president. BHRC member and barrister at Doughty Street Chambers,
Stephen Cragg, will conduct the observation on behalf of the BHRC.
BHRC MEMBERS AT INTERNATIONAL EVENTS - Blasphemy law
From 16th-19th September 2012 the United Nations Human Rights Council in conjunction with the
World Council of Churches held an international hearing on the misuse of the blasphemy law in
Pakistan. Zimran Samuel, BHRC member, attended the session on behalf of the BHRC. You can access
Zimran's report on this international hearing here.
Thanks!