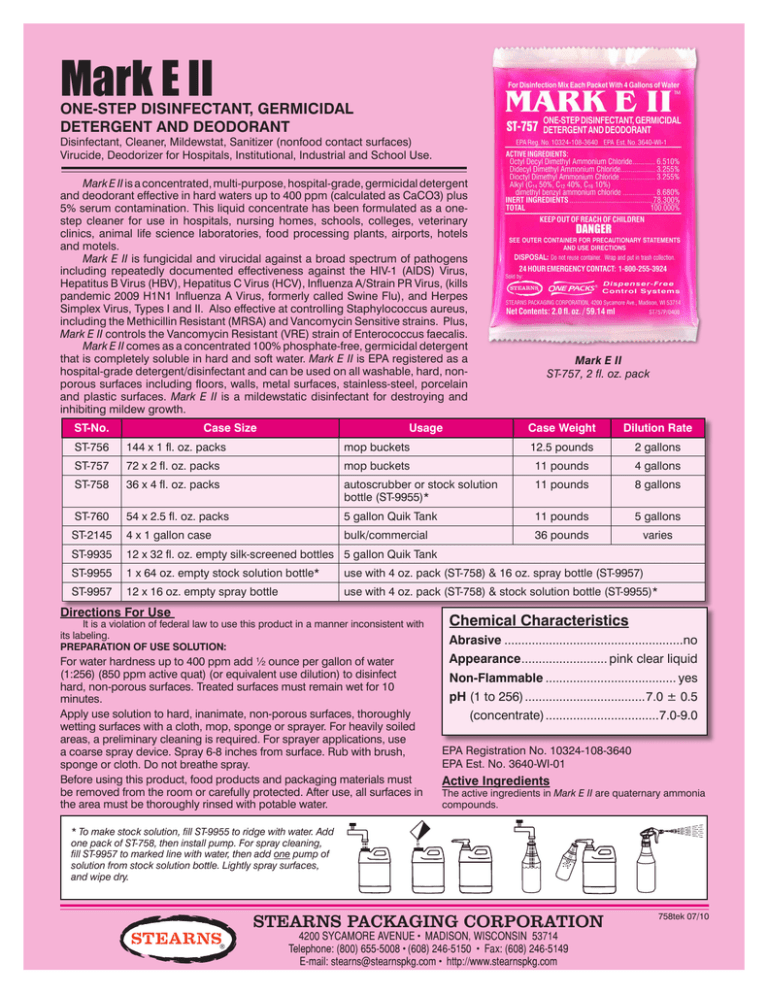 Mark E II
ONE-STEP DISINFECTANT, GERMICIDAL
DETERGENT AND DEODORANT
Disinfectant, Cleaner, Mildewstat, Sanitizer (nonfood contact surfaces)
Virucide, Deodorizer for Hospitals, Institutional, Industrial and School Use.
Mark E II is a concentrated, multi-purpose, hospital-grade, germicidal detergent
and deodorant effective in hard waters up to 400 ppm (calculated as CaCO3) plus
5% serum contamination. This liquid concentrate has been formulated as a onestep cleaner for use in hospitals, nursing homes, schools, colleges, veterinary
clinics, animal life science laboratories, food processing plants, airports, hotels
and motels.
Mark E II is fungicidal and virucidal against a broad spectrum of pathogens
including repeatedly documented effectiveness against the HIV-1 (AIDS) Virus,
Hepatitus B Virus (HBV), Hepatitus C Virus (HCV), Influenza A/Strain PR Virus, (kills
pandemic 2009 H1N1 Influenza A Virus, formerly called Swine Flu), and Herpes
Simplex Virus, Types I and II. Also effective at controlling Staphylococcus aureus,
including the Methicillin Resistant (MRSA) and Vancomycin Sensitive strains. Plus,
Mark E II controls the Vancomycin Resistant (VRE) strain of Enterococcus faecalis.
Mark E II comes as a concentrated 100% phosphate-free, germicidal detergent
that is completely soluble in hard and soft water. Mark E II is EPA registered as a
hospital-grade detergent/disinfectant and can be used on all washable, hard, nonporous surfaces including floors, walls, metal surfaces, stainless-steel, porcelain
and plastic surfaces. Mark E II is a mildewstatic disinfectant for destroying and
inhibiting mildew growth.
ST-No.
Case Size
Usage
Mark E II
ST-757, 2 fl. oz. pack
Case Weight
Dilution Rate
ST-756
144 x 1 fl. oz. packs
mop buckets
12.5 pounds
2 gallons
ST-757
72 x 2 fl. oz. packs
mop buckets
11 pounds
4 gallons
ST-758
36 x 4 fl. oz. packs
autoscrubber or stock solution
bottle (ST-9955)*
11 pounds
8 gallons
ST-760
54 x 2.5 fl. oz. packs
5 gallon Quik Tank
11 pounds
5 gallons
ST-2145
4 x 1 gallon case
bulk/commercial
36 pounds
varies
ST-9935
12 x 32 fl. oz. empty silk-screened bottles 5 gallon Quik Tank
ST-9955
1 x 64 oz. empty stock solution bottle*
use with 4 oz. pack (ST-758) & 16 oz. spray bottle (ST-9957)
ST-9957
12 x 16 oz. empty spray bottle
use with 4 oz. pack (ST-758) & stock solution bottle (ST-9955)*
Directions For Use
It is a violation of federal law to use this product in a manner inconsistent with
its labeling.
PREPARATION OF USE SOLUTION:
For water hardness up to 400 ppm add ½ ounce per gallon of water
(1:256) (850 ppm active quat) (or equivalent use dilution) to disinfect
hard, non-porous surfaces. Treated surfaces must remain wet for 10
minutes.
Apply use solution to hard, inanimate, non-porous surfaces, thoroughly
wetting surfaces with a cloth, mop, sponge or sprayer. For heavily soiled
areas, a preliminary cleaning is required. For sprayer applications, use
a coarse spray device. Spray 6-8 inches from surface. Rub with brush,
sponge or cloth. Do not breathe spray.
Before using this product, food products and packaging materials must
be removed from the room or carefully protected. After use, all surfaces in
the area must be thoroughly rinsed with potable water.
Chemical Characteristics
Abrasive.....................................................no
Appearance.......................... pink clear liquid
Non-Flammable....................................... yes
pH (1 to 256)....................................7.0 ± 0.5
(concentrate)..................................7.0-9.0
EPA Registration No. 10324-108-3640
EPA Est. No. 3640-WI-01
Active Ingredients
The active ingredients in Mark E II are quaternary ammonia
compounds.
* To make stock solution, fill ST-9955 to ridge with water. Add
one pack of ST-758, then install pump. For spray cleaning,
fill ST-9957 to marked line with water, then add one pump of
solution from stock solution bottle. Lightly spray surfaces,
and wipe dry.
STEARNS PACKAGING CORPORATION
®
4200 SYCAMORE AVENUE • MADISON, WISCONSIN 53714
Telephone: (800) 655-5008 • (608) 246-5150 • Fax: (608) 246-5149
E-mail: stearns@stearnspkg.com • http://www.stearnspkg.com
758tek 07/10
MATERIAL SAFETY DATA SHEET
SECTION 1 – PRODUCT/MANUFACTURER'S IDENTITY
Product Name:
Synonyms:
Company:
Phone:
Fax:
Mark E II One-Step Disinfectant,
Germicidal Detergent and
Deodorant
Formula ID Number: SL-45
MSDS File Name: MARK E II ONE-STEP
EPA Reg #: 10324-108-3640
ST-756, ST-757, ST-758, ST-759,
ST-760, ST-760N, ST-2145
DOT Hazard Class: None
1
Flammability
0
DOT Shipping Name: Disinfectant, NOI, liquid.
2
Health
1
Stearns Packaging Corporation
4200 Sycamore Avenue (53714)
PO Box 3216
Madison, WI 53704-0216
800-655-5008
608-246-5149
Item 57100, Sub. 3. Class 85
NSF Certified: None
Concentrate
In Dilution
0
Reactivity
0
None
Special Hazard
None
HAZARD RATING
4=
3=
2=
1=
0=
Extreme
High
Moderate
Slight
Insignificant
Abbreviation Key: N.A.=Not Applicable,
N.D.=Not Determined
Emergency Contact: CHEM-TEL, 800-255-3924
SECTION 2 – HAZARDOUS INGREDIENTS / IDENTITY INFORMATION
CHEMICAL IDENTITY
Alkyl (C12-C16) dimethyl benzyl ammonium chloride
Octyl decyl dimethyl ammonium chloride
Dioctyl dimethyl ammonium chloride
Didecyl dimethyl ammonium chloride
Tetrasodium ethylenediamine tetraacetate
Ethoxylated nonylphenol
SARA Section 313 Title III Notification Required: No
CAS NO.
HAZARD
68424-85-1
32426-11-2
5538-94-3
7173-51-5
64-02-8
9016-45-9
Irritant
Irritant
Irritant
PEL(ppm)
TLV(ppm)
%(Optional)
N.D.
N.D.
N.D.
N.D.
N.D.
N.D.
8.680
6.510
3.255
3.255
3.800
5.000
Other Limits
SECTION 3 – PHYSICAL DATA
Appearance and Odor:
Light red liquid, fresh scent.
Solubility in water: Complete
Boiling Point: N.D.
Melting Point: N.A.
Vapor Pressure (mm Hg): N.D.
Vapor Density (Air=1): <1
Evaporation Rate (Butyl Acetate=1): 1
pH (Concentrate): 7 - 9
pH (1:256 Dilution): 7.0 ± 0.5
Specific Gravity: 1.017
SECTION 4 – FIRE AND EXPLOSION HAZARD DATA
Flash Point and Method: Non-combustible, >200°F
Flammable Limits
3
Special Fire Fighting Procedures: Cool fire-exposed containers with spray. Must
wear MSHA/NIOSH approved self-contained breathing apparatus.
LEL: N.A.
UEL: N.A.
Unusual Fire & Explosion Hazards: Explosive mixtures can form with air. Combustion
Extinguishing Media: CO2, water FOG, dry chemical, foam
products are toxic. Solvents vapors can travel to an ignition source and flash
back.
SECTION 5 – REACTIVITY DATA
Chemical Stability: Stable:
X
Unstable:
Conditions to Avoid: N.A.
Incompatibility (Materials to Avoid): Strong oxidizers or reducing agents
Hazardous Polymerization: May Occur
Will Not Occur X
Conditions to Avoid: Mixing with strong oxidizers or reducing agents.
Hazardous Decomposition or By-Products: Toxic hydrogen chloride fumes, oxides of
carbon and nitrogen.
SECTION 6 – HEALTH HAZARD DATA/FIRST AID PROCEDURES
Health Hazards (Acute and Chronic): Irritation of mucous membrane can be
caused by solvent vapors or mists or products. Severe eye
damage can result from direct contact. Severe irritation to skin.
May be fatal if ingested. Burning pain in the mouth, throat,
abdomen, severe swelling of the larynx, skeletal muscle paralysis
affecting the ability to breathe, circulatory shock, convulsions.
Signs and Symptoms of Exposure: Irritation of eyes and possibly upon
direct prolonged contact with skin. Mists may irritate mucous
membranes.
Medical Conditions Aggravated by Exposure: No data available
Carcinogenicity: IARC Monographs? Yes
No X
NTP? Yes
No X
OSHA Regulated? Yes
No
X
Emergency and First Aid Procedures:
Eyes: Flush with plenty of water for at least 15 minutes. Remove and wash
contaminated clothing before reuse.
Skin: Flush with plenty of water for at least 15 minutes. Remove and wash
contaminated clothing before reuse.
Inhalation: Remove from exposure. Obtain medical attention immediately.
Ingestion: If swallowed, drink promptly a large quantity of egg whites, gelatin
solution or, if these are not available, drink large quantities of water. Avoid
alcohol. Call a physician immediate.
NOTE TO PHYSICIAN: Probable mucosal damage may contraindicate the use of
gastric lavage.
SECTION 7 – PREVENTATIVE AND CONTROL MEASURES
Ventilation: Mechanical (explosion proof): Recommended for control of
Steps to be Taken if Material is Spilled or Released: Remove ignition sources. Wear
dusts and vapors.
Skin Protection: Use neoprene, rubber, or other chemical resistant
gloves. Wear protective clothing to prevent repeated or prolonged
exposure.
Eye Protection: Wear splash-proof safety goggles.
Respiratory Protection: In general, respirators are not needed if the
product is used in a well-ventilated area. For mist or vapor, wear
NIOSH approved respirator.
Other Precautions: Always keep out of the reach of children. Other
equipment should include impervious apron, eyewash facility,
emergency shower, faceshield.
respirator. Small spills may be mopped up, flushed away with water or
absorbed on some absorbent material and incinerated. Large spills should be
contained; the material then moved into containers and disposed of by
approved methods for hazardous wastes.
Waste Disposal: Incinerate. Comply with all local, state and federal regulations.
Consult your state DNR or the EPA for specific questions. Wastewater
should never enter a fresh water body without treatment.
Handling and Storage: Store at room temperature. Keep from freezing. Store in
original container.
SECTION 8 – OTHER REGULATORY INFORMATION
Toxicity:
Acute Oral LD50 – male and female rats combined 0.809 g/kg body weight
Acute Dermal – ND
Primary Skin – Corrosive – Rabbits Tox. Category I for dermal effects
Primary Eye – Corrosive – Rabbits Tox. Category I
rev. 12/06/07
This MSDS data relates only to the material designated and does not relate to its use with any other material or process. The data is believed to be accurate. However, since use conditions
vary and are outside our control, Stearns Packaging Corporation makes no warranties, expressed or implied, and assumes no liability for failure to follow directions and safety precautions.