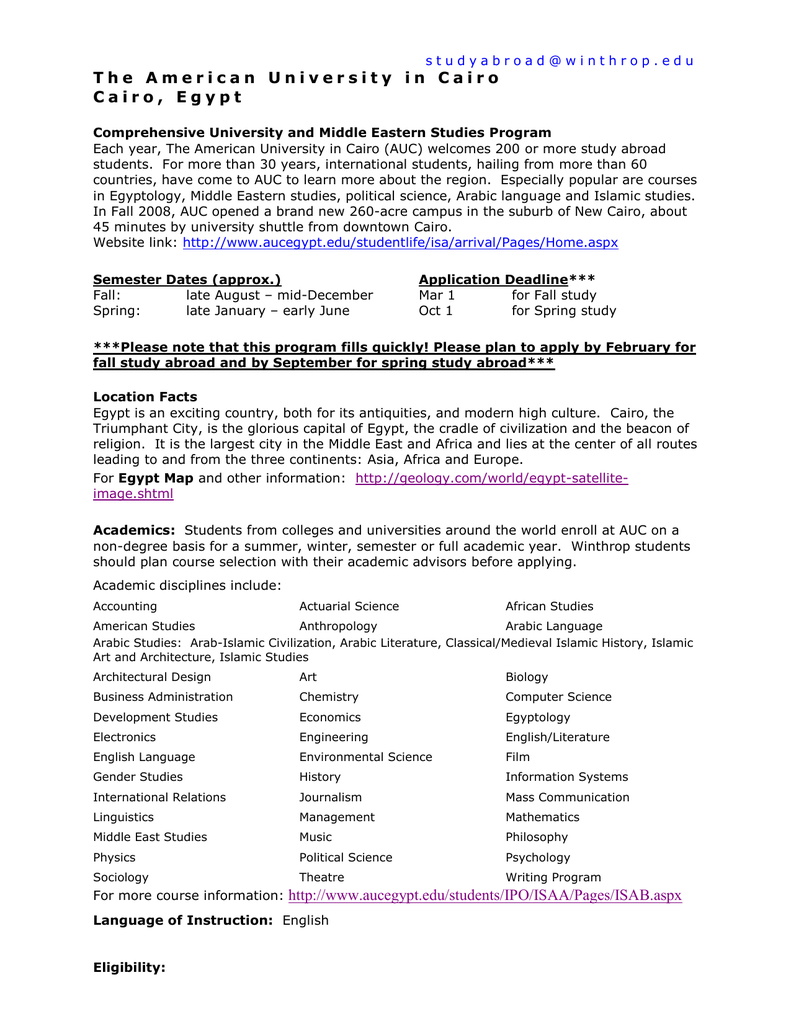 [email protected]
The American University in Cairo
Cairo, Egypt
Comprehensive University and Middle Eastern Studies Program
Each year, The American University in Cairo (AUC) welcomes 200 or more study abroad
students. For more than 30 years, international students, hailing from more than 60
countries, have come to AUC to learn more about the region. Especially popular are courses
in Egyptology, Middle Eastern studies, political science, Arabic language and Islamic studies.
In Fall 2008, AUC opened a brand new 260-acre campus in the suburb of New Cairo, about
45 minutes by university shuttle from downtown Cairo.
Website link: http://www.aucegypt.edu/studentlife/isa/arrival/Pages/Home.aspx
Semester Dates (approx.)
Fall:
late August – mid-December
Spring:
late January – early June
Application Deadline***
Mar 1
for Fall study
Oct 1
for Spring study
***Please note that this program fills quickly! Please plan to apply by February for
fall study abroad and by September for spring study abroad***
Location Facts
Egypt is an exciting country, both for its antiquities, and modern high culture. Cairo, the
Triumphant City, is the glorious capital of Egypt, the cradle of civilization and the beacon of
religion. It is the largest city in the Middle East and Africa and lies at the center of all routes
leading to and from the three continents: Asia, Africa and Europe.
For Egypt Map and other information: http://geology.com/world/egypt-satelliteimage.shtml
Academics: Students from colleges and universities around the world enroll at AUC on a
non-degree basis for a summer, winter, semester or full academic year. Winthrop students
should plan course selection with their academic advisors before applying.
Academic disciplines include:
Accounting
Actuarial Science
African Studies
American Studies
Anthropology
Arabic Language
Arabic Studies: Arab-Islamic Civilization, Arabic Literature, Classical/Medieval Islamic History, Islamic
Art and Architecture, Islamic Studies
Architectural Design
Art
Biology
Business Administration
Chemistry
Computer Science
Development Studies
Economics
Egyptology
Electronics
Engineering
English/Literature
English Language
Environmental Science
Film
Gender Studies
History
Information Systems
International Relations
Journalism
Mass Communication
Linguistics
Management
Mathematics
Middle East Studies
Music
Philosophy
Physics
Political Science
Psychology
Sociology
Theatre
Writing Program
For more course information:
http://www.aucegypt.edu/students/IPO/ISAA/Pages/ISAB.aspx
Language of Instruction: English
Eligibility:



Junior standing and above, including graduate students
Winthrop students annual enrollment limit of 10 students
Minimum 3.0 GPA
Housing and Meals: Students have the option to live on the new campus in New Cairo, or
in the hustle and bustle of downtown Cairo, a 45-60 minute commute to campus by bus.
One of benefits of residing in the new campus location is that it is located in a less
populated and less polluted area than downtown Cairo. The on-campus residence facility
has twelve residential units called cottages - 7 for women and 5 for men. Single and double
rooms are available and share bathroom facilities with other residents. Rooms have a
cupboard, bed and desk attached to the bed, chair, book shelves, and closets, a telephone
and high speed internet connection, air conditioning and heating. While cottages are
segregated by gender, common areas where women and men can meet include a large
lounge, additional study area and computer lab. Washers and dryers are available in each
cottage area.
The downtown Cairo student residence is located in one of the most popular residential
districts, Zamalek. Zamalek is an island slightly northwest of central Cairo; an urban upscale area with a large cosmopolitan population. The residence is an 11-story building that
houses both students and faculty. Security guards ensure the safety of the residence 24
hours a day. Separate entrances to the male and female sections of the residence ensure
privacy while common reception areas on the ground floor provide comfortable areas for
receiving guests, group study and socializing. The ground floor has a computer room, small
gymnasium, branch of the AUC book store, student lounge, medical clinic, and cafeteria (no
meal plan). Student accommodations have twin beds, desks, chairs, bookshelves,
wardrobes and telephone, air conditioning and heating. All students are provided with
bedding and linens. Personal laundry service is available at a moderate price.
Costs: Amounts below are in US dollars. Some costs may be approximate due to the
changing value of the US dollar against international currencies. Checked (√) items are
included in Winthrop tuition and room fees.
200
Study Abroad Application Fee
325
Study Abroad Participation Fee
√
Tuition and fees
√
Housing
2000
Meals
350
Books/Academic Supplies, semester
160
Orientation Fee
105
Student Services and Activity Fee
85
Medical Service Fee, one-time fee only
115119
Egyptian Study Abroad Health Insurance, semester
1500
Personal Spending Money, semester
1500
R/T Transportation to Location
135
15-91
Passport
Student Visa (depending on duration of stay)
Revision date: JUL 11
Disclaimer: This document contains the most accurate information available at the time of revision date.
Statements contained herein are not contractual obligations. Winthrop University and the International Center
each reserves the right to cancel, suspend, or change, without specific notice, programs, offerings, procedures,
qualifications, fees and other conditions.