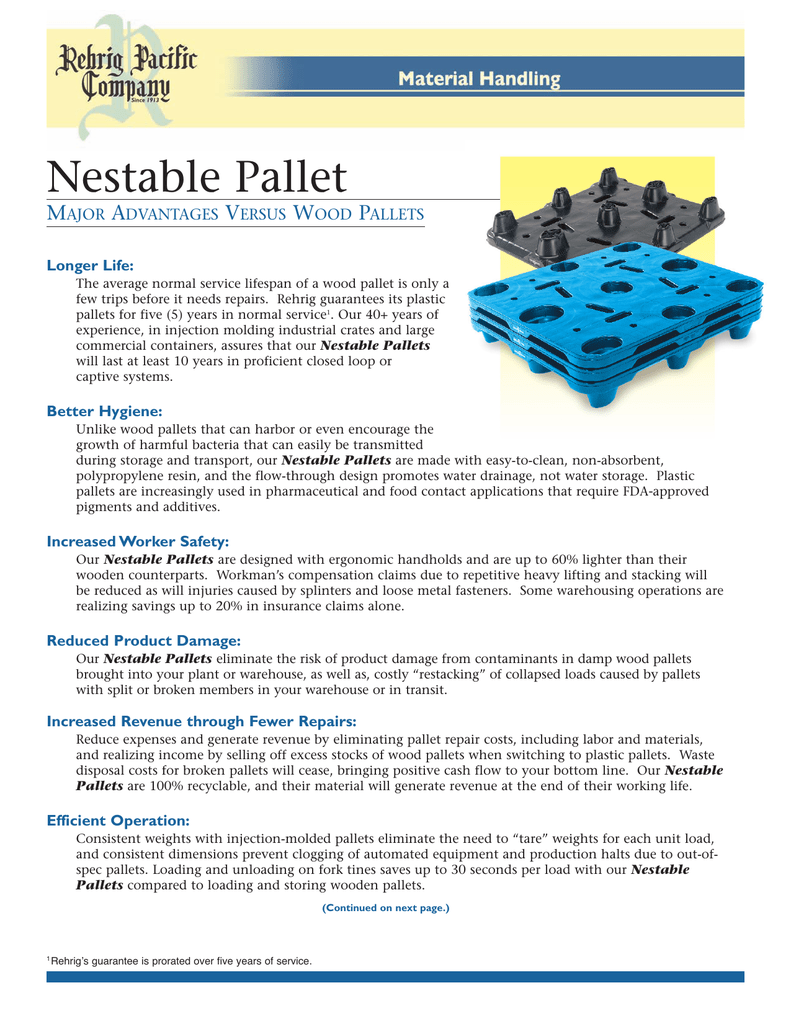 Nestable Pallet
MAJOR ADVANTAGES VERSUS WOOD PALLETS
Longer Life:
The average normal service lifespan of a wood pallet is only a
few trips before it needs repairs. Rehrig guarantees its plastic
pallets for five (5) years in normal service1. Our 40+ years of
experience, in injection molding industrial crates and large
commercial containers, assures that our Nestable Pallets
will last at least 10 years in proficient closed loop or
captive systems.
Better Hygiene:
Unlike wood pallets that can harbor or even encourage the
growth of harmful bacteria that can easily be transmitted
during storage and transport, our Nestable Pallets are made with easy-to-clean, non-absorbent,
polypropylene resin, and the flow-through design promotes water drainage, not water storage. Plastic
pallets are increasingly used in pharmaceutical and food contact applications that require FDA-approved
pigments and additives.
Increased Worker Safety:
Our Nestable Pallets are designed with ergonomic handholds and are up to 60% lighter than their
wooden counterparts. Workman's compensation claims due to repetitive heavy lifting and stacking will
be reduced as will injuries caused by splinters and loose metal fasteners. Some warehousing operations are
realizing savings up to 20% in insurance claims alone.
Reduced Product Damage:
Our Nestable Pallets eliminate the risk of product damage from contaminants in damp wood pallets
brought into your plant or warehouse, as well as, costly "restacking" of collapsed loads caused by pallets
with split or broken members in your warehouse or in transit.
Increased Revenue through Fewer Repairs:
Reduce expenses and generate revenue by eliminating pallet repair costs, including labor and materials,
and realizing income by selling off excess stocks of wood pallets when switching to plastic pallets. Waste
disposal costs for broken pallets will cease, bringing positive cash flow to your bottom line. Our Nestable
Pallets are 100% recyclable, and their material will generate revenue at the end of their working life.
Efficient Operation:
Consistent weights with injection-molded pallets eliminate the need to "tare" weights for each unit load,
and consistent dimensions prevent clogging of automated equipment and production halts due to out-ofspec pallets. Loading and unloading on fork tines saves up to 30 seconds per load with our Nestable
Pallets compared to loading and storing wooden pallets.
(Continued on next page.)
1
Rehrig's guarantee is prorated over five years of service.
Nestable Pallet: MAJOR ADVANTAGES VERSUS WOOD PALLETS
(Continued from previous page.)
Improved Loading and Pallet Float:
Because Nestable Pallets have large flat top decks rather than uneven weak wooden stringers, workers take
less time to hand stack cases. Our injection molded Nestable Pallets don't crush or separate like other
types of welded pallets, so using a second pallet to support the load in storage or transit isn't necessary and
reduces your required idle pallet float.
Maximized Space:
In the warehouse, our Nestable Pallets take up less than half the space of wooden pallets, and you can
backhaul more than twice as many empty pallets per trailer load (540 wood vs. 1,200 nestable).
Reduce Unproductive Labor:
Dependable plastic Nestable Pallets end the daily time and effort spent sorting through piles of wood
pallets to find "good" pallets for each operation. Constant sweeping and cleaning caused by loose debris
such as grime, wood chips and nails are eliminated by using clean plastic pallets.
Reduce Floor Damage:
Our Nestable Pallets easily slide over rough warehouse floors and won't damage or mark retail floors like
wood pallets with cracked boards and loose metal fasteners.