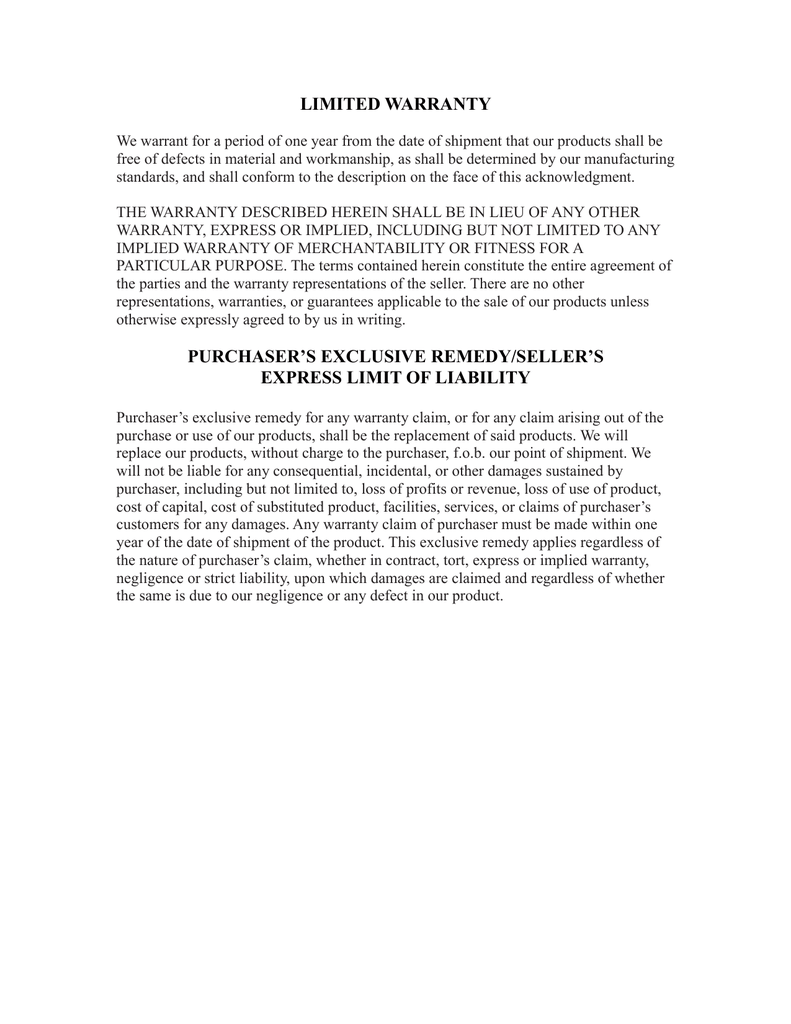 LIMITED WARRANTY
We warrant for a period of one year from the date of shipment that our products shall be
free of defects in material and workmanship, as shall be determined by our manufacturing
standards, and shall conform to the description on the face of this acknowledgment.
THE WARRANTY DESCRIBED HEREIN SHALL BE IN LIEU OF ANY OTHER
WARRANTY, EXPRESS OR IMPLIED, INCLUDING BUT NOT LIMITED TO ANY
IMPLIED WARRANTY OF MERCHANTABILITY OR FITNESS FOR A
PARTICULAR PURPOSE. The terms contained herein constitute the entire agreement of
the parties and the warranty representations of the seller. There are no other
representations, warranties, or guarantees applicable to the sale of our products unless
otherwise expressly agreed to by us in writing.
PURCHASER'S EXCLUSIVE REMEDY/SELLER'S
EXPRESS LIMIT OF LIABILITY
Purchaser's exclusive remedy for any warranty claim, or for any claim arising out of the
purchase or use of our products, shall be the replacement of said products. We will
replace our products, without charge to the purchaser, f.o.b. our point of shipment. We
will not be liable for any consequential, incidental, or other damages sustained by
purchaser, including but not limited to, loss of profits or revenue, loss of use of product,
cost of capital, cost of substituted product, facilities, services, or claims of purchaser's
customers for any damages. Any warranty claim of purchaser must be made within one
year of the date of shipment of the product. This exclusive remedy applies regardless of
the nature of purchaser's claim, whether in contract, tort, express or implied warranty,
negligence or strict liability, upon which damages are claimed and regardless of whether
the same is due to our negligence or any defect in our product.