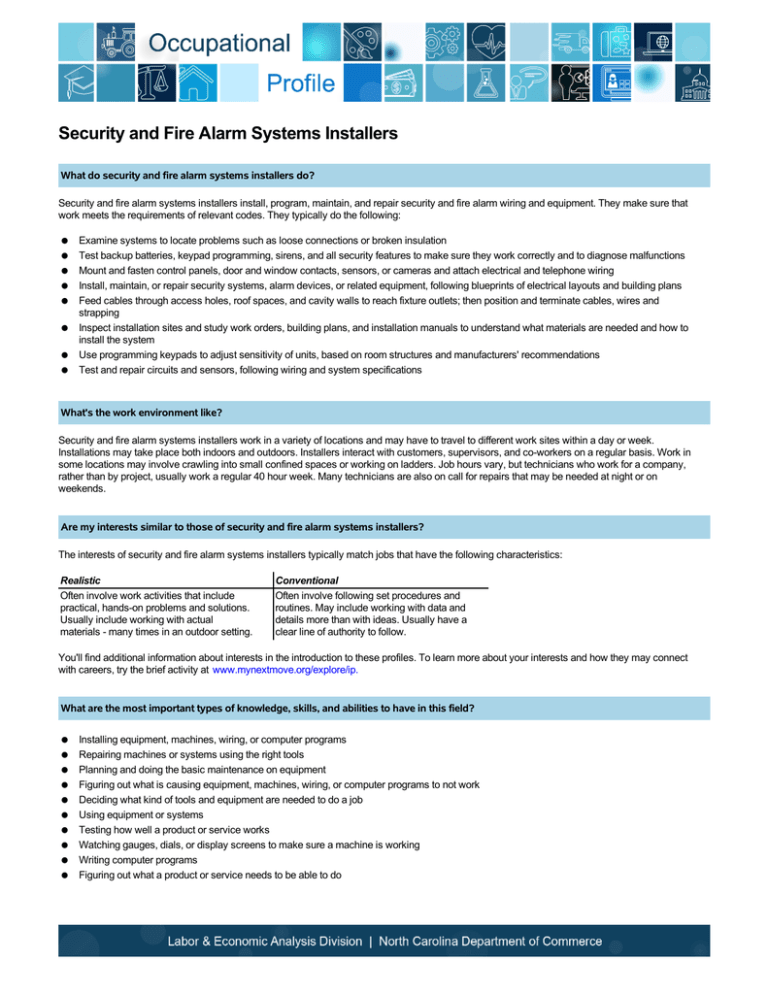 Security and Fire Alarm Systems Installers
What do security and fire alarm systems installers do?
Security and fire alarm systems installers install, program, maintain, and repair security and fire alarm wiring and equipment. They make sure that
work meets the requirements of relevant codes. They typically do the following:








Examine systems to locate problems such as loose connections or broken insulation
Test backup batteries, keypad programming, sirens, and all security features to make sure they work correctly and to diagnose malfunctions
Mount and fasten control panels, door and window contacts, sensors, or cameras and attach electrical and telephone wiring
Install, maintain, or repair security systems, alarm devices, or related equipment, following blueprints of electrical layouts and building plans
Feed cables through access holes, roof spaces, and cavity walls to reach fixture outlets; then position and terminate cables, wires and
strapping
Inspect installation sites and study work orders, building plans, and installation manuals to understand what materials are needed and how to
install the system
Use programming keypads to adjust sensitivity of units, based on room structures and manufacturers' recommendations
Test and repair circuits and sensors, following wiring and system specifications
What's the work environment like?
Security and fire alarm systems installers work in a variety of locations and may have to travel to different work sites within a day or week.
Installations may take place both indoors and outdoors. Installers interact with customers, supervisors, and co-workers on a regular basis. Work in
some locations may involve crawling into small confined spaces or working on ladders. Job hours vary, but technicians who work for a company,
rather than by project, usually work a regular 40 hour week. Many technicians are also on call for repairs that may be needed at night or on
weekends.
Are my interests similar to those of security and fire alarm systems installers?
The interests of security and fire alarm systems installers typically match jobs that have the following characteristics:
Realistic
Often involve work activities that include
practical, hands-on problems and solutions.
Usually include working with actual
materials - many times in an outdoor setting.
Conventional
Often involve following set procedures and
routines. May include working with data and
details more than with ideas. Usually have a
clear line of authority to follow.
You'll find additional information about interests in the introduction to these profiles. To learn more about your interests and how they may connect
with careers, try the brief activity at www.mynextmove.org/explore/ip.
What are the most important types of knowledge, skills, and abilities to have in this field?










Installing equipment, machines, wiring, or computer programs
Repairing machines or systems using the right tools
Planning and doing the basic maintenance on equipment
Figuring out what is causing equipment, machines, wiring, or computer programs to not work
Deciding what kind of tools and equipment are needed to do a job
Using equipment or systems
Testing how well a product or service works
Watching gauges, dials, or display screens to make sure a machine is working
Writing computer programs
Figuring out what a product or service needs to be able to do
How much education do security and fire alarm systems installers need?
The amount of education and experience you need partly depends on a specific employer's requirements. If you are planning to work in this
occupation, here are typical expectations:
Education
High school diploma or equivalent
Work Experience
Not usually required
On-the-Job Training
Moderate-term on-the-job training
Learn about North Carolina and out-of-state postsecondary education and training programs by exploring College Navigator at
www.nces.ed.gov/collegenavigator.
What other careers might match my interests, abilities, and work values?










Telecommunications Line Installers and Repairers
Electrical and Electronics Installers and Repairers, Transportation Equipment
Maintenance and Repair Workers, General
Power Plant Operators
Boilermakers
Electronic Home Entertainment Equipment Installers and Repairers
Electric Motor, Power Tool, and Related Repairers
Pipe Fitters and Steamfitters
Transportation Vehicle, Equipment and Systems Inspectors, Except Aviation
Motorboat Mechanics and Service Technicians
What is the North Carolina job outlook for security and fire alarm systems installers?
The number of security and fire alarm systems installers in North Carolina is expected to increase from 2,080 in 2012 to 2,470 in 2022 (8%). This
occupation is expected to average about 80 openings each year during this period.
How much money can I make?
In North Carolina, half of security and fire alarm systems installers earn an annual salary above $39,870 (the median salary) and half earn less.
Salaries usually reflect the amount of experience a person has in the occupation. Annual salaries for this job can range from approximately $28,340
for beginners to $47,420 for those with the most experience.
Where can I find jobs?
Most security and fire alarm systems installers in North Carolina work in investigation and security businesses and building equipment companies.
For specific job openings, go to NCWorks Online's Search for a Job section at www.ncworks.gov.
How can I find out more about this occupation?
Many resources exist for learning about occupations. If you would like a brief introduction to this occupation with links to more detailed sources,
MyNextMove at www.mynextmove.org provides a great start.