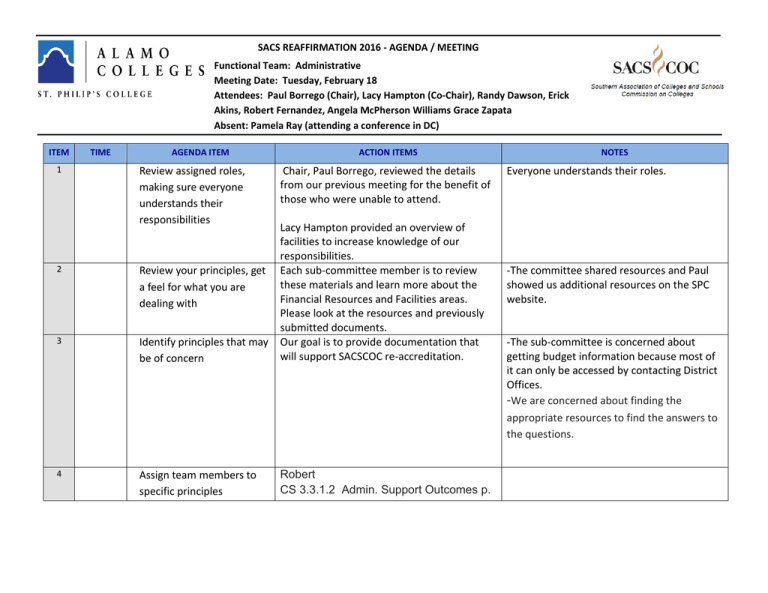 SACS REAFFIRMATION 2016 - AGENDA / MEETING
FunctionalMINUTES
Team: Administrative
Meeting Date: Tuesday, February 18
Attendees: Paul Borrego (Chair), Lacy Hampton (Co-Chair), Randy Dawson, Erick
Akins, Robert Fernandez, Angela McPherson Williams Grace Zapata
Absent: Pamela Ray (attending a conference in DC)
ITEM
1
TIME
AGENDA ITEM
Review assigned roles,
making sure everyone
understands their
responsibilities
ACTION ITEMS
Chair, Paul Borrego, reviewed the details
from our previous meeting for the benefit of
those who were unable to attend.
2
Review your principles, get
a feel for what you are
dealing with
3
Identify principles that may
be of concern
Lacy Hampton provided an overview of
facilities to increase knowledge of our
responsibilities.
Each sub-committee member is to review
these materials and learn more about the
Financial Resources and Facilities areas.
Please look at the resources and previously
submitted documents.
Our goal is to provide documentation that
will support SACSCOC re-accreditation.
4
Assign team members to
specific principles
Robert
CS 3.3.1.2 Admin. Support Outcomes p.
NOTES
Everyone understands their roles.
-The committee shared resources and Paul
showed us additional resources on the SPC
website.
-The sub-committee is concerned about
getting budget information because most of
it can only be accessed by contacting District
Offices.
-We are concerned about finding the
appropriate resources to find the answers to
the questions.
51
Paul
CS 2.11.1 Financial Resources p. 12
Angie
CS 3.10.1 Financial Stability p. 80
Randy
CR 2.11.2 Physical Resources p. 30
Pamela
CS 3.10.3 Control of Finances p. 82
Lacy
CS 3.11.3 Physical Facilities p. 30
Grace
CS 10.2 Financial Aid Audit p. 81
Eric
CS 3.10.4 Control of Sponsored Funds p.
82
5
6
Make sure all team
members review Phase 1
narrative responses for
their assigned principles
Review Phase 1 narrative for your principle.
Angie will email this question to Paul and
Lacy to be forwarded to Karen Sides.
Draft due on Tuesday, Feb. 25th
Develop a meeting
schedule through the rest
Standard Meeting Times-Every Tuesday
at 2:30 pm
Questions and discussion regarding
clarification/definition of the Administrative
Support Services Unit.
We do have 5 and 10 year data to review and
update.
The conference will be available each week
to work, get feedback, ask questions.
Please contact Paul and Lacy if you are
of the semester
7
Future Meetings will be in the VPCS
Conference
Room in SLC 306
Report meeting minutes on Angie Mac will report meeting minutes and
email to Rhonda Johnson.
standardized
agenda/minutes template
and send to Rhonda
8
9
10
Submitted by Angela McPherson Williams, Recorder
unable to attend a meeting.