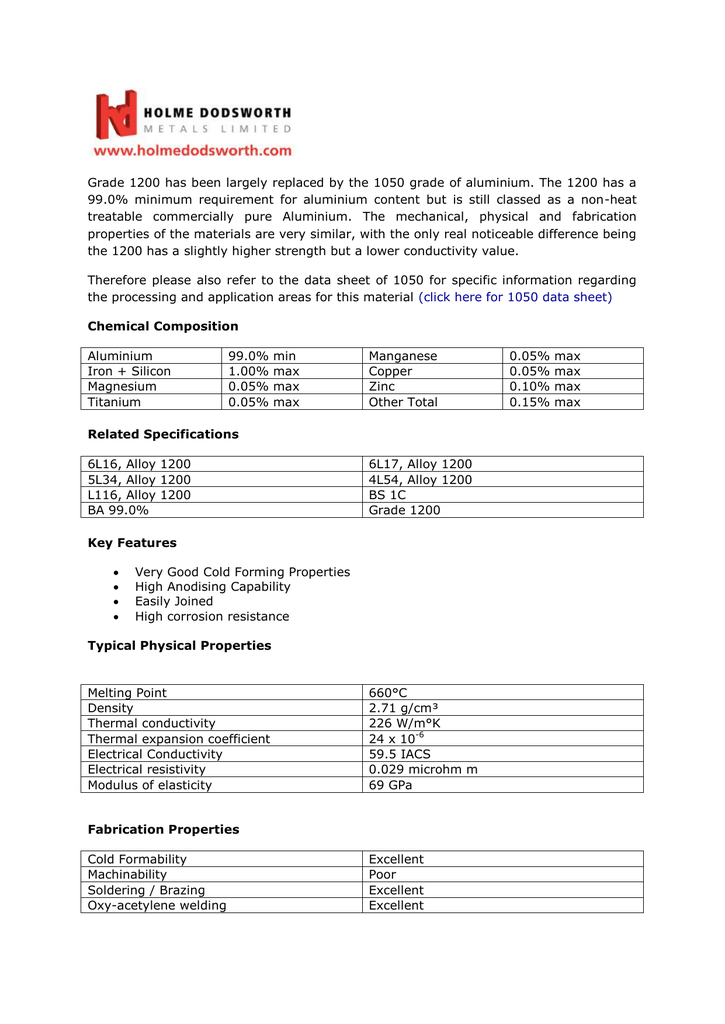 Grade 1200 has been largely replaced by the 1050 grade of aluminium. The 1200 has a
99.0% minimum requirement for aluminium content but is still classed as a non-heat
treatable commercially pure Aluminium. The mechanical, physical and fabrication
properties of the materials are very similar, with the only real noticeable difference being
the 1200 has a slightly higher strength but a lower conductivity value.
Therefore please also refer to the data sheet of 1050 for specific information regarding
the processing and application areas for this material (click here for 1050 data sheet)
Chemical Composition
Aluminium
Iron + Silicon
Magnesium
Titanium
99.0%
1.00%
0.05%
0.05%
min
max
max
max
Manganese
Copper
Zinc
Other Total
Related Specifications
6L16, Alloy 1200
5L34, Alloy 1200
L116, Alloy 1200
BA 99.0%
6L17, Alloy 1200
4L54, Alloy 1200
BS 1C
Grade 1200
Key Features




Very Good Cold Forming Properties
High Anodising Capability
Easily Joined
High corrosion resistance
Typical Physical Properties
Melting Point
Density
Thermal conductivity
Thermal expansion coefficient
Electrical Conductivity
Electrical resistivity
Modulus of elasticity
660°C
2.71 g/cm³
226 W/m°K
24 x 10-6
59.5 IACS
0.029 microhm m
69 GPa
Fabrication Properties
Cold Formability
Machinability
Soldering / Brazing
Oxy-acetylene welding
Excellent
Poor
Excellent
Excellent
0.05%
0.05%
0.10%
0.15%
max
max
max
max
Typical Applications
General fabrication and sheet metal work, kitchenware, heat transfer components, boiler
making, chemical and pharmaceutical process plant equipment, food industry vessels
and containers, architectural flashings, lamp reflectors, cable sheathing and panelling.
This technical information is given by Holme Dodsworth Metals without charge and the
user shall employ such information at their own discretion and risk. For more detailed
technical advice on temper selection, fabrication, joining, machining, physical and
mechanical data please contact us as space does not permit the listing of every feature
of the material.