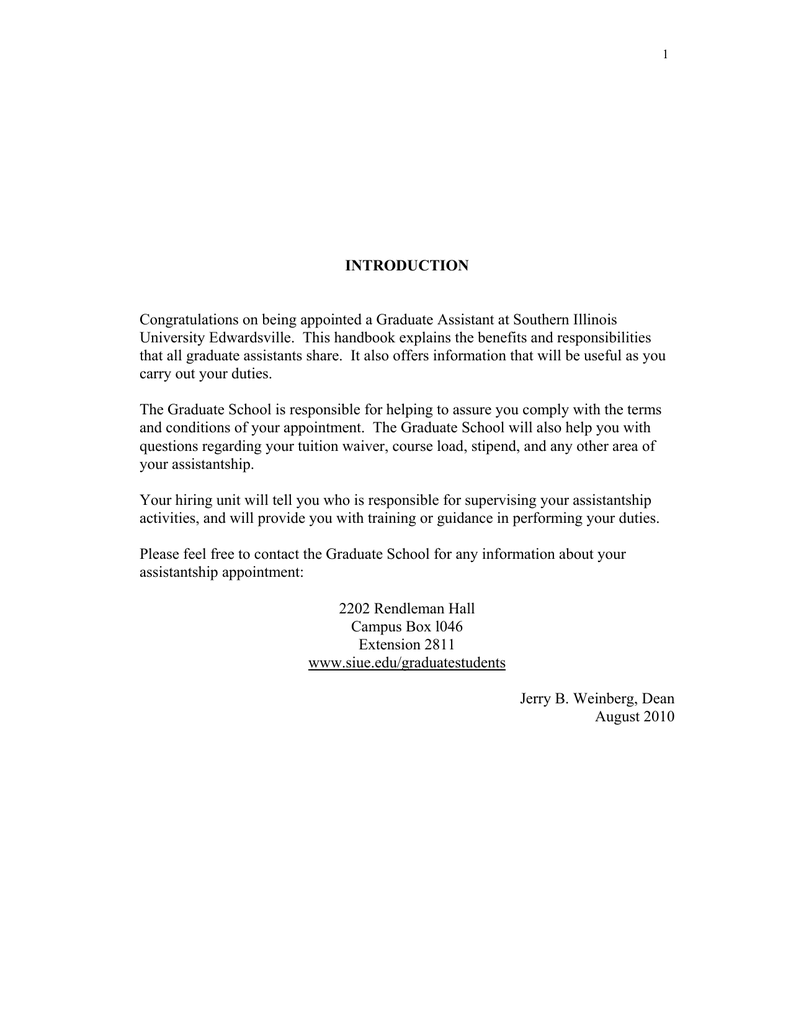 1
INTRODUCTION
Congratulations on being appointed a Graduate Assistant at Southern Illinois
University Edwardsville. This handbook explains the benefits and responsibilities
that all graduate assistants share. It also offers information that will be useful as you
carry out your duties.
The Graduate School is responsible for helping to assure you comply with the terms
and conditions of your appointment. The Graduate School will also help you with
questions regarding your tuition waiver, course load, stipend, and any other area of
your assistantship.
Your hiring unit will tell you who is responsible for supervising your assistantship
activities, and will provide you with training or guidance in performing your duties.
Please feel free to contact the Graduate School for any information about your
assistantship appointment:
2202 Rendleman Hall
Campus Box l046
Extension 2811
www.siue.edu/graduatestudents
Jerry B. Weinberg, Dean
August 2010
2
I.
APPOINTMENTS
Eligibility
Students must be admitted to a graduate degree program, and be enrolled in
classified graduate status, in order to hold an assistantship.
Students in classification pending status may hold appointments for one
academic term while completing their admission requirements. They may
continue to serve as graduate assistants beyond their first term only if they are
admitted as classified graduate students. Consult the Graduate Catalog at
www.siue.edu/graduatestudents for policies associated with classification
pending admission status.
Undergraduates are not permitted to hold graduate assistantships. However,
undergraduate students who are approved into 3 + 2 programs may be
considered for appointments, provided they are in the last term of completing
their baccalaureate degrees.
Basis of Appointments
Under "2. Period of Appointment" on your Assistantship Appointment
contract, your hiring unit has checked either Academic or Fiscal Basis.
Most graduate assistants are appointed on an Academic Basis for a ninemonth academic year, or for a specific semester or term within the academic
year. The department must submit a Summer appointment form if it asks
you to work during Summer term.
A Fiscal Basis appointment allows a hiring unit to offer a student a contract
for an entire calendar year, or for any part of a calendar year. Fiscal Basis
graduate assistants usually serve in administrative rather than academic units.
Duration of Appointment
Your current assistantship appointment does not automatically entitle you to
additional contract terms.
If your appointment is supported by a grant or an external contract, the
appointment can remain in force only as long as there are sufficient funds in
the grant's account.
3
Categories of Assistantships
There are different types of graduate assistantships. The categories are:
General Assistant - Renders general service to an academic or
administrative unit, which may be related to instruction, research, or
administration.
Research Assistant - Renders research service to one or more specific
faculty members.
Teaching Assistant - Performs instructional duties in direct contact with
students in a lecture or laboratory situation.
Work Load
Graduate assistants with a 50 percent appointment may work a maximum of
20 clock hours per week. They may not hold any other paid positions with the
University.
Students with an appointment of less than 50 percent may hold a concurrent
position elsewhere in the University as a graduate assistant or student worker,
as long as the total hours worked do not exceed 20 hours per week at any
time during the assistantship period.
Teaching assistants' hours include preparation and grading, as well as time
spent in the classroom.
Stipends
First-year stipend rates apply during the first two semesters (or academic
terms) of a graduate assistant's appointment. During an assistant's third term,
the department or unit may decide which rate is appropriate. Second-year
rates apply in the fourth term and thereafter. The salary schedule for 2010-11
is:
Full-time Base
First-Year
$1792 - 2468
Second-Year $1902 - 2622
50%
$896 - 1234
$951 - 1311
Full-time Base
$1580 - 2212
$1688 - 2364
25%
$395 - 553
$422 - 591
4
Tuition Waivers
As a graduate assistant, you are entitled to a waiver of tuition. You are,
however, responsible for paying student fees.
As a graduate assistant on a current appointment, your waiver will
automatically be processed by the Graduate School and entered into your
University financial records.
You are eligible for a tuition waiver if you hold a valid assistantship
appointment for at least 8-1/2 weeks of a semester (5 weeks of a Summer
term).
You are not eligible for a tuition waiver if your appointment is for less than
8-1/2 weeks, or if you resign before the end of 8-1/2 weeks (5 weeks of a
Summer term).
You will forfeit your tuition waiver and become liable for the full amount due
if you withdraw from classes after the first two weeks of the term.
Summer Tuition Waiver
When your assistantship ends, you may apply for a Summer Tuition Waiver if
you have served at least two consecutive semesters as a graduate assistant.
These waivers:
-- do not require you to work
-- are available only one time during your SIUE graduate career
-- must be used during Summer term immediately following two
consecutive semesters of service as a graduate assistant
-- do not limit the number of class hours for which you may register.
To apply:
-- complete a Summer Tuition Waiver Authorization (available in the
Graduate School and online at www.siue.edu/graduatestudents)
-- obtain the required signatures
-- submit the Authorization form to the Graduate School for approval.
After the Graduate School approves your waiver, it will be entered into your
University financial records and a confirmation will be mailed to your home
address.
(Enrollment in UNIV 500 is not covered by the Summer Tuition Waiver.)
You are not entitled to a second Summer Tuition Waiver, even if you serve
for additional academic terms under a new appointment or begin a second
degree.
5
II.
TERMS AND CONDITIONS
Honoring the Assistantship Contract
By accepting the University's offer of financial support, you have completed
an agreement that you, as well as the Graduate School and the unit that hired
you, are obliged to honor. If you choose to resign your graduate assistantship
appointment prior to the completion of the academic term, you will forfeit the
tuition waiver and be liable for full payment of tuition, and will not be eligible
for appointment in another unit at the university until the beginning of a new
term. Exceptions to this condition may be granted upon recommendation
from the original hiring unit and approval by the Dean of the Graduate
School.
Abiding by University Policies
You are expected to operate within the general framework of University
policy and practice, and to represent SIUE creditably on all occasions.
You are expected to abide by University policies governing sponsored
programs. Those policies, as well as the University's Patent and Copyright
Policy, may affect your rights to discoveries, inventions, improvements,
compositions, or other creations made or developed or reduced to practice
during your period of employment.
Federal regulations require each unit offering graduate assistantship
appointments to instruct appointees about integrity in research. Graduate
assistants engaged in research must comply with all legal and ethical policies
on research, including those governing use and care of animals, recombinant
DNA, biosafety, and human subjects.
Release of Information
In order to comply with the University's Tuition Waiver Policy, all students
receiving a tuition waiver must sign a Release of Information form.
Drug-free Workplace Guidelines
All graduate assistants must comply with the Drug-Free Workplace
Guidelines that appear online at:
http://www.siue.edu/graduatestudents/researchpolicies/drugs.shtml.
6
Sexual Harassment Policy
Southern Illinois University Edwardsville does not tolerate sexual harassment
of students by faculty, staff members, or other students. Students should file
complaints of sexual harassment with the Office of Institutional Compliance,
Rendleman Hall, Room 3202. Students may also obtain a copy of the
complete Sexual Harassment Policy from the Office of Institutional
Compliance.
Retention
In order to maintain your assistantship, you must make satisfactory progress
toward the completion of your degree. The Graduate School will periodically
review your academic record for:
Grade point average - If your gpa falls below the required minimum
(3.0 for retention in Graduate School; 3.25 for Specialist degree
students), the Graduate School may terminate your appointment.
Satisfactory Progress - You are expected to make satisfactory progress
toward completing your degree. If you accumulate excessive hours of
Incomplete or Deferred grades, you will not be eligible for future
terms as a graduate assistant. You may not delay completion of your
degree in order to prolong an assistantship appointment.
Term Limitation for Assistantships
Qualified students may hold an assistantship for no more than a total of seven
academic terms. The Graduate Dean may grant an exception to this policy for
students who:
-- complete one degree and begin a second degree program
-- pursue degrees that require more than 45 semester hours for
completion.
Name Changes
In order to change your name within the SIUE Human Resources system, you
must bring copy of your new social security card to the Graduate School
Office.
7
Enrollment and Class Load Requirements
Each semester, graduate assistants must carry:
-- at least 6 hours of graduate credit
-- no more than 12 hours of undergraduate and graduate credits
combined.
During Summer term, the minimum and maximum are 3 and 6 semester
hours, respectively.
Undergraduate courses, courses listed as "Not for Graduate Credit," and
courses taken for AUDIT do not count toward satisfying the 6-hour class load
minimum. Enrollment in such courses must be authorized if it will cause a
student's class load to exceed the 12-hour maximum.
If a graduate assistant withdraws from the University, his or her assistantship
appointment is terminated immediately, along with the related tuition waiver.
The individual may be responsible for repaying tuition previously waived.
Overload/Underload Petition
Requests to enroll in fewer or more than the required number of credit hours
must be based on academic program needs, and not on assistantship
appointment requirements.
Graduate assistants who want to carry an overload (more than 12 hours) or an
underload (less than 6 hours) during any semester must obtain the Graduate
Dean's approval before enrolling in classes.
Students may initiate such a request by completing the "Overload and
Underload Petition for Graduate Assistants and Awardees" (Petition form
available on our website www.siue.edu/graduatestudents). After the student's
major advisor and graduate program director sign the Petition Form, it is
submitted to the Graduate School for consideration. The Graduate School
will notify the student by mail at his or her home address of the Graduate
Dean's response to the Petition.
Language Requirement
8
III.
All students who are selected for teaching assistantships must attach to the
Assistantship Appointment the Certification of Oral English Proficiency form
(This form is available on our website www.siue.edu/graduatestudents).
BENEFITS AND SERVICES
Graduate assistants are entitled to the same official holidays as other
University personnel, and are excused from work responsibilities at other
times when the University is officially closed. If a supervisor requires you to
work when the University is closed, you should be compensated by being
relieved from your duties at a later date.
Vacation
Only students on Fiscal Basis appointments of at least 3 months' duration are
eligible for vacation benefits. Graduate assistants awarded Academic Basis
appointments are not eligible for vacation benefits.
Fiscal Basis assistants earn vacation time at the rate of 1 and 1/24 days per
month. Fiscal Basis assistants must use their vacation time during their term
of appointment; they may not carry vacation time over from one fiscal year to
the next. The fiscal year ends each June 30.
Assistants are not paid for earned vacation time that has not been used.
Sick Leave
All graduate assistants on 50 percent appointment are eligible for a sick leave
benefit of 20 hours for each month covered by their appointment. (Assistants
on 25 percent appointment are eligible for 10 hours.)
After missing 7 consecutive assigned work days because of illness, a graduate
assistant must provide his or her supervisor with a physician's statement that
verifies the illness. Graduate assistants are not entitled to extended sick leave
benefits.
Assistants are not paid for accumulated sick leave that has not been used.
Health Insurance
Informational brochures for purchasing health insurance are available in
Health Services (Student Success Center, room 0220). International students
with graduate assistantships are required to purchase health insurance or to
show evidence of current coverage.
Parking
9
As a graduate assistant, you are entitled to purchase a Green parking permit
through Parking Services (1113 Rendleman Hall, 650-3680). As a graduate
student, you remain eligible for the Red student parking permit.
Lovejoy Library
All graduate students are entitled to the same library privileges. General
stacks books may be checked out for a period of eight weeks. Periodicals do
not circulate. Unlimited renewals are permitted provided no "recalls" or
"holds" have been placed on the item.
Graduate assistants may check out books for faculty members if the faculty
member completes a proxy borrower authorization form that is available at the
Library Circulation Desk.
Audio Visual Services
Audio Visual Services provides complete audio visual assistance, including
the development of new media using up-to-date technology to meet the needs
of SIUE faculty, staff, and students. Audio Visual Services maintains a
collection of more than 2,900 items including films, CD-ROMs, laserdiscs,
and videotapes.
Teaching assistants have the same user access to Audio Visual Services as
faculty members. General assistants and research assistants have access to
production services through their supervisors.
IV.
AWARDS AND SUPPORT
Fellowships, grants, scholarships, and other awards are available through the
Office of Student Financial Aid (OSFA). To find out if you are eligible for
additional financial assistance, schedule an appointment with a Financial Aid
Counselor in OSFA (2308 Rendleman Hall, 650-3880).
Further information on scholarships, fellowships, and grants is available in
Lovejoy Library and in the Graduate School.
Graduate Student Fellowships
10
Competitive Graduate Award (CGA) -- This Graduate School program
supports a limited number of outstanding graduate students each year,
providing a tuition waiver and a monthly stipend. CGA recipients may not be
employed during the term of their award. For guidelines and application go
to: http://www.siue.edu/graduatestudents.
Diversifying Faculty In Illinois (DFI) -- The Diversifying Faculty in Illinois
(DFI) program, administered through the Illinois Board of Higher Education,
provides awards of $12,500 or more per year for students from traditionally
underrepresented groups to pursue graduate degrees at Illinois institutions. An
applicant must be an Illinois resident to be considered for this award, which is
renewable up to four years. An award recipient must agree to accept a
teaching or non-teaching full-time appointment at an Illinois institution of
higher education or a position at one of the higher education governing or
coordinating boards in Illinois for a period equal to the number of years of the
award. Applications are available in early November. Applications are due to
the Graduate School on February 15, and awards are announced in late March
for the following academic year. Information is available through the Office
of the Provost, Rendleman Hall, Room 3102, phone number (618) 650-3772.
Graduate Scholar Award (GSA) -- This Graduate School program awards
tuition waivers to a limited number of highly qualified students from
nationally underrepresented groups who are recommended by their
departments. GSA recipients may not hold any paid position at SIUE, and
must carry a minimum of 9 semester hours during each term of their award.
Contact the Graduate School for information.
Graduate Student Awards
The Graduate School invites SIUE faculty to nominate graduate students for
these two awards, which are given at the Graduate School Recognition
Luncheon in October. Nominations are reviewed by the University
Fellowship and Scholarship Committee. Each award includes an honorarium
of $500.
Outstanding Thesis Award -- Each academic unit may nominate one
thesis. The Graduate School submits the winning entry to the regional
competition sponsored by the Midwestern Association of Graduate
Schools.
Outstanding Teaching Assistant Award -- This award honors a
teaching assistant who demonstrates the highest standards of
performance in meeting the responsibilities of his or her assistantship.
11
Graduate Student Travel Support (Attendance at Professional Meetings)
SIUE encourages graduate assistants to attend professional meetings. Your
academic unit may be able to pay some of your expenses.
For students who are invited to present major papers at significant
professional conferences, or to exhibit or perform at major juried events, the
Graduate School contributes financial support, on a matching basis with the
student's sponsoring academic unit. Applications are routed through your
department chair, then through your School or College dean to the Graduate
School.
Students who receive any reimbursement or compensation for participating in
a professional event are not eligible for this program.
Research Grants for Graduate Students (RGGS)
The Graduate School makes funds available on a competitive basis to
graduate students engaged in research leading to the development of a
research project, final project, or thesis for completing degree requirements.
An RGGS award can be used to cover the cost of data collection, specialized
laboratory supplies, and other justified expenses.
The maximum award is $500. An SIUE student may receive no more than
one RGGS award. You will find the guidelines and application for this award
at http://www.siue.edu/ORP/GSFUND/index.html.