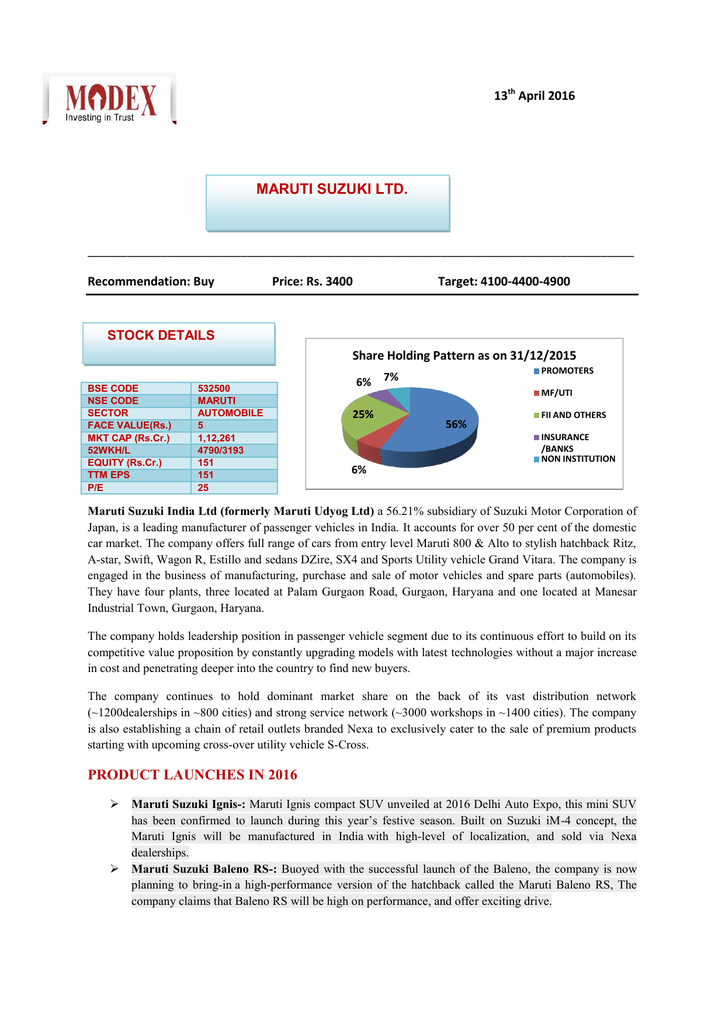 13th April 2016
MARUTI SUZUKI LTD.
__________________________________________________________________________________
Recommendation: Buy
Price: Rs. 3400
Target: 4100-4400-4900
STOCK DETAILS
Share Holding Pattern as on 31/12/2015
BSE CODE
NSE CODE
SECTOR
FACE VALUE(Rs.)
MKT CAP (Rs.Cr.)
52WKH/L
EQUITY (Rs.Cr.)
TTM EPS
P/E
532500
MARUTI
AUTOMOBILE
5
1,12,261
4790/3193
151
151
25
6%
25%
PROMOTERS
7%
MF/UTI
56%
FII AND OTHERS
INSURANCE
/BANKS
NON INSTITUTION
6%
Maruti Suzuki India Ltd (formerly Maruti Udyog Ltd) a 56.21% subsidiary of Suzuki Motor Corporation of
Japan, is a leading manufacturer of passenger vehicles in India. It accounts for over 50 per cent of the domestic
car market. The company offers full range of cars from entry level Maruti 800 & Alto to stylish hatchback Ritz,
A-star, Swift, Wagon R, Estillo and sedans DZire, SX4 and Sports Utility vehicle Grand Vitara. The company is
engaged in the business of manufacturing, purchase and sale of motor vehicles and spare parts (automobiles).
They have four plants, three located at Palam Gurgaon Road, Gurgaon, Haryana and one located at Manesar
Industrial Town, Gurgaon, Haryana.
The company holds leadership position in passenger vehicle segment due to its continuous effort to build on its
competitive value proposition by constantly upgrading models with latest technologies without a major increase
in cost and penetrating deeper into the country to find new buyers.
The company continues to hold dominant market share on the back of its vast distribution network
(~1200dealerships in ~800 cities) and strong service network (~3000 workshops in ~1400 cities). The company
is also establishing a chain of retail outlets branded Nexa to exclusively cater to the sale of premium products
starting with upcoming cross-over utility vehicle S-Cross.
PRODUCT LAUNCHES IN 2016


Maruti Suzuki Ignis-: Maruti Ignis compact SUV unveiled at 2016 Delhi Auto Expo, this mini SUV
has been confirmed to launch during this year's festive season. Built on Suzuki iM-4 concept, the
Maruti Ignis will be manufactured in India with high-level of localization, and sold via Nexa
dealerships.
Maruti Suzuki Baleno RS-: Buoyed with the successful launch of the Baleno, the company is now
planning to bring-in a high-performance version of the hatchback called the Maruti Baleno RS, The
company claims that Baleno RS will be high on performance, and offer exciting drive.



Maruti Wagon R MPV-: WagonR will always get counted among one of the most successful Maruti
Suzuki cars in India. The multi-seater variant of the hatchback will come with a higher ground
clearance, lots of comfort and safety features and a capacity to accommodate 7 people.
Maruti Swift AMT-: After the Swift Dzire AMT, MSI will introduce the AMT-equipped version of its
popular hatchback – the Swift. The hatchback will get a 4-speed Magneti Marelli-sourced automated
manual gearbox only on the diesel variant.
Maruti Alto 800 Diesel-: Maruti Suzuki India is now contemplating launch of the Alto 800
hatchback's diesel variant.
QUARTERLY ANALYSIS




Sales jumped 20% to Rs 15081.90 crore and the operating profit margins (OPM) 150 basis points (bps)
to 14.4% from 12.8%, boosting operating profit (OP) 34% to Rs 2170.10 crore in the December 2015
quarter over a year ago. Provision for tax increased 67% to Rs 435.80 crore, after which profit after tax
(Pat) inclined 27% to Rs 1019.30 crore. Higher volumes, reduction in raw material cost and favourable
foreign exchange contributed to the higher profitability.
Passenger vehicles sold rose 15.5% to 3,74,182 in the quarter over a year ago. Of these, exports
accounted for 31,187 units, up 8.6%. Passenger vehicles sold increased 13% to 10,68,846.
Traction is gathering pace in rural India. Rural sales grew 15% in the quarter Rural sales contributed
more than 30% to overall sales.
There is strong presence in rural India, with the network catering to 1,25,000 villages. As many as
25,000 villages will be added next year to capitalize on untapped demand from these regions. This
would take the total reach to 1,50,000 villages over the next year.
Ajay Seth , Chief Financial Officer, Maruti Suzuki India said ,the infrastructure cess of one per cent on small
petrol/CNG/LPG cars, 2.5 per cent on diesel cars and 4 per cent on higher engine capacity cars announced in
Union Budget 2016, will affect the consumption in the already-stressed environment. The new tax measures
come as disappointment for the sector, which has been battling with fragmented recovery.
The company has witnessed the sale of 60,000 units through its premium dealership chain — Nexa. Maruti
Suzuki currently sells two models though Nexa — the S-Cross and the Baleno. The Nexa, which currently
contributes to about 8 percent of the total sales of Maruti Suzuki, is expected to attain a double-digit by 2020.
Currently, Maruti has 100 Nexa showrooms in India and the company plans to expand the number of outlets to
250 by next year.
Ban on the manufacturing of diesel cars, a decision by Supreme Court will not affect the company sales,
as it manufactures more than 50% of the petrol cars.
As fossil fuels are gaining villain status in the battle against pollution, demand for hybrid automobiles, which carry a nonconventional propulsion system, such as an electric motor, in addition to the engine that runs on conventional fuel is on the
rise in India. Maruti Suzuki has witnessed a significant jump in demand for its mid-size sedan Ciaz and the Ertiga multiutility vehicle offering mild-hybrid technology to conserve energy; it sold more than 47,500 units of these mild hybrids in
the past six to seven months. As on date, in case of Ciaz, over 58% sales comes from smart hybrid technology while in
Ertiga the contribution of SHVS technology is about 57%,
60000
50000
40000
51098
44376
37183
44359
36543
30000
20000
4147
3339
1461
2252
10000
5042
2106
5918
2451
7544
3256
0
FY2011
FY2012
NET SALES
FY2013
OPERATING PROFIT
FY2014
FY2015
NET PROFIT
Future Analysis
The automobile industry is highly competitive and competition is likely to further intensify in view of the continuing
globalization and consolidation in the worldwide automotive industry. On the domestic front, Maruti Suzuki
competes against Tata Motors, Mahindra & Mahindra, Hyundai Motors, and Honda. The competition within the
industry is increasing further with new players entering the market and some smaller players catching up. Maruti
Suzuki, the common man's brand, has been meeting the demands and expectations of Indian buyers from almost 3
decades. The Indo-Japanese carmaker, currently, holds the biggest stake in Indian automobile market which is also
happens to be one of the fastest emerging markets in world. It's a buy call on the company with the target price of
4400.
Disclaimer
Modex International Securities Limited does not do business with companies covered in its research reports. Investors should be aware that the Modex
International Securities Limited may not have a conflict of interest that could affect the objectivity of this report. Investors should consider this report as
only information in making their investment decision and must exercise their own judgment before making any investment decision. Modex International
Securities Limited may screen companies based on Strategy, Technical, and Quantitative Research.
For Private circulation.