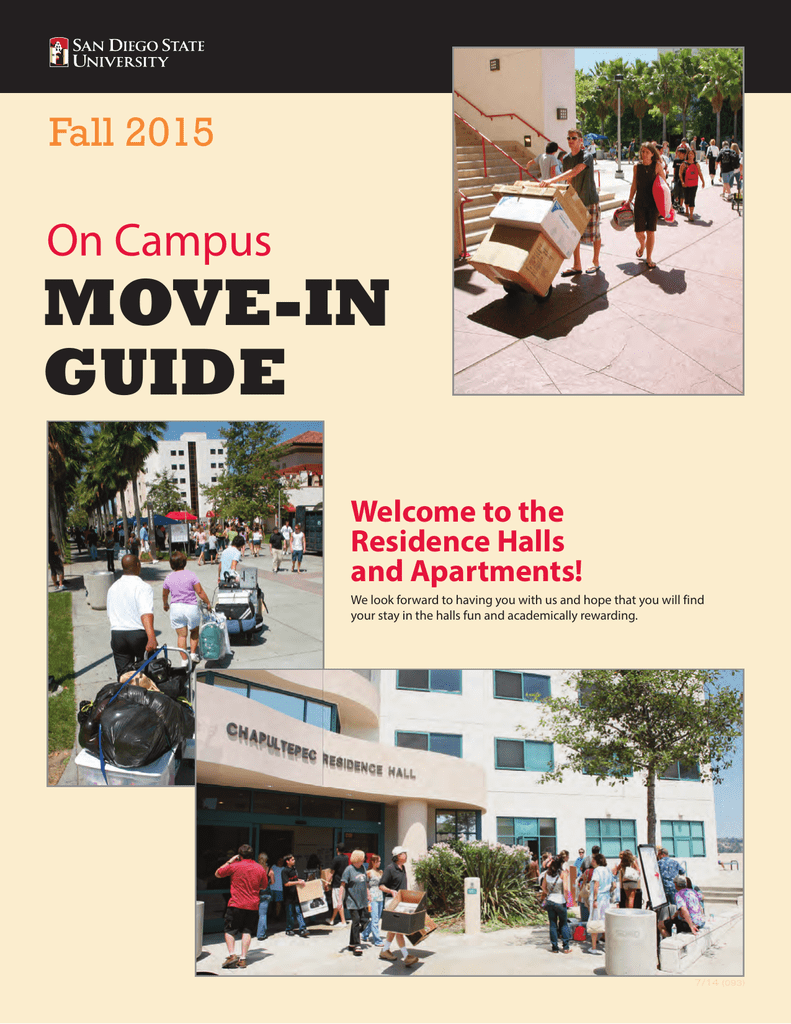 Fall 2015
MOVE-IN
GUIDE
On Campus
Welcome to the
Residence Halls
and Apartments!
We look forward to having you with us and hope that you will find
your stay in the halls fun and academically rewarding.
7/14 (093)
On Campus MOVE-IN GUIDE
Before You Arrive
Read all of the information in the 20152016 Student Housing License Agreement.
Many frequently asked questions are
answered in the License Agreement,
including information about what to bring
with you to the halls. You will be expected
to follow the policies and regulations outlined in the License Agreement, so please
read and refer to them as necessary
throughout the year.
The 2015-2016 policies are available
online on the Guide to Living in the Halls
webpage.
Please also read the enclosed information
about your residence hall assignment and
move-in day instructions. Bring all of this
information with you when you come to
campus.
SDSU Identification Card
On move-in day students are required to
present an official SDSUcard to check-in to
their room and receive a key. Students
who do not have an official SDSUCard will
be directed to the SDSUcard Office to get
a card before they are allowed to check-in.
Learn more about how to obtain your
SDSUcard at sdsucard.sdsu.edu.
An official SDSUcard is also required to use
your meal plan, enter the residential community, use library services, obtain an
email account, and much more. You may
choose to set up SDSU Funds to use your
card for laundry machines, Bookstore
purchases, copying and printing in the
library, and making purchases with Dining
Services that supplement your meal plan.
You may have already picked up your
SDSUcard during New Student Orientation. If not, stop by the SDSUcard Office
located at Student Services West 2620
before you move in to your residential
community. The SDSUcard Office hours
for August 21st are 8:30 am to 5:00 pm.
Please don't forget that you will need to pay
your $18 new card fee on-line. Go to
www.sdsu.edu/sfs and click on "Online Student
Account Services" to log in. Remember to
bring a government issued ID (driver's license,
state ID, passport, or military ID) with you to
the SDSUcard Office or you cannot be issued
an SDSUcard. Sorry, no exceptions.
On Campus MOVE-IN GUIDE
Services and Facilities to
Help You Plan Your Move In
Cable TV Service
All on-campus facilities offer cable TV at
no additional charge. Please bring your
own television or contact your roommate(s) (if applicable) to coordinate who
is bringing a television. No premium
channels are included in this service.
Computers
SDSU provides wireless internet
throughout the campus residence halls
and apartments. Hard wired connections are not provided. If you are planning to bring your game console, make
sure it has a wireless card. For the safety
of our network, anti-virus software
needs to be installed on your machine.
We provide Microsoft Security Essential
for Windows and McAfee Antivirus for
Mac. To reduce risks we highly recommend uninstalling any file-sharing
software (i.e., Bittorent, Ares, etc.) on
your machine prior to moving in. Any
commission of copyright infringement
will result in termination of access and
possible disciplinary action. Users will
be charged $150 to restore their Internet
access.
Vehicles and
Parking Permits
If you wish to park on campus you must
purchase a university parking permit
from the University Cashier's Office.
Residence hall and apartment students
must also purchase the student parking
permit designated overnight (for $256
per semester) in order to park in student
lots between the hours of 1 and 6 am.
For students living in University Towers
(UT), Tarastec, Zapotec, Granada and
Piedra del Sol, there are a limited
number of on-site, assigned parking
spaces available. For additional
information about parking at UT,
Tarastec, Zapotec or Piedra del Sol,
please refer to the Residence Hall/
Apartment Assignment page at the end
of this document.
Bike Lockers, Racks,
and Storage Barn
You may obtain a bike locker or a space
in the bike barn for bicycle storage.
Bicycles are not allowed inside the residence halls or student apartments.
Having your bicycle in storage is not a
guarantee of security for your bike. We
recommend that you do not bring a
valuable bike to campus unless it is
insured. The university is not liable for
lost or stolen bicycles.
Cancellation
If you wish to cancel your Student
Housing License Agreement, it is
your responsibility to do so in
writing per terms of the License
Agreement. Cancellation charges
will apply. Visit the Fees and Payments section on our website for
more details. Please read the terms
of your License Agreement to
understand these conditions.
Bicycle storage is located near each residence hall. Storage keys/space reservations will be available at the Office of
Housing Administration, Monday
through Friday, 8 am to 4:30 pm. Locker
and storage spaces are given out on a
first-come, first-served basis. There is no
cost for the storage key or space; however, there is a $25 charge for lost or
non-returned keys.
Meal Plans
Questions about your 2015-2016
SDSU Meal Plan?
Get information on all SDSU meal plans
at www.eatatsdsu.com where you will
find daily menus, information on special
events, nutrition and more. You may also
email questions to [email protected]
or call 619-594-7640. All 2015-2016
SDSU meal plans begin on Friday,
August 21. During move-in weekend,
there will be several campus restaurants
and Aztec Markets open and accepting
meal plans, cash or credit.
Emergency Preparedness
All residents are advised to have a family emergency plan. Each
resident should maintain an emergency supply kit in his/her room
consisting of a first aid kit, three-day supply of water, non-perishable food, battery operated radio and flashlight, extra batteries,
gloves, and medications.
On Campus MOVE-IN GUIDE
Move-In Day
Please review the map and instructions
on the following page and print a copy
of the page to bring with you when
you come to campus.
Parent
Meetings
There will be a Parent Meeting in
each residential facility on Friday.
Join your student's residencial staff
at the following time(s):
Chapultepec
12 noon and 3 pm in the Cholula Community
Center
Cuicacalli Suites (Tacuba and Tepeyac)
12 noon and 2 pm in the Cuicacalli Seminar
Room
Maya and Olmeca Halls
11 am and 3 pm in the Tula Community Center
Tenochca Hall
10 am and 1 pm in the Tula Community Center
Granada
11 am and 2 pm in the SDSU Alumni Center
University Towers
10 am and 1 pm in the University Towers
Seminar Room
Zapotec
4 pm in the Cholula Community Center
Zura Hall
12 noon and 2 pm in the Tula Community Center
Friday, August 21
This exciting day will also be busy and hectic. There will be a lot of activity and
traffic near each residencial facility. When you arrive, you may have to wait in line
to check in, get your key, and get to your specific unloading area. The weather
will most likely be warm. Come prepared with water or other cold drinks.
Break It Down:
Cardboard
Recycling
At SDSU, we are committed to using the
resources available to us in ways that
protect those resources for future generations. As part of that commitment, there
will be a variety of sustainability programs
in the residence halls and apartments during the year. The first will be Corrugated
Cardboard Recycling at move-in. After
you use your boxes, please break them
down so they are flat and put them in the
co-mingled trash dumpsters near your
residential facility. The corrugated cardboard, along with other trash materials,
will be recycled instead of dumped in a
landfill. Please do your part and break it
down! For more information about our
sustainability efforts, visit
go.sdsu.edu/housing/sustainability.aspx.
Hand Trucks and
Moving Carts
Bring a hand truck or moving cart to make
moving belongings to your room easier.
(Your family should take the cart home after
move-in.) A limited number of carts and
hand trucks will be available for use. To avoid
having to wait for one, bring your own.
Parking for
Move-in Day
For questions about parking during
move-in, please see one of the parking
or residential staff on site. During
move-in there will be designated
entrances and exits for many parking
structures on campus.
On Campus MOVE-IN GUIDE
Parking Map for the Residence Halls
and Apartments on Move-in Day
Villa
Alvarado:
From I-8, take College
Avenue south and turn
left on Canyon Crest/
Alvarado Road.
Park in C lot.
WEST HALLS Tarastec, and Zapotec:
From I-8, take College Avenue
South and turn right onto
Canyon Crest Drive. Continue to
55th Street and turn right.
Park in Parking Lot V.
WEST
HALLS Chapultepec:
Granada and
Piedra del Sol:
From I-8, take College
Avenue South and turn
right onto Canyon Crest
Drive. Park in Parking
Structure 4.
From I-8, take College Avenue
South and turn right onto Montezuma Road, right onto Campanile
Drive, and left onto Hardy
Avenue. Park in Parking Structure 2 before heading to
your building.
Red Line:
EAST HALLS: Cuicacalli
(Tacuba and Tepeyac),
Maya, Olmeca, Tenochca
and Zura
EAST HALLS - Maya
and Olmeca Halls,
Tenochca Hall, Zura Hall, and
Cuicacalli (Tacuba and Tepeyac):
Purple Line:
Granada and Piedra del Sol
From I-8, take College Avenue South
and turn left into the driveway after the
overhead walkway (Zura Way). Park in
Parking Structure 3 or Parking Structure 6. East Campus Drive will be
closed to through traffic.
Orange Line:
University Towers
Green Line:
WEST HALLS:
Chapultepec, Tarastec and
Zapotec
Blue Line:
Villa Alvarado
PLEASE
University
Towers:
From I-8, take College Avenue South and turn right
onto Montezuma Road. Turn
right on 55th Street. Park
in Parking Structure 5.
ZURA HALL
NOTE
Parking structures
have a maximum
clearance of 6'10".
If driving a vehicle
higher than 6'10", use
E Lot, T Lot or V Lot.
On Campus MOVE-IN GUIDE
Once You Are Here
There will be a lot going on when you move to campus.
Be sure to look for Residence Hall Association, Welcome
Week and Aztec Nights events as well as many other
exciting happenings.
Guide to Community
Living & Roommate
Agreement
The Guide to Community Living and
Roommate Agreement was designed to
help you navigate and feel more at ease
about your new life in college.
We understand living on your own for
the first time can be both exciting and
intimidating. We want to provide you
and your family adequate information
to prepare for this important transition.
The guide includes information about
living encompass, tips on how to live
with a roommate (who might be different than yourself ), university policies,
and how to use your amenities.
We have also included the Getting
Ready for a Roommate form and
encourage you to complete it before
move-in. Our goal is to create a safe and
friendly living environment so that you
can take full advantage of your college
living experience and reach your full
potential.
Visit the Guide to Living in the Halls.
Residence Hall/
Apartment
Orientation
All residents are expected to attend a
residence hall/apartment orientation.
These meetings will be held on Friday,
August 21 and Saturday, August 22.
When you move in, ask your Resident
Advisor (RA), Community Assistant (CA),
Academic Mentor (AM) or hall desk staff
for the specific time for your hall.
On Campus MOVE-IN GUIDE
Aztec
Recreation
Center
(The ARC)
Your residence hall and apartment
fees include an on-campus recreation center membership. The ARC is
open daily during move-in weekend.
Students living in SDSU on-campus
facilities may activate their ARC
memberships anytime. For more
information, visit arc.sdsu.edu
Bookstore
Hours
The SDSU Bookstore will open for
extended hours the weekend before
classes begin. Get a head start by picking
up your textbooks before classes start.
The latest Aztec gear and student
discounts on computers, tablets and more
are also available inside the Bookstore.
For more information, visit
www.shopaztecs.com.
On Campus MOVE-IN GUIDE
ROOMMATE
Getting Ready for a
INSTRUCTIONS
Please read and consider the following
questions, then select the option you prefer.
Be prepared to discuss your preferences
with your roommate(s) in order to reach
mutual understanding for your Roommate
Agreement, which you will complete
together when you move in. Select multiple
options where applicable.
1. I prefer to go to bed between the
hours of __________ and __________.
2. I sleep best when the room is:
a. completely silent and dark
b. cool
c. warm
d. It doesn't matter – nothing bothers me
when I'm asleep
e. other (specify)
______________________________
3. I prefer to wake up between the hours
of __________ and __________.
4. The time of day I prefer to study is:
a. during the morning
b. during the afternoon
c. during the evening
d. late at night
5. The atmosphere conducive for my
studying is:
a. in complete silence
b. with the stereo or TV on
c. alone
d. with others
e. outside of the room
6. In regard to my personal property
(i.e. food, electronics equipment), I prefer:
a. to share everything
b. to allow my roommate(s) to use specified
items without permission
c. to allow my roommate(s) to use items
only after asking for permission
d. not to share any of it
7. If someone wants to borrow my property,
I would prefer that my roommate(s):
a. lend it to the person
b. lend it to the person only if I previously
granted permission to that specific
person
c. never lend out anything of mine
Sharing a room and living in a community are
learned skills. There are benefits to developing
good relationship skills. The skills you build now
will serve you later in life. College students are
mature and capable of handling the responsibilities of living in a campus community: responsibilities that include confronting someone who is
violating your rights, being accountable for your
responsibilities and behaviors, and recognizing
your own behavior, and that compromises are
8. Regarding appearance of the room, I prefer
that it be:
a. usually orderly and clean
b. sometimes orderly and clean
c. disorderly (i.e. no preference)
9. When cleaning the room (& bathroom kitchen,
living room, where applicable),
I feel that:
a. my roommate(s) and I should take turns
cleaning the entire room
b. my roommate(s) and I should each clean up
our own mess
c. my roommate(s) and I should clean the room
together
10. I would prefer that visitors, guests, and
significant others:
a. be welcome anytime
b. leave when I sleep or study
c. leave when I sleep or study, unless previously
discussed on an individual basis
d. leave when I am in the room
11. I believe my roommate should inform me if
he or she plans to have overnight guests or
significant others staying in the room:
a. one week in advance
b. 24 hours in advance
c. I don't need notification
12. If my roommate(s) is frustrated or angry with
me, I would want my roommate(s) to:
a. tell me right away and talk about it with me
b. wait to see if the feeling subsides
c. talk to me about it later
d. tell our RA/CA
necessary for living with other people. In order
to do this, communication is a necessity! Differences are normal as are opportunities for
growth and learning about different people
and their styles. Some roommates will
become close friends – some may never be
close, but all are expected to live together
respectfully. Each roommate owes the other the
courtesy of speaking directly to him/her first any
time there is an issue that needs discussing.
15. When I receive mail, I would prefer that my
roommate(s):
a. leave it in the mailbox for me to pick up
b. bring the mail to the room if my roommate(s) checks the box first and leave it
for me
16. For safety and security reasons, I would
prefer that the room:
a. be locked at all times
b. be locked only when we are not in the room
c. be locked when I go to bed or am asleep
17. I would like to have private time in the
room:
a. during certain set hours to be arranged
(specify) _________________
b. to be determined on a situational basis
18. Is it acceptable for your roommate(s)
to be intimate with his/her partner in the
room when you aren't present? Is it acceptable while you are in the room?
a. no, it is not acceptable at any time
b. yes, but only when I am not present
c. yes, at any time
19. How would you feel if your roommate(s)
used alcohol outside the room/suite?
________________________________
________________________________
20. How would you feel if drugs/alcohol were
in the room/suite?
________________________________
________________________________
13. When I am upset, I need:
a. to talk about things
b. space and time to deal with it on my own
c. my own space unless the feelings are directed
toward my roommate(s)
14. If I were going to be gone for a weekend or
longer, I would:
a. want my roommate(s) to know where I am
b. let my roommate(s) know when I would
return
c. want my roommate(s) to know where I am and
let my roommate(s) know when I would return
d. prefer not to let my roommate(s) know my
whereabouts
Note!Alcohol is not permitted in the
residence halls and freshman apartments.
No drugs, narcotics, controlled substances
or drug paraphernalia may be possessed,
used, sold nor distributed at the University
or in the residencial facitlites.