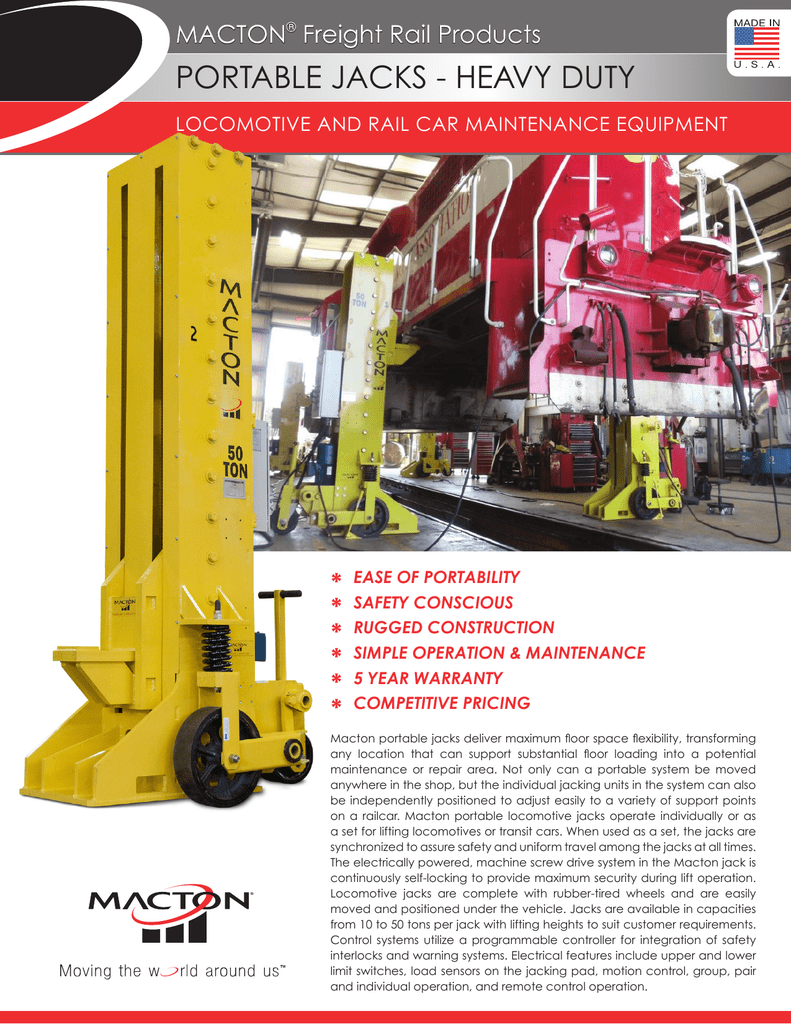 MACTON® Freight Rail Products
PORTABLE JACKS - HEAVY DUTY
LOCOMOTIVE AND RAIL CAR MAINTENANCE EQUIPMENT
*
*
*
*
*
*
EASE OF PORTABILITY
SAFETY CONSCIOUS
RUGGED CONSTRUCTION
SIMPLE OPERATION & MAINTENANCE
5 YEAR WARRANTY
COMPETITIVE PRICING
Macton portable jacks deliver maximum floor space flexibility, transforming
any location that can support substantial floor loading into a potential
maintenance or repair area. Not only can a portable system be moved
anywhere in the shop, but the individual jacking units in the system can also
be independently positioned to adjust easily to a variety of support points
on a railcar. Macton portable locomotive jacks operate individually or as
a set for lifting locomotives or transit cars. When used as a set, the jacks are
synchronized to assure safety and uniform travel among the jacks at all times.
The electrically powered, machine screw drive system in the Macton jack is
continuously self-locking to provide maximum security during lift operation.
Locomotive jacks are complete with rubber-tired wheels and are easily
moved and positioned under the vehicle. Jacks are available in capacities
from 10 to 50 tons per jack with lifting heights to suit customer requirements.
Control systems utilize a programmable controller for integration of safety
interlocks and warning systems. Electrical features include upper and lower
limit switches, load sensors on the jacking pad, motion control, group, pair
and individual operation, and remote control operation.
TYPICAL (STANDARD) SPECIFICATIONS
PORTABLE JACKS - HEAVY DUTY
Maximum Capacity 50 tons per jack or 200 tons per set of 4 jacks
Minimum Lifting Height 2'- 7" (31") measured from the finished floor up to the
top of lifting pad
Maximum Lifting Height 8'- 4" (100")
(other ranges available upon request – see below)
Lifting Stroke 5'- 9" (69")
(other ranges available upon request – see below)
Lifting/Lowering Speed 9" per minute
Ease of Portability Wheels at the base are lowered when the jack is in
the full down position, to allow an operator to position
the jacks manually using the rear wheel with attached
handle bar to steer Jacks may also be moved with
a crane using the main lifting lug at the top of each
jack and by a fork truck using slots in the base of the
jacks
Safety Features Self-locking ACME machine screw with bronze nut
and steel follower safety nut Upper and lower limit
switches to control limits of travel Mushroom-type
emergency stop push button that will shut down
control system when activated Thermal protection
relays (one per motor) to protect the motors against
short circuits and overload
Screw Protection Screw protected by the steel structure surrounding it
Rugged Construction Heavy duty steel structure coated with one coat of
rust inhibiting primer followed by a top coat of yellow
industrial grade polyurethane enamel
Dimensions Jack Height is 10'- 11" (131")
Jack Width is 3'- 5.5" (41.5")
Jack Depth is 5'- 5" (65")
Lifting pad dimension is 6" deep and 8" wide
Clearance distance from the forward-most point
on the jack lifting pad to lifting carriage is 13", and
another 5" (18" total) to the main jack column
Weight Approx. 6,500 lbs per jack
ELECTRICAL SYSTEM
Power Required 480V, 3 phase, 60Hz (other voltages available upon
request)
Motor 12.5 horsepower, NEMA D, 1750 RPM with
electromechanical brake
Control System Each set of four jacks has one master jack and three
secondary jacks Control box enclosures are NEMA 12
rated
For more information on Portable Jacks, including available options and different capacities
or dimensions, please visit our website at www.macton.com or contact
Ron Covert, Freight Rail Product Manager at (203) 231-8034 and [email protected]
}
STANDARD 5 YEAR WARRANTY
ON ALL MACTON PRODUCTS!