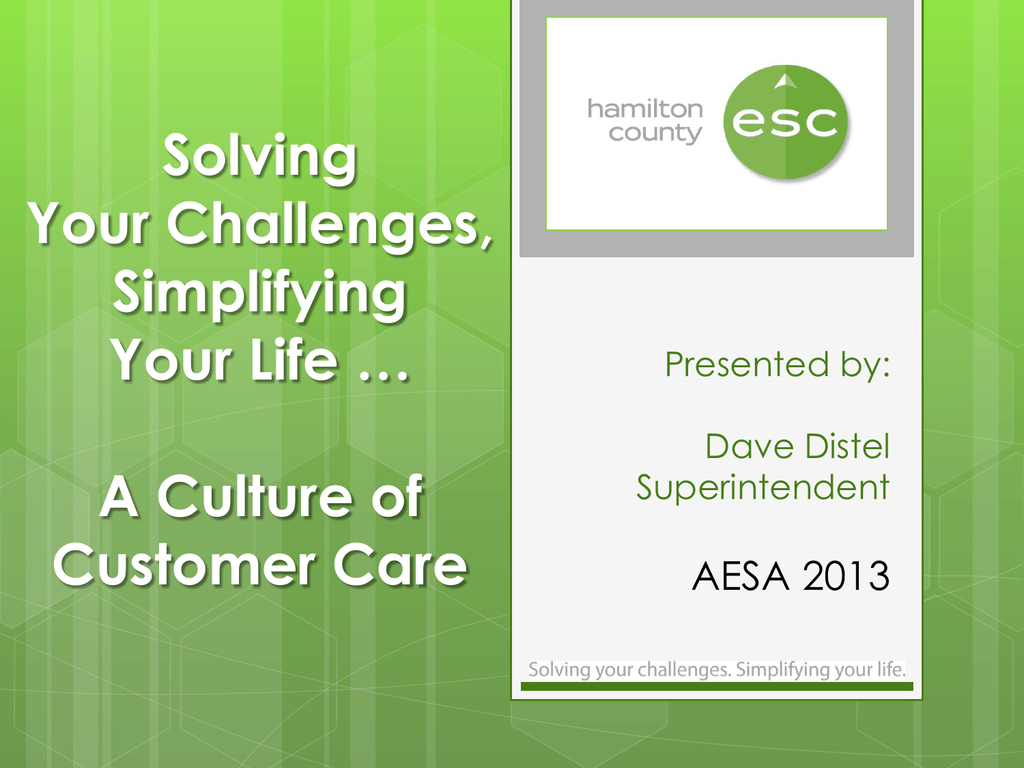 Solving
Your Challenges,
Simplifying
Your Life …
A Culture of
Customer Care
Presented by:
Dave Distel
Superintendent
AESA 2013
Creating a Culture of
Customer Care
1.
2.
3.
4.
Compelling Organizational Foundations
Unwavering Focus on Customer Needs
Effective Organizational Design
Consistent Brand Messaging
Changes in context
caused us to revise
our Four Foundations.
Our Vision …

We define communities by context and
likewise, their challenges. We listen to the
voices of our customers to understand their
current problems and anticipate those yet
to come.

We challenge convention and develop
innovative solutions that maximize customer
value. We are known as a trusted partner
and collaborative problem solver whose
solutions bring value to the communities we
serve.

We develop superior understandings of the
communities we serve, build trusting
relationships with customers and partners,
and aspire to be their first choice for service
solutions.
Our Mission…
o
We provide leadership to change the
structures, functions and processes of the
current education system to be better
aligned to the success of each student.
We will apply our innovation and design
capabilities to lead this transformation.
o
We lead the way in every aspect of what
we do. We watch for changes in our
context and understand what implications
they bring. We are both responsive and
proactive in our work with customers,
meeting them where they are and helping
them achieve their goals.
Our Core Values …

Customer Driven Solutions


Collegiality


We believe in the power of innovation and the importance of personal and
organizational learning. We value personal mastery and believe each Colleague is
responsible to continually learn and develop themselves and others.
Partnerships


We believe that we are all leaders in our areas of expertise and share a deep
commitment to delivering leadership results. We have a clear vision of where we are
going together and focus our resources on that common outcome.
Innovation and Learning


We believe in the power of people working together. We attract and unite an
extraordinary group of Colleagues who each contribute to our success. We value the
expertise, strengths and perspectives of each Colleague as a member of our HCESC
family.
Leadership


We believe in delivering extraordinary customer service. We value positive
relationships with our customers and believe in the collaborative development of
solutions for the problems they face.
We believe in the strength of our partners to contribute to customer value and enable
mutual success. Our partnerships are built on trust, integrity, respect, and a mutual
commitment.
Organizational Prosperity

We believe that doing what's right for our customers will lead to the sustainability of our
organization. Through simplicity of strategy and diligence of execution, we create
value for customers, partners and HCESC.
Our Principles of Service …

Knowledge and Expertise


Collaborative Relationships


We go the extra mile to create innovative solutions for the
challenges our communities face.
Positive Environments


We build superior relationships so we can work collaboratively
with confidence and trust in each other, our customers and
partners.
Solution Orientation


We encourage and expect exceptional levels of knowledge,
technical mastery and individual expertise.
We create a culture of respect and inspiration enabling us to
achieve high expectations, standards and challenging goals.
Personal Responsibility

We take responsibility for our individual and organizational
actions, and treat everyone with respect. We adhere to the
highest ethical standards, and honor our commitments.
Voice of the
Customer
Innovation
and
Improvement
VOICE OF THE CUSTOMER
Identification
of
Opportunities
for
Improvement
Determine
Next Step
Strategies
CONTINUOUS
IMPROVEMENT
Measure
Effectiveness
and Impact
Design
Improvements
Implement
Improvements
Design
Specifications
Beta Test
Second
Iteration of
Design
INNOVATION
and DESIGN
Validation of
Design against
Specifications
First Iteration
of Design
Organizational
Alignment and Design.
VOICE OF THE CUSTOMER
INTEGRATED SERVICE SOLUTIONS
Our "old" organizational identity.
 Nearly 20 years old
 Was "cutting edge" back then
 Designed to emphasize our unique collaborative
approach with customers to "make the difference"
It was time for a new
"Brand Strategy".
of something unique and relevant that customers
can expect to derive from doing business with you.
among all options available, of what you WILL do
and a conscious sacrifice of what you WON'T do.
a clear, compelling customer value proposition of:
WHO you want to reach
WHAT you want to stand for
HOW your message will be delivered
Current School District Customers
Other School District Customers
Non-Public Schools
Home Schoolers
Non-Profits
What our customers
thought about us …
What do you want to stand for?
Purpose
Promise
Proof
Personality
HCESC Brand Position
PURPOSE
Make Life Easier
PROMISE
We help community service organizations meet their mission, by providing quality services they need,
but cannot easily access or afford alone.
PROOF
E = Expertise and capacity in areas related to education, business or whatever else is needed.
A = Aggregate needs and bring people together to find joint solutions.
S = Shared services that are customized, innovative, efficient, and effective.
Y = Years of leadership and expertise in shared services, nearly 100.
PERSONALITY
We are the friend that brings friends together, and the one to whom they turn for help and advice.
Others count on us because we listen carefully, seek to understand their issues, and because we have an
uncanny ability to quickly uncover solutions.
We don't boast about our abilities; we do what we do behind the scenes.
We want others to look good and succeed.
How will you communicate your brand?
Initial "big announcements"
New logo everywhere
letterhead, business cards…
Signage
Phone greetings
Consistent customer care
Dave's Brand Message to
Customers …
Hamilton County ESC is changing its brand image to reflect our
purpose … Make Life Easier!
We're here to:
• help you solve challenges you can't overcome alone,
• help you meet your mission,
• provide a quality solution for any situation – education, business or
whatever else you need.
"Hamilton County ESC is focused on one thing: making our
customers' lives a little easier. And our customers extend well
beyond the area of education. We are dedicated to helping our
customers meet their missions – whatever they may be – by providing
the quality services they need, but likely can't access or afford
alone" says Dave Distel. "Think of us as a simple button to push
whenever and however you need help. We'll craft a solution to
meet your needs."
How can we make your life a little easier?
Bringing our Brand to life is
not just about changing
our "stuff".
It's about
changing
what we do
and how
we do it!
INNOVATION
DESIGN
IMPROVEMENT
SERVICES
PRODUCTS
PROGRAMS
ORGANIZATIONAL
FUNCTIONS and
STRUCTURES
HCESC Customer Care Protocol
Every day in every way, we will
Make your life easier.
We promise to
Solve your challenges.
Simplify your life.