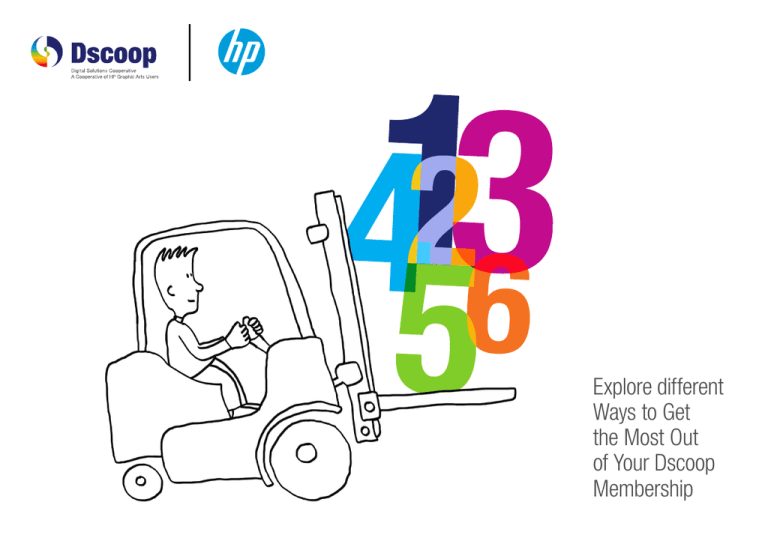 Explore different
Ways to Get
the Most Out
of Your Dscoop
Membership
TOGETHER, WE'VE
GOT THE ANSWERS
We've all seen how quickly our industry is evolving. Technology, customer
needs and the market profile are constantly changing and it can be hard to
keep up with new challenges and opportunities.
Dscoop brings together Print Service Providers (PSPs) and converters
to share experience, knowledge and ideas to help our members thrive.
We offer training, tools and networking opportunities to answer the big
question of how to succeed in a tough business.
Dscoop membership could help you become up to 15% more
profitable. So what could membership do for your business?
1
A
GLOBAL
SHOWCASE
Attract new business with the
Dscoop Print Directory
The Dscoop Print Directory is designed to help
our members extend their reach. It lets them
demonstrate their services and capabilities to
marketers, designers and fellow professionals
seeking expert partners. This customisable tool
allows a wider audience around the world to
discover you.
• Build your business with new leads
•
Print anywhere with the Dscoop Directory
Network
• Find reliable global partners
•
Earn credibility during RFPs with your global
network
Languages:
"I received my third call via the Dscoop
Online Print Directory. This time it
was a client from the US,before I
received calls from two different
agencies in the UK. I love Dscoop
Online Print Directory!
Vincenzo Cirimele, VAL Printing,Italy
Whoever you sell to, show you're thinking
beyond your customers' basic print needs to
their execution strategy with the latest tools and
techniques.
Our Customer Marketing Content tools showcase
your work at its best, with ready-to-use templates,
free sample designs and InDesign source files.
By educating and inspiring your customers about
HP digital printing, it's possible to generate new
leads and revenue.
Languages:
"The sample files provided by
Dscoop inspired us to start
elaborating our own capabilities and
substrate book, not only to just show
the enhancements and capabilities
that our Indigo can produce, but
mainly to help foster ideas with our
customers to give them ideas of
what we can do."
Juan Miguel Serres, CEVAGRAF,
SCCL, Spain
PROVIDE
MORE
VALUE
Offering more
to your customers
2
3
BESTPRACTICE
SALES
TOOLS
Show customers you're crucial
to their success
The Tell Your Story Sales Programme provides
tried-and-tested ways to show customers the value
of using HP digital printing to tell their brand story.
The Premium Tell Your Story Kit is designed
exclusively for Dscoop members. It includes four
straightforward step-by-step guides to executing a
marketing and sales programme– everything that's
needed to move from planning through to sales
conversion and lead tracking.
Languages:
"We're excited because Tell Your
Story gives us a beginning-to-end
plan and helps us to know the things
we need to do, when we need to do
them and the results that we should
get from them."
Susan Tugman, Brunel Promotions, UK
We know that in the print industry, growing your
business means exploiting new strategies and
techniques to boost productivity and revenue.
That's why we've developed the only 24/7 education
resource designed for print businesses. It's constantly
updated with on-demand information, downloadable
resources and live online courses. That makes it a onestop shop for keeping your knowledge fresh.
Access industry-leading training in:
• Marketing to brands & agencies
• Strategies for business growth
• Vertical marketing
• Managing cash & capital effectively
• Sales strategies to get your foot in the door
• Hiring the right operators
• HP products and services
Languages:
"Using the educational programs
through Dscoop has helped Fastant to
develop a valuable program for our new
hire sales graduates. We've been able
to train them on the understanding of
digital solution selling much faster than
through regular training."
Mathew Wennington, Fastant, UK
NEW
SKILLS AND
STRATEGIES
Dscoop inspires new ideas
for growth
4
5
INSPIRING
YOUR
BUSINESS
TO GROW
Hear best practice stories at the
Dscoop Annual Conference
Join us at our
conference on
3-5 June 2015
in Dublin
The Dscoop Annual Conference brings HP Graphic
Arts users together to build new partnerships,
sharing knowledge and experience of building a
stronger business.
Dscoop members say the annual conference
is one of the great benefits of membership,
leading to millions of dollars of additional revenue
generated.
•
World-renowned speakers and industry experts
•
Like-minded members to network and
connect with
•
Learn how to improve efficiency, increase
productivity and boost income
"I've been to all Dscoop EMEA
Conferences and they are an important
source of inspiration for my company's
success. What I learn at Dscoop
conferences, I can take back home and
apply to my business.
Willy Everaerts, Ever Art Design (EAD),
Belgium.
Our members know that when they're facing
technical problems, help is available. Dscoop
24/7 online discussion forums help you find
speedy fixes from fellow experts, getting you up
and running again fast.
Our highly active forum champions can provide
innovative ideas and instant solutions within 24
minutes on average. Even out-of-hours an expert
member somewhere around the world will usually
be able to help quickly.
Languages:
"Dscoop opens the way to sharing
our experience, ideas and knowledge
around HP Indigo technology with
fellow members. The technical forums
are a great resource for our operators,
we help each other to become more
efficient, productive and successful."
Cees Schouten, Geostick,
The Netherlands
SOLVE
PROBLEMS
FAST
6
Hear best practice stories at
the Dscoop Annual Conference
DSCOOP
UNDERSTANDING
YOUR BUSINESS
BETTER
DSCOOP
10 YEARS
Founded
in 2005 by
HP Indigo owners, Dscoop (Digital Solutions
LEADING
FOR
Cooperative)
is
an
independent
community of HP Graphic Arts users.
10 YEARS
Today,
Dscoop
is
a
dynamic
community
throughout the Americas,
2005 - 2015
Europe, the Middle East and Africa, Asia Pacific and Japan.
Peter van Teeseling
+31681369008
DSCOOP
LEADING FOR
pvanteeseling@dscoop.org
No other organisation provides access to a global community of
thousands of members working in the same business as you.
DSCOOP
Whether you're an owner,
operator, or sales/marketing professional,
LEADING FOR
you'll find like-minded individuals and relevant resources for you.
Roberto
Budelo
2005
- 2015
+34 607 63 08 86
rbudelo@dscoop.org
Dscoop is dedicated to2005
helping -digital
printers like you save time,
2015
increase productivity and make more money – in fact, we could
help you become up to 15% more profitable.
LEADING FOR
2005 - 2015
10 YEARS
10 YEARS
To benefit from new ideas and strategies for your business, visit
www.dscoop.org/emea and join today.
Annual company-wide membership is €595.