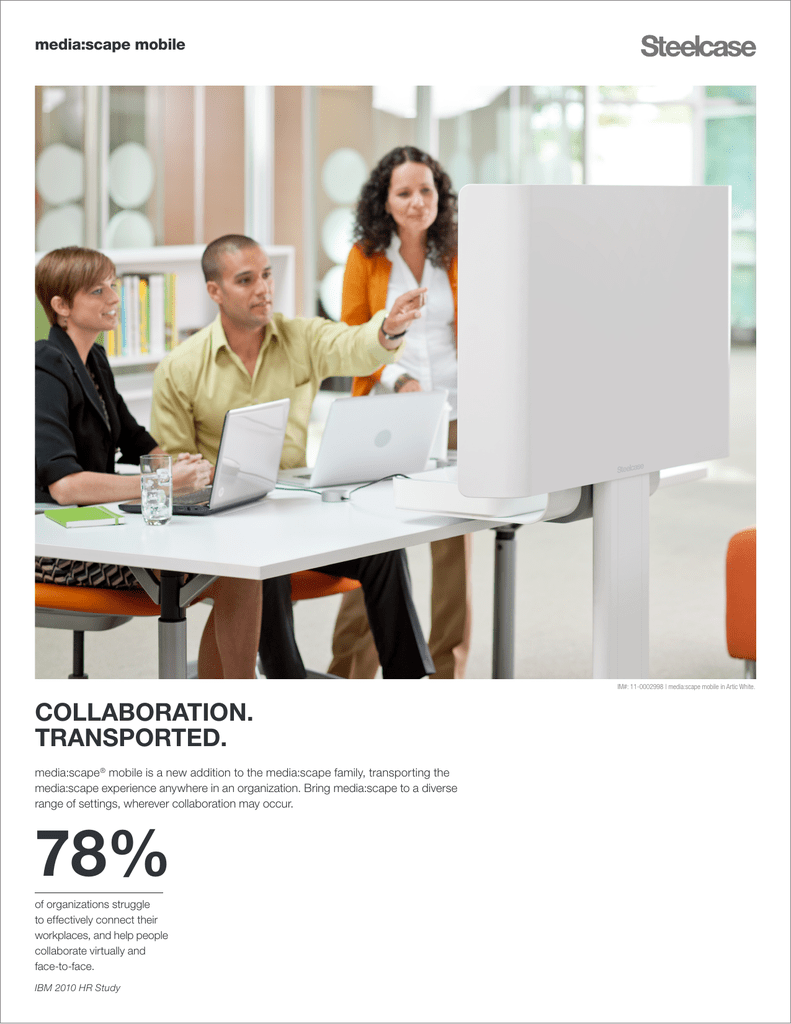 media:scape mobile
IM#: 11-0002998 | media:scape mobile in Artic White.
COLLABORATION.
TRANSPORTED.
media:scape® mobile is a new addition to the media:scape family, transporting the
media:scape experience anywhere in an organization. Bring media:scape to a diverse
range of settings, wherever collaboration may occur.
78%
of organizations struggle
to effectively connect their
workplaces, and help people
collaborate virtually and
face-to-face.
IBM 2010 HR Study
media:scape mobile
Easily transport the media:scape experience anywhere four
wheels will allow. •
Optimized for small teams of 2-4 to collaborate without interruption,
media:scape mobile is always available. No cables to pass, remotes
to lose, or software to install. •
With the 4 PUCKs in the media well, everyone at the table has
equal access to share critical information. •
Height adjustability support various working postures and settings. •
Distributed teams can be connected easily by integrating with
HD videoconferencing. •
Plug media:scape mobile into a standard 3 prong outlet to bring
power to the monitor and the 4 power outlets inside the media well.
•
STATEMENT OF LINE
SUSTAINABILITY
People. Planet. Profit.
40" mobile 393⁄ 5"W, 561⁄4"–701⁄4"H, 20"D
42" mobile 424 ⁄5"W, 59"–73"H, 20"D
PUCK connections
Each PUCK can be specified with 1 of 4
connection types:
By rethinking our business systems and designing our products
to avoid negative impacts on humans and the environment, we
contribute to a sustainable future for the planet and its people. We
commit to advance our practices through continuous learning and
building partnerships with our customers, business partners and
environmental thought leaders to optimize our performance and
contribute to the cience and practice of sustainability.
HDMI, DisplayPort, Mini DisplayPort, VGA
TO FIND OUT MORE VISIT
WWW.STEELCASE.COM/ SUSTAINABILITY
Surface materials
media:scape environmental features:
Available in Arctic White or Near Metallic Black.
•
Furniture is composed of materials approved by
McDonough Braungart Design Chemistry (MBDC)
as safe for human and environmental health
•
Technology components are RoHS/WEEE compliant
•
74 percent recyclable
•
Composed of 38 percent recycled content
•
Some cabling is PVC free
TO FIND OUT MORE VISIT
WWW.STEELCASE.COM/MEDIASCAPE
STEELCASE GLOBAL HEADQUARTERS
901 44TH STREET SE, GRAND RAPIDS
MICHIGAN, USA, 49508
Call 800.333.9939 or visit steelcase.com
facebook.com/steelcase
twitter.com/steelcase
Item # 12-0000166 2/12 © 2012 Steelcase Inc. All rights reserved. All specifications
subject to change without notice. Printed in U.S.A. Trademarks used herein are the
property of Steelcase Inc. or of their respective owners. FSC certified.