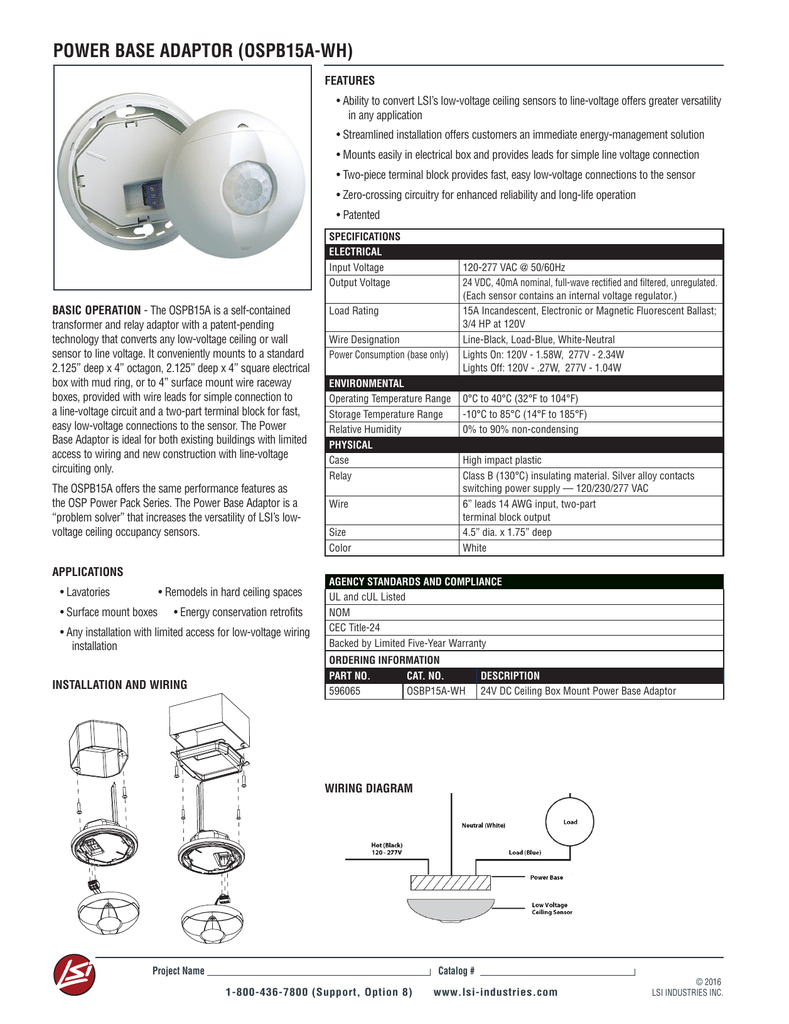 POWER BASE ADAPTOR (OSPB15A-WH)
FEATURES
• Ability to convert LSI's low-voltage ceiling sensors to line-voltage offers greater versatility
in any application
• Streamlined installation offers customers an immediate energy-management solution
• Mounts easily in electrical box and provides leads for simple line voltage connection
• Two-piece terminal block provides fast, easy low-voltage connections to the sensor
• Zero-crossing circuitry for enhanced reliability and long-life operation
• Patented
SPECIFICATIONS
ELECTRICAL
Input Voltage
Output Voltage
BASIC OPERATION - The OSPB15A is a self-contained
transformer and relay adaptor with a patent-pending
technology that converts any low-voltage ceiling or wall
sensor to line voltage. It conveniently mounts to a standard
2.125" deep x 4" octagon, 2.125" deep x 4" square electrical
box with mud ring, or to 4" surface mount wire raceway
boxes, provided with wire leads for simple connection to
a line-voltage circuit and a two-part terminal block for fast,
easy low-voltage connections to the sensor. The Power
Base Adaptor is ideal for both existing buildings with limited
access to wiring and new construction with line-voltage
circuiting only.
The OSPB15A offers the same performance features as
the OSP Power Pack Series. The Power Base Adaptor is a
"problem solver" that increases the versatility of LSI's lowvoltage ceiling occupancy sensors.
APPLICATIONS
• Lavatories
• Remodels in hard ceiling spaces
• Surface mount boxes• Energy conservation retrofits
• Any installation with limited access for low-voltage wiring
installation
INSTALLATION AND WIRING
Load Rating
Wire Designation
Power Consumption (base only)
ENVIRONMENTAL
Operating Temperature Range
Storage Temperature Range
Relative Humidity
PHYSICAL
Case
Relay
Wire
Size
Color
120-277 VAC @ 50/60Hz
24 VDC, 40mA nominal, full-wave rectified and filtered, unregulated.
(Each sensor contains an internal voltage regulator.)
15A Incandescent, Electronic or Magnetic Fluorescent Ballast;
3/4 HP at 120V
Line-Black, Load-Blue, White-Neutral
Lights On: 120V - 1.58W, 277V - 2.34W
Lights Off: 120V - .27W, 277V - 1.04W
0°C to 40°C (32°F to 104°F)
-10°C to 85°C (14°F to 185°F)
0% to 90% non-condensing
High impact plastic
Class B (130°C) insulating material. Silver alloy contacts
switching power supply — 120/230/277 VAC
6" leads 14 AWG input, two-part
terminal block output
4.5" dia. x 1.75" deep
White
AGENCY STANDARDS AND COMPLIANCE
UL and cUL Listed
NOM
CEC Title-24
Backed by Limited Five-Year Warranty
ORDERING INFORMATION 
PART NO.
CAT. NO.
596065
OSBP15A-WH
DESCRIPTION
24V DC Ceiling Box Mount Power Base Adaptor
WIRING DIAGRAM
Project Name
Catalog #
1-800-436-7800 (Support, Option 8)
www.lsi-industries.com
© 2016
LSI INDUSTRIES INC.