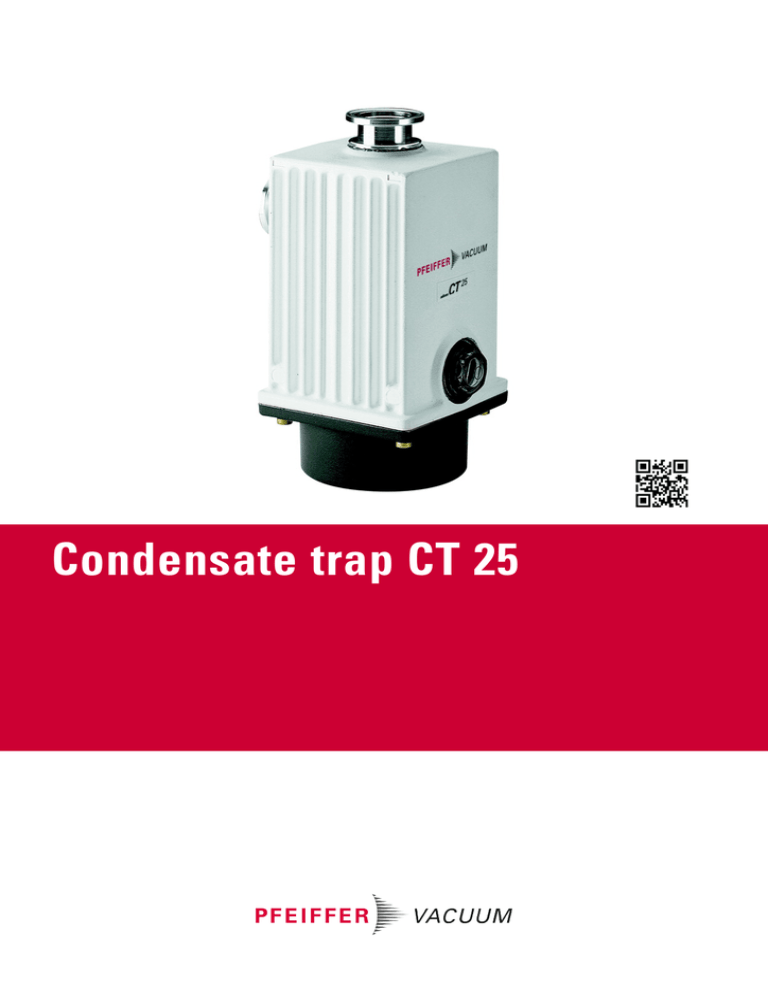 Condensate trap CT 25
Condensate trap CT 25
Body material: Aluminum
Filter material: Stainless steel
Weight: 1.2 kg
Trap capacity: 0.6 l
Inlet/Exhaust port: DN 25 ISO-KF
Conductance at 10-1 hPa inlet pressure: 15 l/s
Conductance at 10-2 hPa inlet pressure: 6 l/s
Replacement filter Order number: 066825
Supplied with: 1 centering ring and 1 clamp
Similar Image
Dimensions
Technical Data
Condensate trap CT 25
Flange (in)
Flange (out)
DN 25 ISO-KF
DN 25 ISO-KF
Order number
Condensate trap CT 25
www.pfeiffer-vacuum.com
104201
Page 2
Vacuum solutions from a single source
Pfeiffer Vacuum stands for innovative and custom vacuum solutions worldwide,
technological perfection, competent advice and reliable service.
Complete range of products
From a single component to complex systems:
We are the only supplier of vacuum technology that provides a complete product portfolio.
Competence in theory and practice
Are you looking for a
perfect vacuum solution?
Please contact us:
www.pfeiffer-vacuum.com
Pfeiffer Vacuum GmbH
Headquarters · Germany
T +49 6441 802-0
info@pfeiffer-vacuum.de
All data subject to change without prior notice.
Benefit from our know-how and our portfolio of training opportunities!
We support you with your plant layout and provide first-class on-site service worldwide.