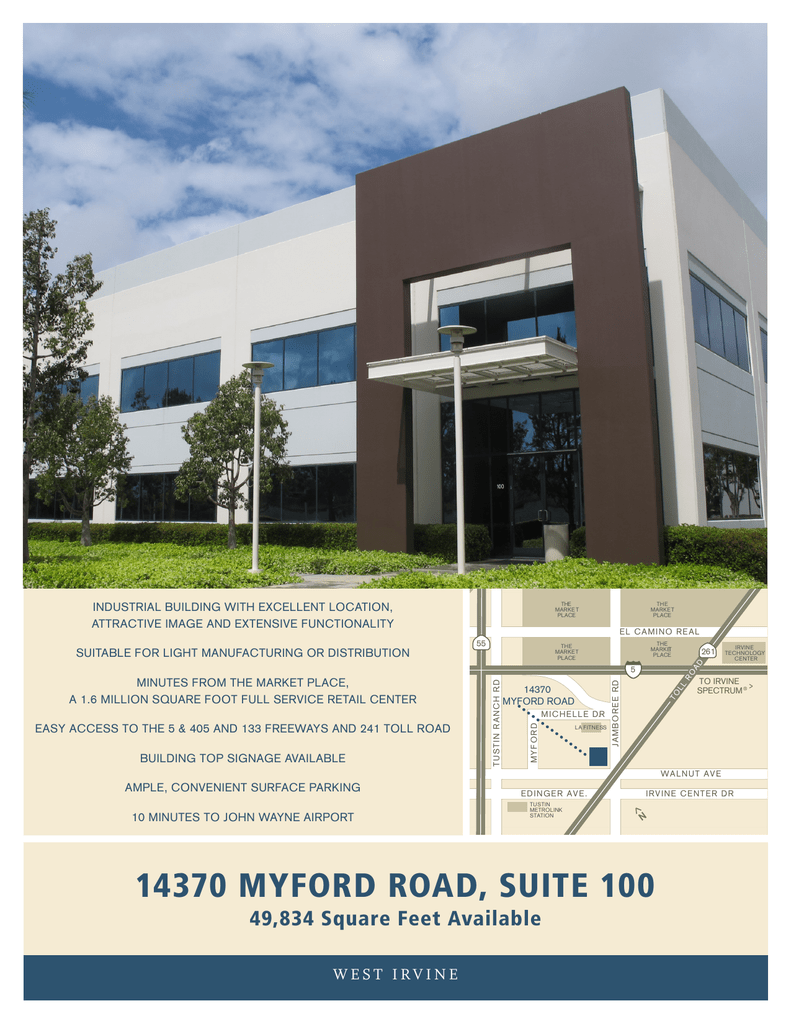 INDUSTRIAL BUILDING WITH EXCELLENT LOCATION,
ATTRACTIVE IMAGE AND EXTENSIVE FUNCTIONALITY
THE
MARKE T
PLACE
EL CAMINO REAL
55
THE
MARKET
PLACE
THE
MARKE T
PLACE
261
AD
SUITABLE FOR LIGHT MANUFACTURING OR DISTRIBUTION
THE
MARKE T
PLACE
BUILDING TOP SIGNAGE AVAILABLE
MICHELLE DR
.
LA FITNESS
RO
TO
LL
J A M B O R E E R.D
14370
MYFORD ROAD
MYFORD
EASY ACCESS TO THE 5 & 405 AND 133 FREEWAYS AND 241 TOLL ROAD
T U S T I N R A N C H R.D
5
MINUTES FROM THE MARKET PLACE,
A 1.6 MILLION SQUARE FOOT FULL SERVICE RETAIL CENTER
IRVINE
TECHNOLOGY
CENTER
TO IRVINE
SPECTRUM ®
WALNUT AVE
.
AMPLE, CONVENIENT SURFACE PARKING
10 MINUTES TO JOHN WAYNE AIRPORT
EDINGER AVE.
IRVINE CENTER DR
.
TUSTIN
METROLINK
STATION
14370 MYFORD ROAD, SUITE 100
49,834 Square Feet Available
WEST IRVINE
14370 MYFORD ROAD
49,834 Square Feet Available
Dock High
Doors
Grade Level
Door
WAREHOUSE
SUITE 150
LEASED
(open to below)
SUITE 100
FIRST FLOOR
SECOND FLOOR
FLOOR PLAN
SECOND FLOOR
MY
FOR
OA
DR
D
14250
14410
14430
TRUCK LOADING
14440
14150
14350
TRUCK LOADING
TRUCK LOADING
TRUCK LOADING
14420
14370
LA FITNESS
14460
CH
EL
LE
DR
.
14450
MI
FEATURES
• Office: 11,529 sq. ft.
• Warehouse: 38,305 sq. ft.
• +/- 30' Clearance
• Electrical: 600 AMPS
• Truck Loading:
• One (1) ground level door
• Five (5) dock-high doors
• Column Spacing: 50' x 44'
• Fire Sprinklers: ESFR Sprinkler System
• Parking: 1.8:1,000 sq. ft.
MAP NOT TO SCALE
JA M B
OR E
A
E RO
D
SITE MAP
Premier Environments Where Your Business Can Prosper
Ir v i n e C o m p a n y O f f i c e . c o m
F or leasing information , contact S ue L yle
949.720.2668 | SL yle @I rvine C ompany . com
LIC. 01057248
A commitment to long-term ownership, the highest standards
of service and the opportunity to move and expand within our
diverse portfolio are just a few of the reasons to lease with
Irvine Company Office Properties.
©2013 The Irvine Company LLC. All rights reserved. All properties are offered for lease through Irvine Realty Company, a licensed real estate broker. The information in these materials has been
obtained from various sources. While we believe the information to be reliable, neither the Irvine Company nor Irvine Realty Company makes any representation or warranty as to the accuracy
or completeness of such data and it should be independently verified by prospective tenants. The Irvine Company,® Irvine Spectrum® and Irvine Spectrum Center® are all registered trademarks
of The Irvine Company LLC.