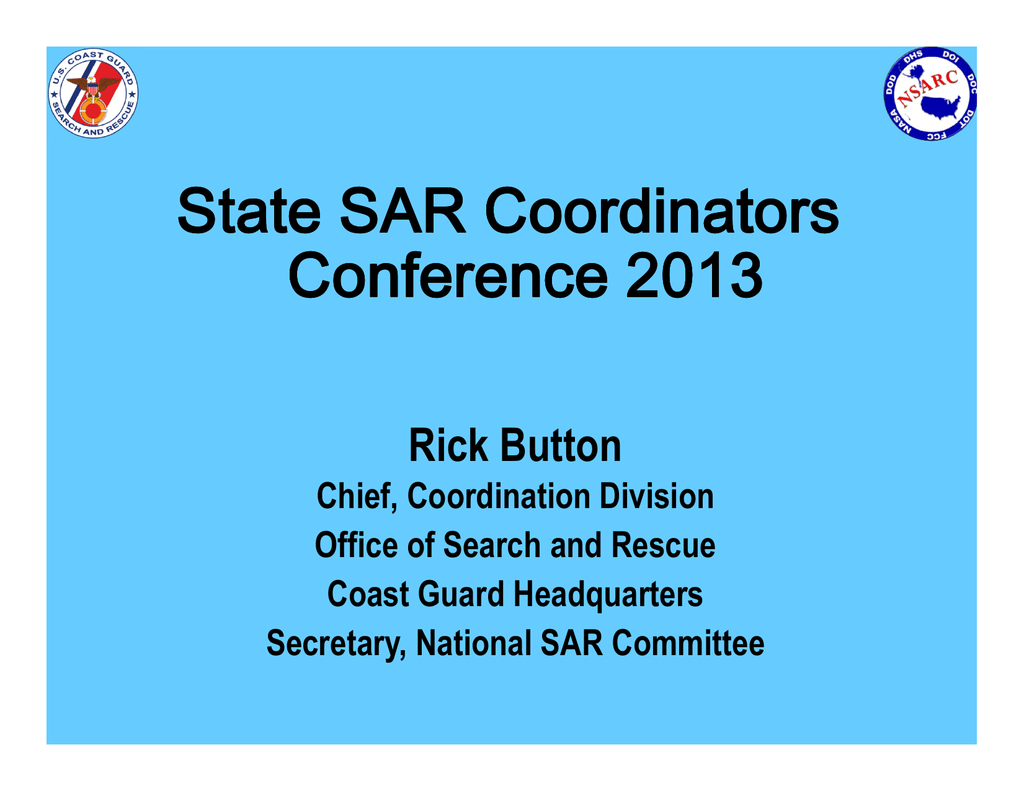 State SAR Coordinators
Conference 2013
Rick Button
Chief, Coordination Division
Office of Search and Rescue
Coast Guard Headquarters
Secretary, National SAR Committee
National SAR Committee (NSARC)
• Sequestration
• NSARC Website
(www.uscg.mil/nsarc; updated
routinely)
• National SAR Supplement
(This year? I hope!)
• SAR Legal Addendum
(Working on it… it's killing me…)
• Mass Rescue Addendum
(under construction; hired a
contractor)
• CISAR Addendum
(Probably will be revised as Version 4.0
in 2014)
• 121.5 MHz ELTs
(developing Executive Branch position;
I can provide NSARC's draft comments)
• US-MX SAR Agreement
(Revision… maybe… hopefully…)
• Charging for SAR
Emergency Support Function (ESF) #9
• ESF #9 Revised
(Should be out soon; will put on the NSARC website and let SSARCC know)
• Federal SAR Coordination Group (FSARG)
• FSARCG Handbook (Version 1.1)
• Hurricane Irene/Sandy Lessons Learned
(SSARCC support?)
ESF #9: The New Paradigm…
Presidential Policy
Directive (PPD) - 8
Response Core Capabilities
Mission Areas
National
Preparedness Goal
National
Prevention
Framework
Prevention
Protection
Mitigation,
Response
Recovery
National
Protection
Framework
National
Mitigation
Framework
Planning
Public Information and Warning
Operational Coordination
Critical Transportation
Environmental Response/Health and Safety
Fatality Management Services
Infrastructure Systems
Mass Care Services
Mass Search and Rescue Operations
On-scene Security and Patrol
Operational Communications
Public and Private Services and Resources
Public Health and Medical Services
Situational Assessment
National
Recovery
Framework
(NRF describes the principles, roles
National
and responsibilities, and
Response coordinating structures for
Framework delivering the core capabilities
required to respond to an incident.)
(ESF #9: One of 15 NRF ESFs;
supports Mass SAR Ops core
capability)
ESF
Annexes
ESF #9 – SAR
DHS/FEMA
DHS/USCG
DoD and DOI/NPS
ESF #9 Coordinator
Primary Agency:
Maritime/Coastal/
Waterborne SAR
Primary Agency:
Land SAR
Primary Agency:
Structural Collapse
(Urban) SAR
Support
Annexes
Incident
Annexes
Federal Interagency
Operations Plan – Response
Questions?