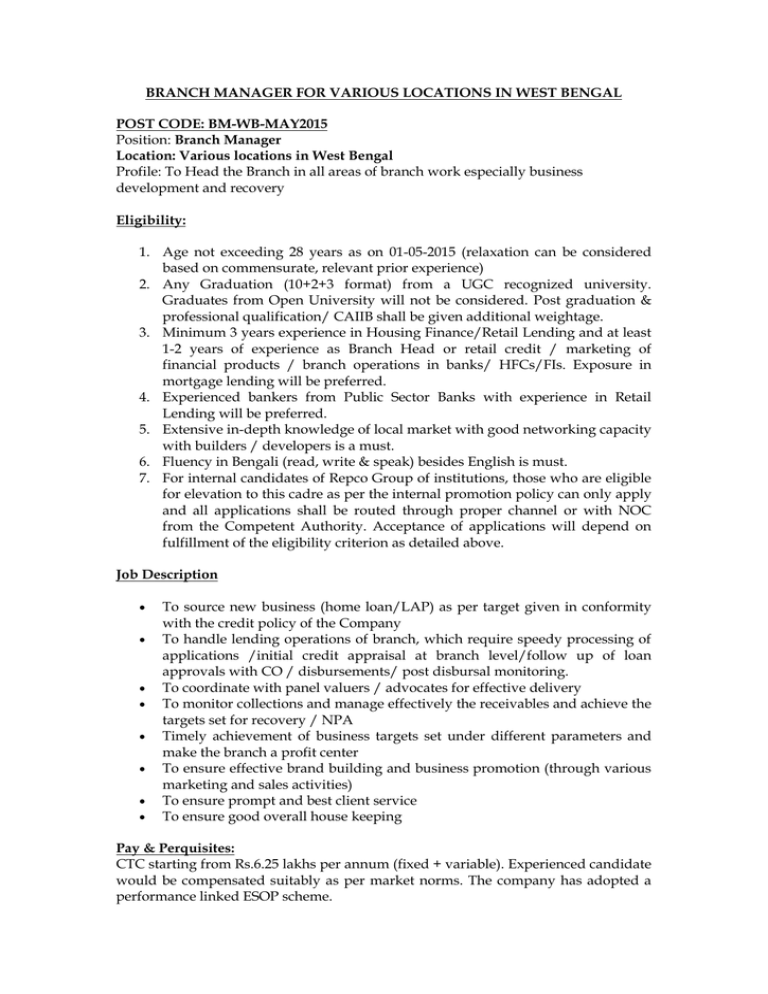 BRANCH MANAGER FOR VARIOUS LOCATIONS IN WEST BENGAL
POST CODE: BM-WB-MAY2015
Position: Branch Manager
Location: Various locations in West Bengal
Profile: To Head the Branch in all areas of branch work especially business
development and recovery
Eligibility:
1. Age not exceeding 28 years as on 01-05-2015 (relaxation can be considered
based on commensurate, relevant prior experience)
2. Any Graduation (10+2+3 format) from a UGC recognized university.
Graduates from Open University will not be considered. Post graduation &
professional qualification/ CAIIB shall be given additional weightage.
3. Minimum 3 years experience in Housing Finance/Retail Lending and at least
1-2 years of experience as Branch Head or retail credit / marketing of
financial products / branch operations in banks/ HFCs/FIs. Exposure in
mortgage lending will be preferred.
4. Experienced bankers from Public Sector Banks with experience in Retail
Lending will be preferred.
5. Extensive in-depth knowledge of local market with good networking capacity
with builders / developers is a must.
6. Fluency in Bengali (read, write & speak) besides English is must.
7. For internal candidates of Repco Group of institutions, those who are eligible
for elevation to this cadre as per the internal promotion policy can only apply
and all applications shall be routed through proper channel or with NOC
from the Competent Authority. Acceptance of applications will depend on
fulfillment of the eligibility criterion as detailed above.
Job Description








To source new business (home loan/LAP) as per target given in conformity
with the credit policy of the Company
To handle lending operations of branch, which require speedy processing of
applications /initial credit appraisal at branch level/follow up of loan
approvals with CO / disbursements/ post disbursal monitoring.
To coordinate with panel valuers / advocates for effective delivery
To monitor collections and manage effectively the receivables and achieve the
targets set for recovery / NPA
Timely achievement of business targets set under different parameters and
make the branch a profit center
To ensure effective brand building and business promotion (through various
marketing and sales activities)
To ensure prompt and best client service
To ensure good overall house keeping
Pay & Perquisites:
CTC starting from Rs.6.25 lakhs per annum (fixed + variable). Experienced candidate
would be compensated suitably as per market norms. The company has adopted a
performance linked ESOP scheme.
HOW TO APPLY:
Eligible candidates are requested to apply only as per the enclosed bio-data format
(along with NOC if applicable). Applications sent in any other format will not be
considered.
Applications in a sealed envelope super-scribing the Post Code shall be forwarded
to the address given below by post so as to reach the addressee on or before 23rd
May 2015:
The General Manager (HR)
Repco Home Finance Limited
3rd Floor, Alexander Square
New No. 2/Old No. 34 & 35
Sardar Patel Road, Guindy
Chennai- 600 032
Applications received after due date and in any other format except the prescribed
bio data format will not be considered.
The shortlisted candidates shall be called for further selection process subsequently.
The date & venue & mode of the same will be communicated to the shortlisted
candidates in due course. The Company reserves the right to accept / reject any /all
applications without assigning any reason or even abandon the recruitment process.
The Company also reserves the right to offer suitable cadre/emoluments to
candidates as per its own discretion depending on profile, past experience and
performance in the selection process etc. No further communication/
correspondence in this regard after submission of application will be entertained.