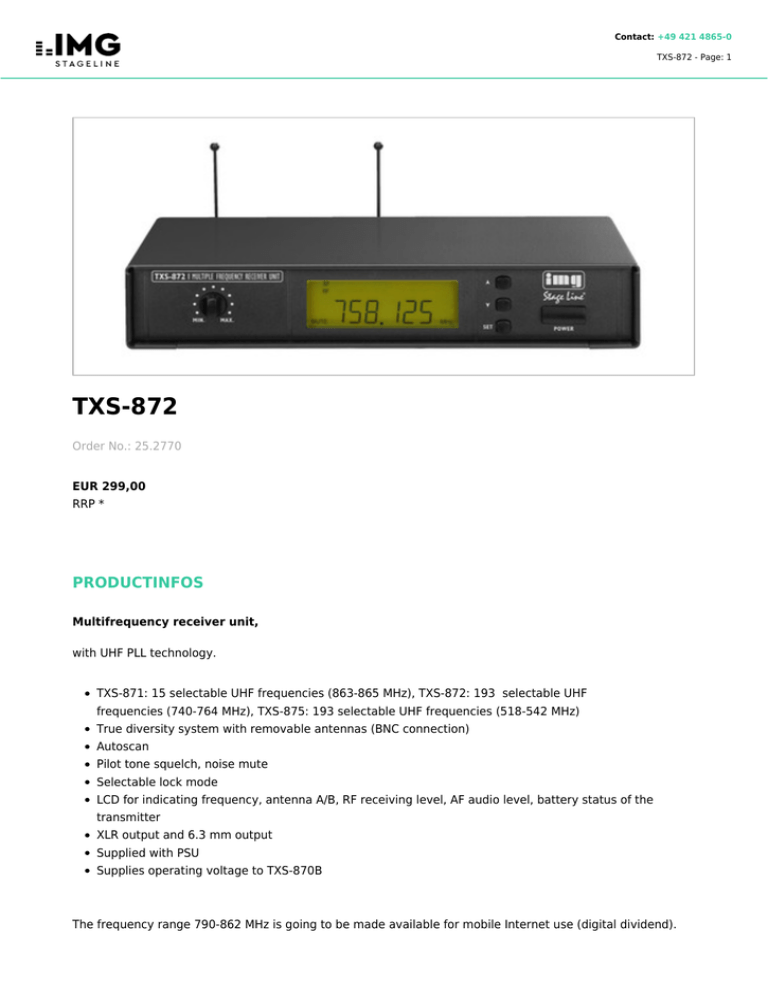 Contact: +49 421 4865-0
TXS-872 - Page: 1
TXS-872
Order No.: 25.2770
EUR 299,00
RRP *
PRODUCTINFOS
Multifrequency receiver unit,
with UHF PLL technology.
TXS-871: 15 selectable UHF frequencies (863-865 MHz), TXS-872: 193 selectable UHF
frequencies (740-764 MHz), TXS-875: 193 selectable UHF frequencies (518-542 MHz)
True diversity system with removable antennas (BNC connection)
Autoscan
Pilot tone squelch, noise mute
Selectable lock mode
LCD for indicating frequency, antenna A/B, RF receiving level, AF audio level, battery status of the
transmitter
XLR output and 6.3 mm output
Supplied with PSU
Supplies operating voltage to TXS-870B
The frequency range 790-862 MHz is going to be made available for mobile Internet use (digital dividend).
Contact: +49 421 4865-0
TXS-872 - Page: 2
With a parallel operation of wireless microphones/Internet, interference may occur. Problems are also
possible in rural areas. Alternatively, we offer wireless microphone systems with the new frequency range
740-764 MHz. This new frequency range requires a licence in the EU!
tastenwelt 02/2011
"Well-approved technology with a future-proof frequency range and a good price-performance ratio. The unit
provided a pleasant sound during the test, the microphone was not susceptible to acoustic feedback."
TECHNICAL SPECIFICATIONS
General information
Type
multifrequency receiver
Carrier frequency range
740-764 MHz
Audio frequency range
40-18,000 Hz
Channels
1
THD
< 0.6 %
Dynamic range
> 105 dB
RF S/N ratio
-
Operating time
-
Admiss. ambient temp.
0-40 °C
Power supply
-
Dimensions
-
Total weight
-
Connections
-
Specifications transmitter
Transmitting power
-
Operating range
-
Power supply transmitter
-
Dimensions transmitter
-
Width transmitter
-
Height transmitter
-
Depth transmitter
-
Weight transmitter
-
Connections transmitter
-
Specifications receiver
Audio signal receiver
900 mV/1 kΩ (jack)
150 mV/150 Ω (XLR, bal.)
Contact: +49 421 4865-0
TXS-872 - Page: 3
Power supply receiver
via suppl. PSU
Dimensions receiver
211x40x130 mm
Width receiver
211 mm
Height receiver
40 mm
Depth receiver
130 mm
Weight receiver
1,100 g
Connections receiver
1 x XLR, bal.,
1 x 6.3 mm jack, unbal.
* Important Notice: The retail prices shown here are non-binding recommendations that retailers can charge their customers. They are not
part of any specific offer or advertisement. These prices include all charges as well as VAT, but do not cover any additional delivery and
shipping costs. Our latest price lists for the retail market include all applicable delivery and payment terms for retailers.