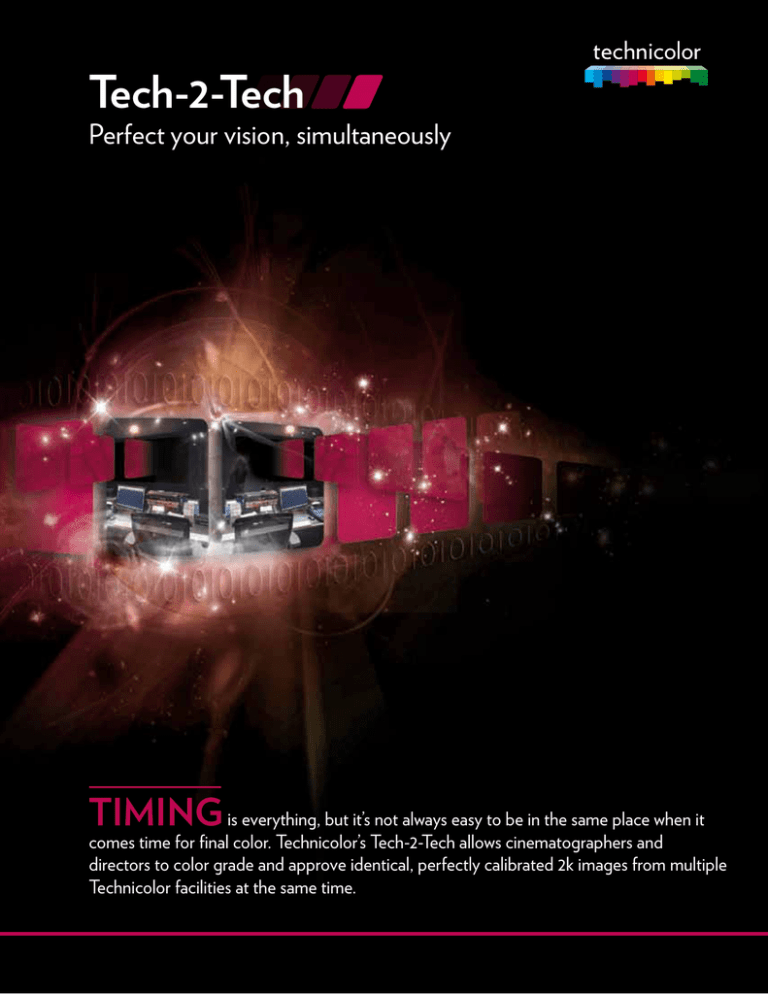 Tech-2-Tech
Perfect your vision, simultaneously
TIMING is everything, but it's not always easy to be in the same place when it
comes time for final color. Technicolor's Tech-2-Tech allows cinematographers and
directors to color grade and approve identical, perfectly calibrated 2k images from multiple
Technicolor facilities at the same time.
Tech-2-Tech
Technicolor's Tech-2-Tech is a remote color grading tool-set.
Tech-2-Tech gives cinematographers and directors, studios and broadcast productions alike, the ability to
accelerate their project timeline with a cohesive DI experience by removing travel and shipping from the
equation.
Tech-2-Tech, supported by the Technicolor Production Network (TPN), enables our renowned pool of talent
to perform color grading sessions simultaneously from multiple Technicolor facilities and deliver highest
quality service to our clients as if all in the same room.
GLOBALLY CONNECTED >High speed secure connections between several Technicolor imaging facilities across the world enabled by
our dedicated TPN
REAL-TIME >Simultaneous display of audio and image between multiple Technicolor locations, enabling live changes
until final approval
CINEMATIC QUALITY >Digital cinema quality compression - HD or 2K resolution
>3D stereoscopic image compatible
>Display calibration ensuring image accuracy
>Film emulation ensuring image matching print release
>Synchronization between our imaging facilities and our labs guaranteeing highest quality image
COST & TIME EFFECTIVE
>Removes costs of travel and HDD/other physical media shipment
>Shortens time for the post production process: faster time-to-decision for faster time-to-market
technicolor.com
© Copyright 2012 Technicolor.