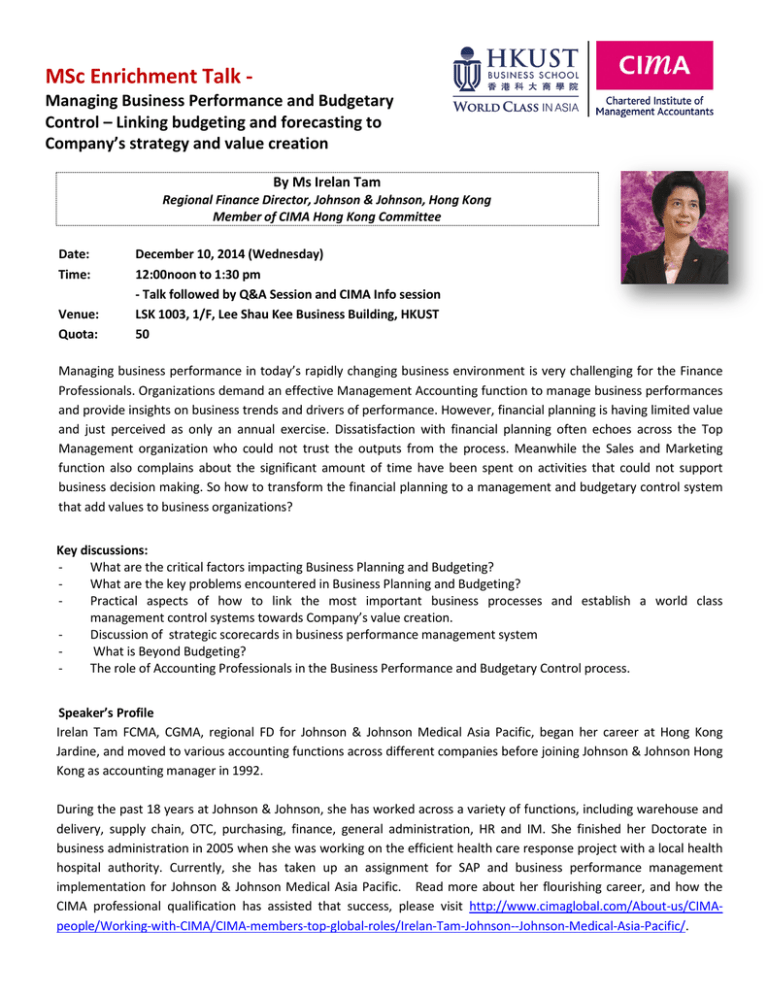 MSc Enrichment Talk -
Managing Business Performance and Budgetary
Control – Linking budgeting and forecasting to
Company's strategy and value creation
By Ms Irelan Tam
Regional Finance Director, Johnson & Johnson, Hong Kong
Member of CIMA Hong Kong Committee
Date:
Time:
Venue:
Quota:
December 10, 2014 (Wednesday)
12:00noon to 1:30 pm
- Talk followed by Q&A Session and CIMA Info session
LSK 1003, 1/F, Lee Shau Kee Business Building, HKUST
50
Managing business performance in today's rapidly changing business environment is very challenging for the Finance
Professionals. Organizations demand an effective Management Accounting function to manage business performances
and provide insights on business trends and drivers of performance. However, financial planning is having limited value
and just perceived as only an annual exercise. Dissatisfaction with financial planning often echoes across the Top
Management organization who could not trust the outputs from the process. Meanwhile the Sales and Marketing
function also complains about the significant amount of time have been spent on activities that could not support
business decision making. So how to transform the financial planning to a management and budgetary control system
that add values to business organizations?
Key discussions:
What are the critical factors impacting Business Planning and Budgeting?
What are the key problems encountered in Business Planning and Budgeting?
Practical aspects of how to link the most important business processes and establish a world class
management control systems towards Company's value creation.
Discussion of strategic scorecards in business performance management system
What is Beyond Budgeting?
The role of Accounting Professionals in the Business Performance and Budgetary Control process.
Speaker's Profile
Irelan Tam FCMA, CGMA, regional FD for Johnson & Johnson Medical Asia Pacific, began her career at Hong Kong
Jardine, and moved to various accounting functions across different companies before joining Johnson & Johnson Hong
Kong as accounting manager in 1992.
During the past 18 years at Johnson & Johnson, she has worked across a variety of functions, including warehouse and
delivery, supply chain, OTC, purchasing, finance, general administration, HR and IM. She finished her Doctorate in
business administration in 2005 when she was working on the efficient health care response project with a local health
hospital authority. Currently, she has taken up an assignment for SAP and business performance management
implementation for Johnson & Johnson Medical Asia Pacific. Read more about her flourishing career, and how the
CIMA professional qualification has assisted that success, please visit http://www.cimaglobal.com/About-us/CIMApeople/Working-with-CIMA/CIMA-members-top-global-roles/Irelan-Tam-Johnson--Johnson-Medical-Asia-Pacific/.